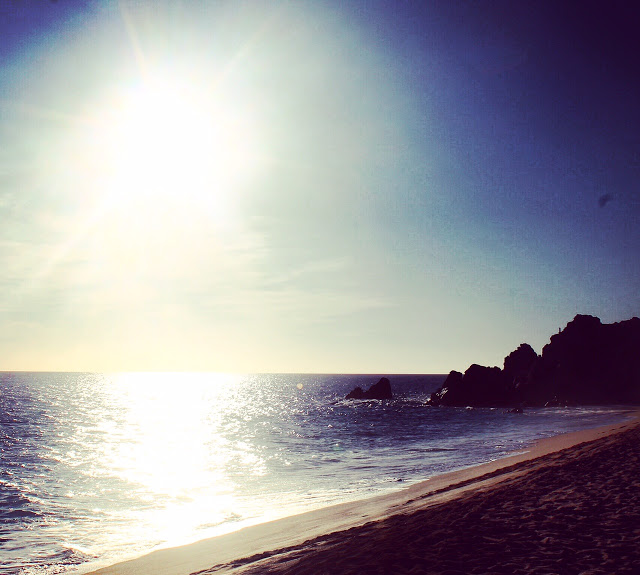 My vacation expectations vs my vacation reality are two very different things.
For example, when I left for Cabo exactly one week ago this was my plan:
*Get up early every morning to take full advantage of beach/beautiful weather.
*Walk, run, or do yoga at least once a day.
*Simply because you can eat and drink everything you want because it feels free, doesn't mean you have to.
*Work, write and blog every day.
*Write at least 1,000 word from book every day. Writing from the beach will be great!
*Find some alone time to meditate and think about book.
*You don't have to drink every single night.
*Don't go overboard on room service, enjoy fresh fruit and yogurt!
*Post good photos to Instagram so you'll gain 100000 new followers while you're here.
After eight days of being in Mexico I don't even remember that girl who wrote those romanticized ideas of a vacation.
I got up early the first day. I did one yoga plank on the beach and called it good.
Then I immediately ate muchaca burritos for breakfast and drank two Bloody Marys. It's all been downhill from there.
I've drank more beer than water here. And haven't had a vegetable since Chicago. I order chicken strips and cheeseburger sliders poolside every day at 3 p.m. just because I can. I don't even know what it means to be hungry at this point. Likewise, I don't know what it means not to feel sickly full either.
To be frank, I'm just one big disgusting person on vacation. I'm not proud of it, it's just the truth.
If you could see me right now, you'd have to look away. I'm not trying to pull the curtain back or anything, because I know you're probably under the impression I'm a fancy blogger (like all of the other fancy bloggers) who goes on vacation for the main reason to take fashion pics and use hashtags like wanderlust and dametraveller, but that's just not me. I don't even know how to spell traveler. One L or two?
Sure I bring a ton of cute outfits, but two days in I start wearing the same old gross maxi dresses every night because they feel like mumus to me and that makes me feel safe and happy.
To give you an idea of how I feel right now, have you ever seen that sketch from SNL? With Chris Farley and Da Bears? That's me right now. I feel like I constantly have grease in my mustache and a protruding white belly sticking out of a navy blue tank top.
I've just kinda let it all go at this point.
Furthermore, I haven't worked on my book once.
And my blogging has been less than par.
My beach sunset shots are not making me Instagram famous and I don't know why?! Have people seen the sunset before? Like from the beach? Well I don't believe it.
All that aside, I'm having a great time.
I put my phone away after 10 a.m. and don't look at it until 10 p.m. I'm "disconnecting" you might say.
The only reason I'm not dreading going home in a few days is because I miss my Har. I miss my Harlow so so so much. When I think about his face when we come through the front door I can hardly contain my excitement.
So next week I'll get my life in check. I'll go back to green smoothies and pilates and ten walks a day with Harlow. But for now, I'm going to let this lazy person hang around a few more days.
Happy Thanksgiving, everyone.
*forgive spelling errors or whatever this week.