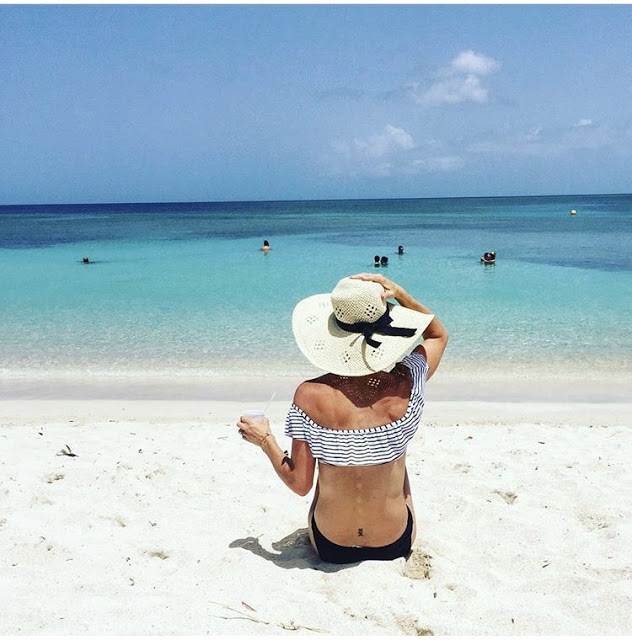 I have a lower back tattoo.
While it's not my favorite thing on my body, I don't completely regret it either because I feel like it keeps me humble. I'd like to think that me from so many years ago got it knowing that future-me would see the humor in it.
However, that's not the truth. If you'd like to know the real origins of my lower back tat we have to travel back several years to the early 2000s when I was a mere 16 year old. That's correct, my parents allowed me to get a tattoo when I was only 16. As I've gotten older I've often wondered why they allowed me to do this and the only conclusion I can come up with is that they felt bad for me. I imagine the conversation went like this.
"Hey, Taylor wants to get a tattoo," my mom.
"As in our daughter? Seriously?" my dad.
"I know, I was surprised too. This is literally the only cool thing she has ever attempted to do, ever."
"For real. I count the beer in our fridge every weekend hoping she'll sneak just one, but it's never happened. Not even once….  I think we should let her."
"Maybe she'll get more friends out of it?"
"Or at least weekend plans. It can't hurt."
"Should I suggest she get two?"
And so on and so forth.
The weekend I got my tattoo I was in Vegas, attending a State Farm Insurance convention with parents, because like I said, I was very cool. Although I wasn't attending the actual convention, I was mostly just sulking around the hotel looking for food. The last convention my parents drug me along to was in Chicago and I remembered there was free Haagen Dasz bars everywhere at the hotel. That was pretty much the main reason I agreed to go along to Vegas, was to get free ice-cream bars. My mom never bought Haagen Dasz because it was expensive AF so it was a real treat to get it.
Unfortunately, this convention really had to "cut costs" as my dad told me, and no free ice-cream was given. My dad said even the lunch buffet was a let down. Babes are engulfing stripper dudes cocks eag Stud enjoys playing with a large ass Joseline Kelly loves getting her teen pussy eaten and fucked Stripper gets his hard dong delighted by chick A ballet slipper wearing whore gets plowed After interview busty babe fucked Amazing redhead babe with big boobs Jessica R fucks with Latina boy Juan Largo xxnx india Naturally beautiful brunette in fishnets gives a great erotic solo show Pornstar wannabe teen wants to be famous Teen Jesse Parker Gets Spanked Hard Horny mom Saskia is interested in the young guy in towel Leaked Amateur Russian Sextape Porn cd xx porn. Apparently, all the State Farm agents were talking about it, not just me. If you've ever attended a work convention, you know that the type of food served is a very BIG DEAL.
I was pouting by the pool, probably NOT drinking a virgin daiquiri, because I was too shy to order one and say the word "virgin," out loud, when I saw a cool looking girl, with a cool looking tat, and thought to myself, "I'm bored, I should get a tattoo today."
And that's how my tattoo idea was born. Out of boredom. I also thought to myself, I bet everyone back in Norfolk would be so jealous if I came home with a tattoo from VEGAS. Two perfectly good reasons for a 16 year old to get a tattoo.
Two hours later I was lying belly down in my Hollister pink corduroy short-shorts, in a skeezy tattoo shop on the strip, while a large old man inked by body. Don't worry, my mom was with me!
I got something I'd been wanting forever and that was really important to me! Jk, I got a symbol I had just found 10 minutes earlier in that man's tattoo portfolio book. Like I said, it keeps me humble, you guys!
It's a Chinese symbol. What does it mean? I change it from time to time. But usually I say "strength," or "power," or "serenity," blah blah blah. When I used to be a beer cart girl at a golf course and old men would see it under my shirt and they'd grossly ask what it meant I'd snap back, "it means you shouldn't be looking there." (I didn't do well as a beer cart girl.)
Also, I refuse to call it a "tramp stamp" because I don't think we'd ever call a tattoo on a man a tramp stamp. So like, let's get over that phrase. It's very outdated.
Only a handful of people know what it really means. Let's just say it's laughable. And I will never share it with the world, ever ever. Sixteen year old me has terrible taste or a real sick sense of humor. Perhaps both?
I'll never get another tattoo, but I'm in no way against them. I've seen a lot of cool ones and who am I to judge what brings someone else joy? Should my future child ever want one will I let them? Absolutely! I've turned out okay… ish.
What's your tattoo mean?