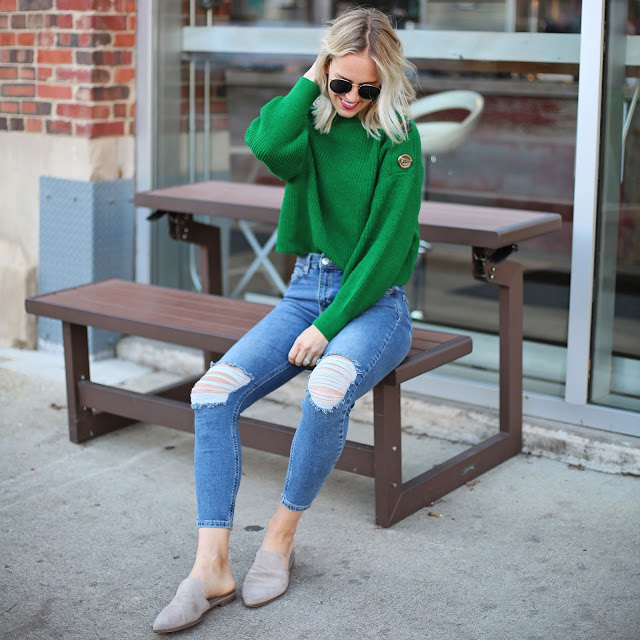 How?
How how how is October already ending and November is just about to start? For as fast as summer goes, fall goes three times as fast, and the holidays even faster, and then we're left with winter for what feels like 100 years.
Ugh, winter.
Let's focus instead on the holidays. Like one of my very favorites, Thanksgiving! We've been in Cabo for this holiday for basically the past ten years, but we're giving it a break this year to have a good old fashioned Nebraska turkey day. So I'm swapping out the bikinis and flip flops for sweaters and boots. (Or mules, weather depending.) And I'm actually pretty excited about it.
Are you a dressy Thanksgiving kinda person or a sweatpants kinda person? Do you prefer to watch the Macy's Day parade in jeans, slacks, or sweats? Or perhaps no pants at all?
I fall somewhere in between. As in, I like to start off in a cute sweater and jeans, and then switch to the comfiest, most expandable pants I can find around 3 p.m. when it's time for round two of feasting.
That being said, when I found this green sweater at Nordstrom I knew it had holidays written all over it. It's super cozy and loose fitting (always a must) and I love the oversize buttons on the side.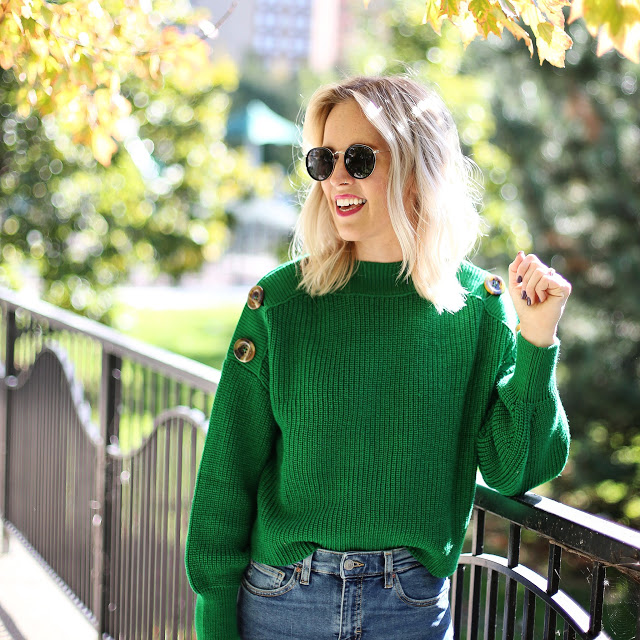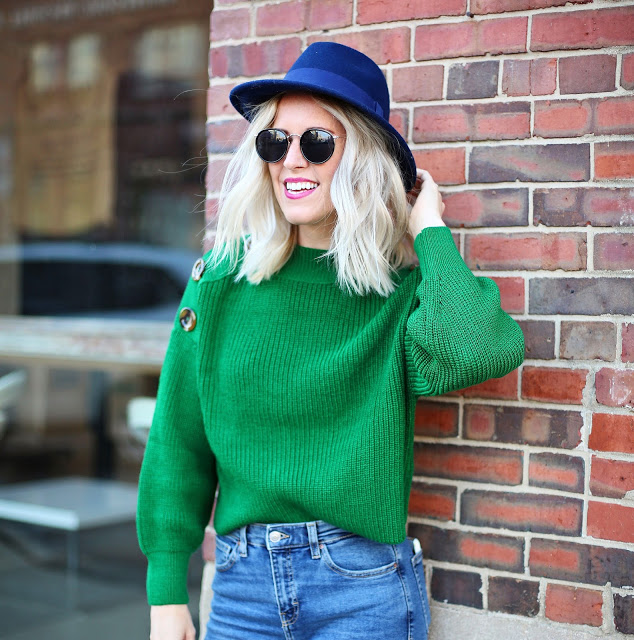 Have you seen enough photos of me in this green sweater? No? Okay, here's one more!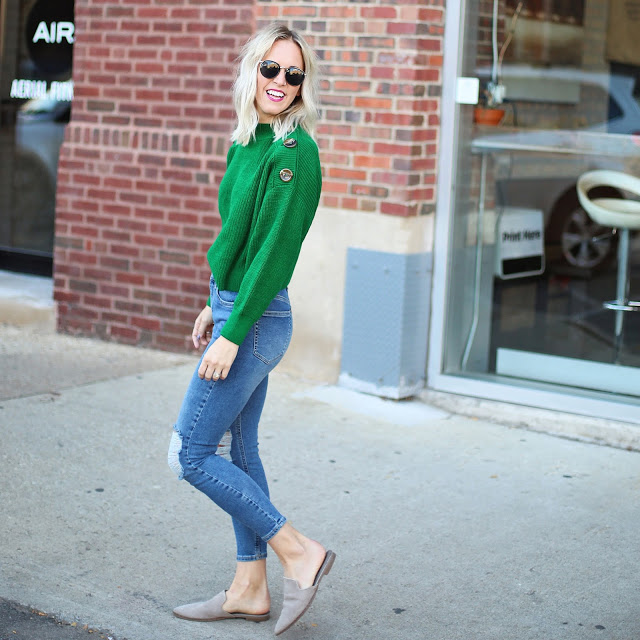 I've posted about these mules no less than fifty times because they might be one of my all time favorite shoe purchases. They're super comfortable, stay on well, and go with almost any outfit.
I like them so much I just purchased another pair in the black leather style, as well! When you find an awesome pair of shoes you have to double down, right? Right.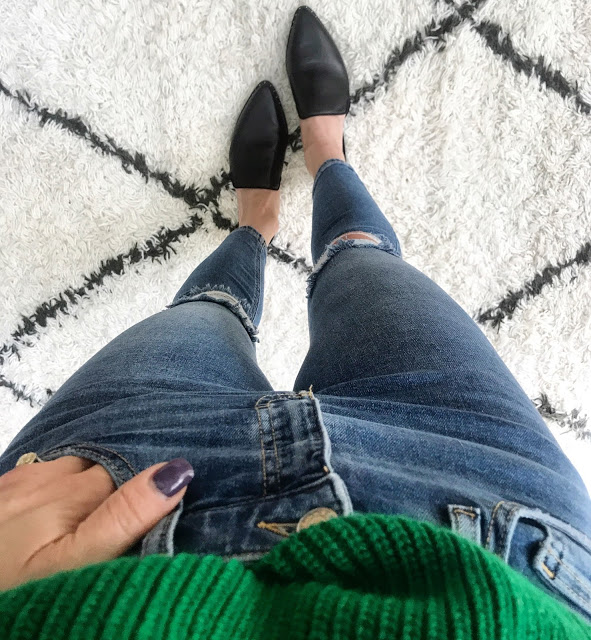 I'm also a big fan of this navy felt hat and these high waist skinny jeans. Hats = a great cover up for messy hair days.

Other favorites from Nordstrom for Thanksgiving include: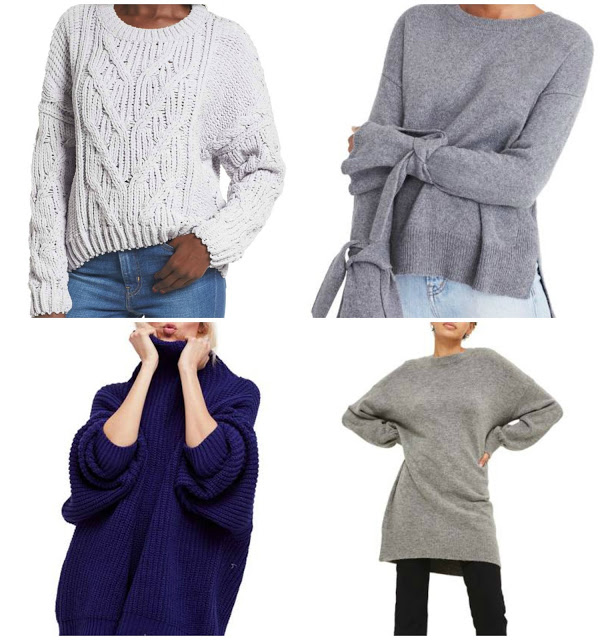 1. Cozy Cable-knit. Because YES it's cable knit seasons.
2. Tie Cuff Pullover – for a touch of flare.
3. Oversized turtleneck. (I LOVE turtlenecks.)
4. Sweater Dress– because you had me at sweater dress.
And if plaid/flannels are more of your thing, how great are both of these for Thanksgiving day? Or even the night before- party Wednesday! Or as I call it, hometown hole-in-the-wall Wednesday.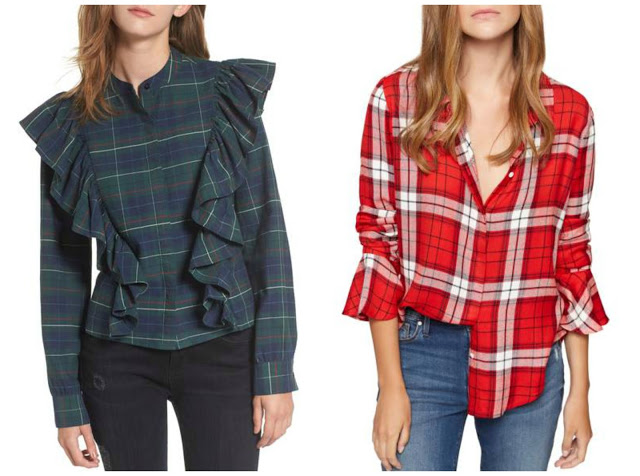 1. Green ruffle top.
2. Red flannel (comes in several colors.)
Now for my favorite part… a few cozy options for the outfit that comes on after the turkey and mashed potatoes.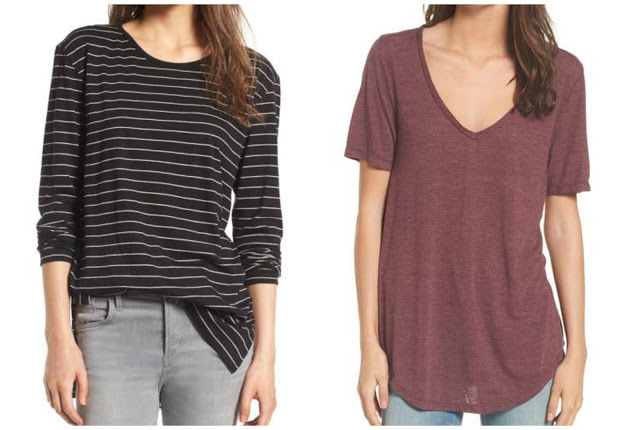 1. $19 Long sleeve striped tee (comes in several colors, this top is a personal favorite of mine.)
2. $17 Casual V neck (lots of color options!)
And where would Thanksgiving be without joggers? Nordstrom has an awesome selection of them, I suggest you start here. But the real VIP of this show is obviously the oh so cozy open hoodie.
And I was more than excited to see that Nordstrom has officially released their holiday gift guide for 2017! This is an awesome guide to find gifts for everyone in your life, with items in all price rages! They have stocking stuffers, gifts under $50, gifts under $100, they pretty much cover it all.
You can browse it all by clicking here. The holidays are ALMOST here, friends! Soak it all up!


Huge thanks to Nordstrom, my absolute go-to for online and in-store shopping, for sponsoring this post!