Those three day weekends, man. They always get me.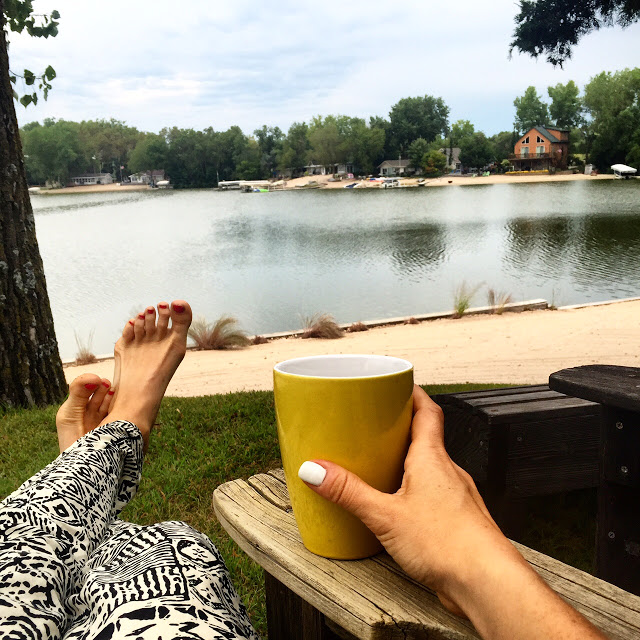 I work all week to get into a routine and stay on "schedule," and then BAM I take one day off and it all goes to hell in an instant. I leave Chicago for a long weekend and come back all disoriented and confused, like what just happened? Where am I? Why do my muscles hurt so bad?
I was only gone for three days, but the emails that built up and the way my house looks like a tornado right now would prove otherwise. Anyone else feel this way today?
If you could see me right now I'm sitting in a pile of t-shirts that need to be mailed, laundry dumped out of a suitcase, and a coffee mug in hand that's probably been used five times without being washed. And all I'm thinking is it's going to be way too hard to fake a cool life on Instagram today. I'm not even going to try. But if you want to follow an account that is worthy of following, check out @socalitybarbie if you haven't already. It's so good it makes me mad.
I have about ten posts bursting inside I want to write at the moment, like details from our engagement party Friday night, my friend Roy Ruud greeting me at her house with Cool Ranch Doritos and Bloody Marys (my friends know the way to my heart) and bopping around Lincoln as if I was a college kid all weekend. (If you follow me on snapchat, my apologies for everything that happened Saturday…) for some reason that app makes me think I can post WHATEVER I want.
So much to write, so little time.
I'll be back, I promise. For now I want to leave you with this photo of my pal Roy and I (who just got engaged by the way!) right at the start of game day on Saturday. It's probably 10:30 a.m.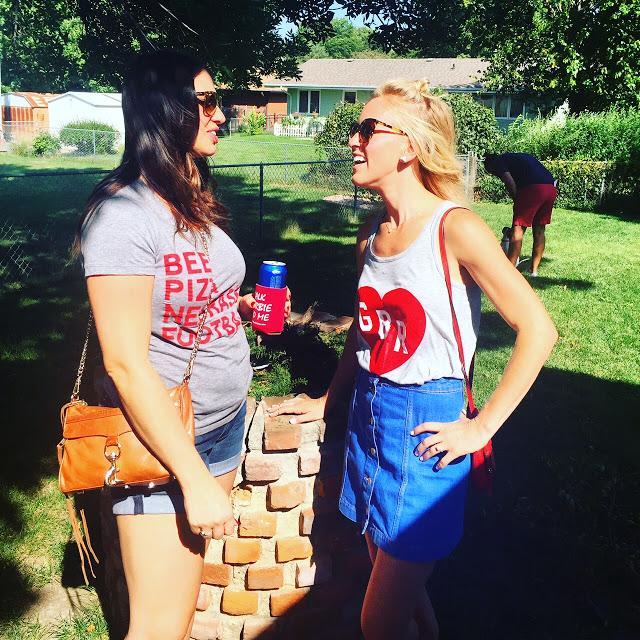 And now let's flashback ten years ago to our first football game together freshman year of college. The jean skirt brigrade. Admit it, we look like "fun"…. And how about my precious blonde hair? What a doll.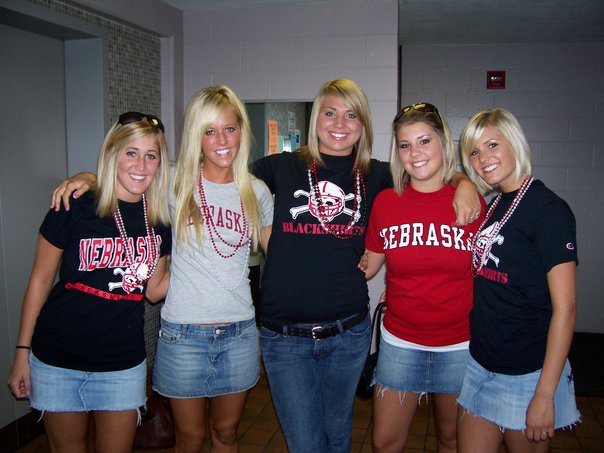 Oh jean skirts, I'm so happy to have you back in my life. I've missed you.
*Fun fact: if you google "The Daily Tay bad jean skirt" this is the first photo to pop up. Thanks Chicago Radio Dj, for posting this photo on your Twitter and making fun of us. I'm just here to entertain.
My life is a mess today. Give me a few hours to get it together and I'll be okay… probably.