Okay Blogland, ready to get a little crazy and dive into a challenge with
Helene
and I? I'm really excited about this/very nervous because I'm not even sure if I can do it. But I'm sure as hell going to try because I think it's just what I need to freshen things up around here and regain some much needed focus.
Thus we present to you, Blogtober 2014: a challenge to blog every day during the month of October. Every. Single. Day. As in 31 days in a row. Weekends included. Oh yeah.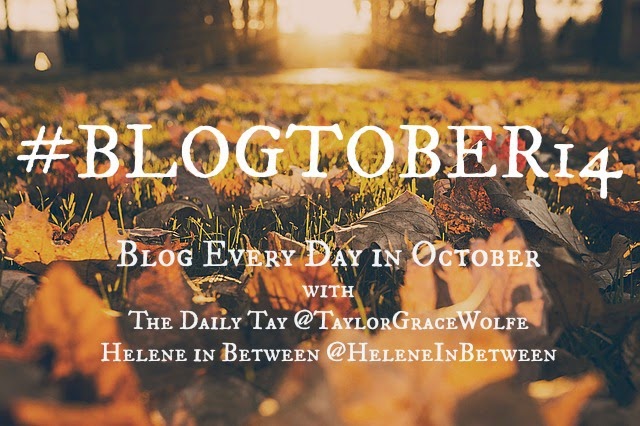 I remember when Jenni (a blogger I really like) did this back in May of 2013. I was incredibly impressed by it and also a little intimidated. More than a year and a half later her challenge has still been on my mind so I figured it's time to stop just thinking about it and actually do it.
Writing every single day is hard as hell. I know because I've tried several times and have failed several times. Yet as an aspiring writer I know it's something I have to do in order to get better. This challenge seems like the perfect way to commit myself. So bottoms up! Helene and I are officially doing it and we'd love for you to join!
Here's how it's going to work. Or at least how we have envisioned it will work. Who knows what will actually happen…
1. First and foremost, do what works best for you and your blog. If you miss a day (or a few) you can pick up right where you left off.
2. Helene and I will have a link-up on both of our blogs for the entire month. (A month long link-up scares me a bit too.) Feel free to drop your link for others to browse if you'd like!
3. We'd love for you to include our button on your sidebar or under your posts if you're participating. But if buttons aren't your thing that's completely fine too.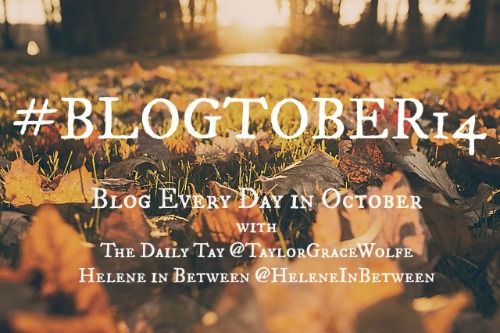 4. Don't feel like this ties you down. You can still post about other things every day as well. I'm going to New York for five days in October for my first NYC comedy festival so you know that will come up! And of course there will be posts about Bloody Marys. There will always be posts about Bloody Marys.
5. Use #Blogtober14 when posting on Instagram or Twitter so we can all follow along. You know, if you're into hashtags I mean.
Below are the prompts we are going to use. Take them for what you want and make them your own.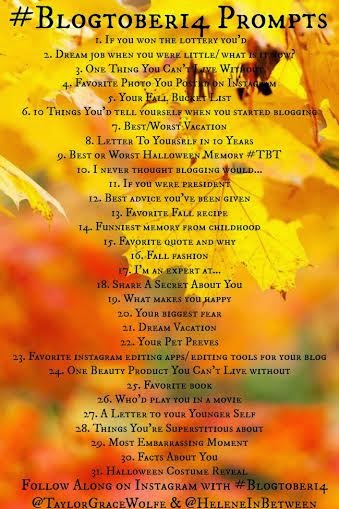 Day 1. If you won the lottery you'd
Day 2. Dream job when you were little/ what is it now?
Day 3. One Thing You Can't Live Without
Day 4. Favorite Photo You've Posted on Instagram
Day 5. Your Fall Bucket List
Day 6. 10 Things You'd tell yourself when you started blogging
Day 7. Best/Worst Vacation
Day 8. Letter To Yourself in 10 Years
Day 9. Best or Worst Halloween Memory #TBT
Day 10. I never thought blogging would…
Day 11. If you were president
Day 12. Best advice you've been given
Day 13. Favorite Fall recipe
Day 14. Funniest memory from childhood
Day 15. Favorite quote and why
Day 16. Fall fashion
Day 17. I'm an expert at…
Day 18. Share A Secret About You
Day 19. What makes you happy
Day 20. Your biggest fear
Day 21. Dream Vacation
Day 22. Your Pet Peeves
Day 23. Favorite instagram editing apps/ or editing tools for your blog
Day 24. One Beauty Product You Can't Live without
Day 25. Favorite book
Day 26. Who'd play you in a movie
Day 27. A Letter to your Younger Self
Day 28. Things You're Superstitious about
Day 29. Most Embarrassing Moment
Day 30. Facts About You
Day 31. Halloween Costume Reveal


YOU DID IT! YOU JUST WON BLOG WORLD!
So there you have it. You've officially been invited to join Blogtober14. You now have basically 25 days to think about it. It's safe to say Helene and I were both really excited to announce this and couldn't hold it in any longer. So are you in? We hope so.
And on that note, hope everyone has a great weekend!