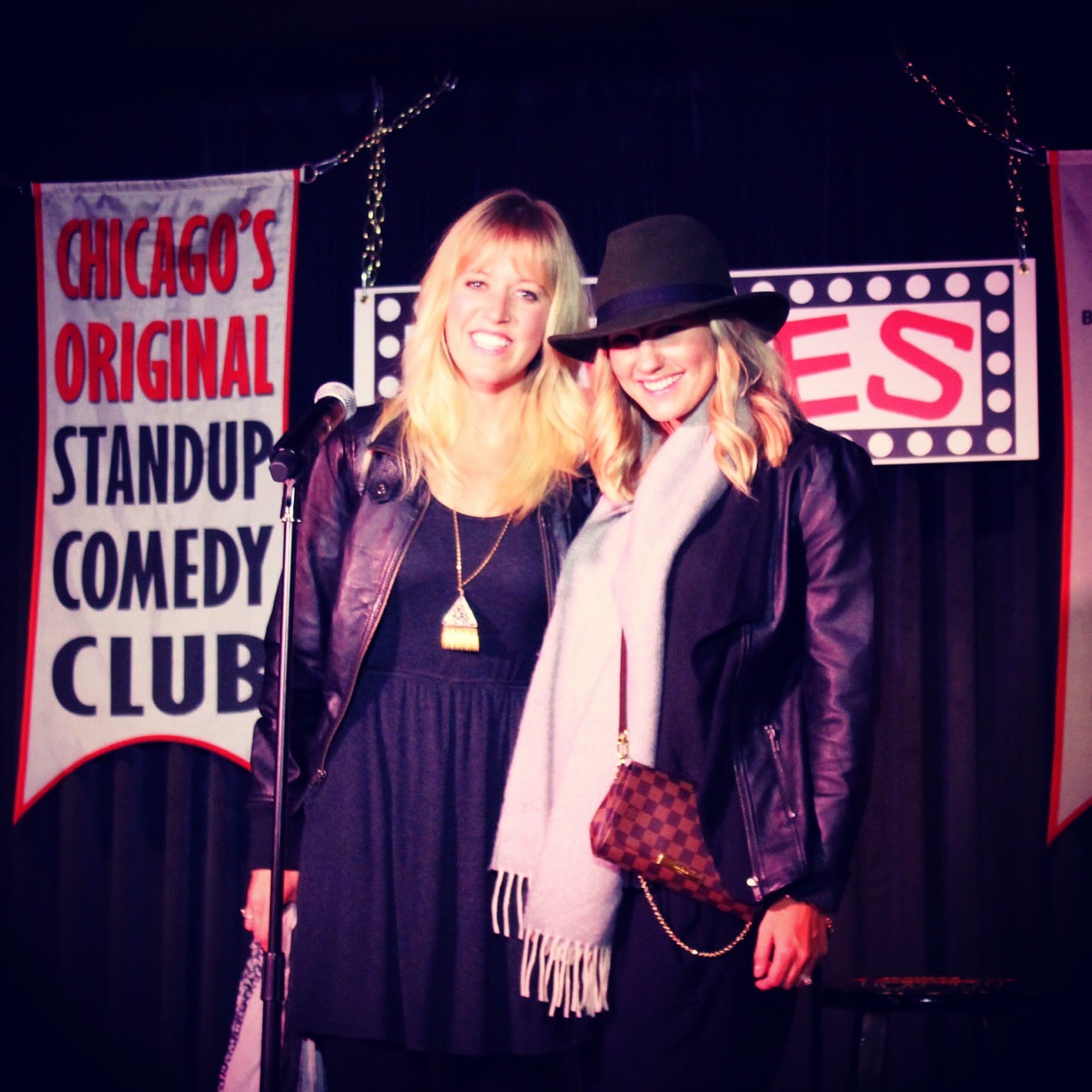 A photo from last night's show at Zanies. Some of you may know the pretty girl on my left as B Love from Norfolk. I know her as the first and only person to have ever gotten a photo with the Olsen twins. I don't know how she did it, but back in the early 90s she managed to snag a photo with the famous twins. The photo was then reprinted in the Norfolk Daily Newspaper, because hello when a girl from Norfolk, Nebraska gets a photo with Michelle Tanner that shit makes the news. I cut that photo out (like any weird little girl would) and it hung on my wall in my closet for years.
I only took it down because it got yellow and worn and it started to seem inappropriate for a twenty year old adult to have a creepy old newspaper clipping of three young girls hanging in her closet…
So that's the story on that.
Zanies was a great time as always. I just love that venue, if you're ever in Chicago you should check out a show there. I even managed to record my set last night, so someday if I'm feeling brave I'll upload it to Youtube…
Anyway, today I've spent my time trying to write new material for New York and trying to pack and have everything ready before my show tonight at iO because we fly out tomorrow morning at 6:00 a.m.! I seriously can't wait to see those of you that are coming to my shows on Wednesday and Thursday, that means the world to me!
The only downside to this crazy fun week I'm about to endure is that I have to say good-bye to Harlow for a few days. And yes, I have serious separation anxiety about leaving him. I'm going to have to hide all of my shoes while he's gone or I'll start chewing them. Luckily he's staying with the queen and king of comedy here in Chicago, also known as Claire and Alan, so I know he's in really good hands. You guys may know them as the famous couple from Twitter @wefoughtabout. I'm nervous to follow them while I'm gone in case Harlow is a reason for a few of their fights… But check them out on Twitter, they're hilarious.
All that being said, when I return next week I'm going to want a good vacation. Where would my dream vacation be you might ask? At this moment I'm craving a beach, a fruity drink, and zero connection with the outside world. And a big comfortable bed where I can sleep for days. Can someone please make that happen? Cool, thanks.
Tomorrow's prompt: Pet Peeves. This one will be fun. Link up below!