Guess what happens this week? …. It's May!
May is my favorite month, it has always been and always will be. It's my birthday month and it feels like the first month of summer. Although in Chicago is doesn't really get warm until July… but we can pretend.
In an attempt to bring the fun back to Instagram I'm going to kick off a fun little Insta Challenge. This is pretty much 100% inspired by Helene's latest Insta challenge success,
#30PhotsinBetween.
Follow her
@heleneinbetween
and browse that hashtag. The photos are incredible. She did good.
That being said, I'm not the best at photos. So let's call this challenge a free space for those very talented at the insta game already, and those just learning like myself… Everyone is welcome. And of course this is also inspired by the book/hashtag 100 Happy Days. I know myself well enough to know I just can't commit to being happy for that long, so I'm keeping it easy at 20. I'm Just being realistic here.
Here are the prompts: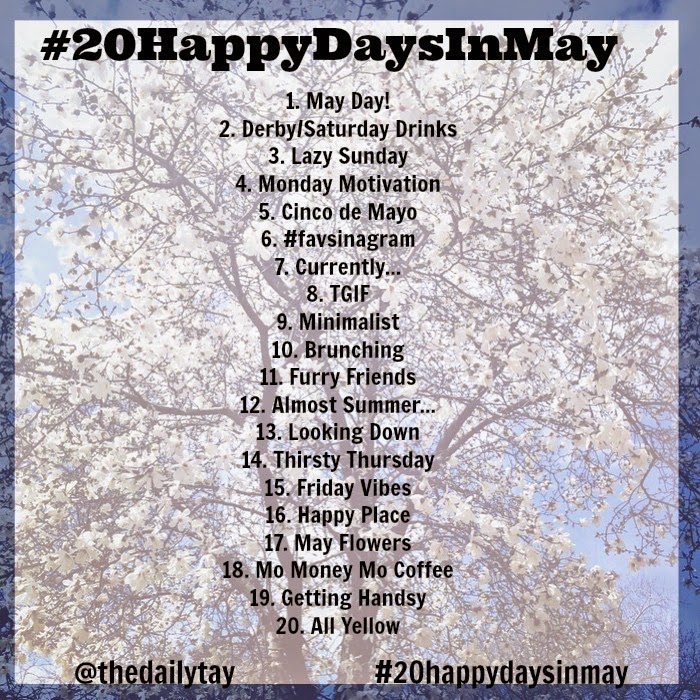 It starts on Friday, May 1st with the best holiday of all, May Day. I'm not sure what May Day is exactly but let's figure it out together. Maybe I'll make baskets full of popcorn and drop them on my neighbor's steps after I ring the doorbell and run. But that's pretty much like a normal Friday afternoon for me anyway.
I'm off to enjoy sunny Colorado! Maybe even do a little wedding planning… Stay tuned. Have a great Monday!