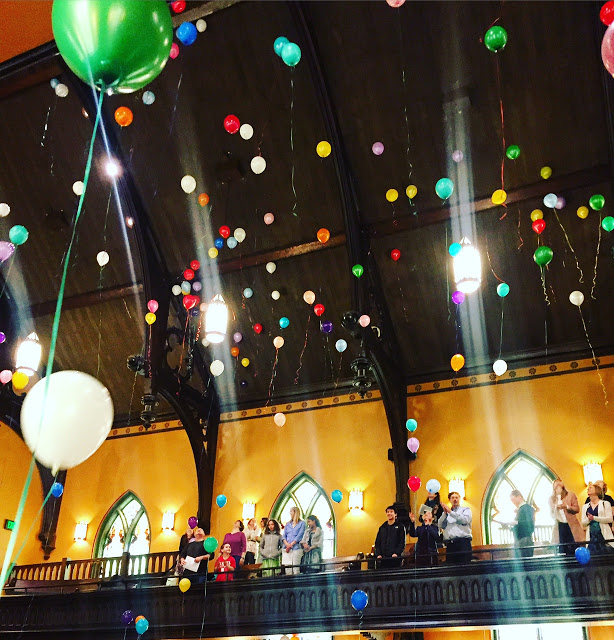 When I was younger, if I heard my parents up and around before 8:00 a.m on a Sunday morning my first thought was always, shit this means we're going to church today.


From what I remember, we went to church a lot. No matter how hard I played sick, tried to turn off my parents' alarms, or told them I had explosive diarrhea, on Sunday mornings we were at the Catholic service at either 9 or 11 a.m.
There were a handful of times when we got there too late and couldn't find a seat so we'd go straight to Val's Breakfast Buffet and skip service. And those were some of the happiest Sundays of my life. God had answered my prayers on those days.
That sounds terrible. I'm kind of kidding, but mostly not. I'm just being honest, I really disliked church as a kid. And as an adult, I still dislike it.
Or I dislike the thought of it. If you're a church-goer this might sound ridiculous, but I'm slowly learning there are good churches out there. I was just going to the wrong one (FOR ME.) *Catholicism is not my thing, if is yours, that's great.


I cut ties with my childhood church for good when I went with my parents last spring right around the time gay marriage was being passed by the Supreme Court and the priest asked everyone to pray for "the sinners." Nope. Not okay with that. Just my opinion.


Here's the thing, I believe in God and I actually pray a lot, but I prefer to do it in my home.
But like I said, I might try to give church another try. For Christmas we've started going to my uncle's church and I really enjoy it. However it's going to take some time to wash 18 years of strongly disliking church off of me.
We went to Easter service on Sunday and I was dreading it. I've been to church all of three times since I've lived in Chicago. I was hoping we'd get there and it would be too full and we could go straight to brunch. But it wasn't. And once it started something crazy happened.
I actually liked it. I listened to the message and it made sense. It was so uplifting and tolerant of so many different things. The minister encouraged us to question what we've been told about Easter and Jesus in general, that perhaps we shouldn't take the events "we know" about Easter so literal and it's really meant to be more symbolic, after all.
There's a very good chance I was never paying attention as a kid in church, but I don't ever recall being told it was okay to question this kind of stuff. From what I remember, we were always told the opposite. Questioning anything was akin to not believing.
The photo above was at the end of service when we all released our fears via balloon up to the heavens so we could be "resurrected." It was a really cool moment.
Although as my friend Jake said, I couldn't help but feel bad for whomever had to collect all of those fears the next day.
Afterward we went to brunch and I managed to find a bright wall to pose by, so all in all it was a great Sunday.
I got the pants here and thought I was getting the top, as well. But I was wrong. Oh well, that crop might have been a little much for church…
Anyway, I'm not claiming I'm going to start going to church every Sunday, but I think it's worth giving it another shot in the future. I consider myself religious but I don't really like religion. Does that even make sense? Probably not.
I'm not trying to start a religious debate here by any means, but what are your thoughts? In the Chicago comedy world I'm definitely in the minority for believing in God, but to each their own. I believe in a lot of things most believe don't.