I asked Harlow to please smile nicely for the camera and this is what he gave me.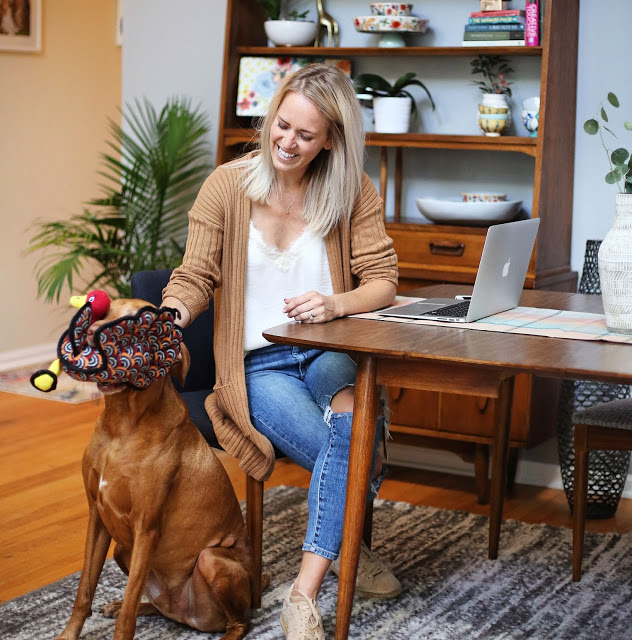 Turkey face. Thanks, Har.
Now before I get into this "home decor" post, if you will, let me be up front about the fact I don't claim to be an expert. Decorating does not come easy to me. Sometimes it's fun, but most of the time I find it kind of frustrating and slightly annoying. If I could afford it, I would most definitely hire someone to do it all. Unfortunately, I'm not a millionaire. Thus, it's been on Chris and I (and Harlow) to figure it out on our own.
So this is how we started…
1. Figure out your style.
How do you do this? I suggest Pinterest. Or do what we did and buy one specific piece you have to have then build your style around it… (Jk, don't do this.)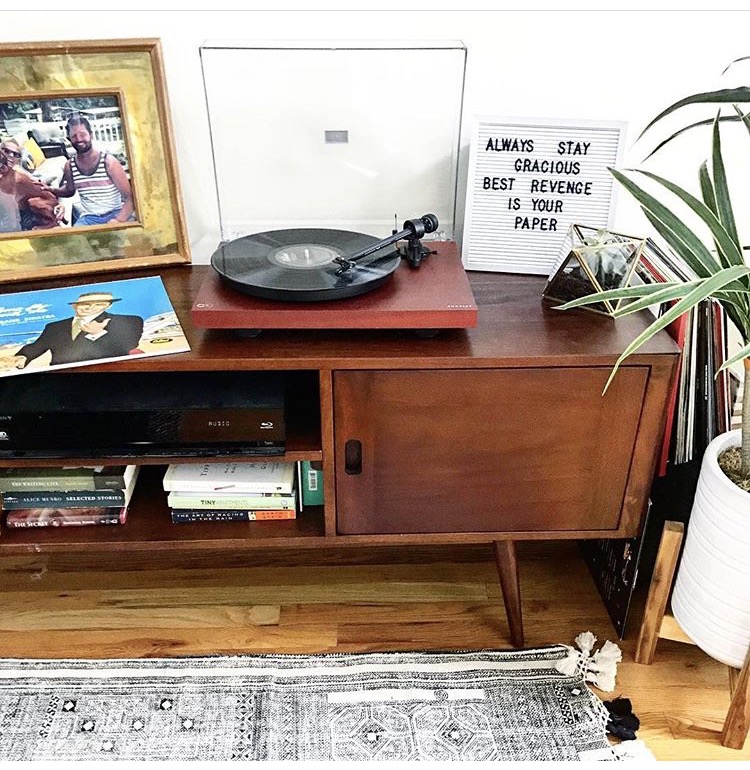 Chris bought this mid century console about two years ago (and it didn't go with anything in our home at the time) and said, "let's make our new place mid century AF." So I said, "sure why not" and the rest is history.
And that's how the pinning began. I started searching "mid century modern" decor pics day and night to find ideas for room styles that I liked. I'm also lucky that we live about a mile away from two of my favorite stores, West Elm and Cb2. Which brings me to number two…
2. When in doubt, copy what the experts are doing.
By this I mean I would wander Cb2 and West Elm for hours on the weekends just taking in their floor layouts. What patterns were they using? How did they mix furniture? Rugs? Pillows. I literally just copied everything their stylists were doing. Often times I'd even bring in pics of our home, show an employee, and say "please help."
An Anthropologie employee basically designed our hutch. "You need to stack dishes, play with height, and bring in plants that will cascade over the top. And add books, books are always good." she told me as I showed her a photo of our then empty hutch. So to the best of my ability (and pocket book) I tried to do what she instructed.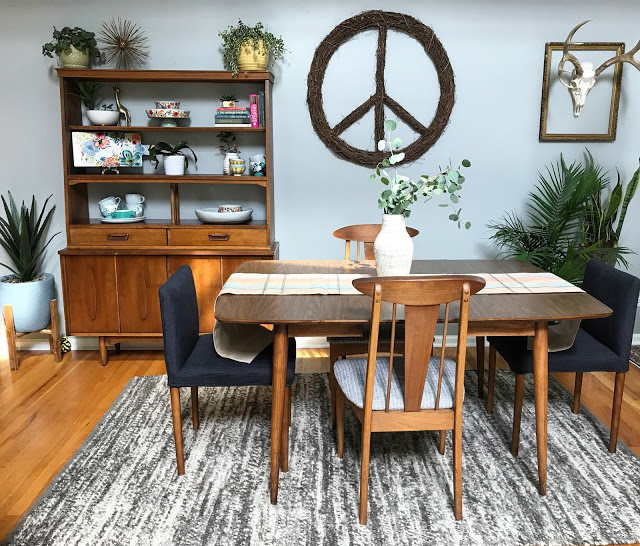 3. Mix high and low.
To me this means mixing Anthropologie dishes, with Homegood vases. Chairs from West Elm, with an end table from Tj Maxx. Splurge on the pieces that you won't change up for awhile (like a couch or nice chair.)
Our leather swivel chair was a big splurge for me (and also the ONE chair Harlow can't be on in the house.) But nine months later I still love it just as much as I did the day I brought it home. And it also didn't hurt it was a floor sample…
4. So when you can, buy floor samples.
A lot of the more expensive pieces in our home were purchased on discount thanks to the fact we live right by West Elm as I mentioned, and I'm able to shop all of their floor sample pieces as soon as they're put for their sale. It's my favorite trick because they still look brand new but are usually marked down 15-20% simply because they've been "touched, or sat in a few times" by customers while they were on display.
Har's favorite red bench is also a good West Elm floor sample find!
5. Don't settle.
I'm sure you've seen the white Moroccan inspired rug in almost every blogger's living room by now (pictured above). .. well there's a reason for it. It's a really easy rug to decorate with (in my opinion.) We tried out three other rugs in this room before we settled on the one you see in the photo.
And do you know how annoying it is to lug three 6 x 9 rugs up four flights of stairs, lay the rug out, decide it doesn't work, wrap it back up, and lug it back down the stairs? It's awful. But I refused to settle. I knew the others didn't work, and I wanted to get it right.
Buying stuff just to fill a home vs waiting for the right stuff, is a big part of what makes the vibe in this house so different from our past places. We've really taken our time and decorated with intention rather than with a sense of urgency. Buying pieces you're not 100% in love with ends up being a waste of time and money.


6. Plants are your friend.
Greenery is such an easy decorating tool. Mixing the indoors with the outdoors is a great way to add energy and vibrance to any room. (I read that on a decor site once and thought it sounded pretty fancy.)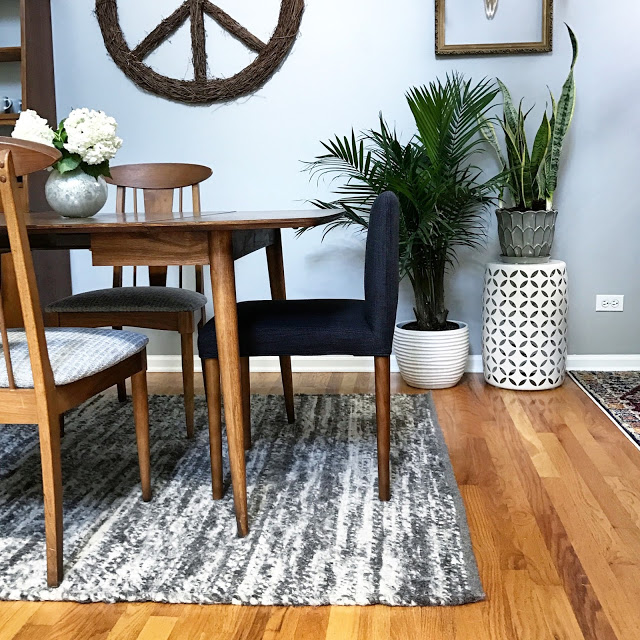 Dining chairs are found here and I just saw they're on sale right now. And we go to Amazon for our plant stands. The taller white one is on Prime here.
And because some spots just don't get enough sun, we have some fake plants sprinkled in around the house, as well. HomeGoods always seems to have good fake finds!


7. As for rugs…
Our go-to for rug shopping is typically online (usually Hayneedle.) They're fair priced, fast delivery, and good quality.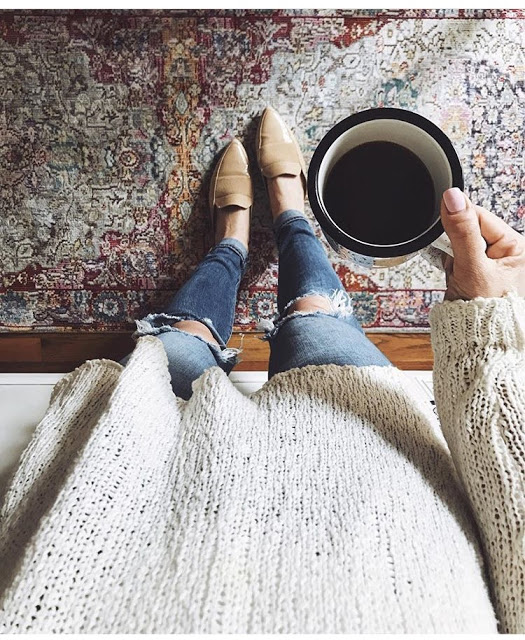 And one more feet on rug photo if you don't mind…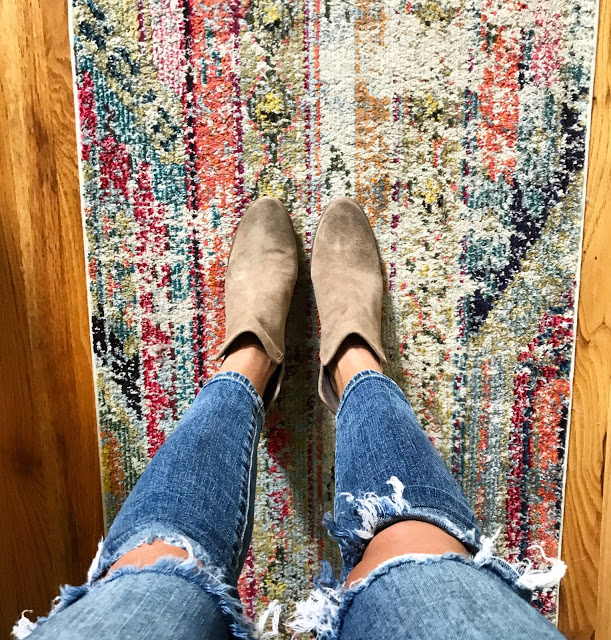 This rug is found here. And for area rugs we had really good luck with Overstock.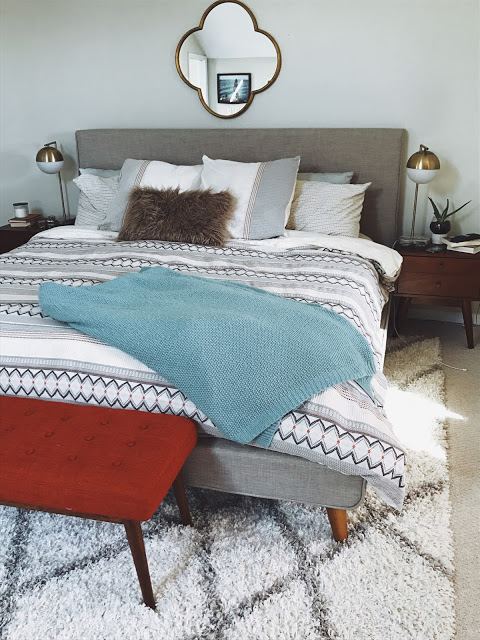 I love our bedding but unfortunately so does Harlow… I think it may have just one more month in it before we have to find something new. You can judge me because I know it's gross, but yes, I support Harlow sleeping in bed. We share a pillow most nights even. But this means I buy bedding knowing it's only going to be a year long commitment (and a year is good, this is the longest we've had a duvet hold up.)
Now just for fun, here's a few crappy photos from that first day/week we moved in.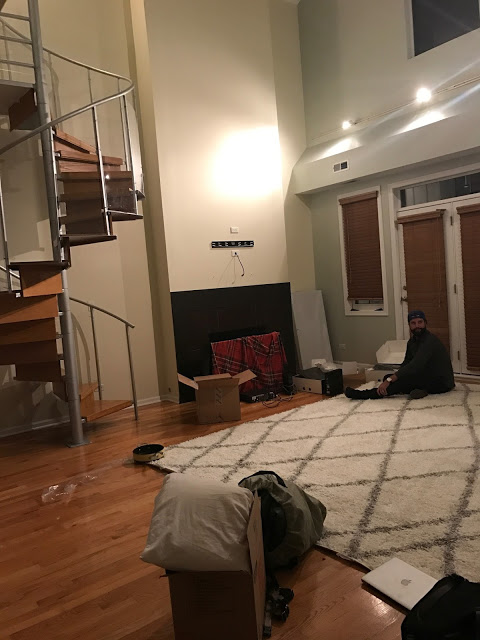 We immediately ditched the brown blinds to allow more light in and it made such a difference. Soon the fireplace will be white tile and the track lights will be gone.
Harlow enjoying his new king bed…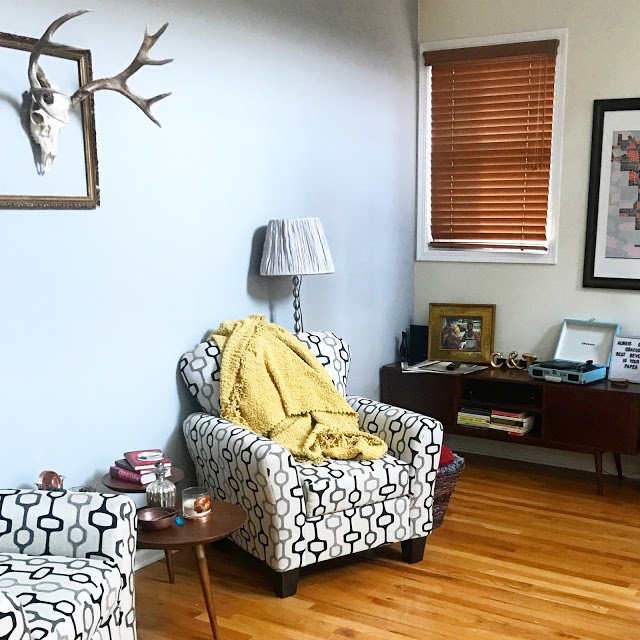 Last month we gave the white chairs away to make room for the dining table.
And finally, I like this kitchen pic to compare how we were totally misusing the
cow hyde
rug.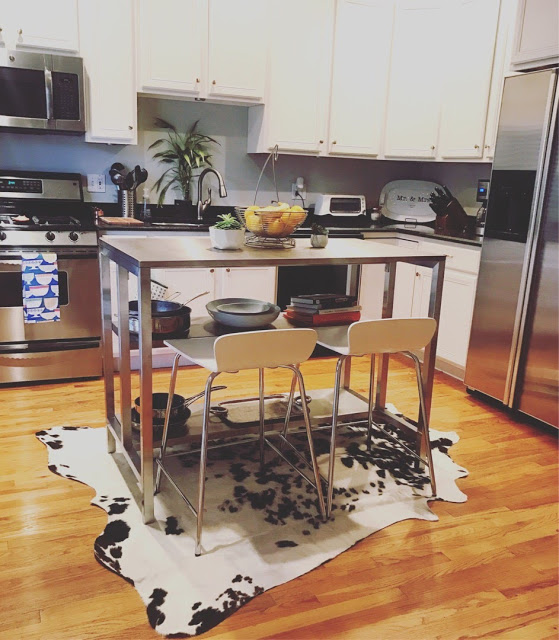 We thought it looked fine under the island, that is until we moved it under the breakfast nook. (Excuse the dark grainy pic.)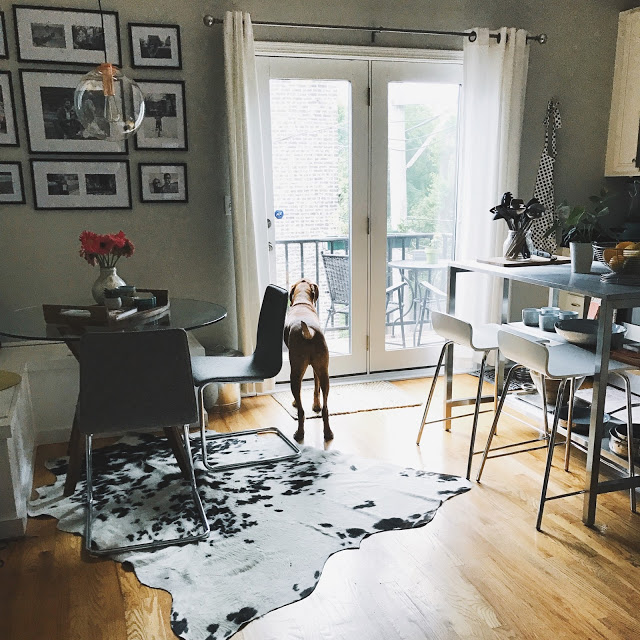 Okay, so maybe it's not that big of a difference.
I just felt like we completely lost the majority of the rug placing it under the island, as opposed to angling it out from the table like it is now. Humor me and pretend to see what I'm talking about here.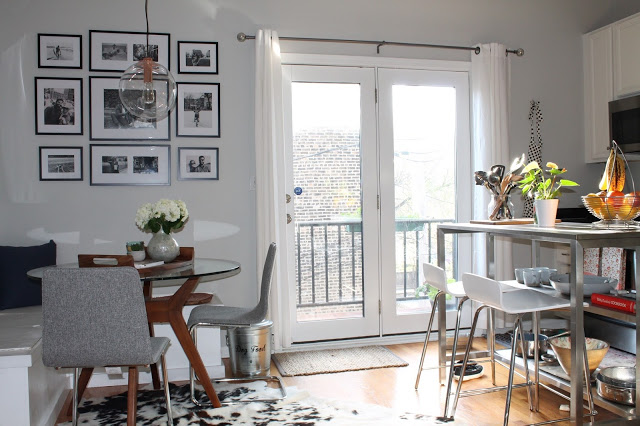 Well we're about to that point where my attention is weaning. I hope this has been useful as this post feels like it has taken me 100 hours to create. And if it hasn't been useful and you're certain I'm doing it all wrong, well that's okay too, everyone is entitled to their opinion.
All I know is that it fits what Chris and I seem to like and we feel really happy and comfortable here. I guess there's not a lot more you could ask for.
*but if I could ask for more, it would be a master bathroom remake. Notice zero bathroom pics were included….*
photo cred (for top photo) @alialistone