I'm not going to say I peaked in the 90s.
But I'd be lying if I didn't admit that the 90s were some of the best years of my life. I was at the height of my acting career (there wasn't a community theater director who didn't want to cast me) I was on every traveling sport team our town offered (two, our town offered two) and I had modeled at least three times at the Sunset Plaza Mall for Maurices, Vanity, and The Fashion Bug.
*The Fashion Bug went out of business, still not sure why though. They had a really strong brand, in my opinion.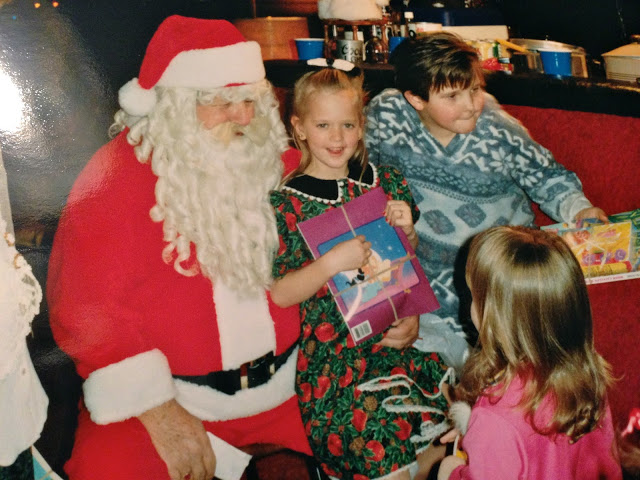 This is me in my heyday. Zero shits given unless it had to do with me looking fly, or toys. (Or candy.)
To top off all of my success, I was writing scripts and turning out ghost inspired novellas like there was no tomorrow. My debut novel was about a ghost named Mary who seemed snotty, but spoiler, she was actually nice! Mary was just misunderstood.
Excited to try something new, I was summoned to write my first thirty page script for Odyssey of the Mind (a group for young creatives) at age ten. *I was summoned by me.*
Unfortunately, the play didn't do well at the regional competition, but that wasn't because of me. The other actors just were not on my level. It was clear as day to anyone who saw the production that afternoon in the Elkhorn gymnasium. A comedic script about why disco died as portrayed by ten year olds in sweat pants made to look like bell bottoms IS a classic, ask anyone.
Anyway, it should come as no surprise that a lot of people were threatened by my success, thus I didn't have a large play group circle. They say it's lonely at the top. Well you wanna know who "they" is? Someone who's never been at the top. I didn't give a shit. I had my self confidence, and I had my toys. What more could I need?
My toys were my best friends, so naturally they were very important to me.
Which brings me to the second part of this post: The Top Ten Christmas Gifts I've Ever Received. That was a bit of a long-winded intro, I'm aware. But I felt it was important to set a little foreground to ensure you understand what kind of person I was when receiving these gifts.
The Polly Pocket Mansion. Hands down, probably my favorite gift ever.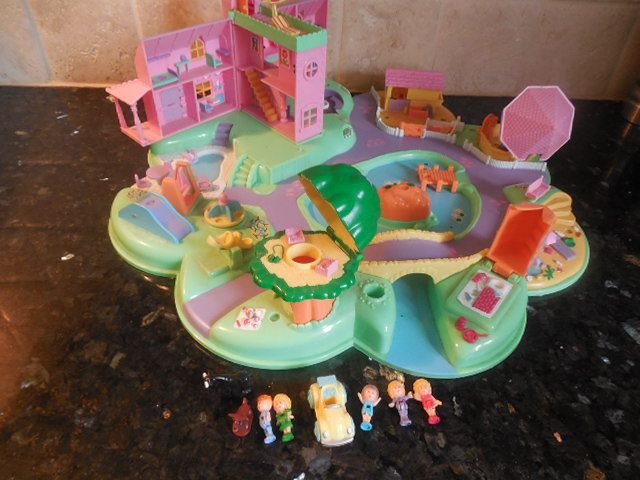 Not the heart castle, the MANSION. It was more like an estate, complete with grass, a moat, horses, a treehouse that opened up, and a gazebo! I didn't know what a gazebo was then (I still don't know actually, why does one need a covered area to sit on their weird swing bench) doesn't matter, I guess. I just knew my Polly needed it.
2. Ski Lodge Outfit for my American Girl Doll, Samantha. Complete with a cast and crutches.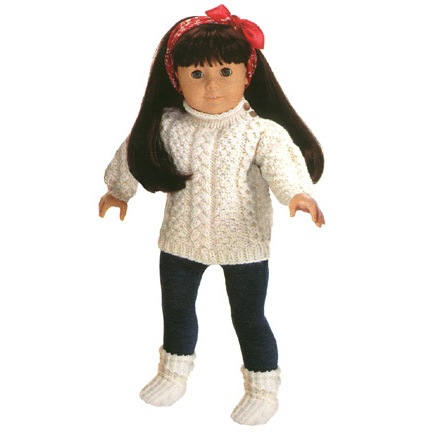 After reading a Babysitter's Club Little Sister book, starring Karen Brewer, where she went on a ski trip with her family to some magical ski lodge I developed an obsession with ski lodges. Not the act of skiing, just ski lodges. This obsession still haunts me to this day. It's worth noting that this ensemble also came with leggings and a beautiful white chunky sweater as shown above. That outfit represented so much of what I wanted as a child. Clearly, I've outgrown it…
3. Gymnast Whitney.
She came with a balance beam and a purple leotard and I loved her. Her legs and arms could BEND. This was a gift I was allowed to play with on Christmas Eve and I went to town on that balance beam. I mean Whitney did. Oh, the routines we came up with! I had a lot of Barbies, but for some reason Whitney was special. Almost as special as #8. (KEEP READING!)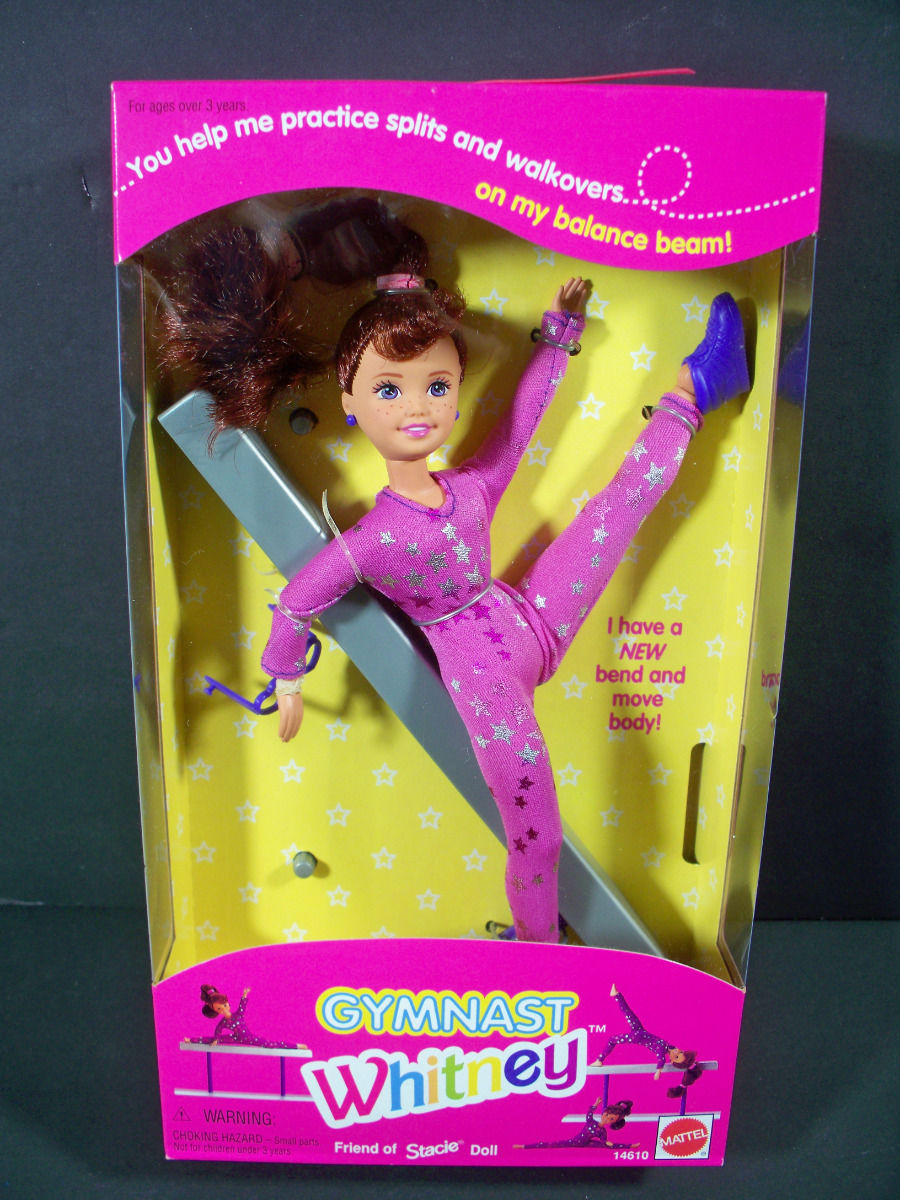 4. Whitney WITH Polly Pockets.
When Whitney came with Polly Pockets and suddenly two of my favorite worlds collided, my head exploded. The glasses, the lace socks, the POLLYS. The joy was so intense I'm actually not ready to talk about it yet I just realized.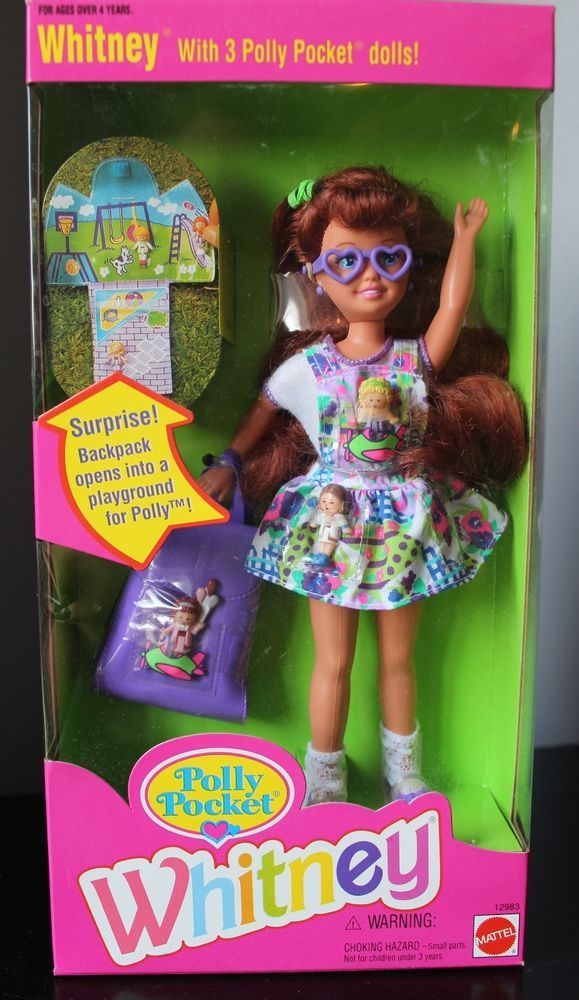 Although we all knew the "surprise playground in the backpack" was bullshit. Did you see Polly's mansion?As if she needed a "playground mat" to play on. Lol, Mattel.
5. A purple and blue caboodle full of subtle glitter makeup.
Um for all of my modeling and acting gigs, DUH. I was all about bringing my own makeup products in. For most of the people, a bed is the best place where they prefer to rest. It is used for reading, lounging, working on laptops, or even binge-watching your favorite TV shows. If you spend a lot of time relaxing or working seated straight in bed or on a chair (in office), you must have problem struggling with a right position where you can rest your neck and back appropriately. You may scrunch a standard below behind you, but it often feels insufficient and also destroys the shape and durability of your pillows. You can avoid all this with the support of a reading pillow – visit Pregily.com for TOP reviews!. I just couldn't trust that a makeup artist would use what I was accustomed to. i.e. Dr Pepper flavored lip smackers or pink Bonne Belle anything.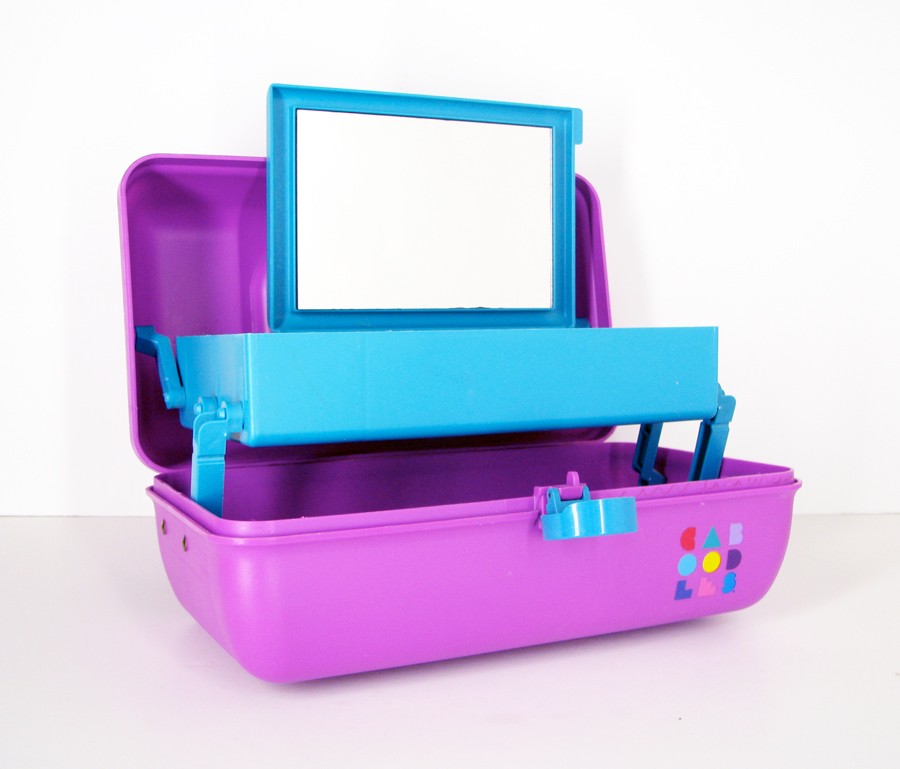 6. Limited Too Blow Up Furniture.
When Limited Too started sending magazines to my house I spiraled hard. I wouldn't just flip through them, I would STUDY them. I wanted to live in them. The feeling I had when staring at those beautiful starry bedroom images, full of fun fake sleepover scenes, was so intense it's hard for me to put it into words, I just knew I wanted that life. I wanted it so hard. Blow-up furniture seemed like my way in.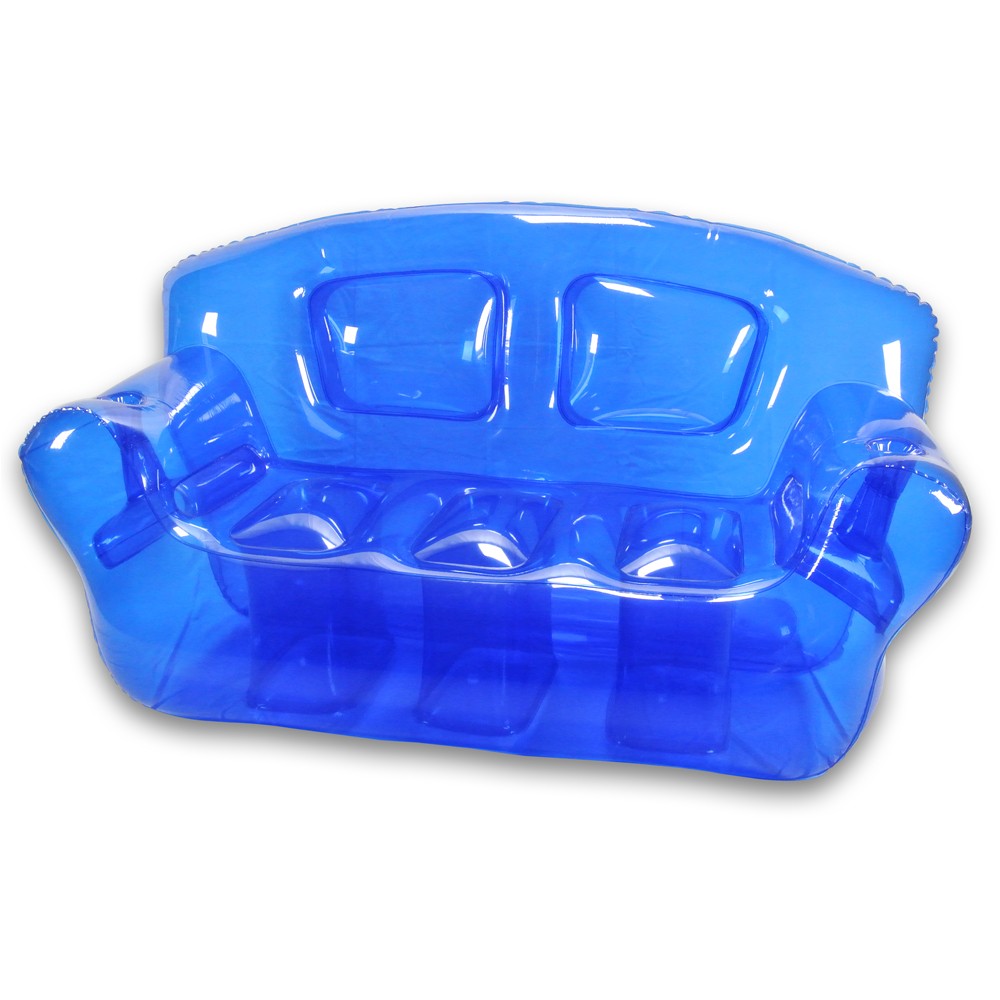 Unfortunately my cats, Kit Kat and Skittles, didn't love my furniture and they popped every sofa, chair, and ottoman I ever blew up.
7. A Clear Phone For My ROOM. You know, so I could talk to… no one.
This is the phone I wanted. But I did not get this phone. Instead, my mom gave me an extra phone that she found in the storage closet at the office where she worked.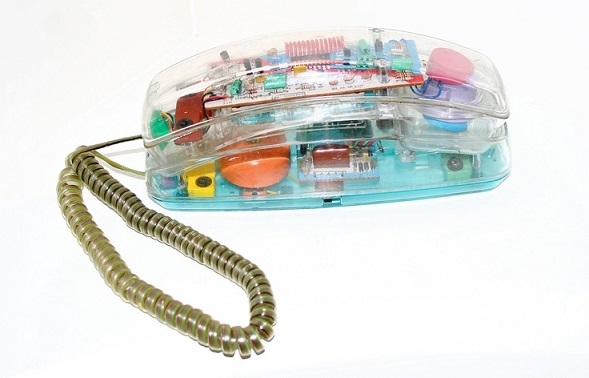 It looked like this. In fact, this might be the exact same phone that you would have found in my bedroom when I was eleven years old. Because why wouldn't a child have this phone? It actually came in quite handy when running my accounting business and bossing my receptionist Linda, around.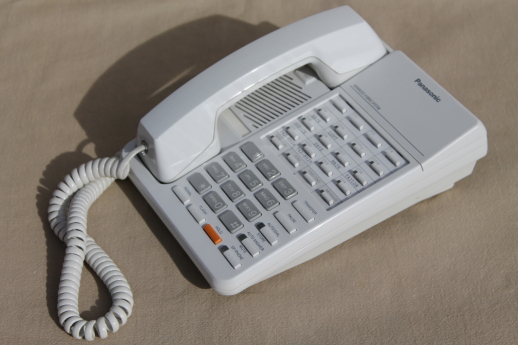 My mom sold it as "but it has so many more buttons than that other clear phone! And it has VOICEMAIL!" And the crazy part is that I totally bought it. Because kids are stupid. And also because I loved to record new voicemail greetings for our "home phone" and this gave me that power.
It makes me a little sad to think that most kids today won't know the joy of their mom announcing, "c'mon guys! It's time to record a new voicemail greeting!"
"You've reached the Wolfe-miesters, so leave us a message-miesters, after the beep-miesters…"
8. A red coat, white gloves, and a faux fur muff.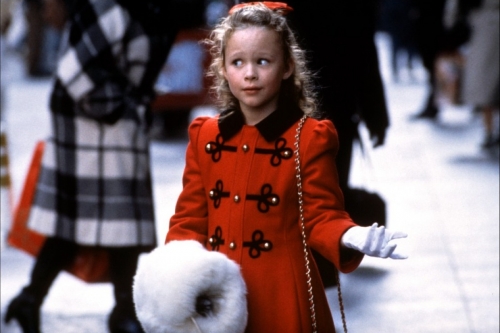 Because Hallie O'Fallon was, and still is, one of my biggest fashion icons. She can do no wrong.
9. Everything Baby Sister Kelly.
Just looking at these images fills me warm feelings of playing for hours upon hours with this stuff.
The tiny bathrobe and jelly shoes, and the tiny toilet- which came with REAL toilet paper. I still have the miniature toilet paper roll on it to this day. Permitted my niece hasn't ruined it yet… I was a compulsive child (surprise right!) and kept all of my toys in pristine condition and then twenty years later my mom gives them all to my niece and nephew and it kind of grinds my gears.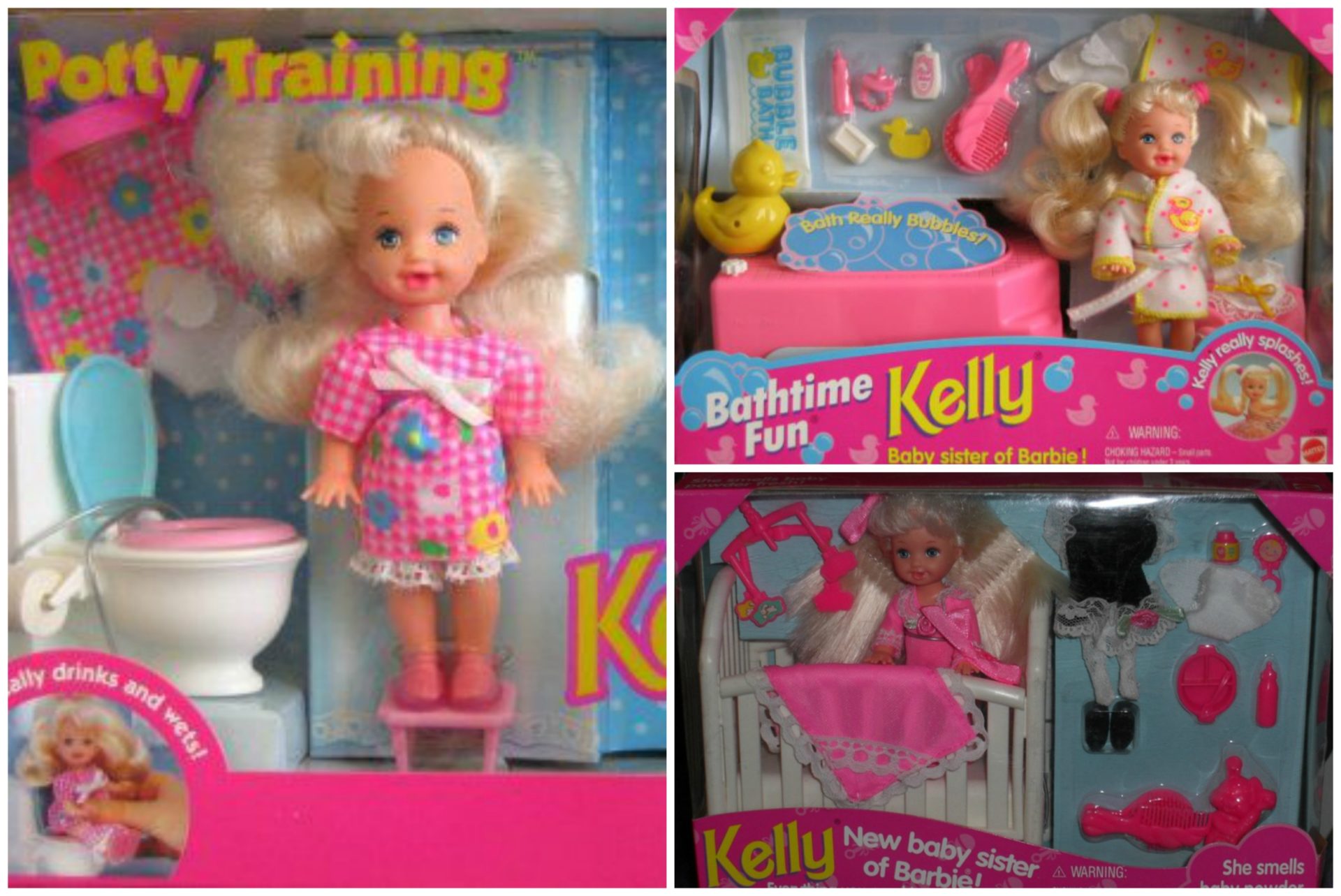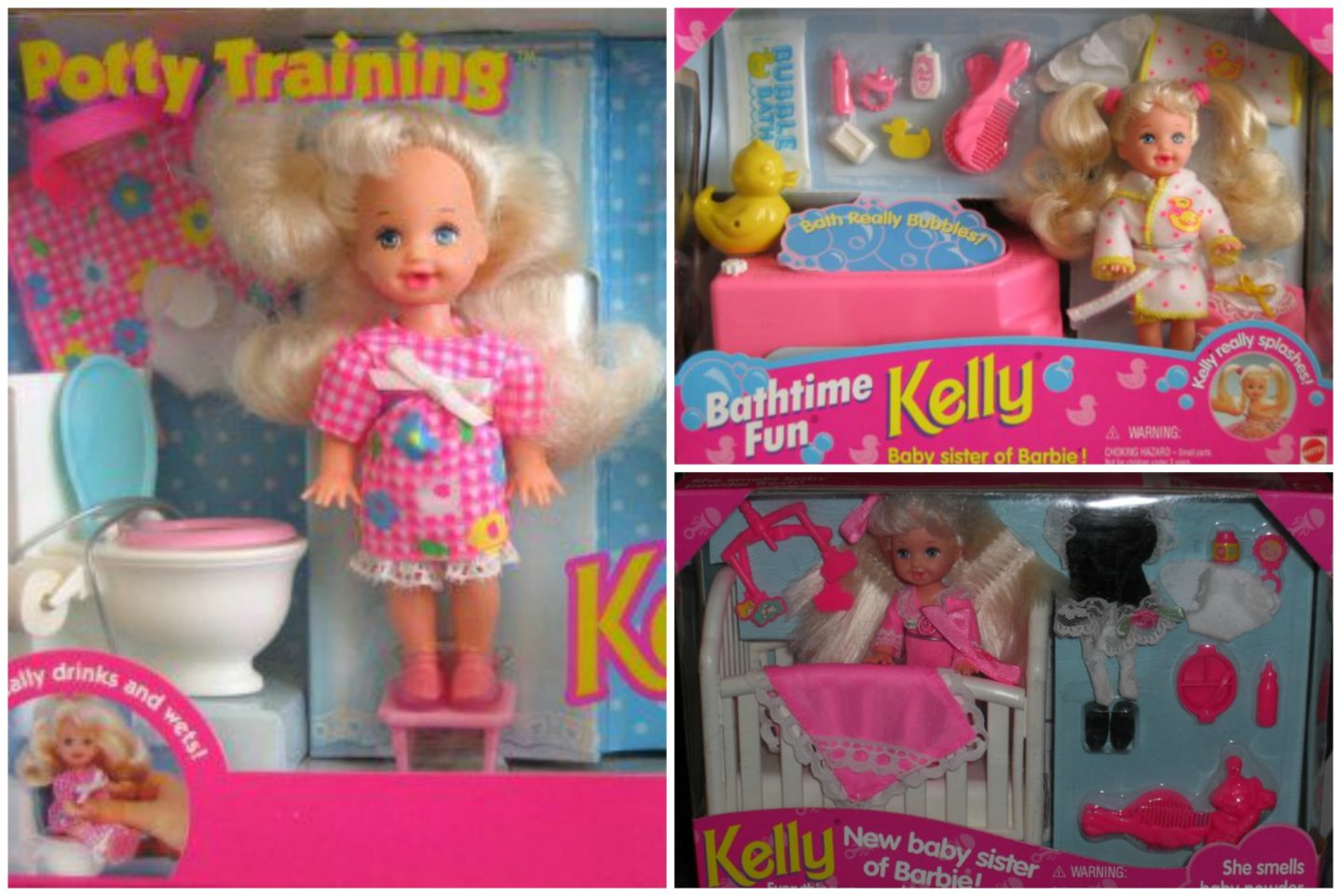 I need to wrap up this up because I'm feeling the urge to call my mom and inquire about my toys again.
10. A Baby Born.
The doll that you fed and then had to change once it wet itself. Arguably one of the first "very realistic" dolls for children of our era; a real game changer in the 90s doll world.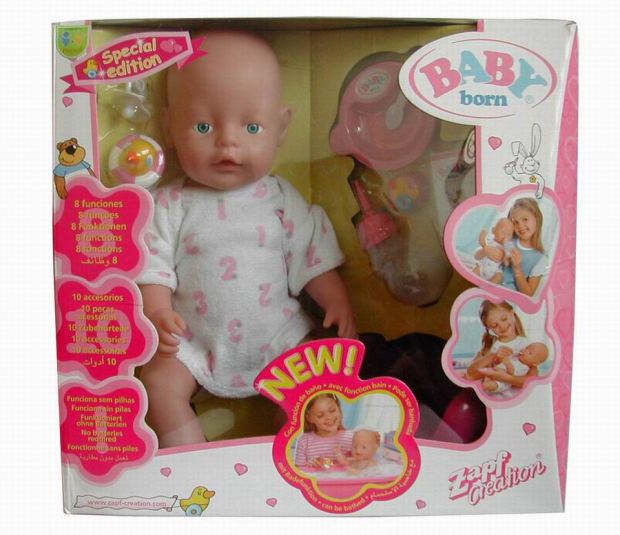 This doll holds a lot of importance in my life. It's the toy that revealed the truth about Santa to me. And that's a toy you don't forget. It was the 26th of December and I casually mentioned something about having to leave lunch early to check my baby's diaper, you know how new moms are- always so worried, and my brother replied, "why did mom and dad get you that dumb toy anyway?"
To which I said, "they didn't, Santa did."
"Oh yea, Santa did," my brother said in that snarky way older brother's do.
"What's that supposed to mean, Jordan?"
"Nothing," he smirked again.
"You tell me right now. Where did baby Alexia Brittany Macintosh the 3rd come from? WHERE? Because I'm not about to raise my child on a lie. I need the truth."
And then he told me everything. And Christmas would never be the same again.
Now you know. We all do.
This post has been quite therapeutic for me today. I hope you enjoyed it. Please share, what was your favorite gift? Or if you're ready to talk about it, what gift "revealed the truth" to you about Santa?