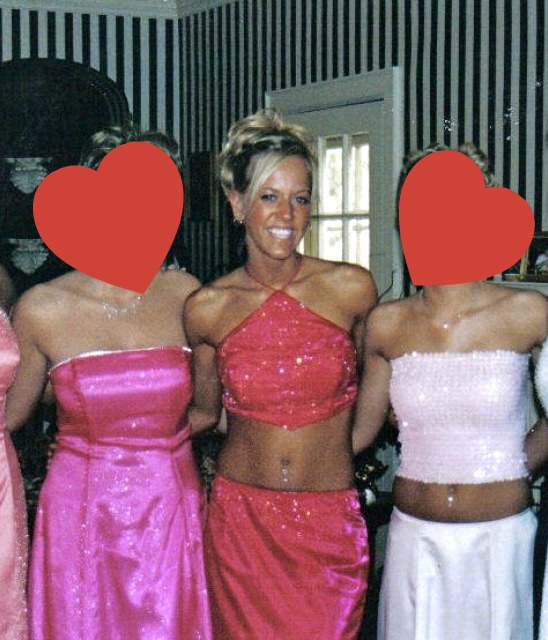 I've decided it's time that I sell some of my old prom dresses. So why not start with the best one, you know?
In case you can't tell, I'm the one in the pink. The mermaid pink, I mean. (The middle girl.) It's really important to me that this dress finds a good home, so let me give you some details on it.
It was purchased at a VERY fancy bridal boutique in Sioux City, Iowa. Regularly $280, but for reasons I'll never know it was discounted to only $110. Which is still PRICEY, considering all of my other high school dresses were purchased at Wet Seal, Vanity, or "The Deb."
And when I say "The Deb," I don't mean the "The Deb The Deb," as in the trashy store located in malls across America during the 90s. I actually mean, Debbie, my mom's friend who would let me come over and look at her daughter's old dresses in their musty basement that smelled like mold and grandma perfume, which in turn made all of the dresses smell like mold and grandma perfume.
So yeah, this dress was a big deal for me. I'm pretty sure the only reason my mom splurged on it was because she felt bad for me for never having a date and also because I was an absolute TERROR when it came time to trying on dresses for high school dances.
Why? Because I was embarrassed of EVERYTHING in my teenage years.
Did someone just see my underwear line?  Is that a hair on my stomach? Is that a hair on my eyebrow? Oh my God I have nipples now?! NOOOOOO. 
Anyway, I think it goes without saying that this dress looks great with a NATURAL spray tan! When the ladies at the salon tell you to "shower in 3-4 hours," don't listen to them! Your tan will look so much better if you skip the shower and just let the beautiful bronze color soak into your dewey skin. You will smell like pancakes, but who doesn't like pancakes?!
As for the hair… a greasy up-do is the way to go! (It will be greasy on account of the spray tan that you didn't shower after.) But who cares?! You're killing it! I suggest some really fun loopy-do-loos on the top of your head, followed by one slick bang in the front. It's best if you make that bang appear as if you just licked it with car oil and stuck it to your head. Chic!
Want to really stand out? Buy some fun diamond and pearl hair decals at Claire's that you can stick in all over your up-do. Your hair will look like a winter wonderland! Or at the very least a nest that a bird made and found garbage to put in.
While you're at Claire's, do NOT forget to buy that new belly button ring. Might I suggest the silver dangly frog with legs that have jewels on them? It's a CLASSIC. Finish it off with a pair of silver hoop earrings and you'll be good to!
You're almost ready to put on that two piece number and rock it! Just grab some old sparkly glitter heels from your sister's closet that don't fit and eat those refried beans you picked up at Ricardos Restaurant because it's your favorite snack and it seemed like a good "pre dance dinner." Classic you, always thinking! And don't fret too much about not being able to walk in heels, you'll kick them off early anyway! How else would you be able to do the Cha Cha Slide and also show everyone that you are in fact able to do the WORM!
If this dress sounds like it's for you, please let me know!
And if you'd like a post prom outfit, might I suggest white denim with a one sleeve teal sweater from Wet Seal? It goes great with pretending to drink Busch Light while actually dumping it in the toilet, because you want to fit in, but you're also scared to drink because SPORTS! Ahhh! Watch out, it's the cops! And even though you haven't actually had a drink you're still going to suck on pennies like they're Jolly Ranchers because what if that time you faked taking a sip, a little bit of beer actually hit your mouth and now it's on your breath and maybe that will show up and then you'd get a MIP and be kicked off the basketball team and then your life would be over because you couldn't play college ball after all!!!!
And what is life if you can't play sports in COLLEGE?!
What. Is. Life.
Ahhhhh!!!
Anyway, like I said. If this dress is for you, let me know! Shoot me an email at [email protected].
*was told the copper in a penny would make alcohol disappear from your breath.
*not true. however it does make you sick because you are sucking on a DIRTY PENNY.