As the snow moves in, we're heading out to Cabo tomorrow! (Thus this post I just wrote about leaving dogs when you go on vacay.)
Other than being away from Har for a bit, I'm really excited to go. I just can't wait to be in air that doesn't hurt for a few days! No scarves, no gloves, no gross old winter boots… What a novelty! And because of my excitement, I have been meticulously planning "vacay outfits" for several days now. So today I thought I'd take you inside my mind on how I pack for trips. Sounds riveting, right? Good, I thought so too!
Full discloser: I'm going to toss in some affiliate links in this post because I have a false tooth to pay for in March 🙂 Thanks in advance. RIP, grey tooth.
First things first, let's talk about the travel day. The getting there.
In my carry on you'll always find:
Tylenol, snacks, my water bottle, and Wellness Formula. Chris and I swear by Wellness Formula whenever we feel a cold coming on, or in my case, whenever I fly because I always get a sore throat while traveling. Warning: the pills smell like actual animal garbage so you just have to swallow them down pretty quick. #ad Jk.
I also pack cozy socks, a hat, and oxygen eye masks. (I don't wear them while traveling, but usually the first night we arrive because mid flight everything on my body shifts in BLOAT mode!) *could also have to do with the bags of salty snacks and airplane beers I consume. I'll also be adding Jade Roller to this list because I just got one and I am mildly obsessed.
Travel day attire: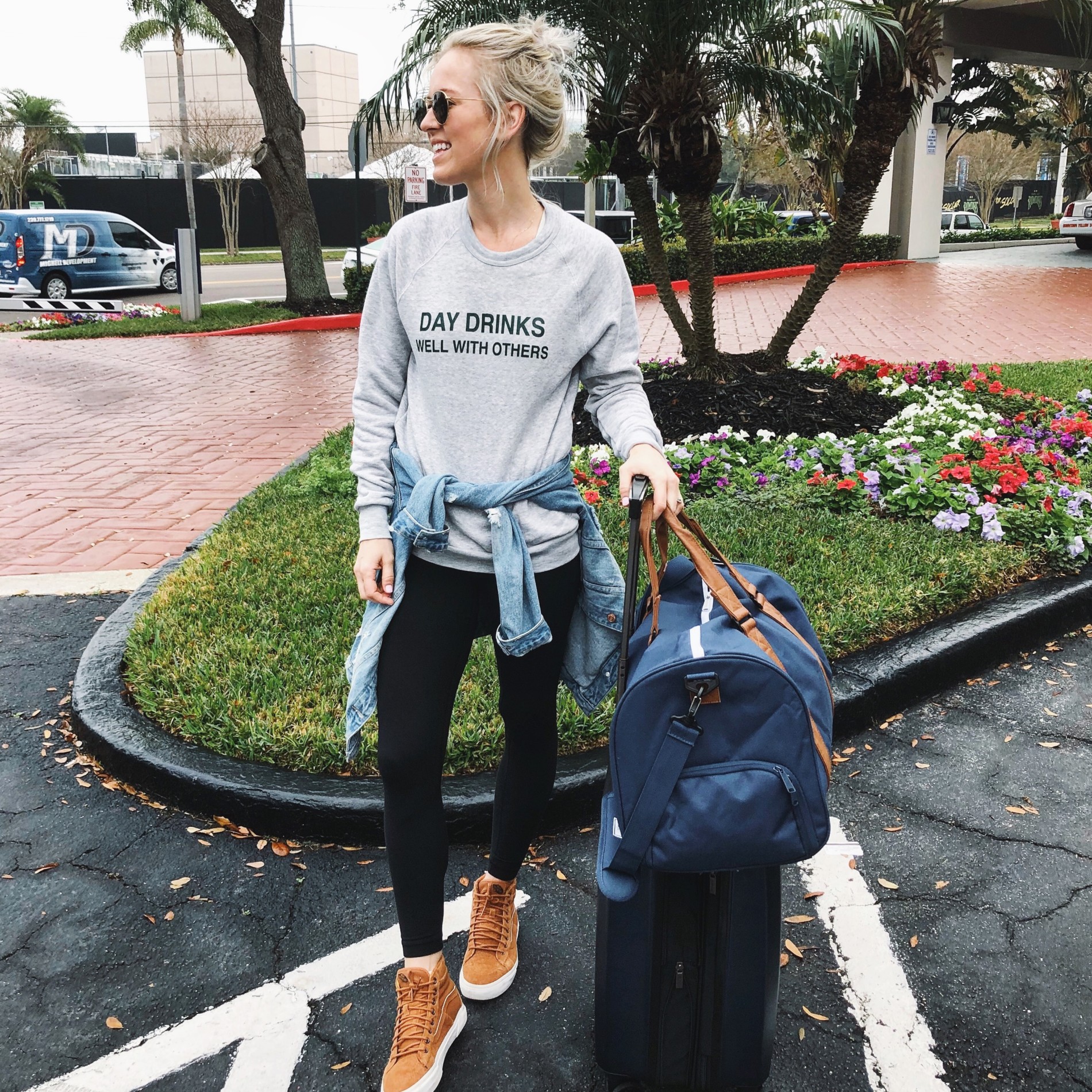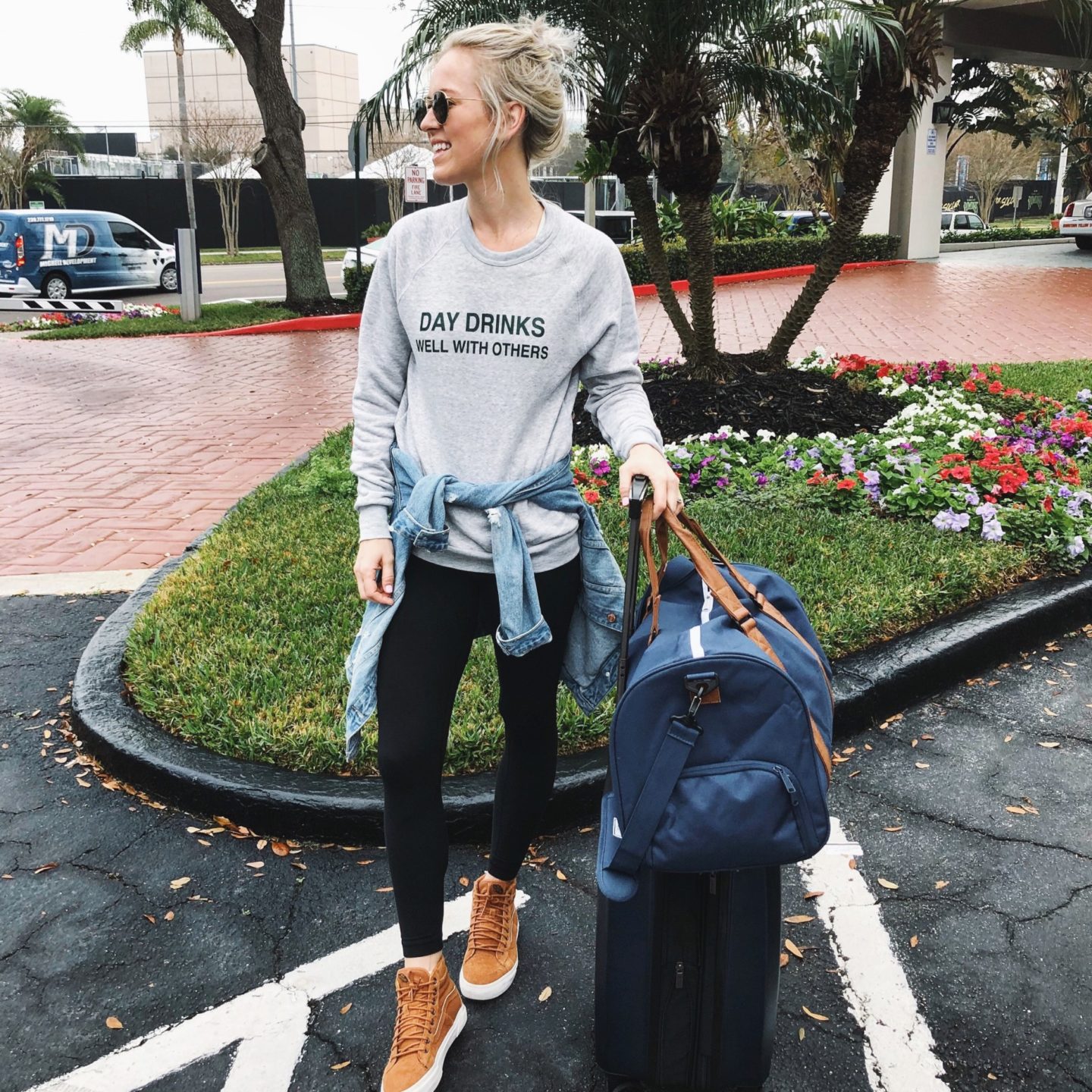 You can never go wrong with jeans and a long cardigan, or for more comfort, yoga pants and a jean jacket. And ALWAYS a huge scarf. Even in the dead of summer, you'll find an enormous scarf tucked in my carry-on. (I'm that person who snoozes on a plane with a scarf completely draped over my face because I feel like it makes me invisible.) In my opinion, Madewell makes the best right now. I absolutely LOVE this one and it's on sale!
Jean Jacket // Yoga pants// Travel Bag// Sweatshirt// Sneakers
Below are a few favorite cardigans and camis/striped tees to go under! (Just click the image.)


I'm a light packer and rarely check luggage. I prefer to bring a few easy staples and call it a day. For me this means:
A pair of shorts, a few tops, a dress or two, some fancy pants (I love my fancy pants, more on those in a bit) and a few swimsuits. For shoes I usually bring sneakers, slides, and maybe one pair of heels.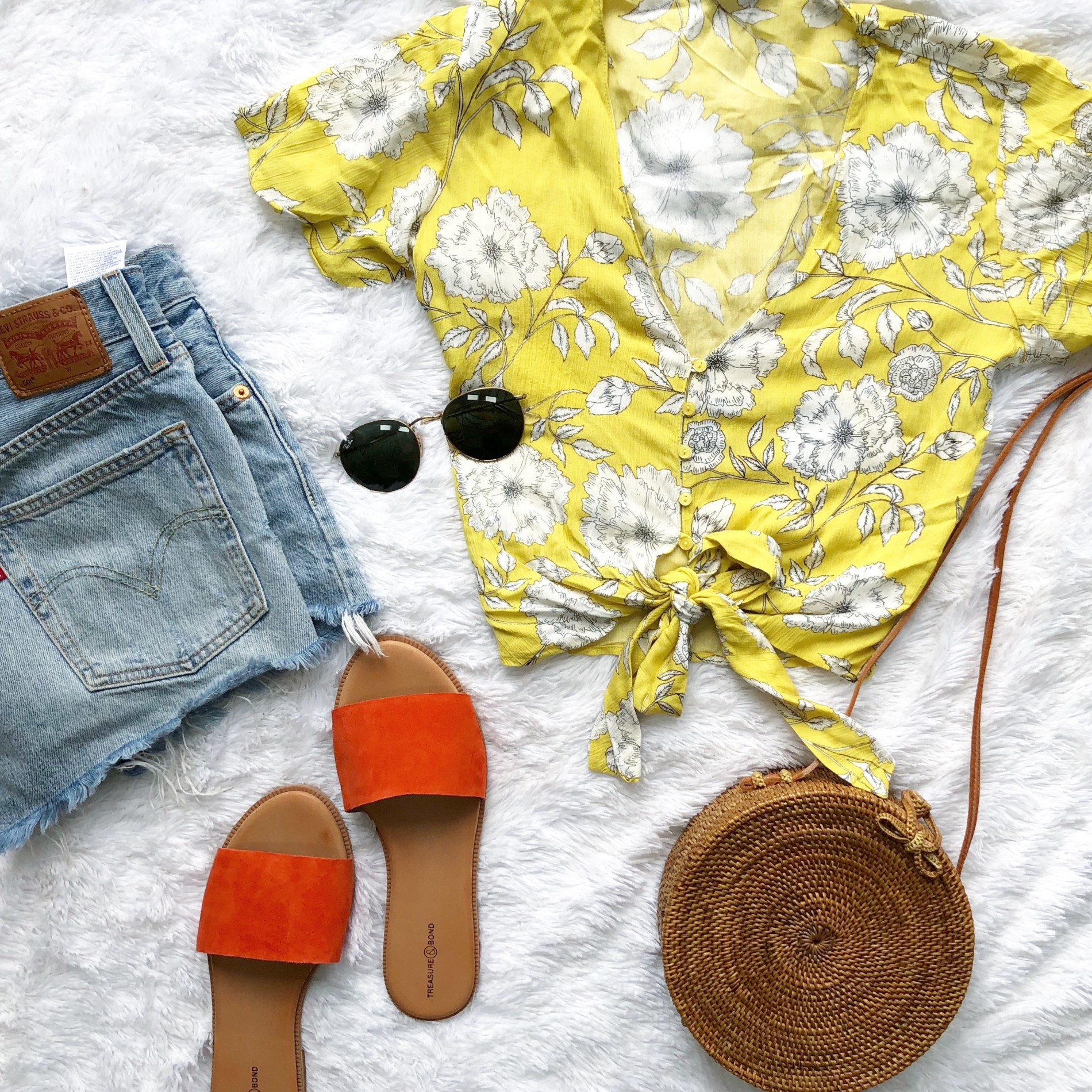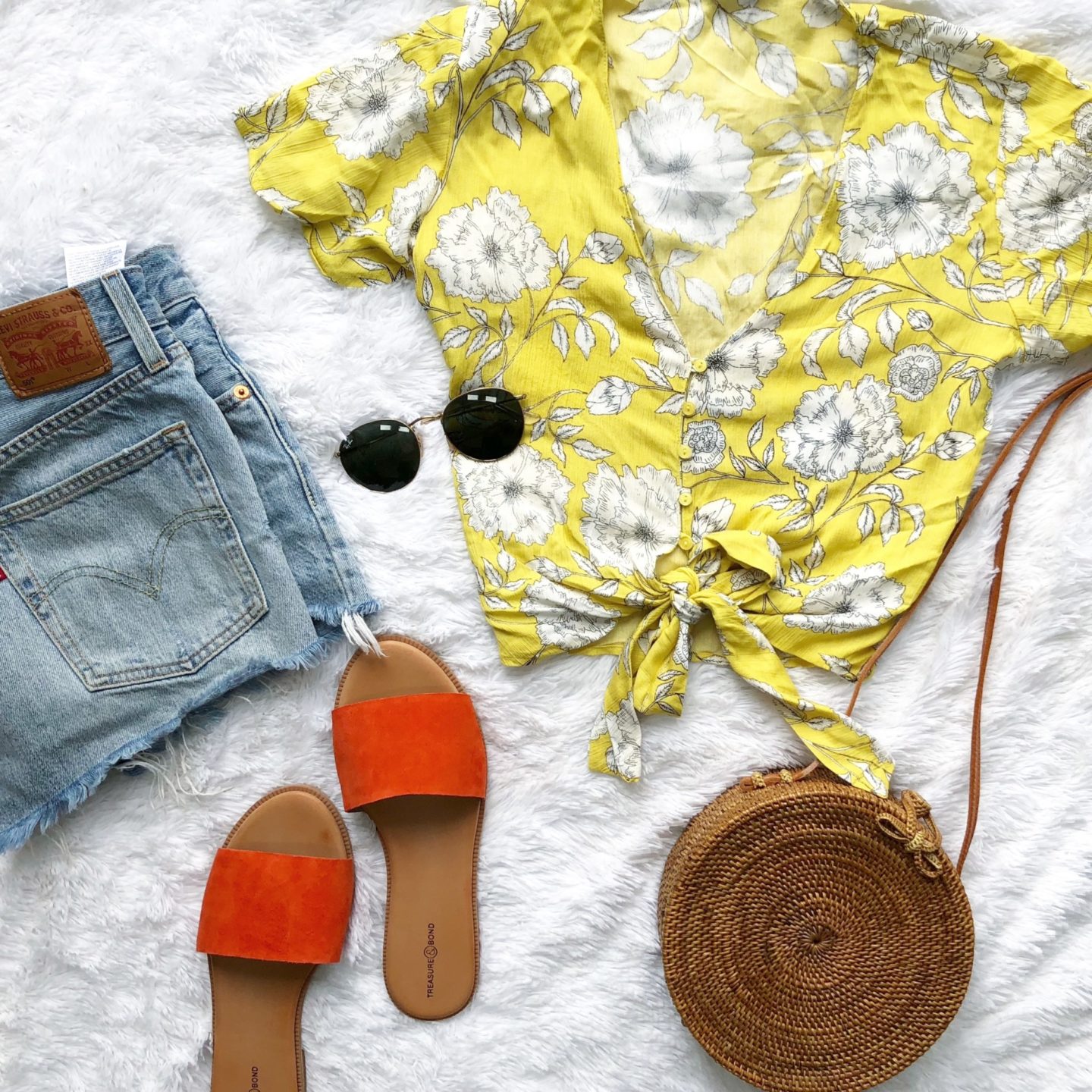 Shorts // Slides // Yellow Tie Top // Sunnies // Purse
Below are a few dresses and a romper that could easily go from day to night, depending on shoes and accessories.


And now for my jumper love. I picked up this linen one at Urban last week and have BIG plans for it.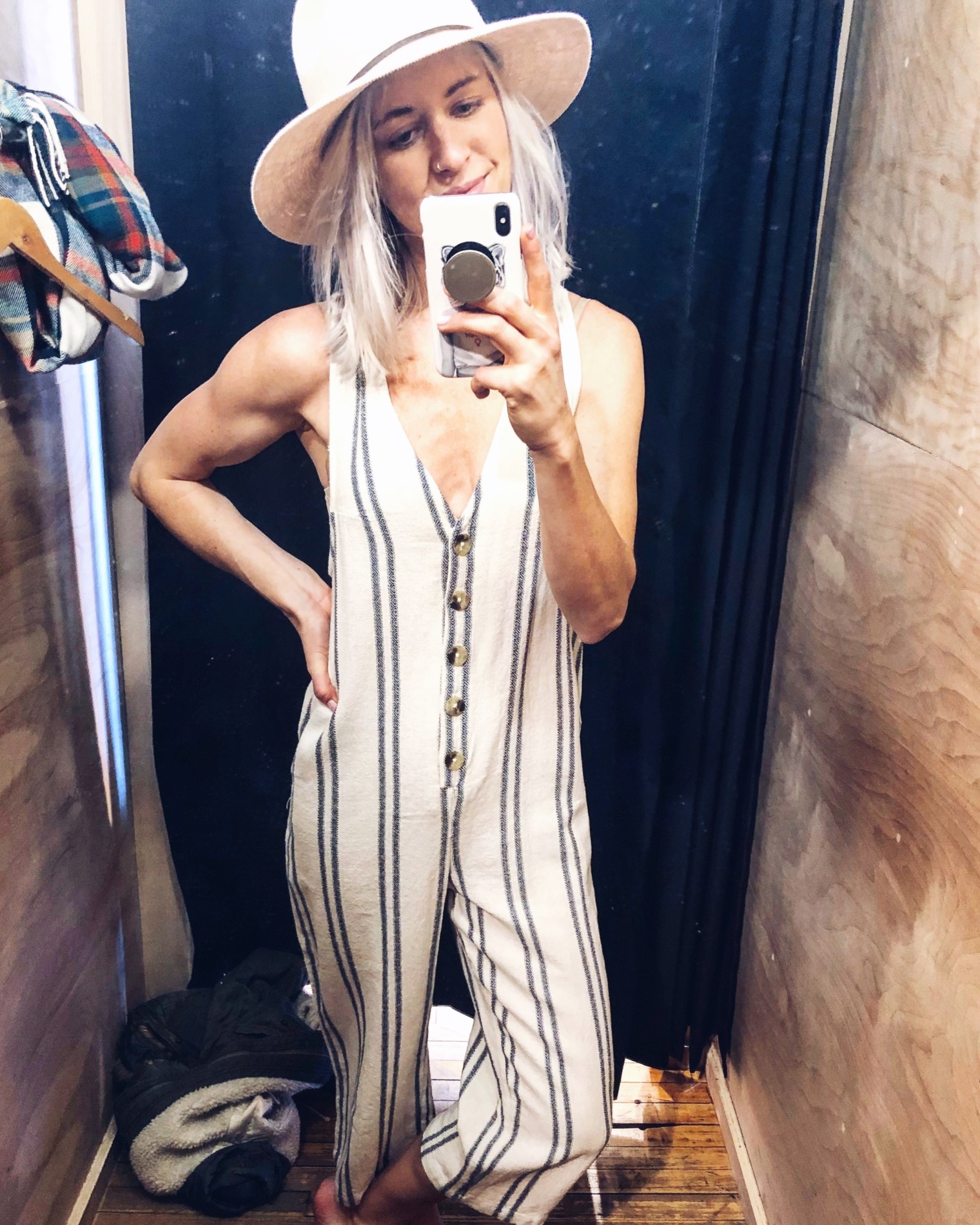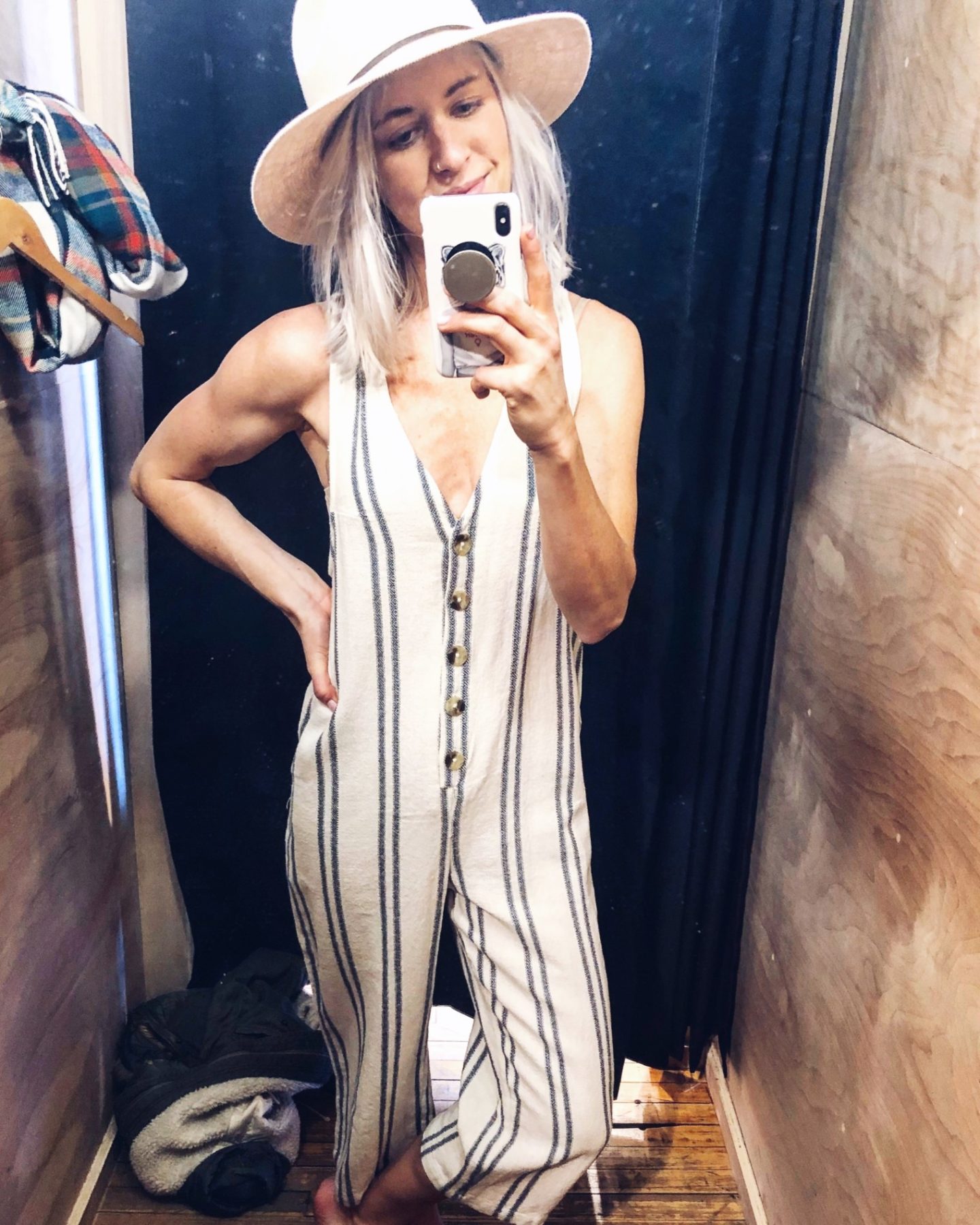 Daytime on the beach. Nighttime at the bar. Basically I want to wear it all the time because it's so damn comfy. Click for –> Panama Hat.
And a few more fun jumpsuits…

On that note, this has been fun, but I'm getting itchy to move on. So I'm going to wrap this up with two of my favorite things: culottes and pajamas.
I need to tell you why I always bring at least one pair of "fancy pants" on vacay.
1. They're light to pack. 2. They're comfortable AF. And 3. You can make them fancy or casual! What's not to love?

And some cute pjs so you can snag those cute "look at me drinking coffee in my cute pjs on vacay" pics! HOW CUTE!

I enjoy fashion, but these posts don't come easy to me. So thank you for hanging in there, expect my next one in about 5-7 months. I tend to do more of my top style picks on my Facebook page, so FOLLOW ME there if you don't!
Okay okay, I gotta go. Pre-vacay errands are calling! This means: trips to Target, a mani, freaking out over nothing, and so much more fun! And my apologies if there's random spacing errors in this post, like I said, those fashion widget things are very confusing to me.
PS: there's still time to get in those St. Patrick's Day orders if you haven't already! Click here –> www.taylorwolfeshop.com !