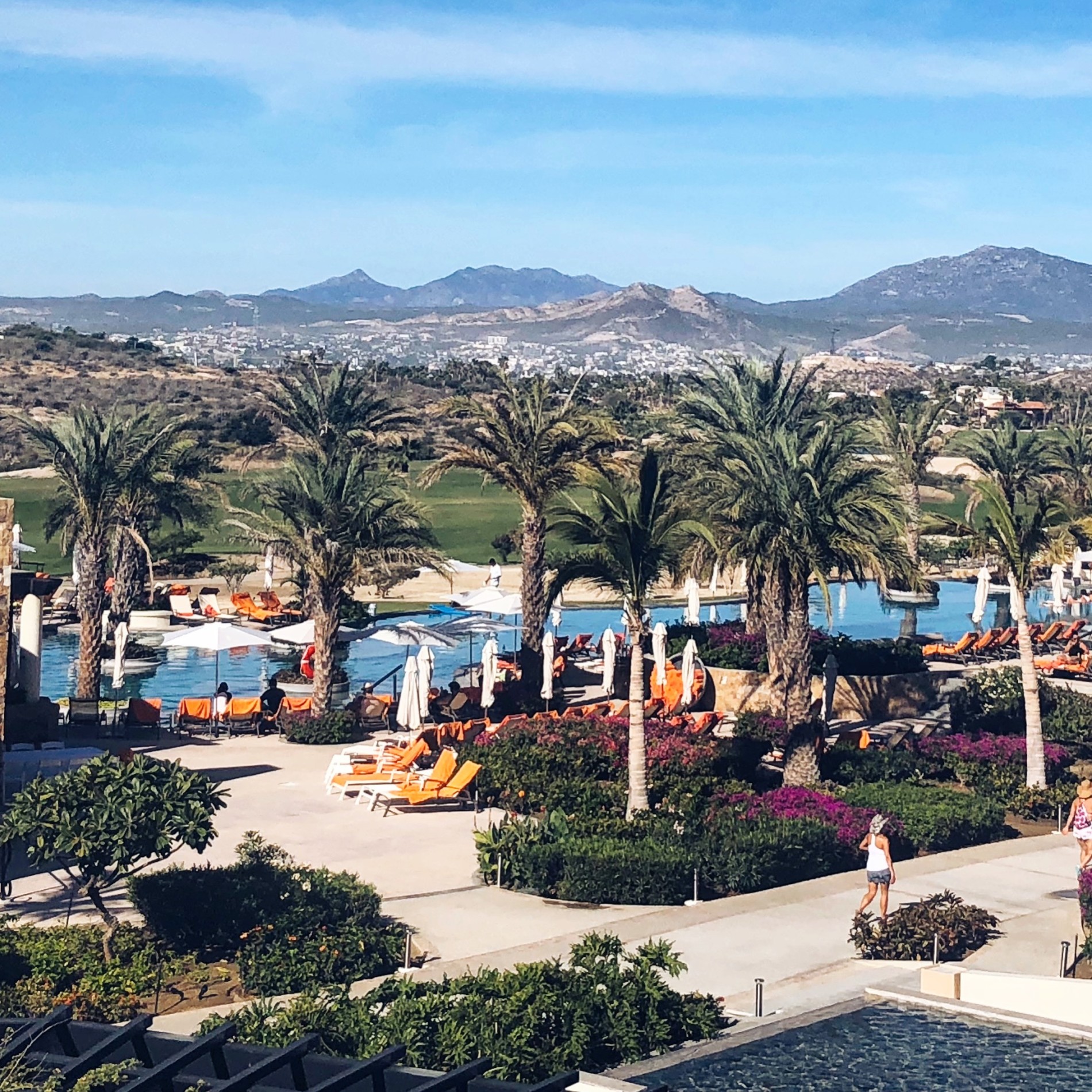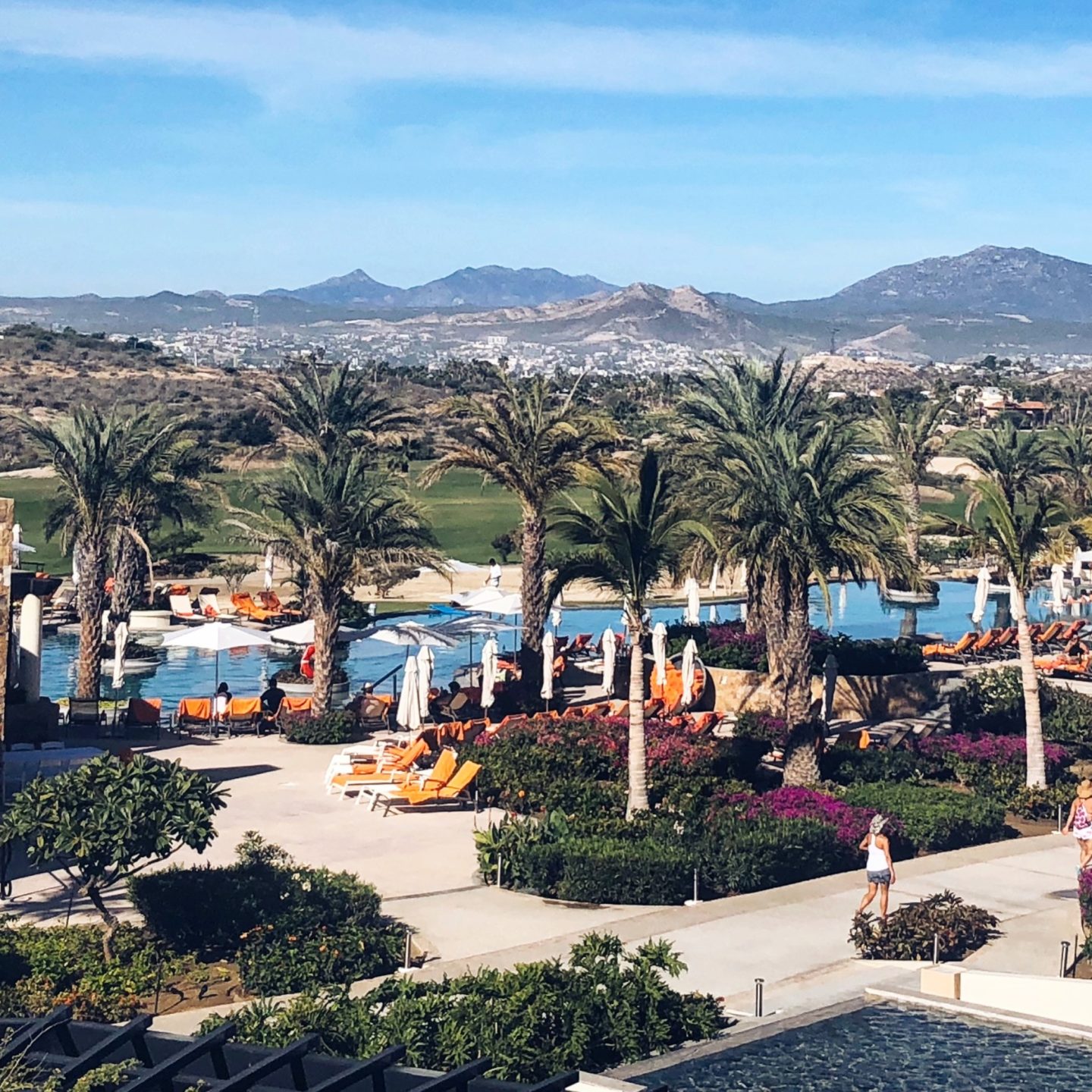 Last weekend we were able to leave freezing Chicago for a nice little getaway in Cabo. We stayed at the Secrets Resort and once I got past the name, we really enjoyed it.  (I think we can all admit the name "Secrets" is just a little bit cheesy for an adults-only resort.) I'm pretty sure I had a clubhouse with this name when I was ten and even then I was like, "well it's kinda silly, but hey it works for our clubhouse, because we're TEN."
Anyway, like I said, (and as the photo shows) it was a gorgeous resort. Every morning I would have my coffee while overlooking the pool and enjoy the vacation banter around me. I do not like to participate in small talk, but boy oh boy, do I like to observe it. And vacation talk, just happens to be one of my favorite banters to sit in on.
It always starts with the basic intro of, "so where are you from?" And then a small connection will try to be made from that, perhaps with a, "I had a cousin who lived their ten years ago….do you know him?" Or maybe a sports reference, "How bout those Cubs? Did you see they won?"
Sports are a always a solid choice. Especially when there seems to be some sort of dress code requiring that men over the age of forty have to wear a t-shirt or hat at all times displaying their chosen sports team affiliation.
After the intro it's time for "who's been coming here the longest?" quiz.
"So is this your first time here?"
If you answer yes, you lose. If you answer no, you win. And if you both answer yes, well then it becomes a game of who's been coming to Cabo the longest?
"We've been coming here for about five years now…"
Hold your tongue, sir, the other person thinks, just anxious for a break in the convo when he can one-up with his, "yeah, we've been coming here for ten now."  ZINGGGGG.
The convo will conclude with both parties giving their thoughts on how much "Cabo has changed," over the years.
"Back in 2013 there was only one resort here."
"Well in 2008 there wasn't even a resort. We stayed in a tent."
"In 2005 the Cabo arch wasn't a thing. I made it."
Anyway, you get the idea. This is the type of shit I eat up whilst drinking my coffee on vacation.
*also yes, 95% of what I just said is really just based on what my dad talks about in Cabo.
Long story short, if you're considering a trip to Cabo, SECRETS is a nice resort.
Things to note:
Pool Chairs are COMPETITIVE. (Full fan fiction post on this tomorrow. Or later today.)
The food is good. Great? No. Good? Yes. However, Chris and I tend to be pretty snotty with food because we're blessed with living in a city like the Chicago where it's pretty damn hard to beat.
The staff is awesome. So nice and accommodating.
The room service doors are not to be mistaken with the actual doors. *They are smaller.
In conclusion, Secrets is great, but my loyalty is probably with Pueblo Bonito, as that is the resort my dad has been taking our family to since 1975. (I believe we were the first guests to ever stay there.) There's more pools, so less competition, and it's closer to a little more action when you get the itch to leave the resort.
And now for a photo drop.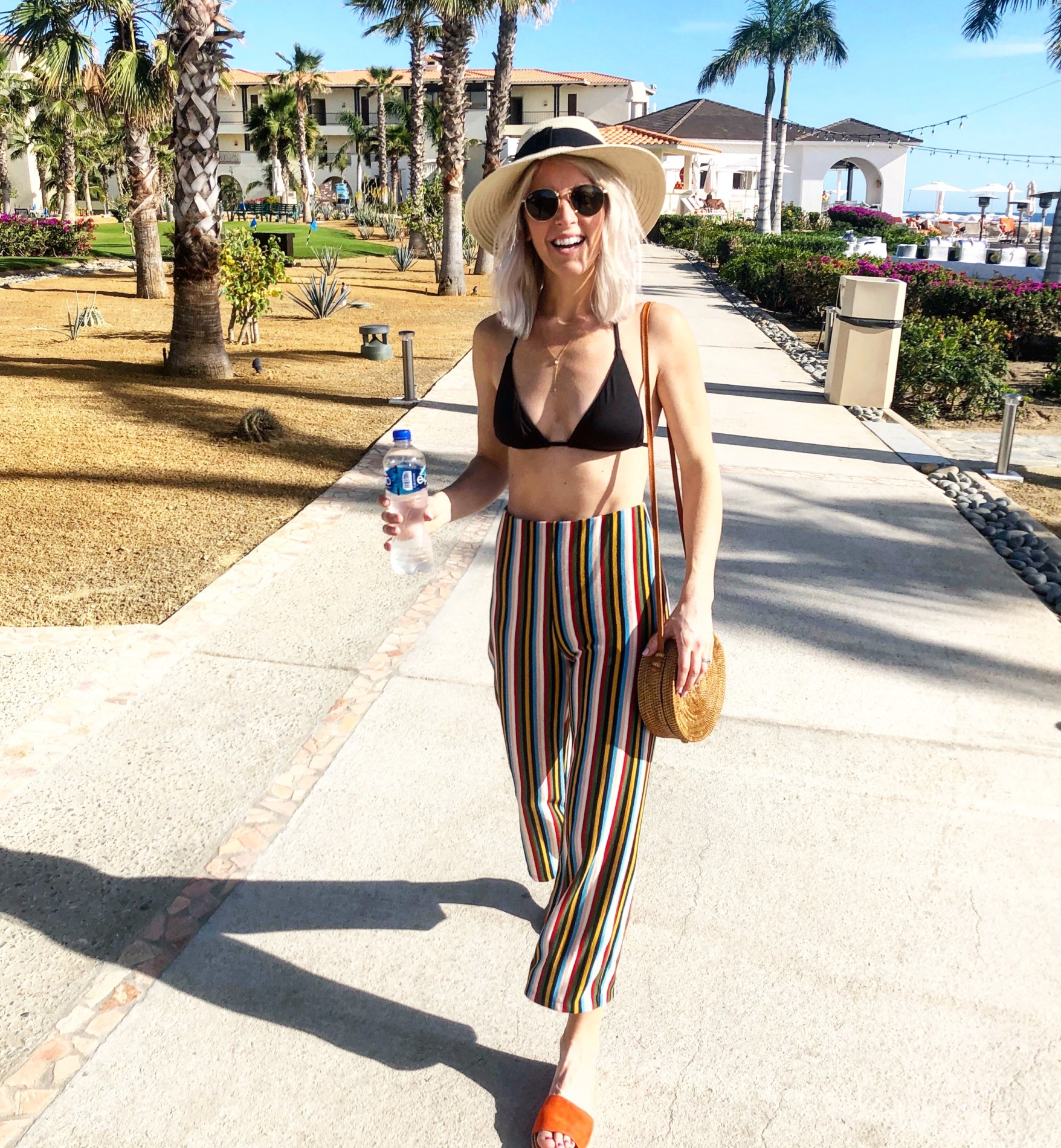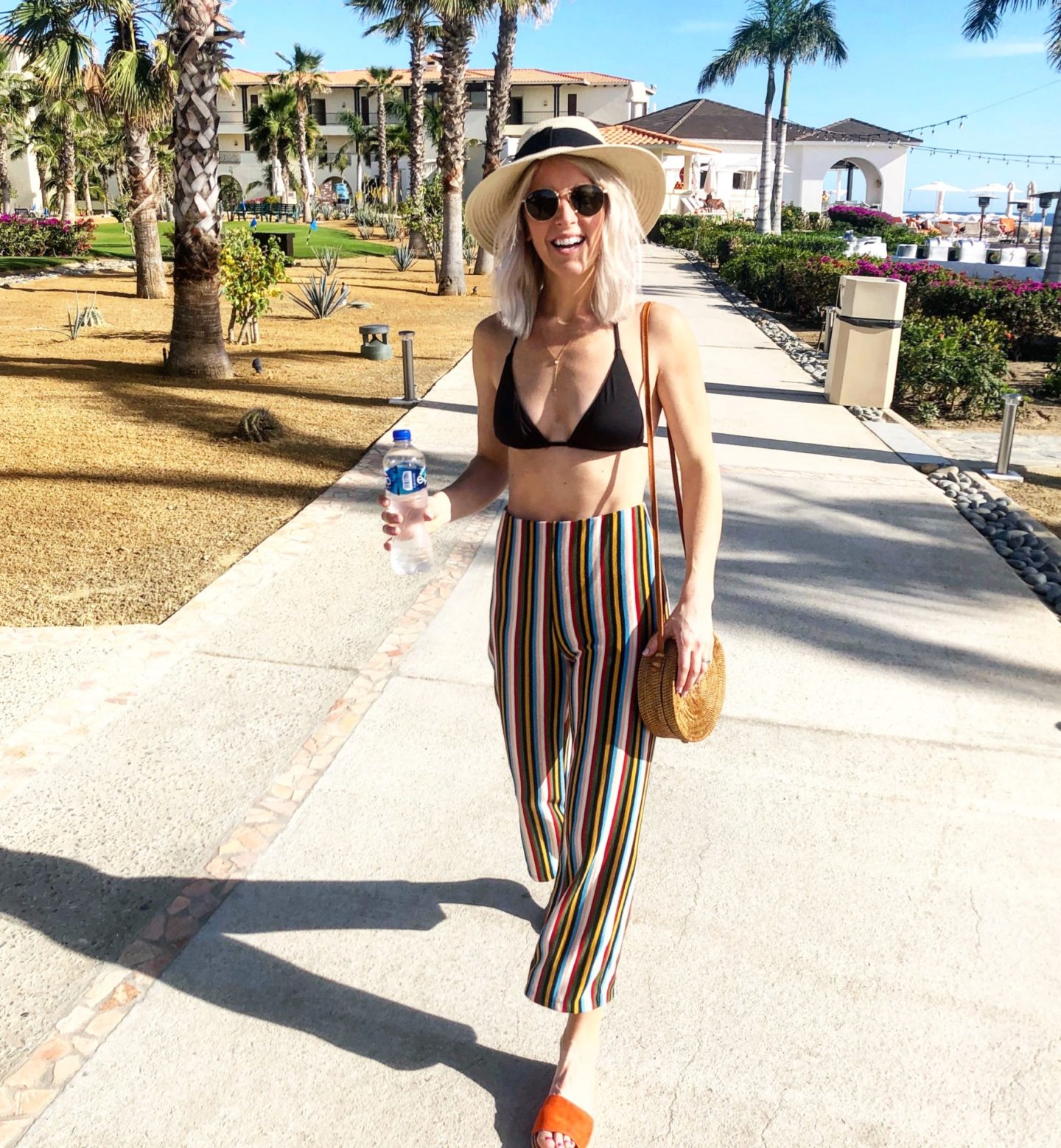 Circus Pants/ Orange Slides/ Bali Bag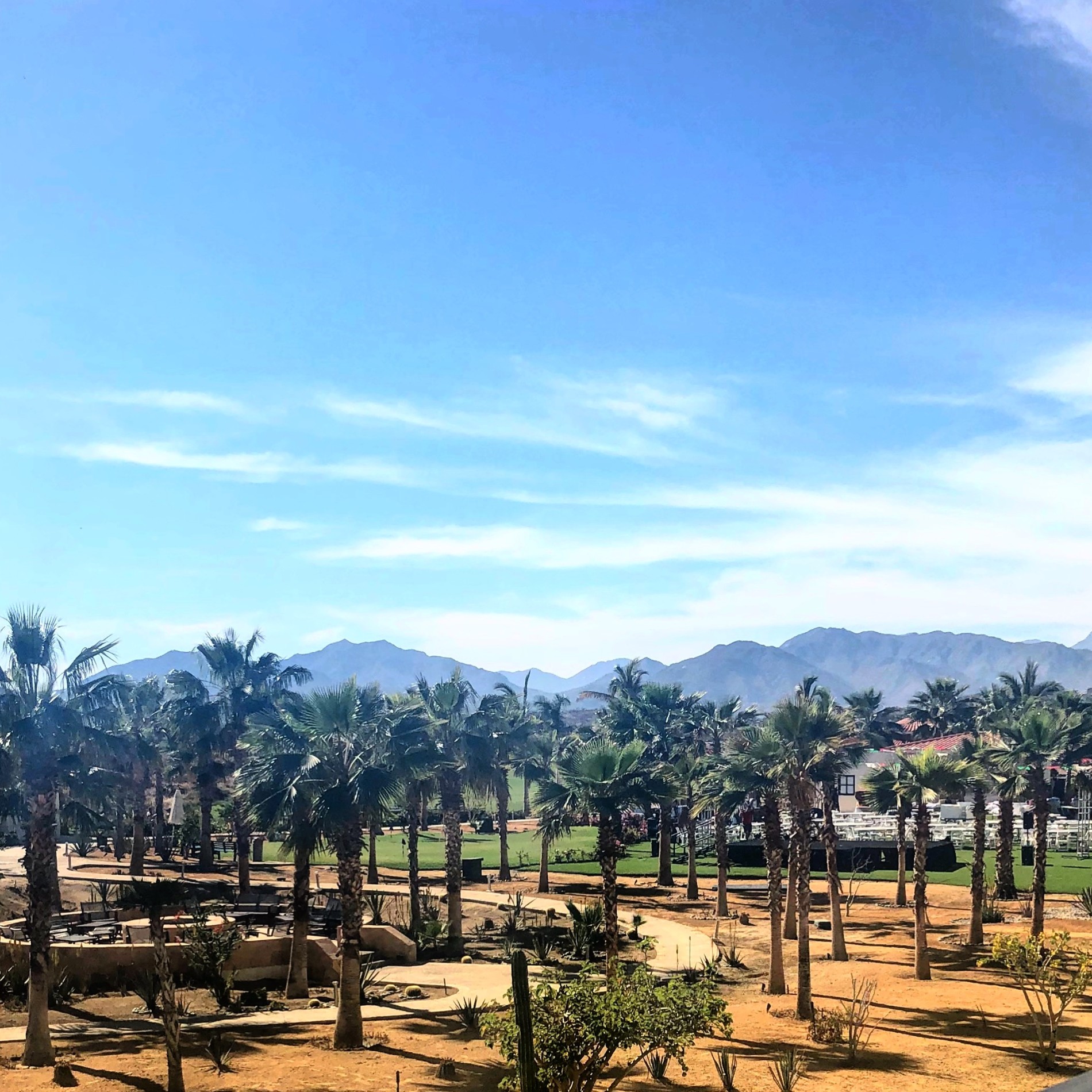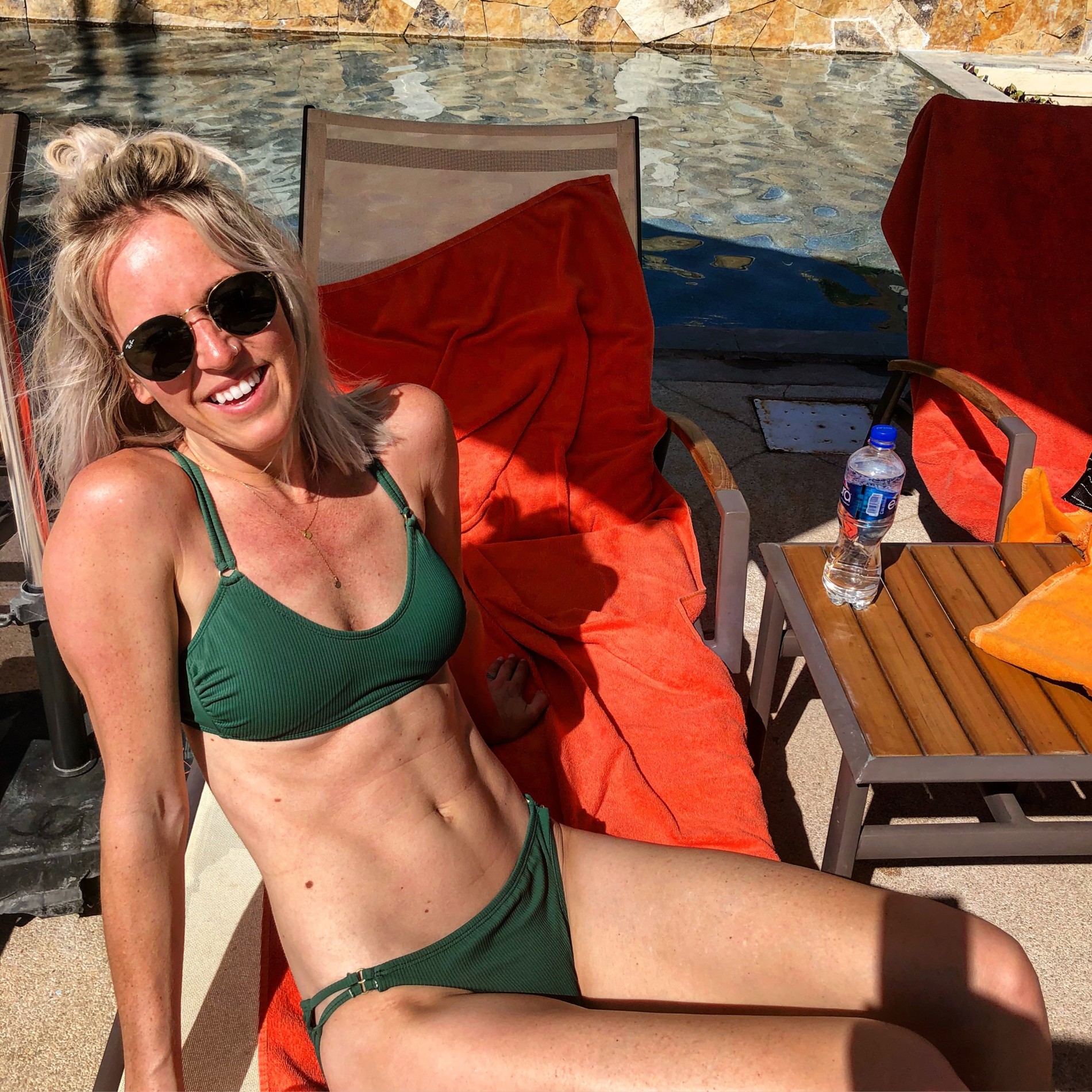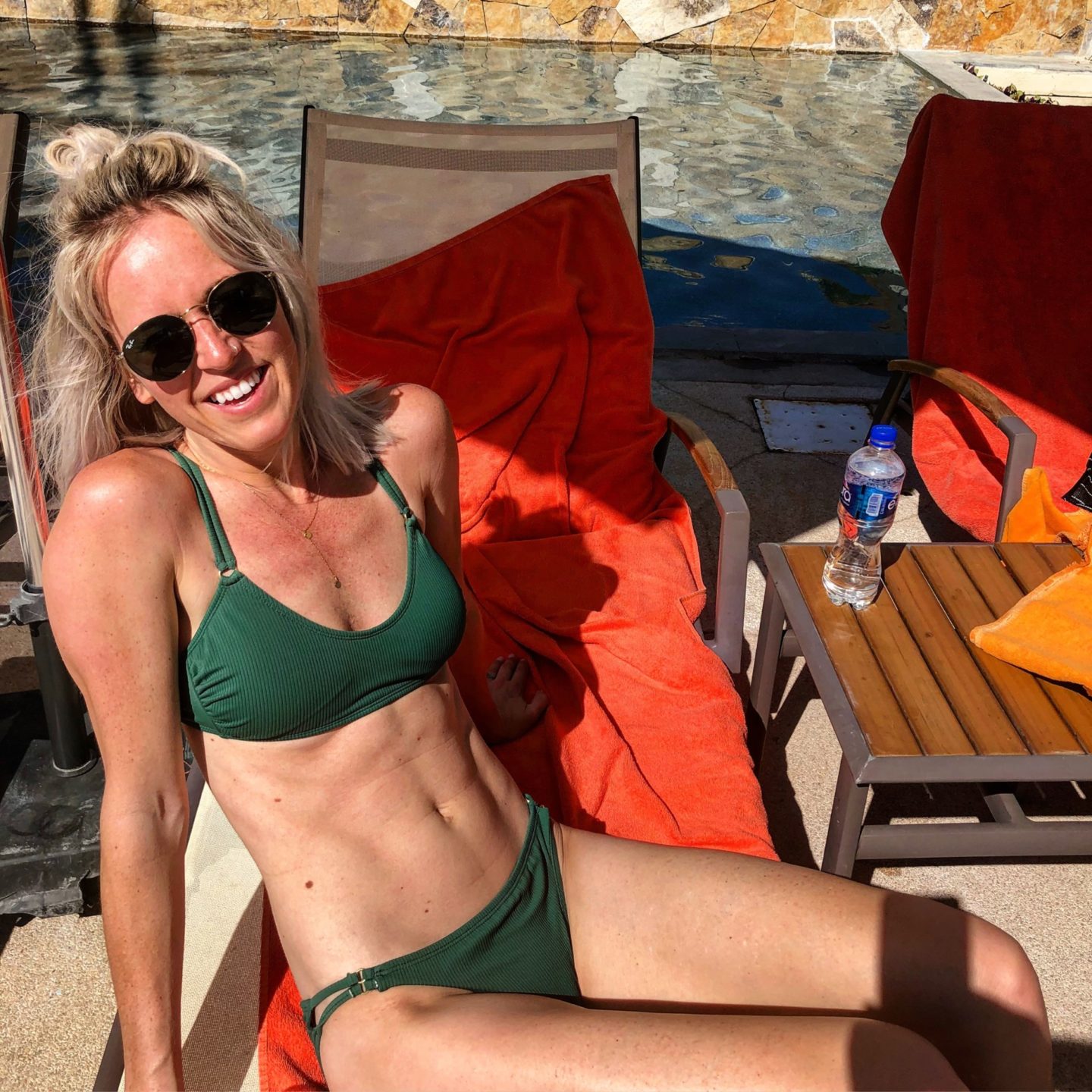 Target bikini for the win!
Also yes, I'm aware I freckle. I was covered in 65 SPF, sitting under an umbrella, wrapped in a towel, and the freckles STILL found me.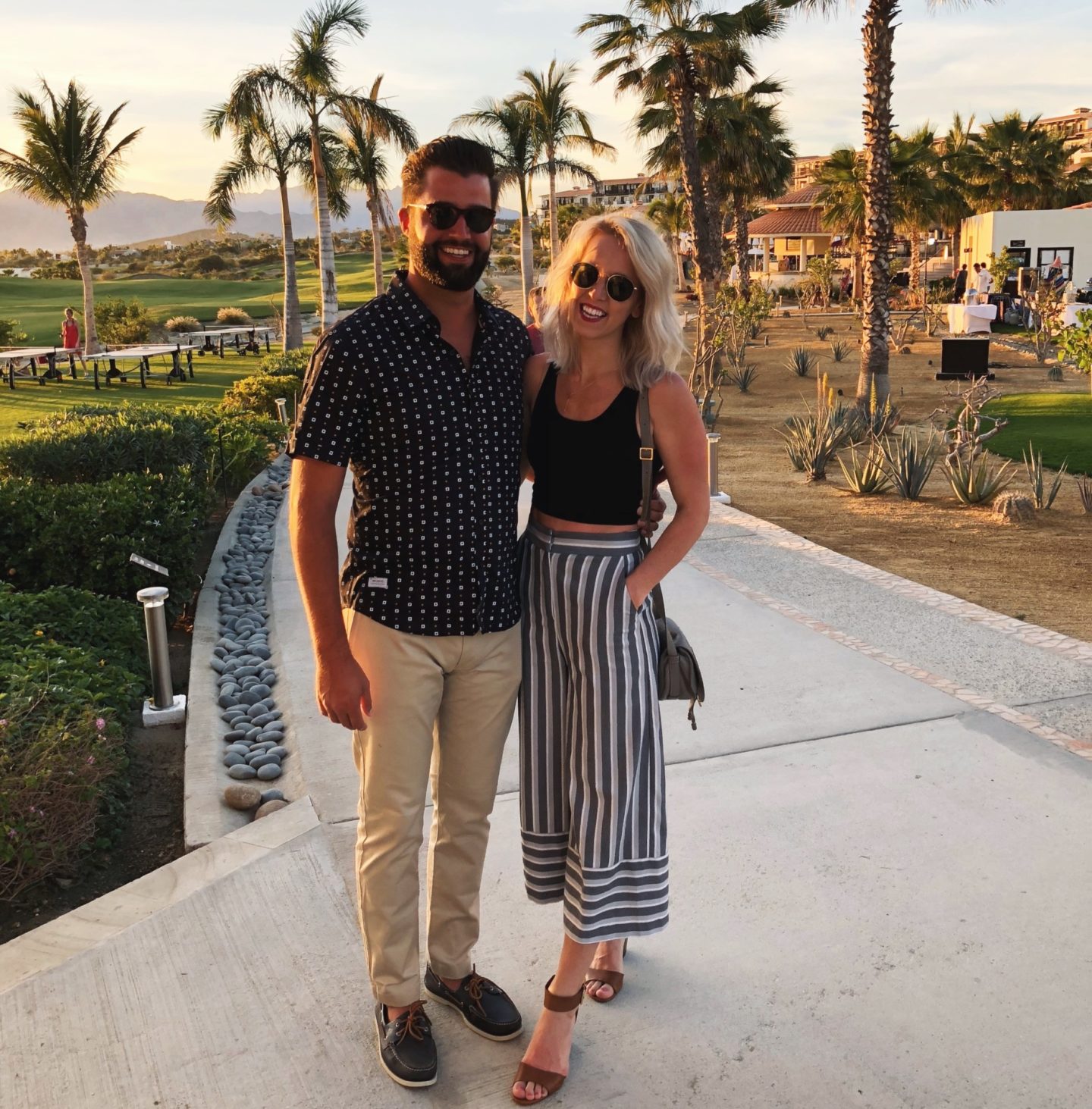 I told you I bring 100 pairs of striped pants on vacation. I just can't myself!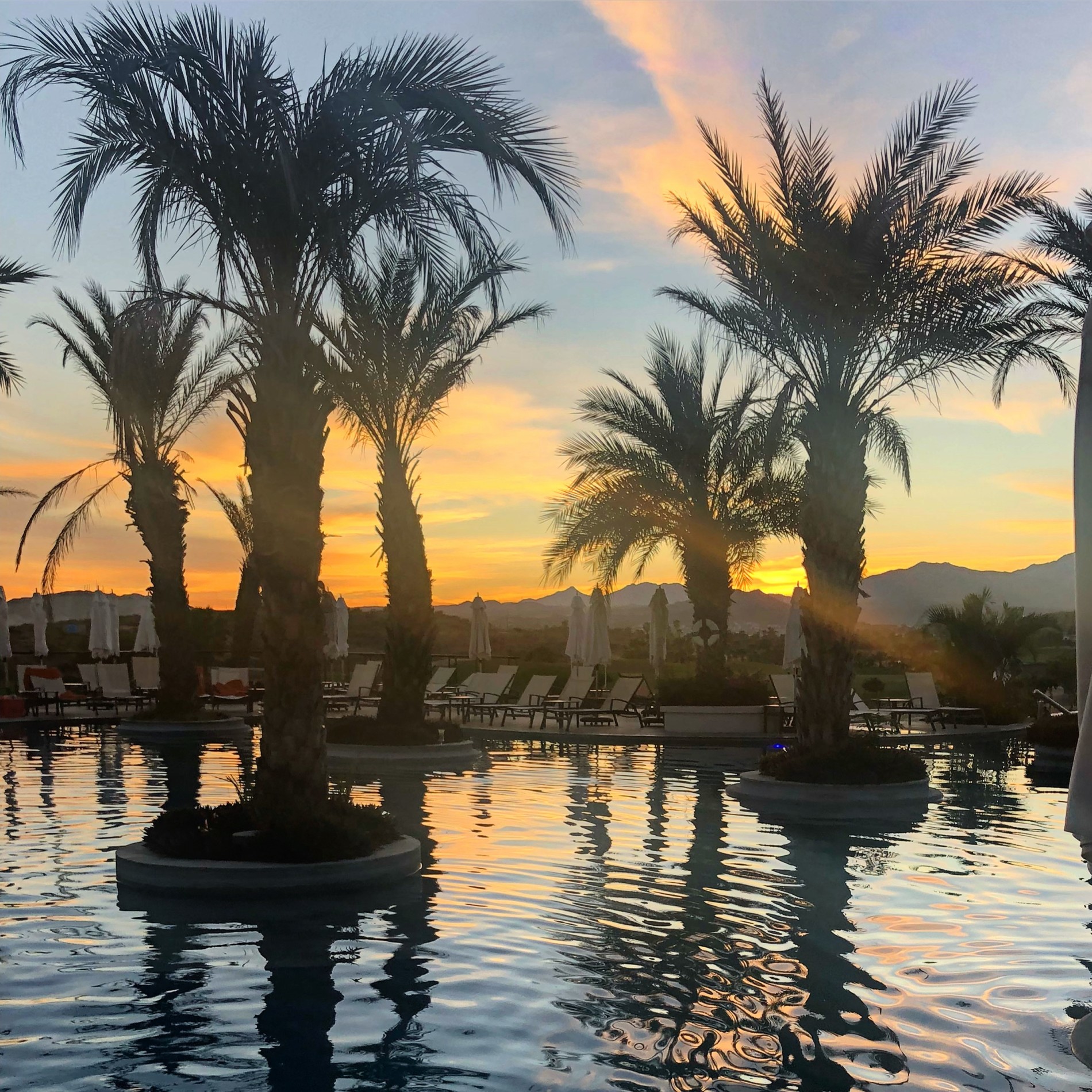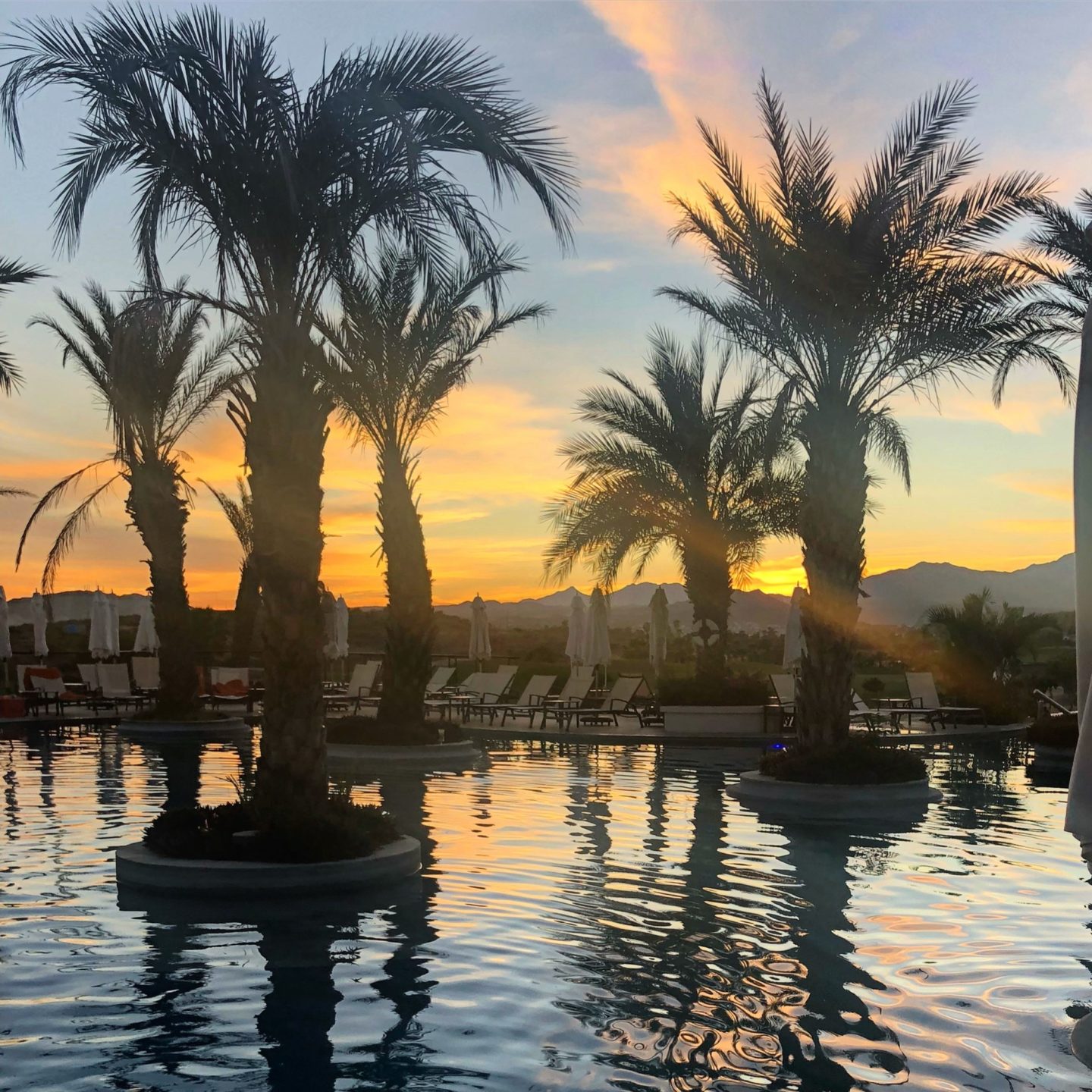 Cabo, you are beautiful. The end.
*affiliate links uses.