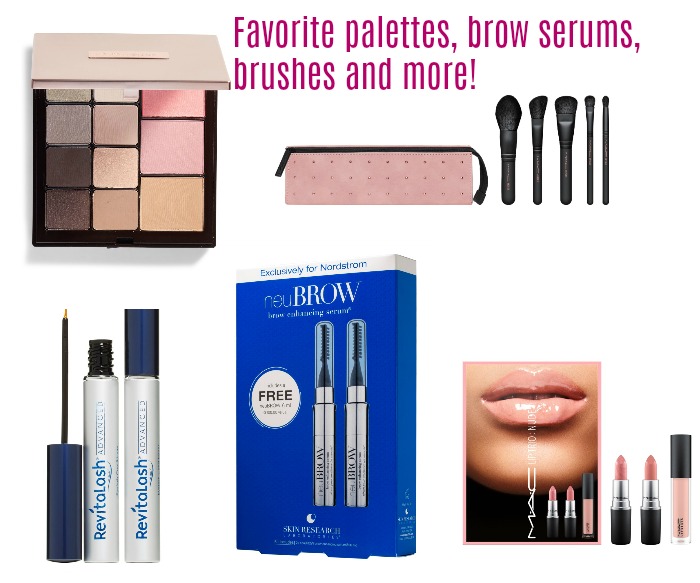 It's a makeup post! I'm sure you got that by now, but just in case you didn't! Also yes, affiliate links will be used.
If you buy just one makeup piece from the sale, I suggest the Laura Mercier eye and cheek palette. The colors are awesome and the shades go on really smooth.
If you're in the market for new brushes, Mac has great ones that won't break the bank. These are on sale for $52.
Want to GROW your lashes? The Revitalash is almost 50% off! I haven't tried this yet, but I've heard awesome things and the reviews are amazing!
And while you're growing those eyelashes, boost your brows too 🙂 Neubrow is also 50% off. I haven't used this specific serum, but I have used other serums on my brows and I saw a noticeable difference within about four weeks.
Next up… it's the  Mac Nude Lip Trio.
(If nudes happen to be your thing, which they are mine 🙂
If you like a little more color, this Yves Saint Laurent lip set looks incredible! (Normally $110, on sale for $74.)
And now for some skincare picks!
"The gift of glowing skin set."
Apparently this is a pretty big deal? I haven't tried it, but I've heard great things.
And this TULA kit! I started using Tula about six months ago and I LOVE it! This is $55 and includes all of their best products. It's a great way to try out the product before you go all in with the bigger sizes.
Finally, anything Lancer is usually a splurge, but I've heard it's worth it when it's comes to anti aging and wrinkle cream. If you've tried it I'd love to know your thoughts on it!
Hair care…
The best anti aging shampoo out there 🙂 It's Alterna. Check out the reviews, (they're amazing!)
And my personal favorite, Living Proof! (Normally $141, on sale for $79!)
K, I'm exhausted now. I need to go nap with Harlow and I'll BRB.