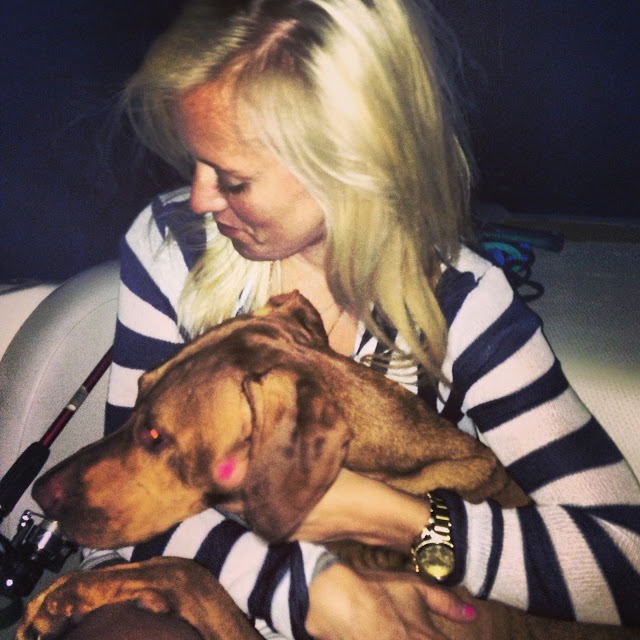 I didn't intend to write every single post about dogs this week, I truthfully try to space them out so this doesn't turn into an accidental dog-blog. But after last night when I was literally five seconds away from rushing Harlow to the Chicago Animal ER I've really got no other choice.
Let me just start by saying I've been known to "overreact slightly" when it comes to Harlow's health, according to Chris anyway. One time when he was a puppy I rushed him to the vet in tears because I was certain he was choking on something and couldn't breath and I thought he was going to die, when in fact he just had a large amount of dry cereal caked to the roof of his mouth… Let's just say in the three short years of Harlow's life he's been to the vet no less than fifteen times.
Without going into too much detail, I'll just say that for the past few days Harlow's been having "flu-ish" like symptoms. I actually tried to get him into the vet yesterday morning, but cancelled after he seemed to be doing much better on Tuesday afternoon. He was fine again all day Wednesday, but after dinner last night he started acting very funny. He wouldn't come near Chris or I and instead chose to just lay near the front door; something Harlow never does. I took him outside and the poor thing just plopped down on the ground and refused to move. He just collapsed on his belly with his big droopy eyes looking up at me begging me not to move him. He eventually started throwing up again and then shaking profusely.
After a while, I coaxed him back inside and sat on the ground with him as he crawled into my lap with his muscles shaking and his breathing getting heavier and heavier. And then I started googling things, which only lead to me full on panicking. My biggest fear was that he somehow got into rat poisoning, which is actually pretty prevalent in a city. However, Harlow is never more than five feet away from me, so I knew the chances of this were pretty slim. But never the less, it was all I could think about.
It got to the point where Harlow was lying on his back, feet in the air, panting heavily when I said enough was enough and I was going to pay the $200 to take him to the emergency vet. I would sell every last thing I own to pay for medical treatment if Harlow needed it. Luckily, Chris tends to be a little more logical than I am and suggested we maybe take him for a quick walk before we rush him to the E.R. and subject ourselves to more Harlow medical bills we can't exactly afford.
We hadn't so much as got around the block when Harlow spotted a rabbit and suddenly his tail started wagging and he was excitedly pulling on the leash to go after it. This was my first indicator that perhaps whatever was ailing him wasn't quite as serious as I thought. The second indicator was when we got to the park and took him off leash he dashed right for his favorite drinking fountain. And even went after a few squirrels on the way there… At this point I started to feel a little silly for all of the tears the way I overreacted and figured that perhaps a trip to the vet could wait until the morning like Chris originally suggested.
Long story not very short, as of now Harlow seems to be doing much better. If anything, he's just a little more clingy than usual, which I don't mind one bit. He's sleeping soundly in my lap right now and hasn't been quivering or shaking for the past hour. But a trip to the vet and a few more bottles of Gatorade will definitely be happening today.
In the meantime, I promise a more upbeat/nothing-to-do-with-dogs post will be coming later today. Can it just be Friday already?