Just as I was about to sit down and recap another amazing weekend spent in Chicago I found myself a bit distracted on Facebook reading statuses about the VMAs last night. My first thought was, these are still on? And my second thought was, why are my friends on Facebook still watching them? Isn't there an age limit or something? Like for instance if you still remember the show Undressed, you're probably too old to watch the VMAs. I digress.

Of course all of the talk was about Miley's performance, and because it's my job to stay on top of pop culture (for my blog obvi) I had to youtube said performance immediately. Miley Miley Miley. I'm not afraid to let it be known that I kinda like Destiny (that's Miley's real name) and find some of her music kinda catchy. Seriously though, Destiny. It gets me every time.

Party In The USA? It's my jam. Her remix to Girls Just Wanna Have Fun? Love it. But after last night I'm just ashamed. I'm just not sure if it's more for Smiley, or for Robin Thicke. I kinda lost a lot of respect for that guy after I watched what he let Miley do to him. He should feel violated. Or dirty. Probably both. I know I do.

As if the hair and outfit weren't bad enough there was also this. At least twenty-five times…

I apologize for posting this because it probably makes you just as uncomfortable as it does me, but it had to be done. And while I'm usually not the biggest Will Smith Fam Fan, their reactions during this whole thing were just priceless.

And now I don't want to give this any more attention (for today) simply because I don't want it to taint all of the lovely photos I was just about to share. But after last night, I think we're all a little tainted. We got Cyrused and we didn't even see it coming.

For the next few minutes I just ask that you forget the darker side of Miley, and instead enjoy a few photos of some clean family fun and relish in the beauty that is Chicago in the summer.

Friday afternoon, I was riding my bike downtown to meet Chris and his parents for lunch when I happened to stumble upon an outdoor dog yoga class. As you can see the gentlemen in the curly black hair is leading the class with a simple downward-dog position, the others all seem just a bit reluctant to join.

Seafood cob salad at Ditkas, just as good as it looks!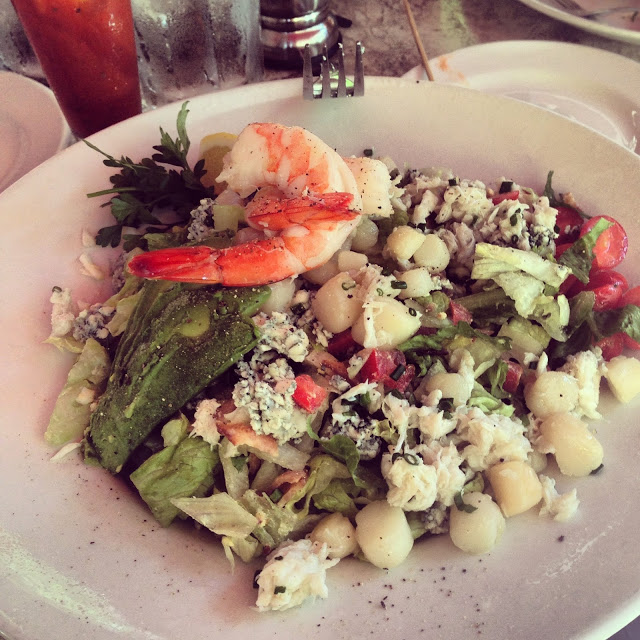 To celebrate Chris's parents 35th anniversary, we went to dinner at Bavette's.
It's a dark little steakhouse with amazing food and great wine.

The wedge salad is unbelievable. See that pile of red on top? That's just the thickest bacon you'll ever taste.
And then I followed that up with the standard filet I always like to order.

As if the rich dinner at Bavette's wasn't enough food to last us for the next twenty four hours we went to Publican for brunch on Saturday morning.

This is some sort of egg fundido. I know enough about life that when I see the word "fundido" on a menu I'm ordering it.

And have I mentioned lately how thrilled I am to have my Harlow back? Because I am.

And just a few more photos from the boat tour, the Art Institute, more brunching, and just sharing my overall love for this city in general.
This city is just gorgeous in the summer. Am I right or am I right? Do me a favor and remind me about all this Chicago-love talk in mid January, would you?
Remember that dog I'm excited to have home? He's currently whimpering at my feet to be taken on his fourth walk today. It always takes him about a week to "adjust" back to Chicago life after coming home from camp in Nebraska where he does as he pleases. And by "adjust" I mean stop being such a little asshole.
It doesn't help the matter that his 21st birthday is a few short weeks away. He's insisting on throwing a rager… We shall see.