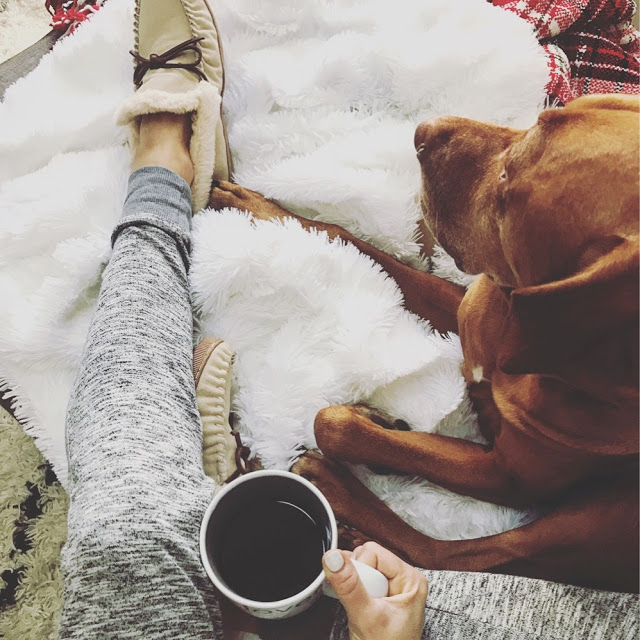 This lull week after Christmas before New Years always confuses me. I can't quite explain it, but let's just say I've been staring at my computer screen for about two hours now with a blank expression on my face and zero thoughts in my head.
I feel extra lazy and seem to have this laissez-faire attitude about everything work related that needs to be done. For example tshirt orders, exchanges, customer emails… Good Lord, there are a lot customer emails. If you're one of them, you'll hear from me today I promise. Eventually.
I think the whole idea of winter break has just been engrained in me from school days so my mind and body still fully expects that I get to be in lounge mode until at least January 3rd. Maybe the 4th of 5th depending on school policy.
I really just want to lay on the couch all day eating cookies and chex mix, while watching 100 hours of TV. Right now I'm currently into Westworld. It's dark and twisted, but what can I say, that's what I'm enjoying at the moment.
But once I get my butt in gear and start doing things (cleaning the house, emails, ext…) I'm also attempting to plan out some blog posts for the week. *I never plan out blog posts, ever. But I can pretend.*


If you have any fun ideas, I'm all ears. Naturally, I was thinking my favorite self help books for 2017 (because I haven't written about this 100 times…) but this is a big week for dreamers/goal setters. I have about six hours set aside (every day until January 1st) to work on this. I get giddy just thinking about all the new notebooks I'm going to buy to ramble in.
And so I'm obviously going to write a post about my goals for 2017. Maybe a post about eating healthy/exercise? Blah. I know it sounds boring but after two solid weeks of eating shit I have to get back to smoothies and pilates. And I have a really big plan to start drinking more water. -said me every year.
I'm also contemplating sharing some fiction or essay-ish posts. But that sounds somewhat dumb and scary so that's still up in the air…
And of course I'll write a post about Harlow being back home and how I tell him no less than 100 times a day how happy he makes me and omg dogs are the best. They really are.
Okay this post was a ramble. I'm sorry. I blame it on the lull week.
Come back tomorrow to read an inspiring (ha!) post about goal setting, giving off the right vibrations, and being one with the Universe! Unless you hate Universe talk, then I suggest you stay away.
I'm done for today, bye.