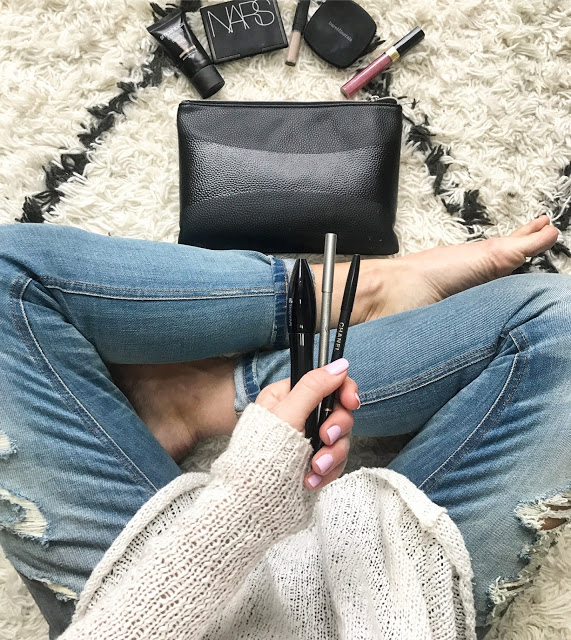 And now to mix it up with a post called, "6 Makeup Products I Use Every Day."
*I use the term "every day" lightly here, as some days I'm lazy and don't put on anything at all. But when I do, it's always one of these items.
1. bareMinerals powder foundation.
Why oh why did it take me so long to discover how wonderful a good powder foundation can be? It goes on easier, blends better, and looks so much more natural than liquid (for me.) *Because I was terrible at putting on liquid correctly. Also liquid gave me awful breakouts. I've been using this for about four months now and love it.
2. Laura Mercier eyebrow pencil.
Laura is a miracle worker with makeup. (Yes, she and I are on a first-name basis.) At least we are for this post. I love all of her products, but this eyebrow pencil is one of my favorites. I learned how to give myself eyebrows in 2015 and I feel like this was HUGE turning point in my life. How did I live before? HOW?
3. Chanel eyeliner.
I never know how to do eyeliner or what color to wear. Am I wearing it too thick? Too thin? Too dark? Someone tell me. Luckily, this Chanel eye pencil goes on soft and easy, and I chose the medium brown color for a good "day time look." Does that sound like something a makeup blogger would say? Good.
4. Hypnose mascara.
This has been my go-to mascara for about ten years now. I stray from it every once awhile but always end up back where I started. It makes lashes look longer and doesn't clump. However, I always love to try something new so if you have a good mascara you love, I'm all ears!
5. Nars bronzer.
Pretty sure I've mentioned a time or two how much I love bronzer… this is one of the best I've tried (and I've tried a lot.) It gives a nice glow without being too shiny or greasy looking.
6. Smashbox BB Cream.
My daily moisturizer + SPF. Gives a nice tint to my skin without looking cakey, protects my skin from the sun, and helps with anti-aging. Everything a gal in her late 20s needs…
What are you go-tos? I'm always looking for a good blush, eye color palette, and like I said above, a new mascara!