It's been raining for about ten hours now. I'm in a big cozy sweatshirt, Harlow is on my lap, I just made an afternoon pot of coffee, and I'm FEELING PRETTY OKAY for a Monday.
The name of the game this week is Memorial Weekend! What are you doing? Where are you going? More importantly, do you need me to tell you what to wear? I suggest cardigans and stripes. There, you're welcome.
Just kidding, as much as I'd like to make you all sit through a post about 35 Striped Summer Cardis You Need Right Now – I won't do that to you. Instead I'll tell you this site is having 20% off everything (go to the swim/coverup section) and we'll get on with it.  *some affiliate links will be used in this post.
And now to talk about a few books I've been loving and what's next on my list to read this weekend while we're in North Carolina.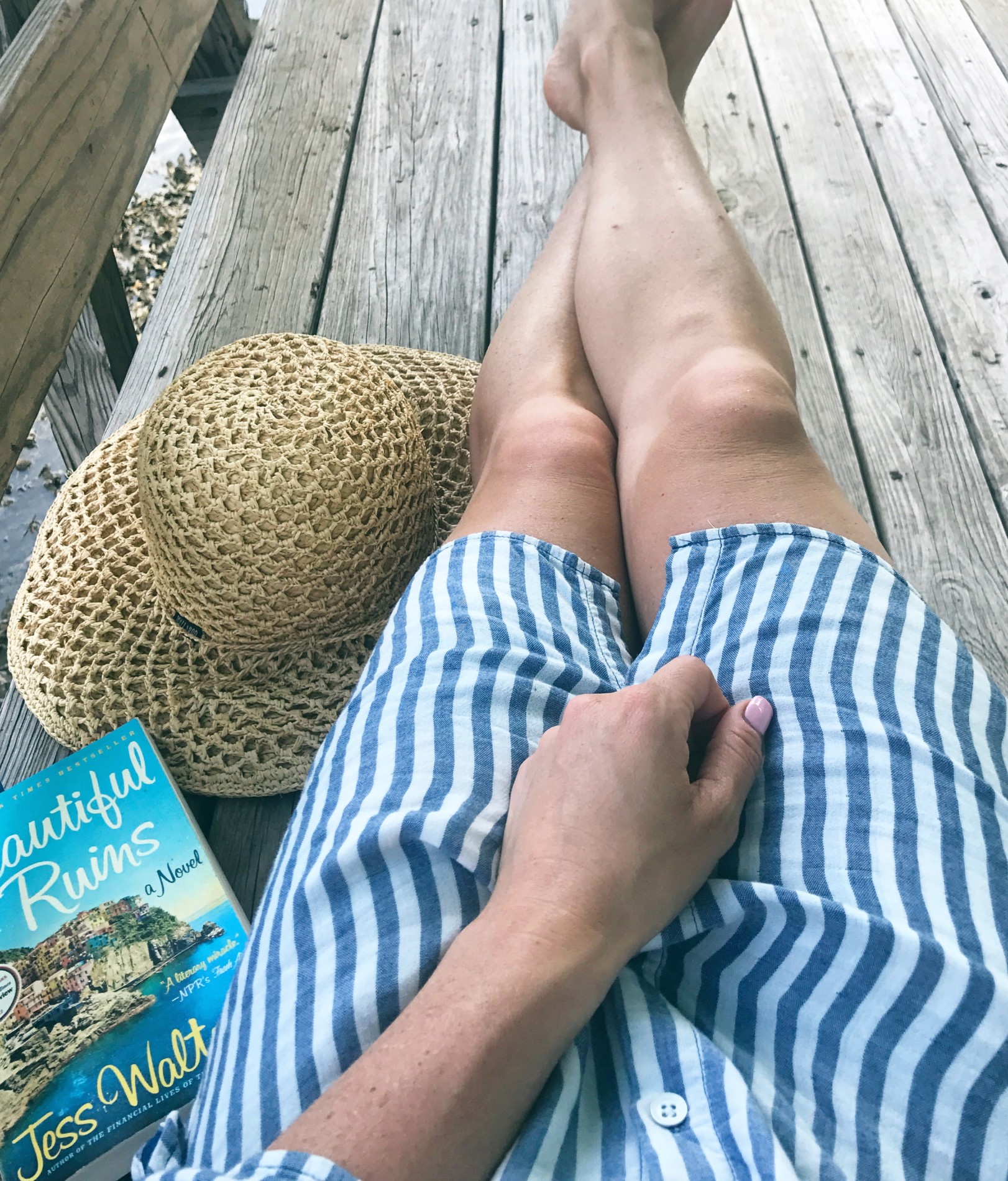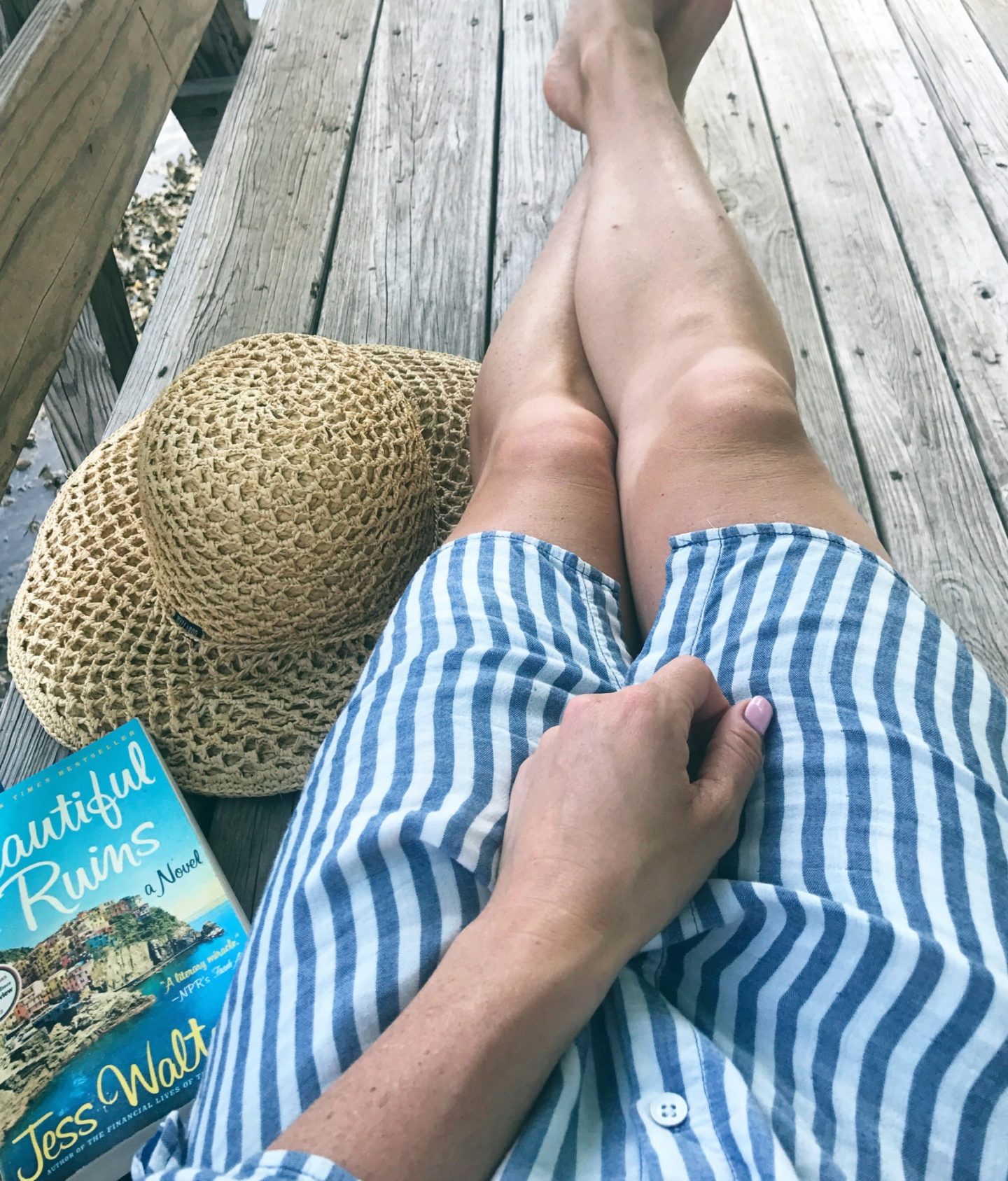 Just Finished:
The Seven Husbands of Evelyn Hugo.
I get the hype now. I couldn't put it down, go get this one asap if you haven't, already.
I could put this down. But let's be honest, I didn't go and buy a book called "The Summer House" expecting magic. I bought it because I wanted to skim something super light and just get lost in the setting. For the most part, it worked. I can barely remember the character names or what they were upset about, but I can tell you everything about the beautiful summer house they vacationed in and the delicious meals that were consumed. Take it for what it's worth.
This was a very fast read. It kept my attention and was suspenseful, but it's not a book I think about after putting down. Also, there's one small scene where animal abuse is mentioned and I DID NOT LIKE IT. It's not described in detail by any means, but I wish someone had warned me going in, so now I've warned you.
Enjoyable. But a lot of unnecessary details and characters, and I found myself skipping paragraphs to get to the end which ultimately fell flat. But what do I know? Everyone else seems to love this book, so give it a try anyway.
Next on my list:
Same author from the first book on this list, so I have a feeling this will be a good one. (Also several of you mentioned this book on the last post I wrote about best vacay reads!)
This was just released last week and so far the reviews have been really good! I'm a fan of the author's first book, The Luckiest Girl Alive. (Start with that one if you haven't read it already.)
I don't know much about this one, except I mentioned I like to "keep watch" on my neighborhood and about 25 people told me I have to read this. So I will report back!
I just downloaded this last night because I heard Reese Whitherspoon liked it. So if Reese likes it, it must be good, right?
Other Books People Have Suggested: 
I'm going to assume this involves a cheating man and two women. And one of them is not happy about the cheating.
The short excerpt I read has me very intrigued:
My name is Amber Reynolds. There are three things you should know about me:
1. I'm in a coma.
2. My husband doesn't love me anymore.
3. Sometimes I lie.
Honorable mention: Girl, Wash Your Face. 
A self help book I just started which already has me motivated to GET SHIT DONE and stop procrastinating and breaking promises to myself.
And that's my quick eleven. What's on your reading list for this weekend?