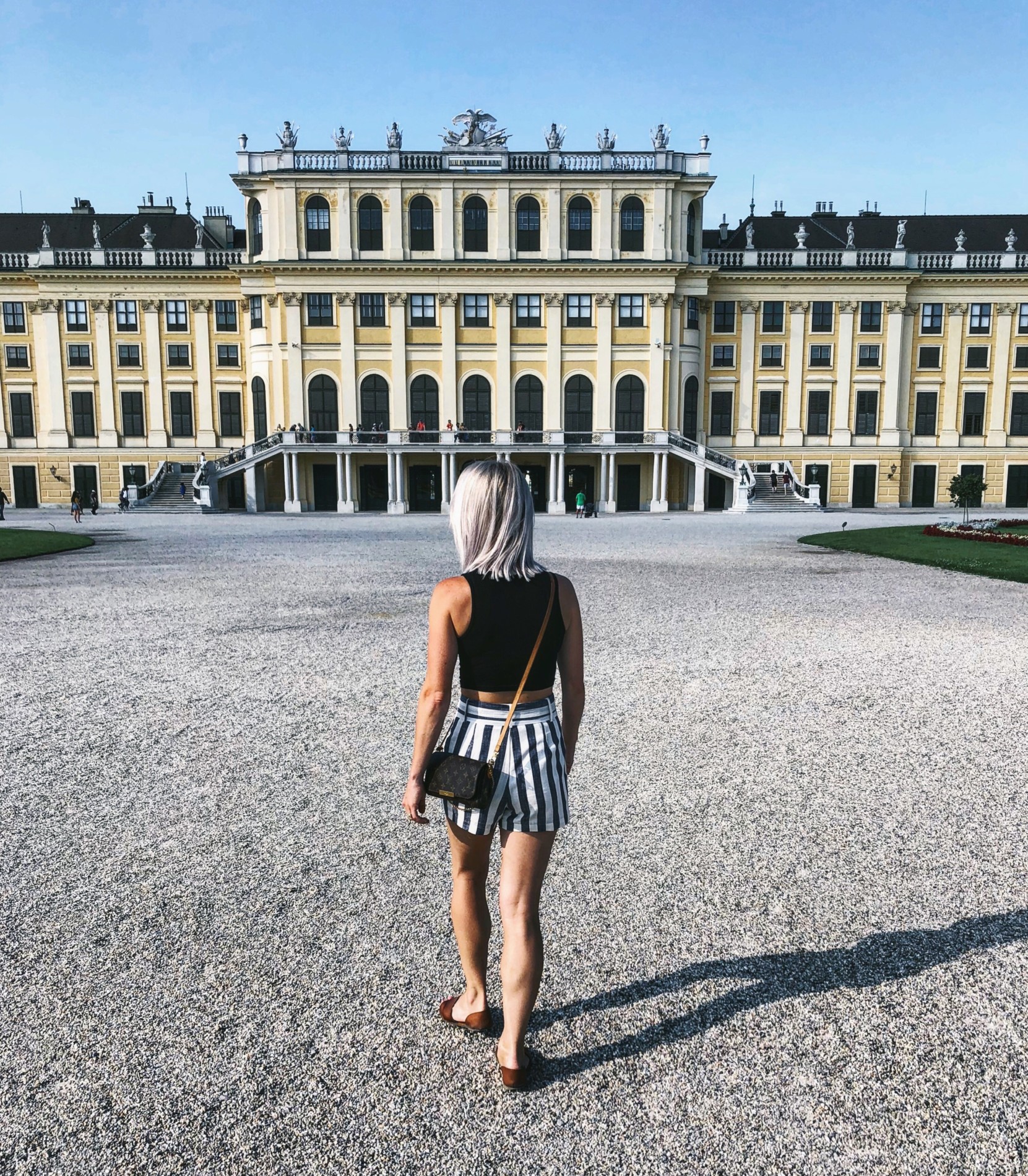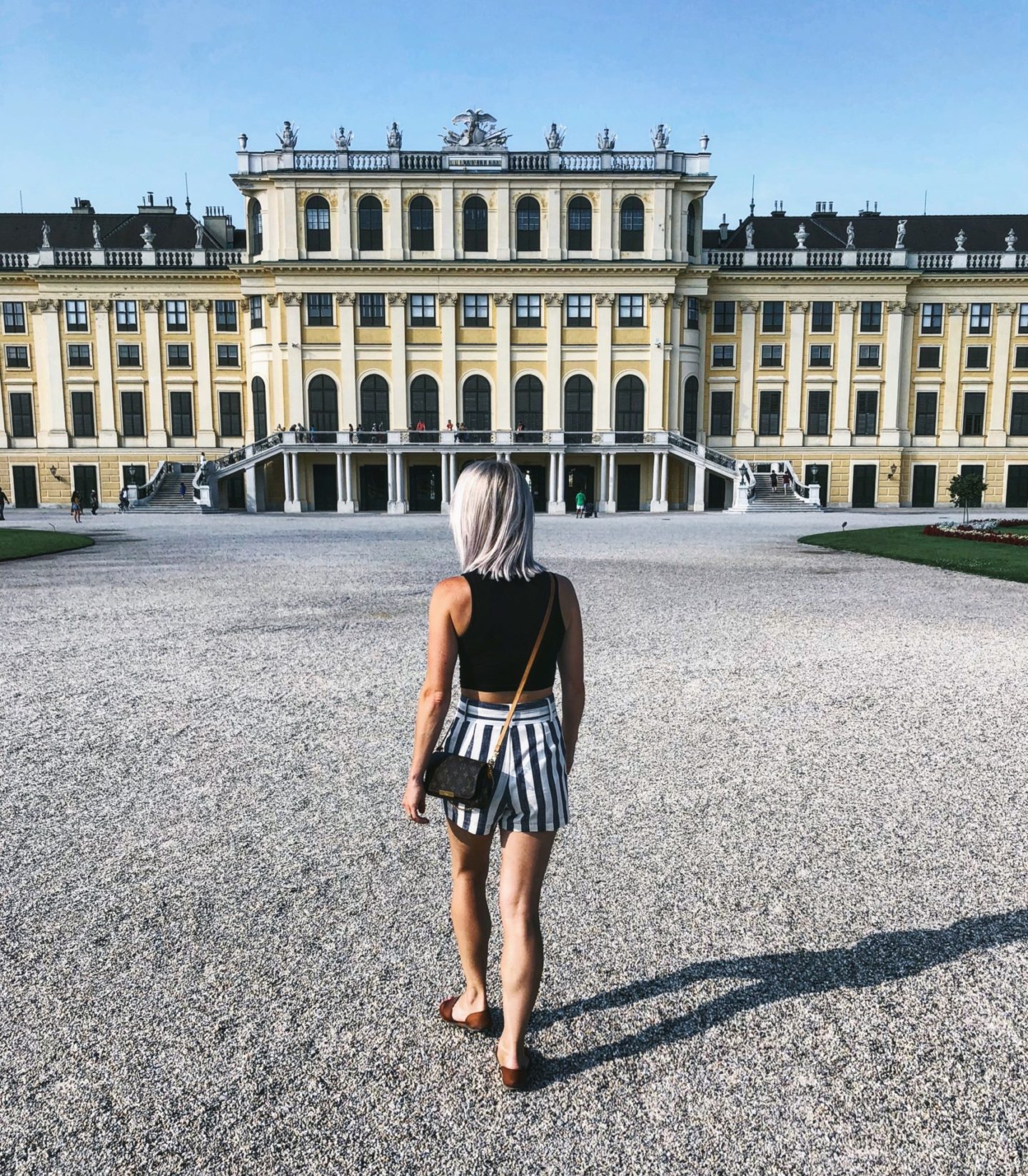 Part 1: Vienna.
We left Chicago at 10 p.m., I had two delightful glasses of wine on board, instantly fell asleep, and woke up eight hours later in Frankfurt. Best flight ever, Chris and I both remarked.
After a brief two hour layover in Germany, we got on a one hour flight to Vienna and touched down around 3 p.m. We Ubered to our hotel, dropped our bags, and immediately hit the town.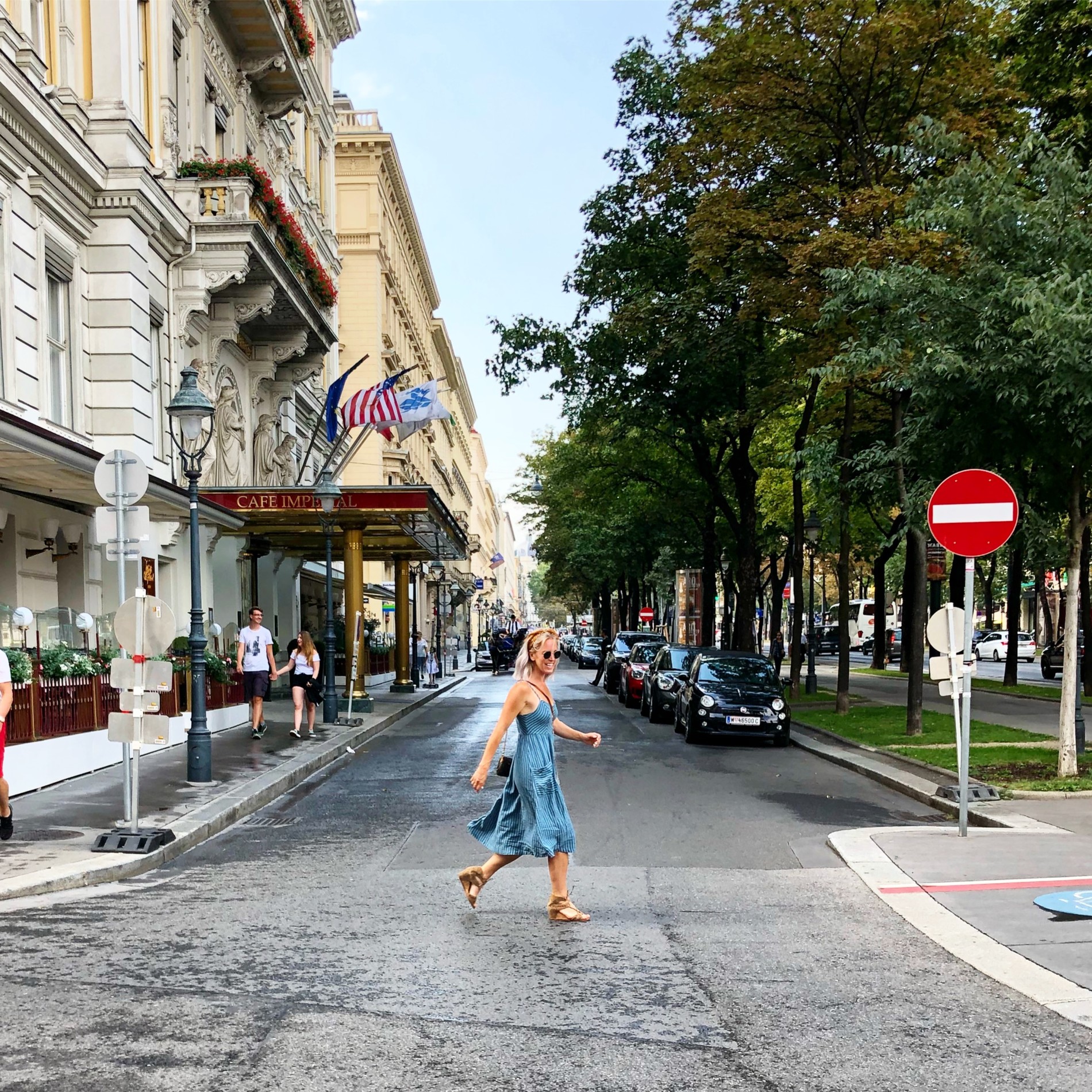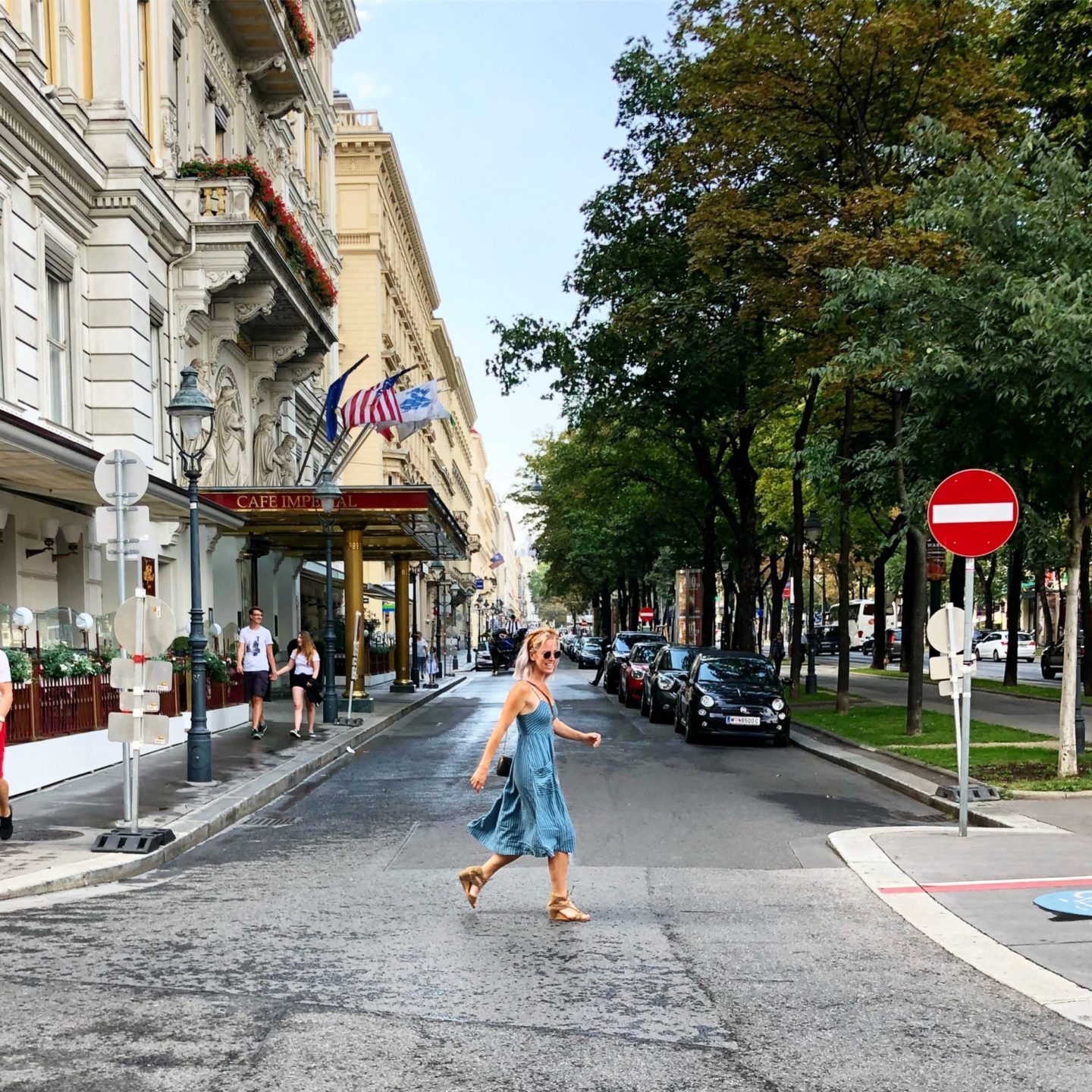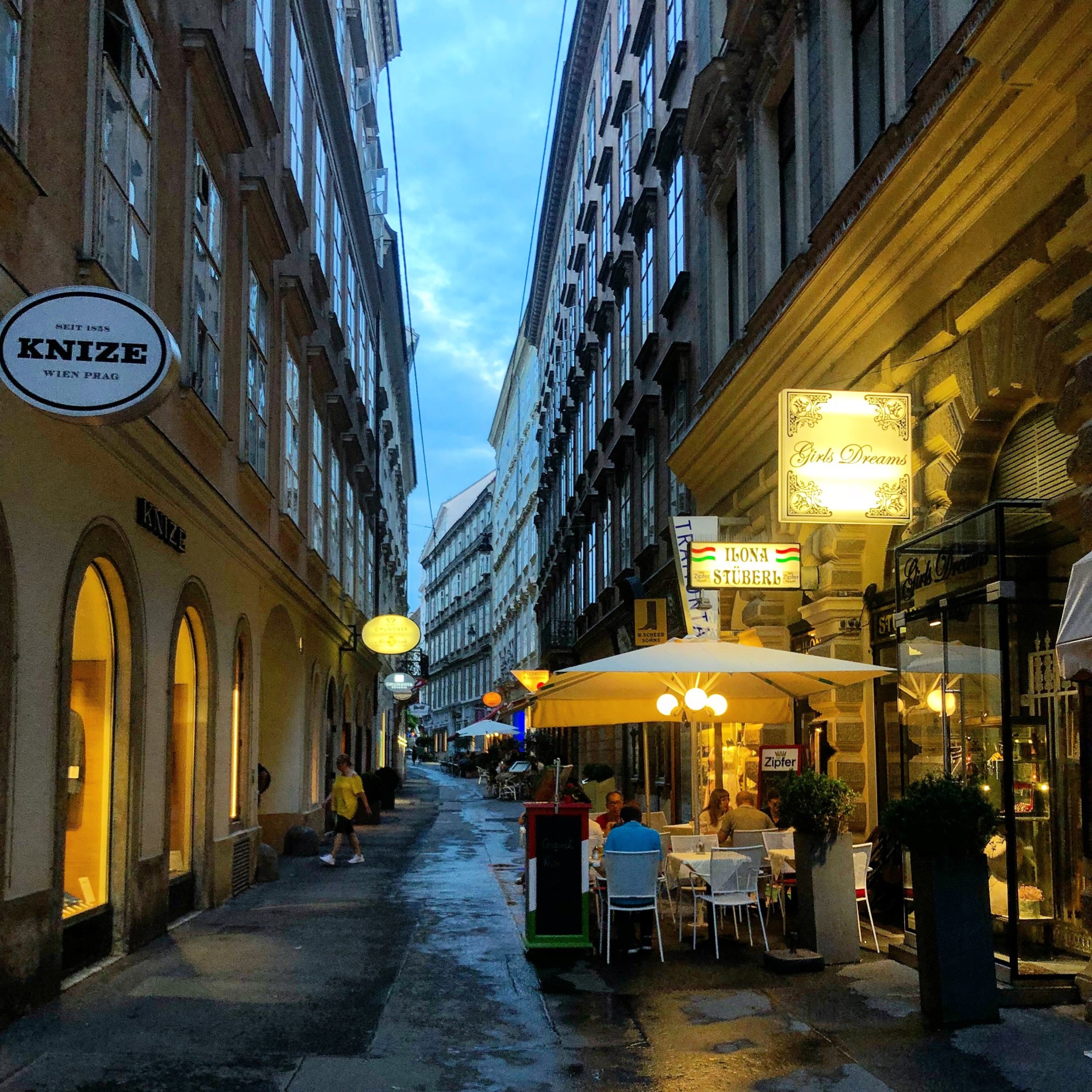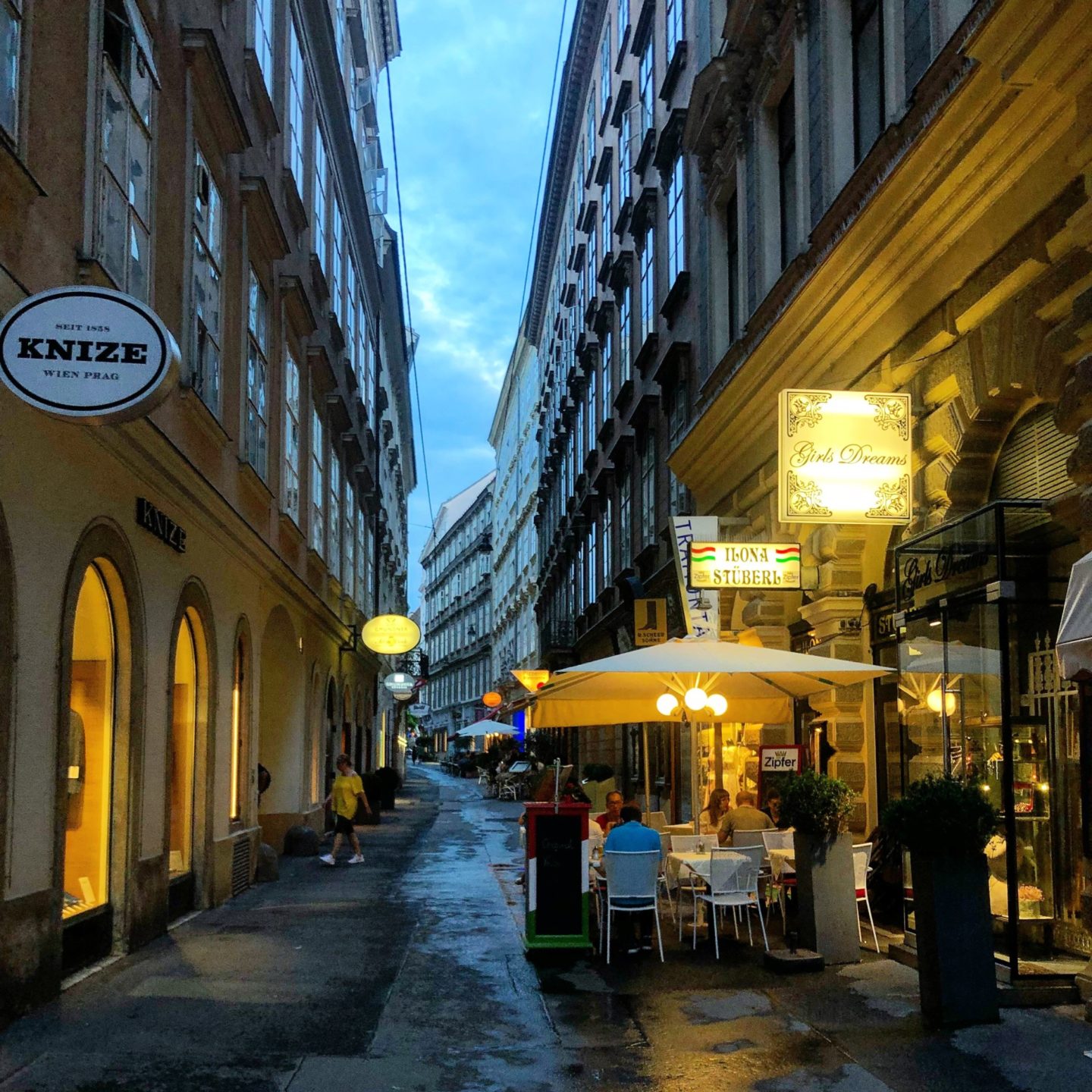 Quick bullet points (this is me trying to write a post that is actually useful, go with me here.)
*Use Uber or the Taxify app to get around if you're nervous about communicating, directions, or taxi costs. More on this when I talk about Buadapest (taxify was clutch there.)
*Where we stayed: Hotel Vien. Perfect location and we loved the hotel itself.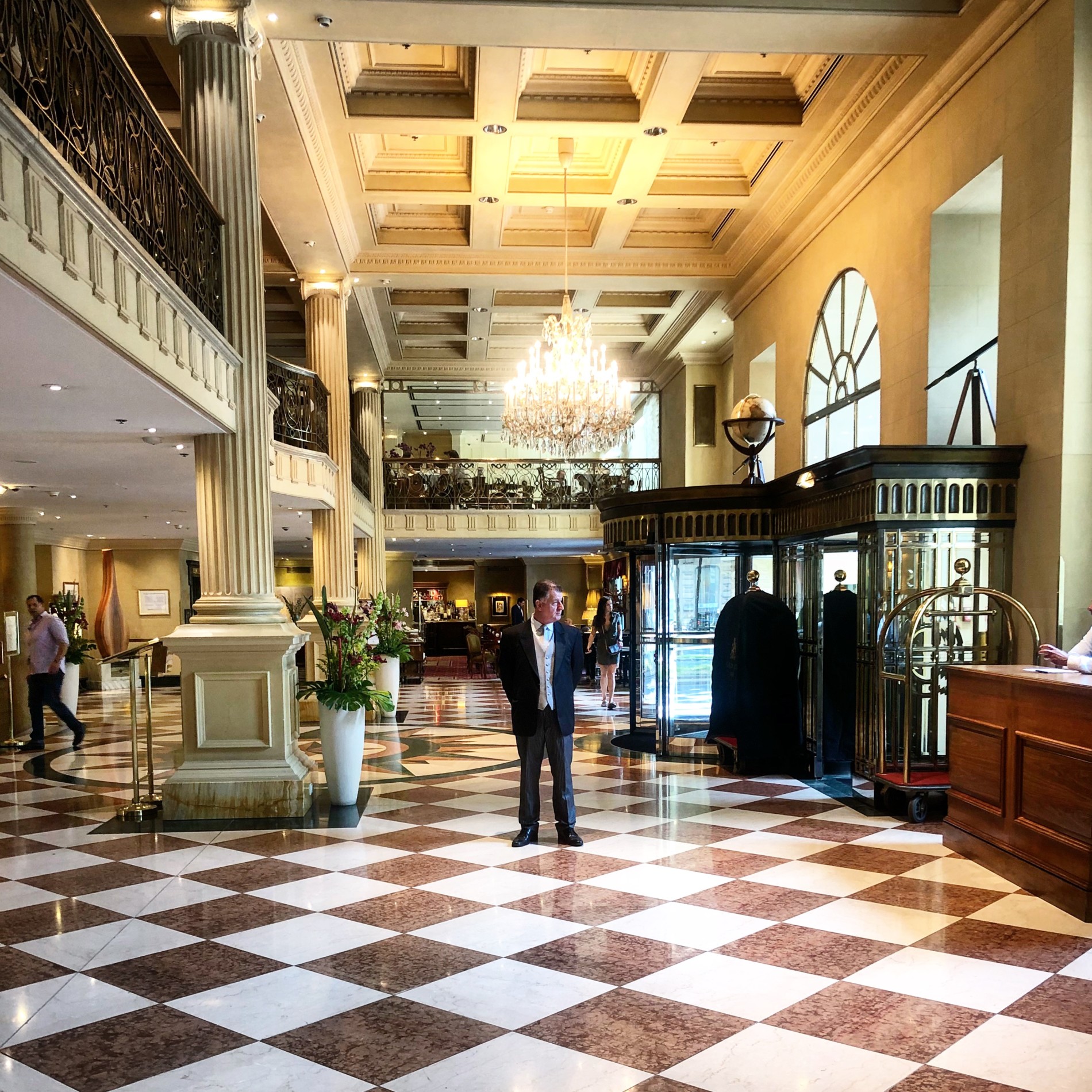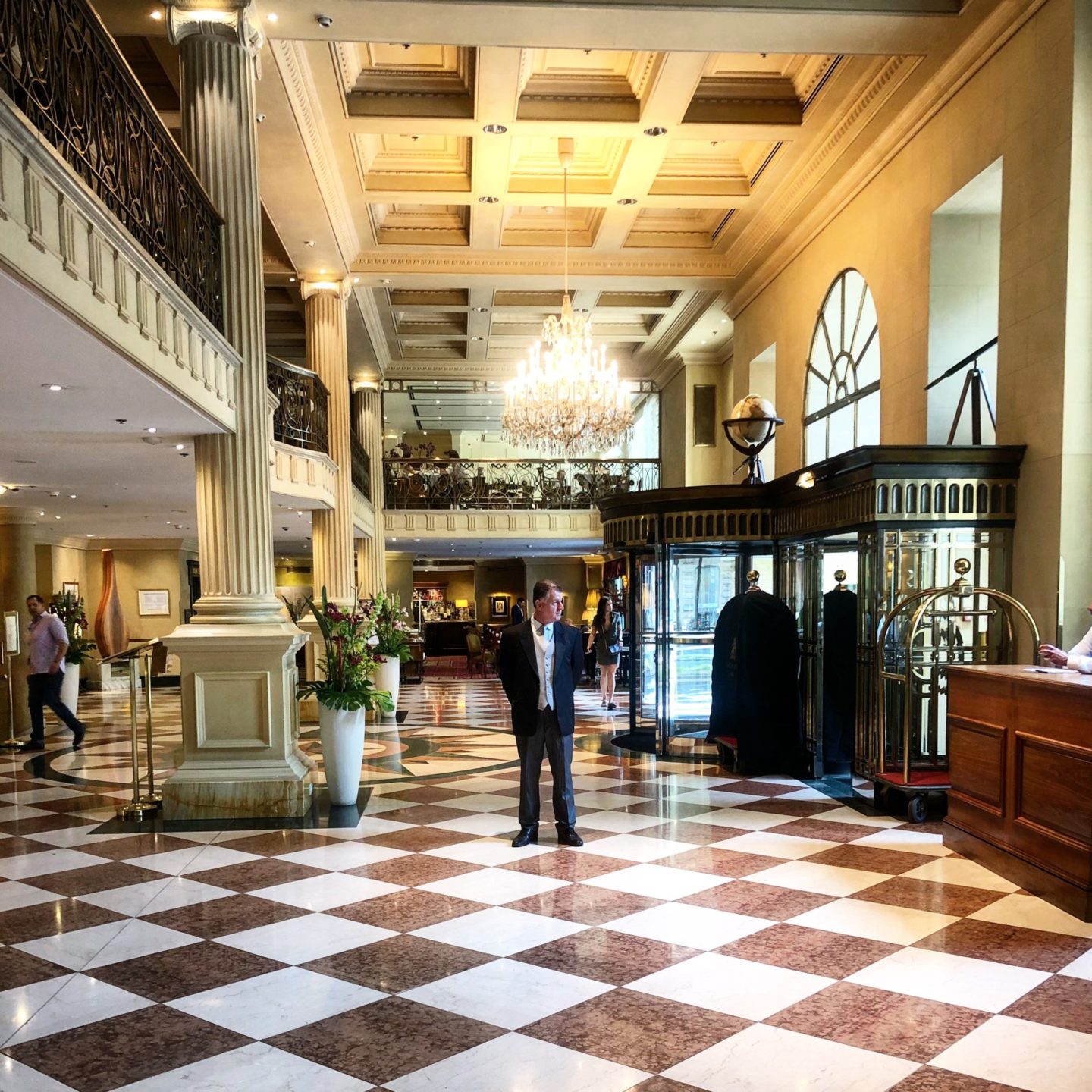 We spent the first night in Vienna walking the main tourist streets and saying things like, "I can't believe how gorgeous this city is," and "everything is so clean and beautiful," and also, "this city must be very rich."
So yes, from our perspective, Vienna seems to be doing pretty okay. The buildings are pristine, the streets are clean, and beautiful tourists were everywhere. Without meaning to, we kept comparing it to Paris. And in our opinion, we liked it better Paris. I know that people have strong feelings about Paris, so I'm risking some ridicule by saying that, I'm just letting you how we felt about it. 🙂 But let's be honest, both cities are pretty great places to visit. It just so happened that Vienna was less expensive and less crowded than what we've experienced in Paris.
The first night we ate at Said the Butcher To The Cow.  It's a trendy little spot a friend of Chris's suggested, (if you want to try the best black bean ever, I suggest this place.) The vibe was chill and the drinks were great, so it was a perfect spot for our first dinner.
I was about to say we called it a night after dinner, but then I remembered that's actually not true. I yelped/googled "dive bars" trying to find a fun spot to ring in Chris's birthday at midnight and we struck out two times until we literally stumbled into a bar that was next to the bar we intended to go to (but the intended bar was closed, as was the first we tried.) But low and behold, we found something even better. Bockshorn Irish Pub; an absolutely dreamy little Irish pub tucked away on some street we never found again, which makes me wonder if it was all just a dream! (But according to google it's very real.)
The clock struck midnight, Chris took some birthday shots of Jameson, I took a few stupid videos for Instagram, and we called it a night!
Day 2: also known as my favorite day. 
A day trip to Wachau Valley. We took the train to Sankt Pölten, then transferred to Melk. Book this ahead of time, we did not. (Arguments ensued.)  More on this when I write my fun "Oh The Travel Arguments We Had" post.
But it was all worth it because Wachau Valley was amazing. It's an area on the Danube River full of vineyards, quaint little towns, and castles hidden in the hills. I could have spent more than just a day here.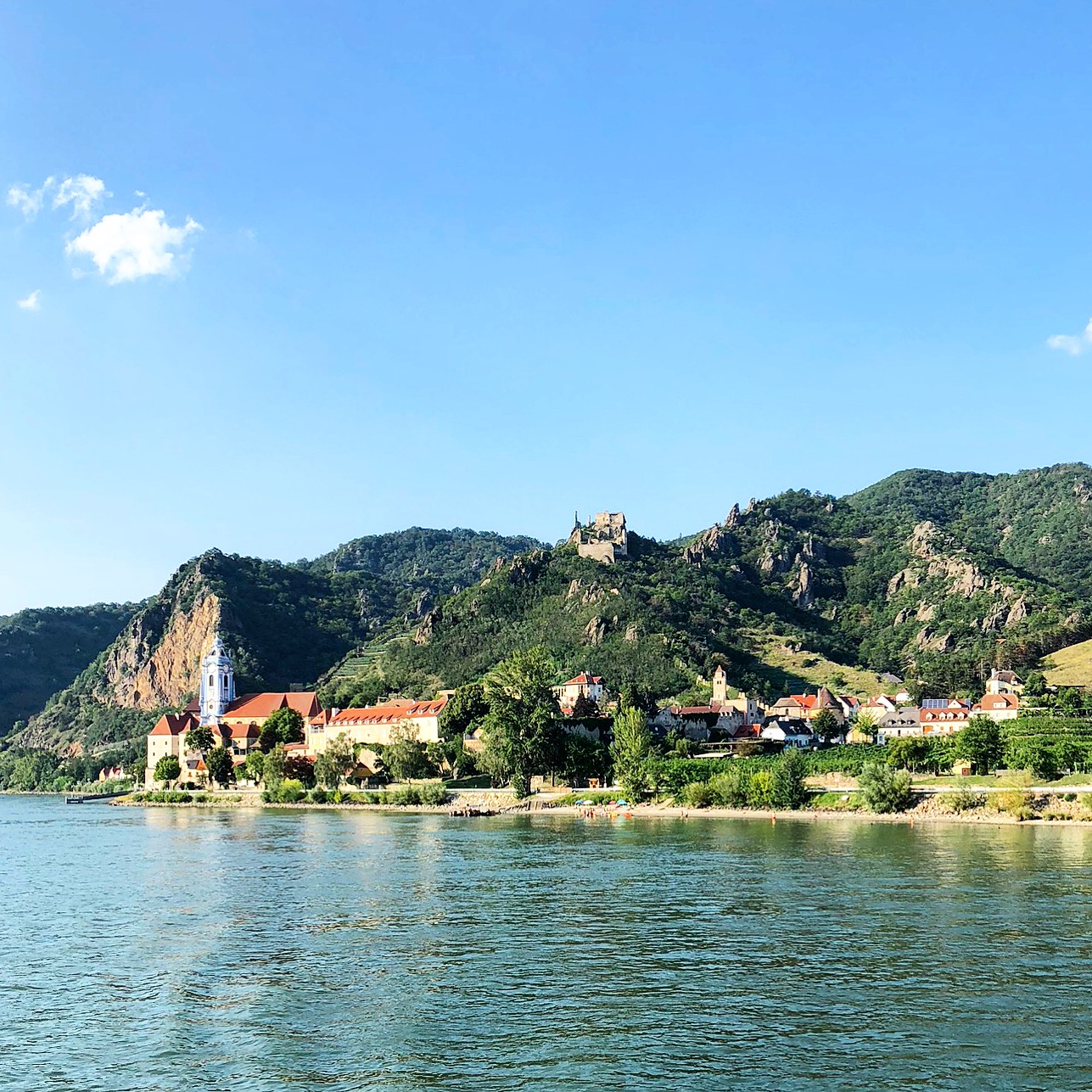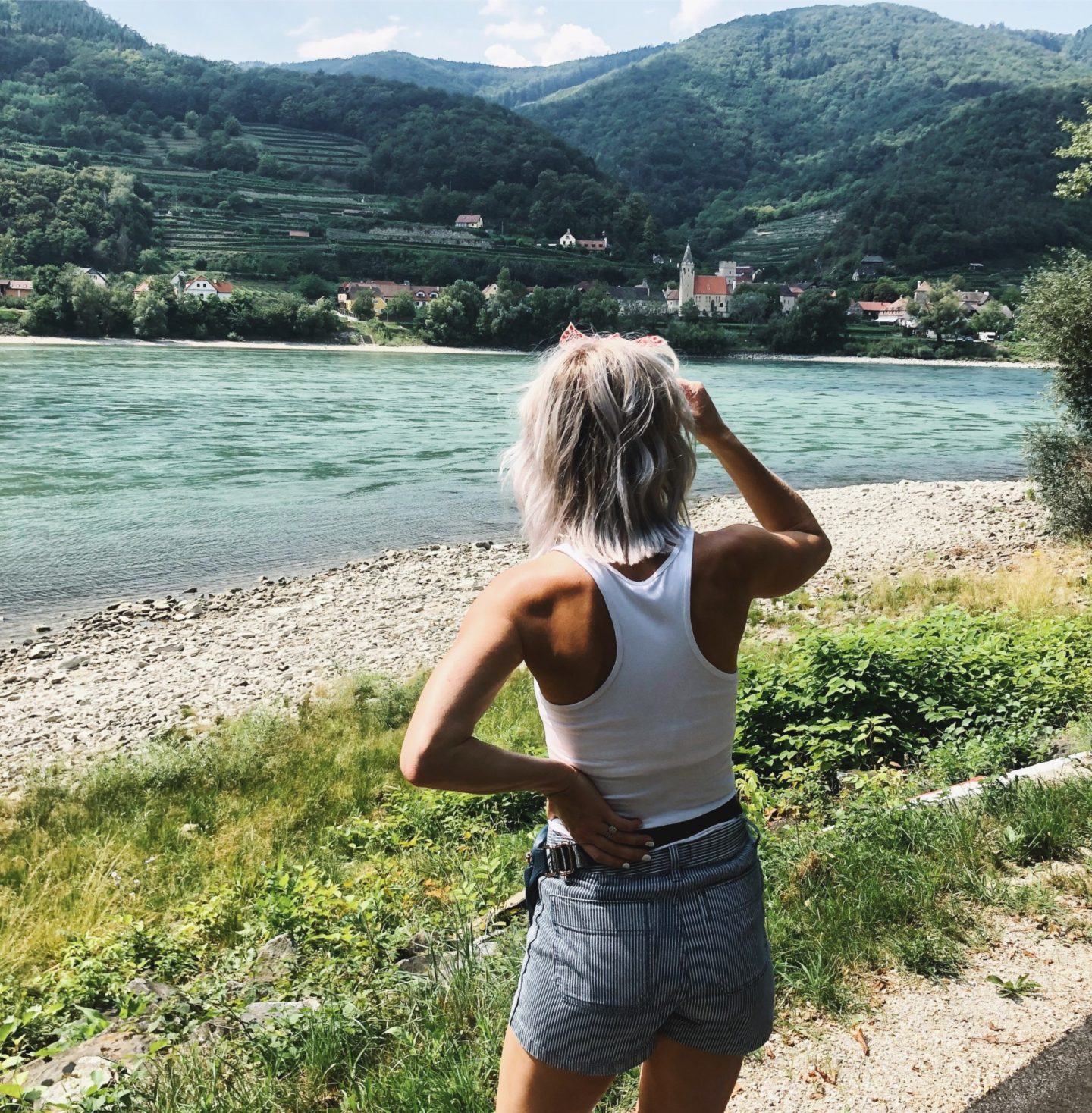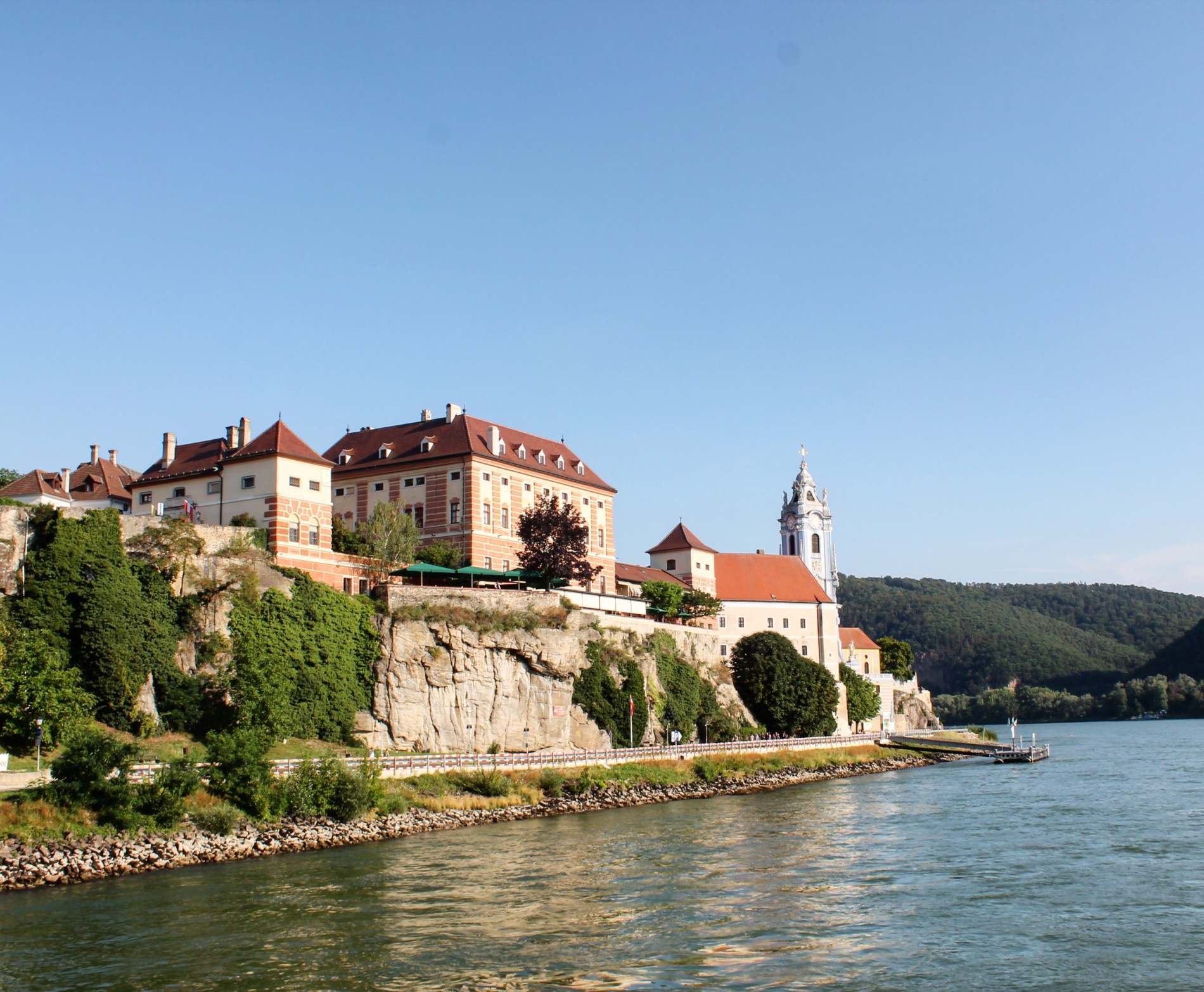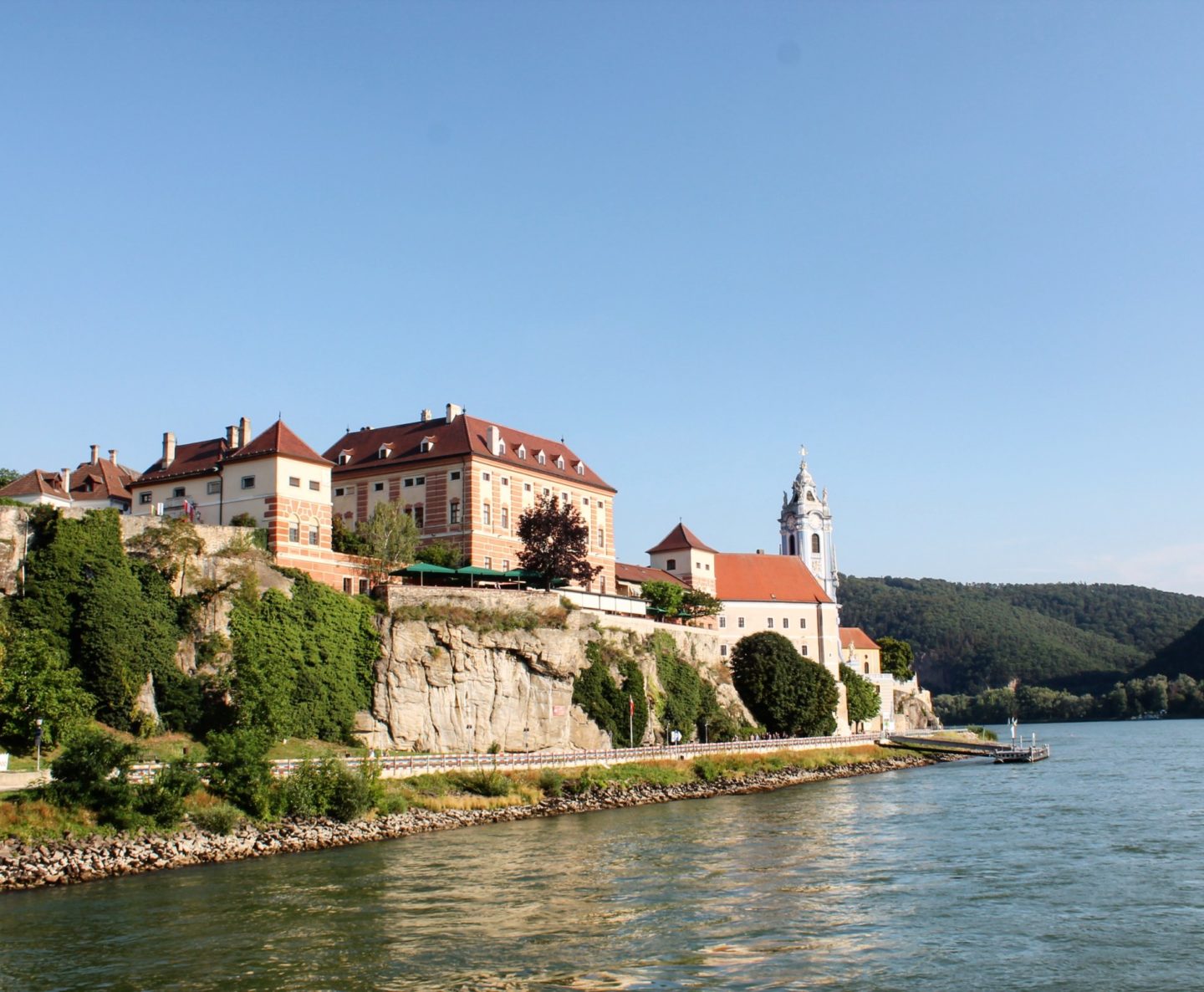 When we got to Melk we rented bikes and rode 15 miles along the valley to the town of Spitz. I can't suggest this enough! I also suggest that you pack water or some type of beverage, especially if it's 95 degrees outside like the day we did it. (We packed nothing because we plan well!)
By the time we got to Spitz we were hungry and thirsty and ready for a nice long lunch break. We found the first restaurant with seating along the river and grabbed a table.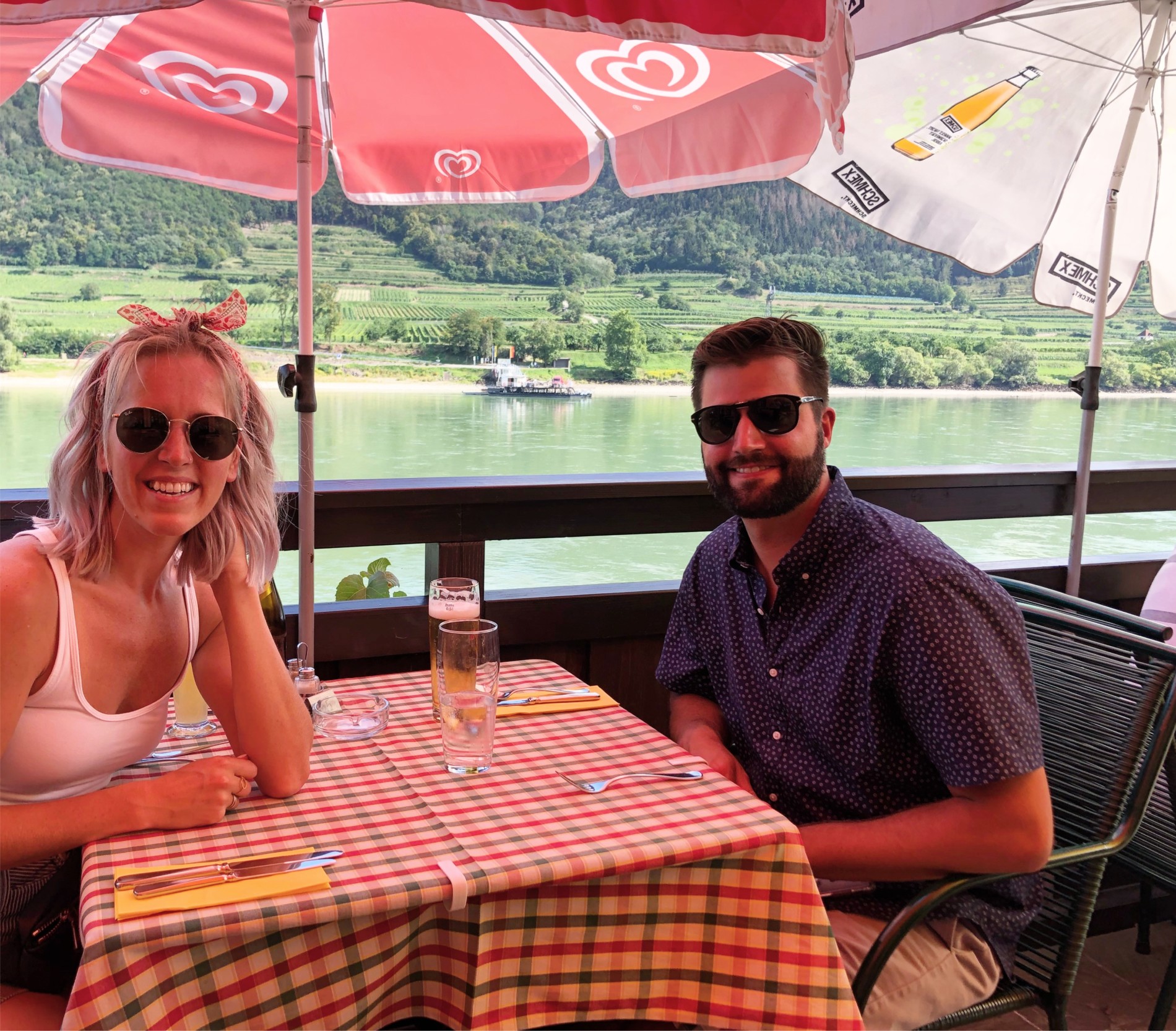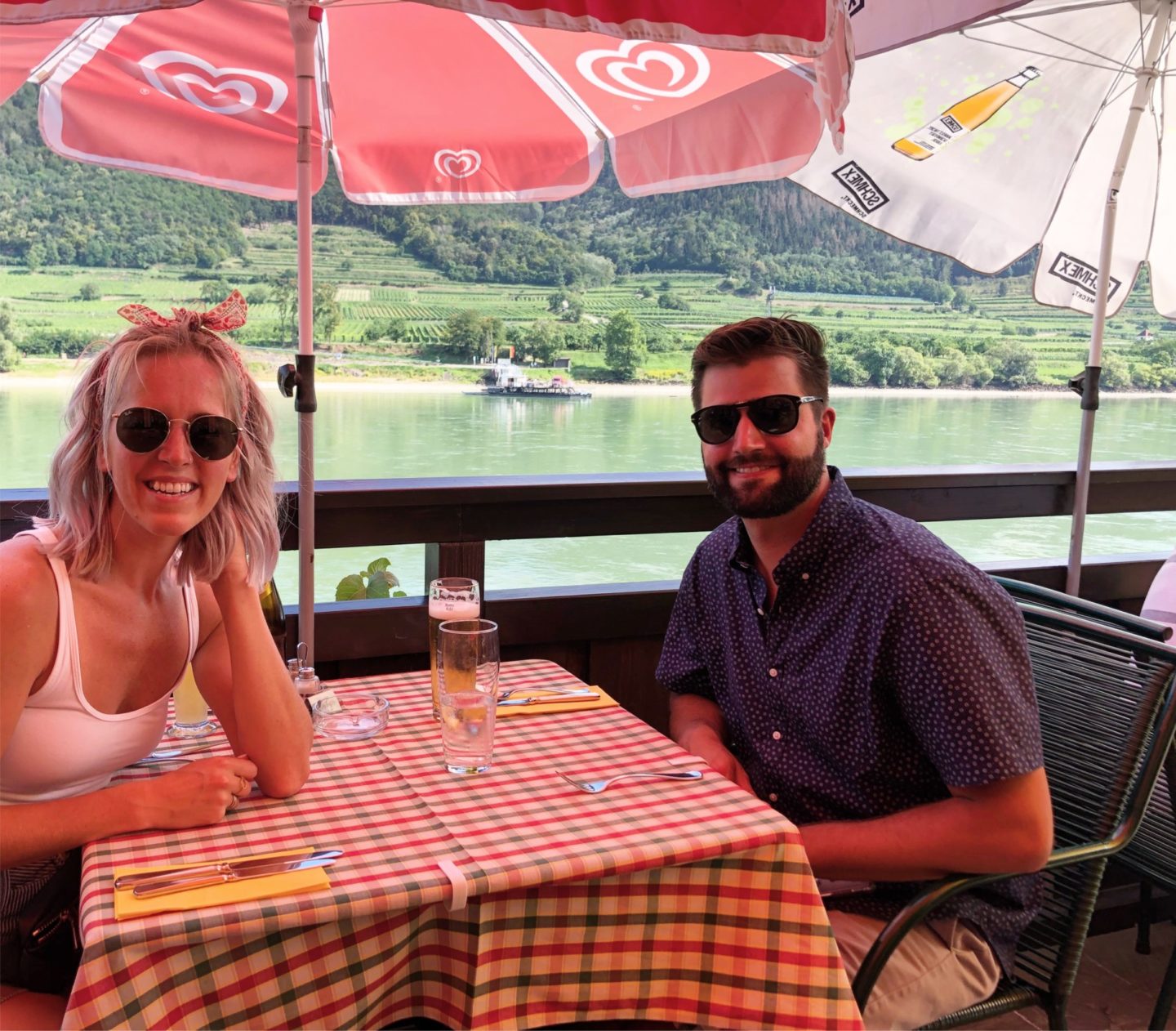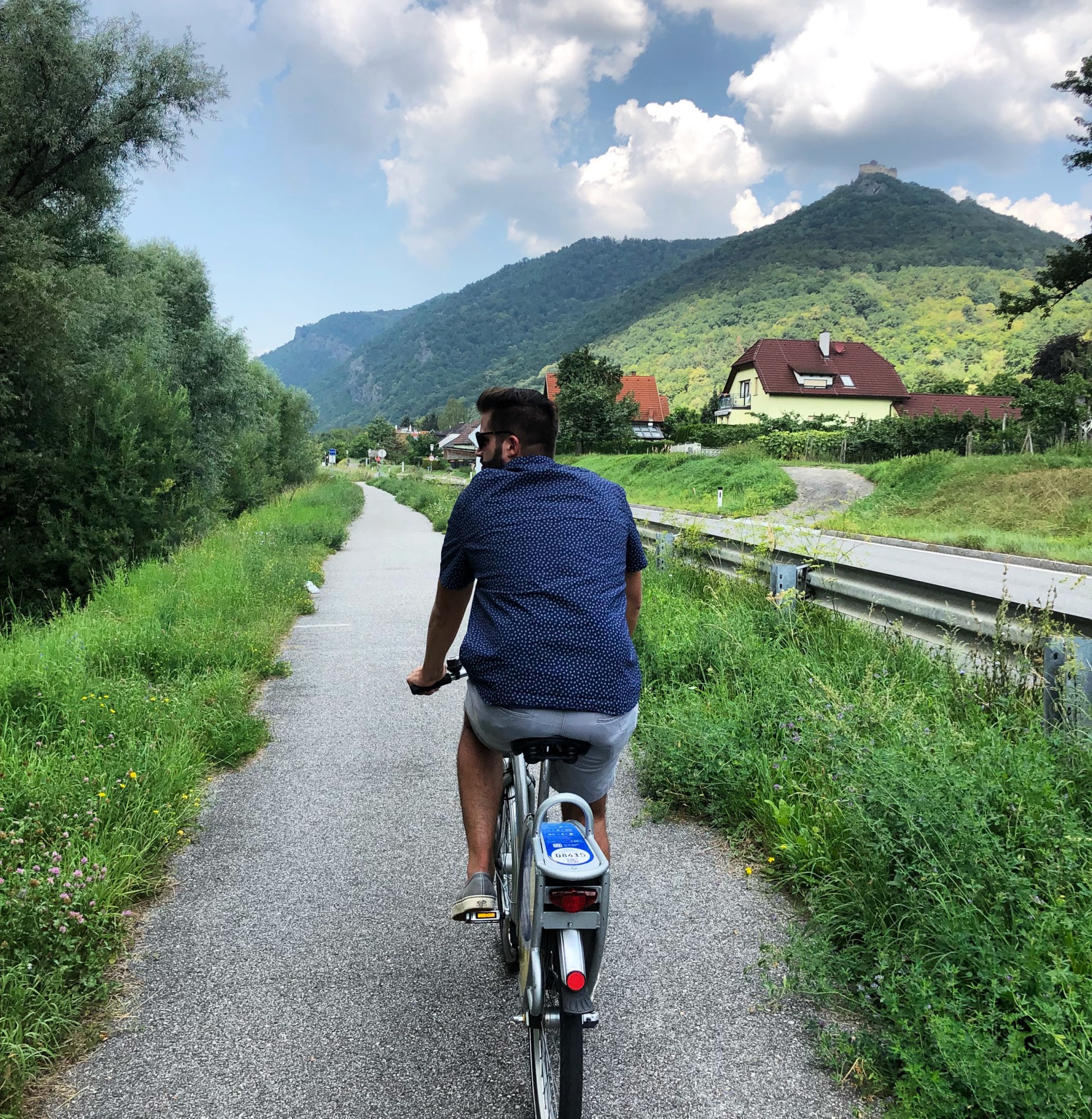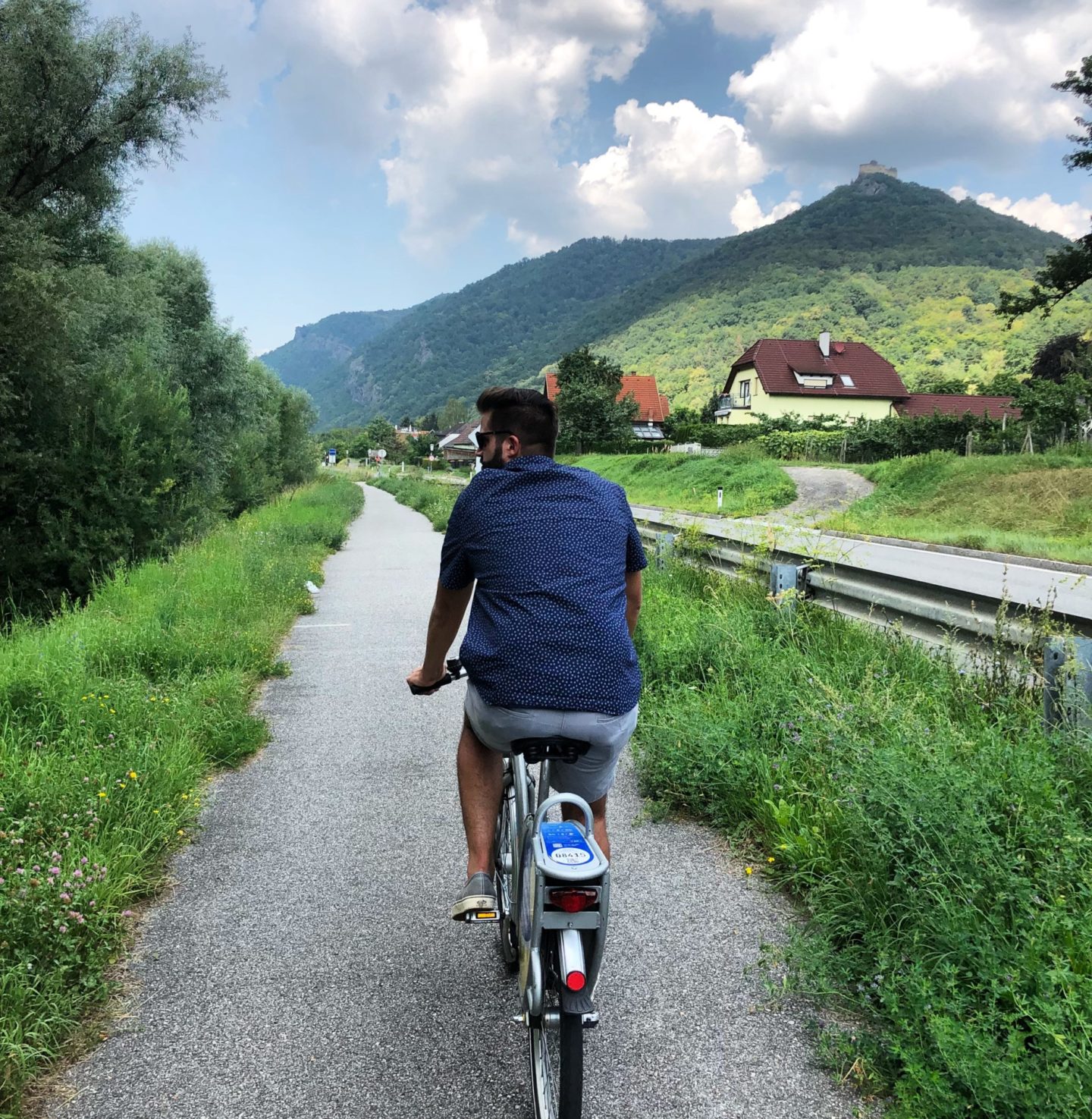 We originally planned to bike the remaining 12 miles to Krems to catch a train back to Vienna, but after a long lunch and a few cold Austrian beers, we gave that a hard pass.
Instead we bought tickets for the boat and enjoyed a lovely little ride down the Danube. Biking along the valley was fun and all, but so is riding on a boat with a glass of wine. I feel like we got the best of both worlds.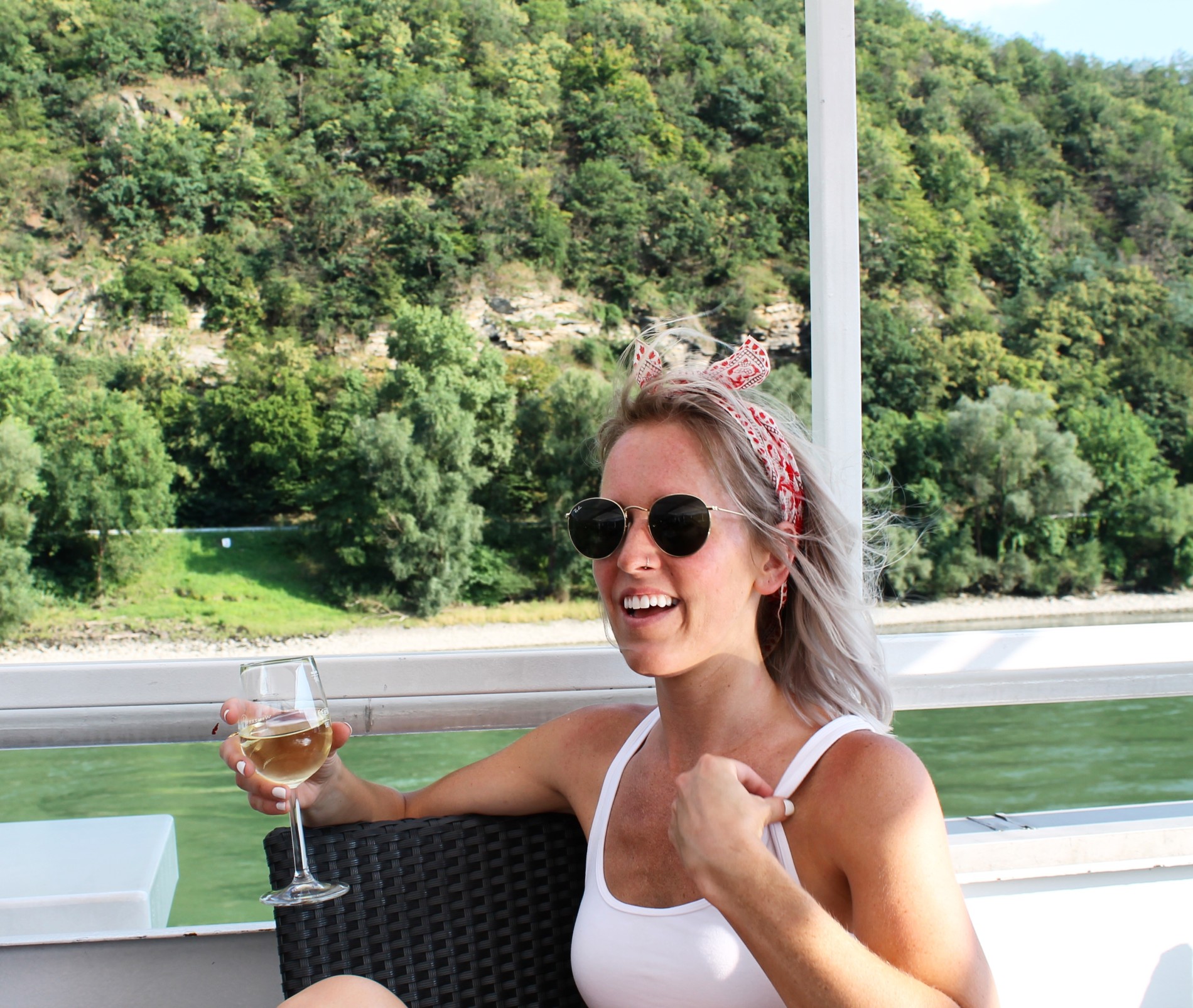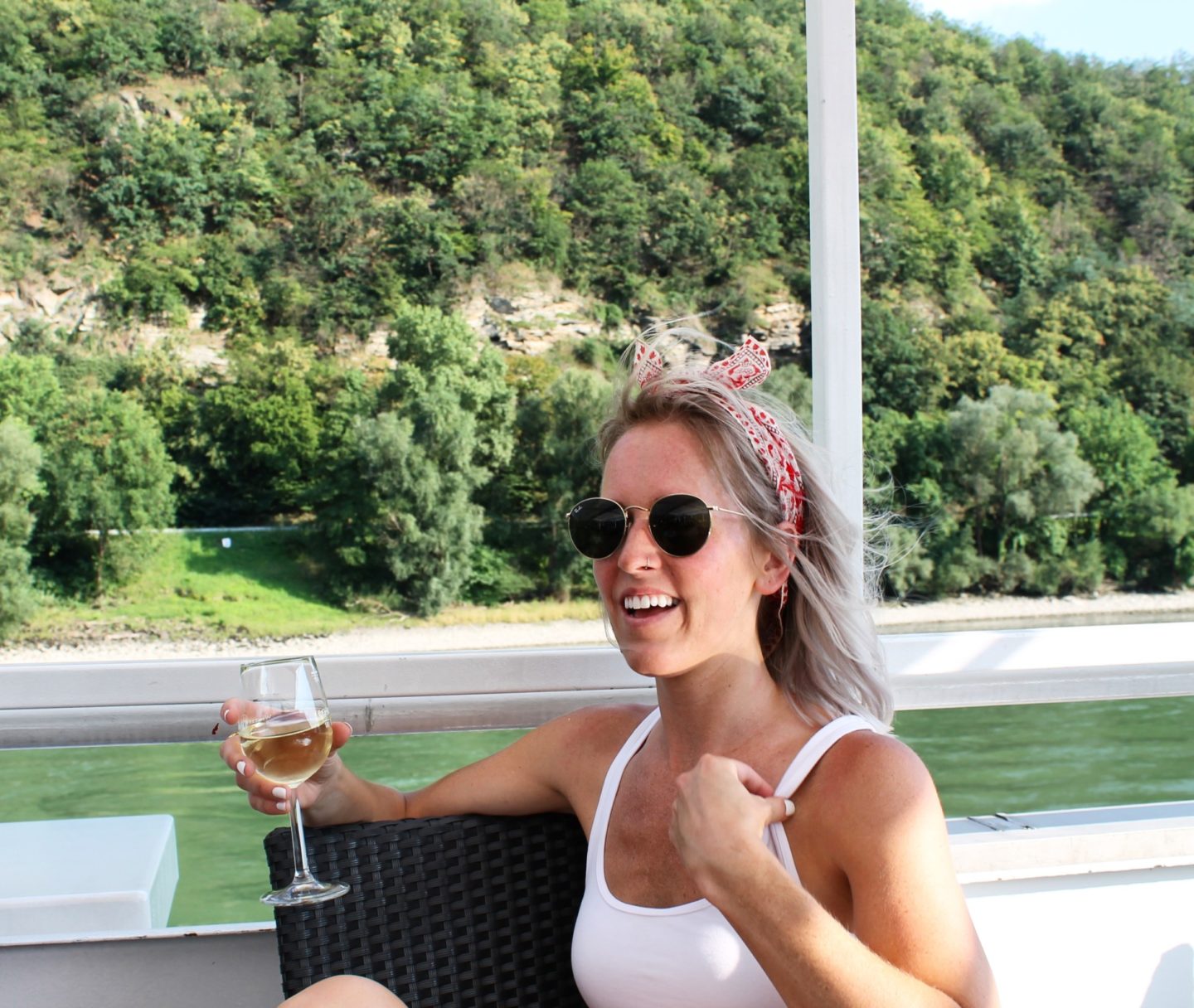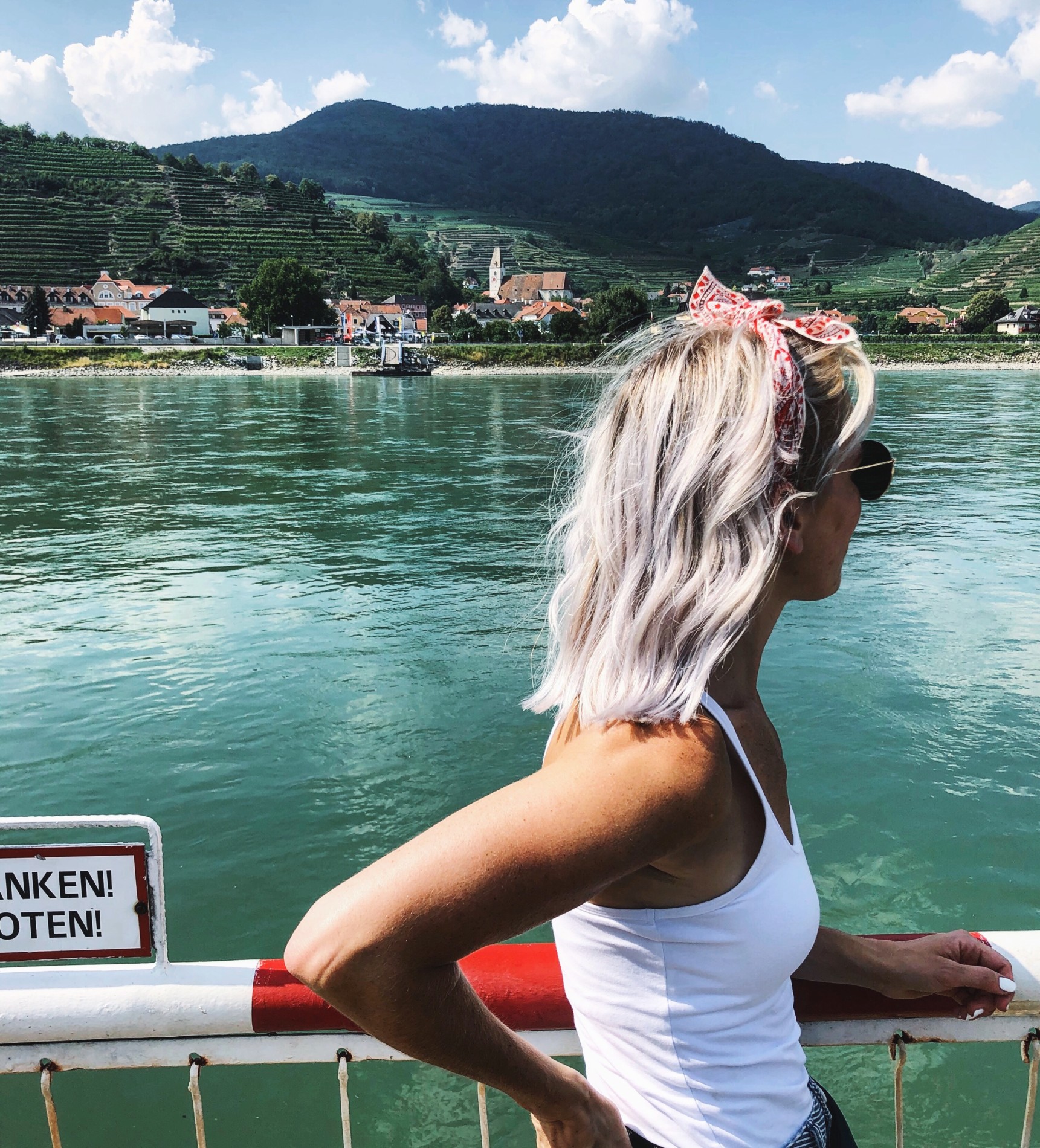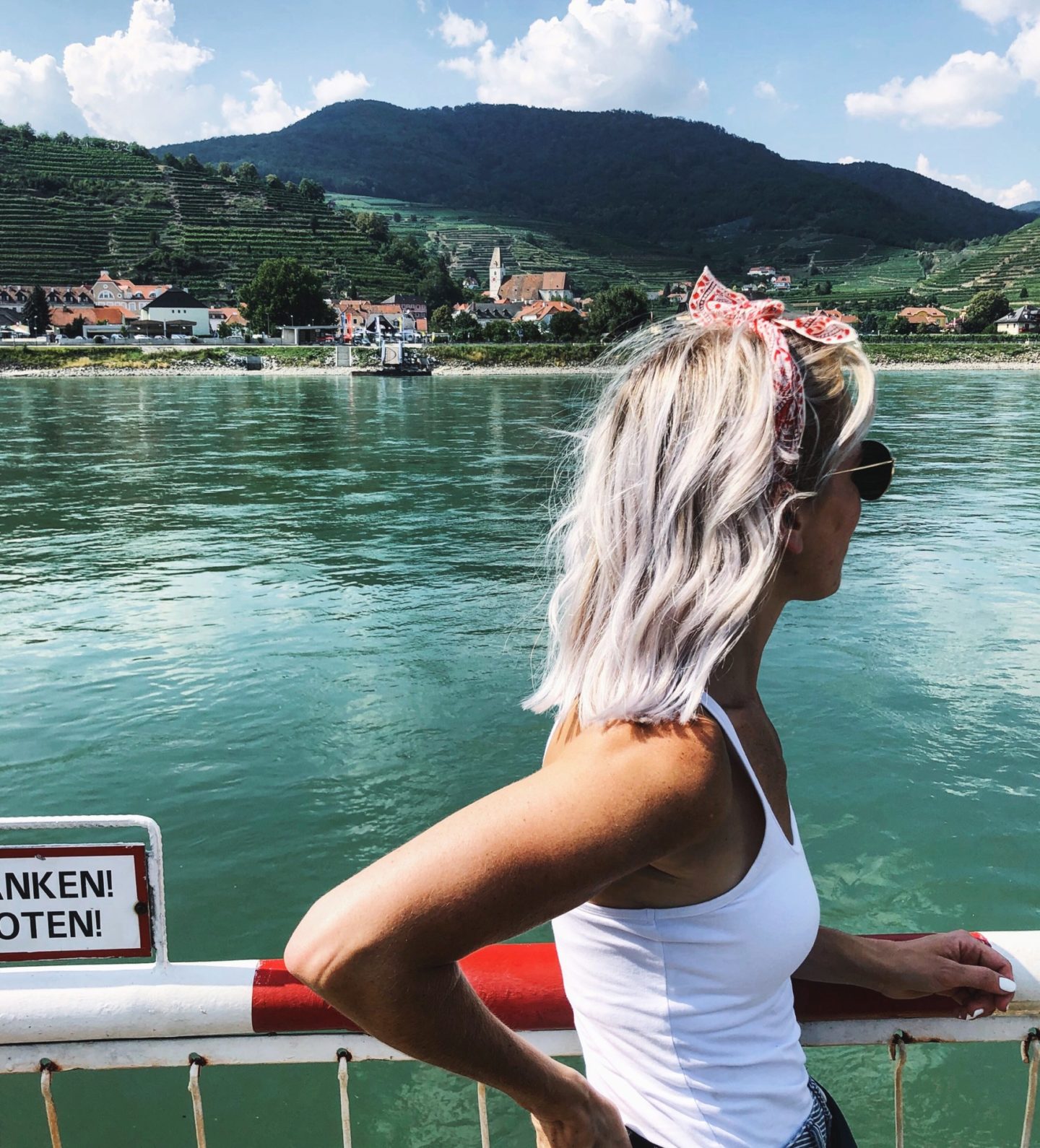 When we got back to Vienna we were exhausted and not surprisingly, hungry again! We walked a few blocks to the Naschmarkt- a large market with 16th-century origins, with more than 100 food & vintage stalls, plus restaurants. And yes, I took that line right from google because they said it better than I could.
Day 3 was spent sight seeing, touring palaces and churches, and taking obnoxious blog photos of me standing in streets pretending not to look at the camera. #SOFUN.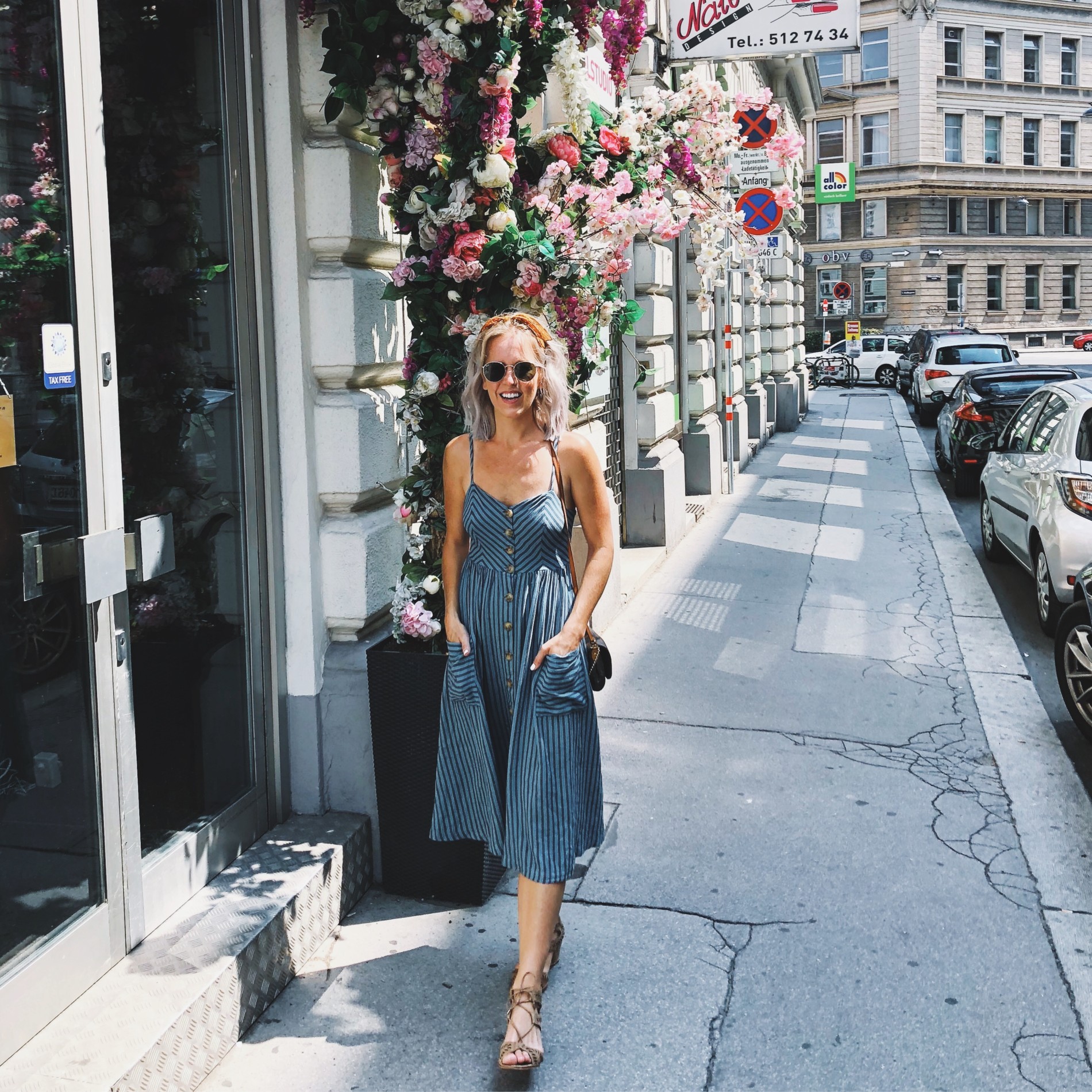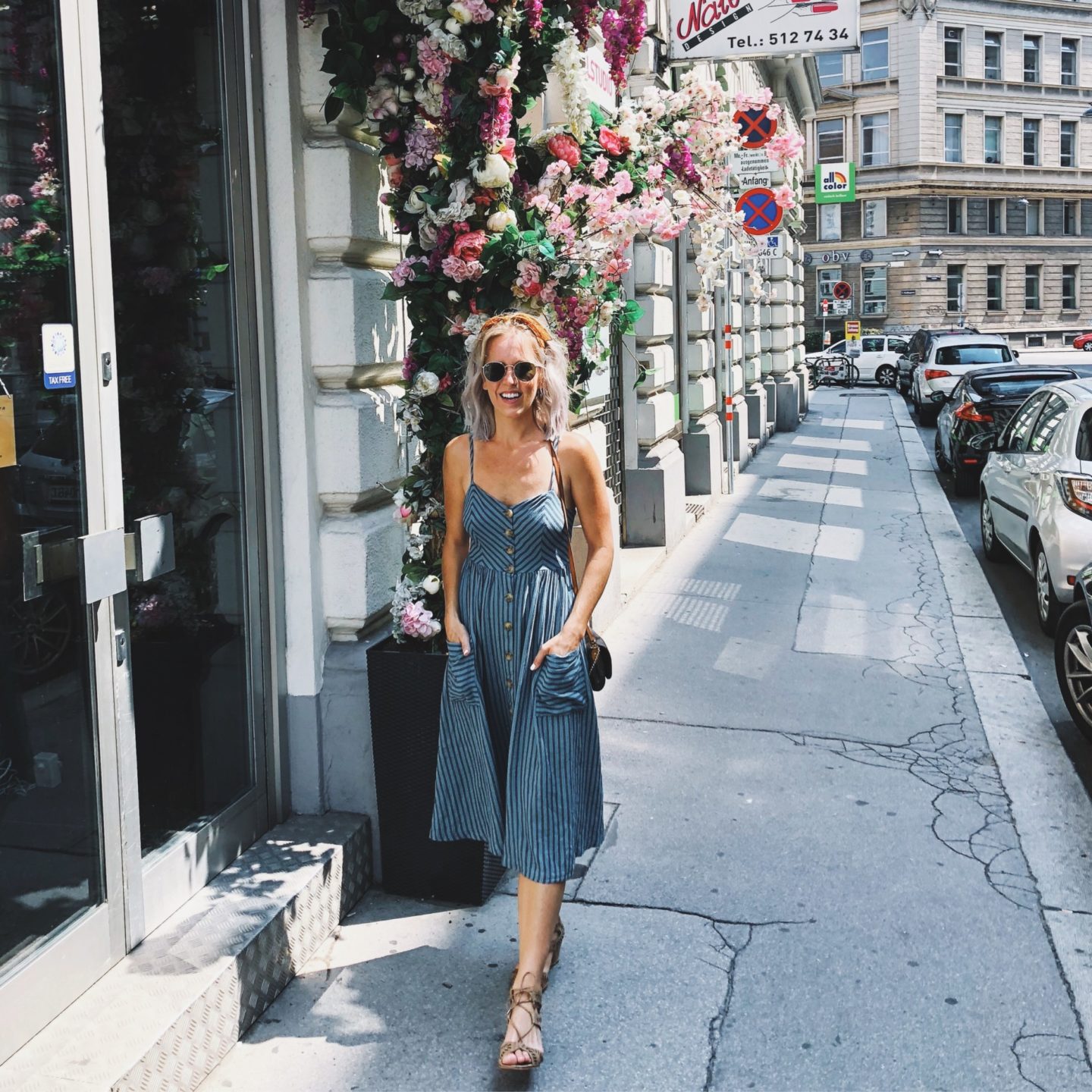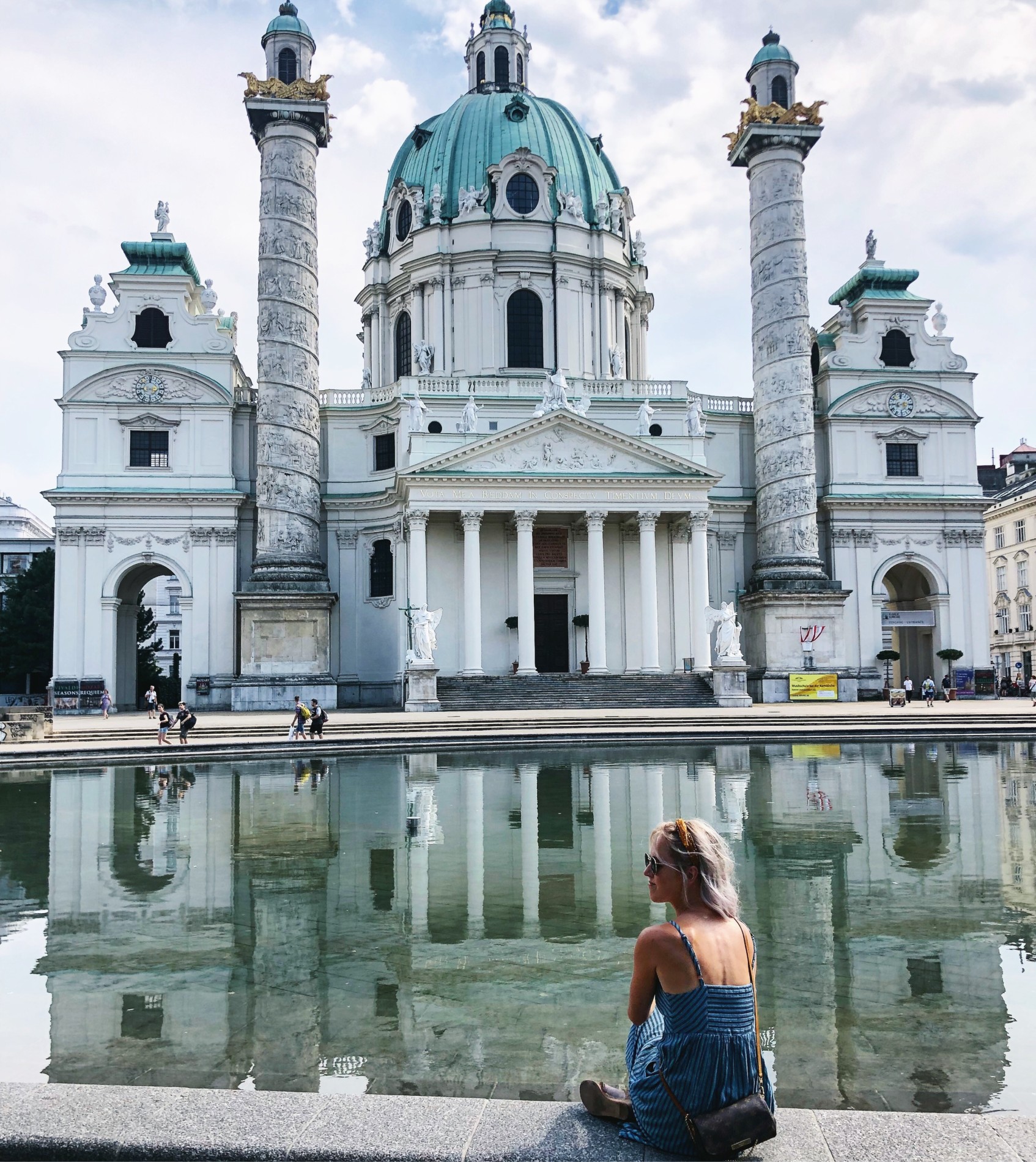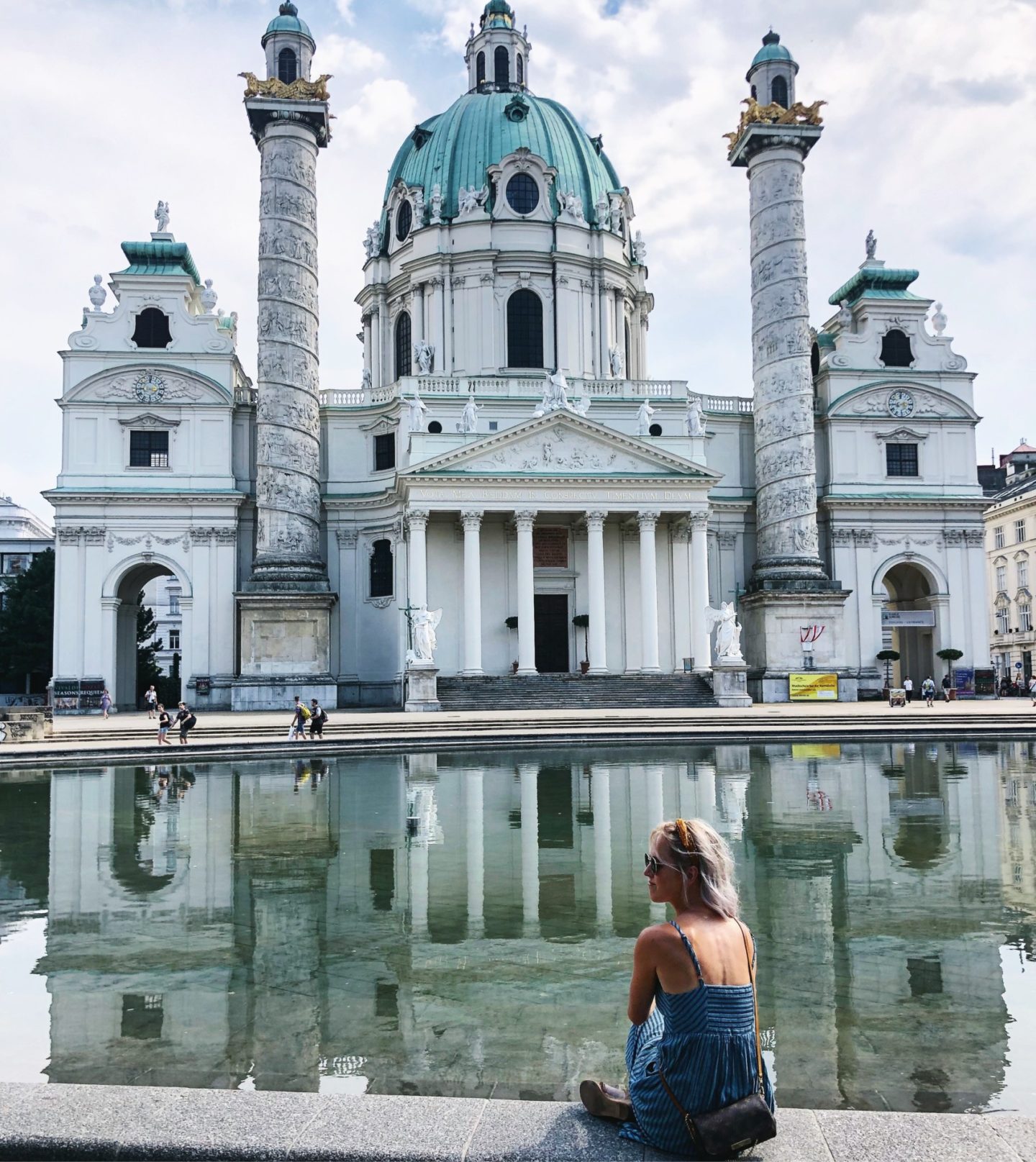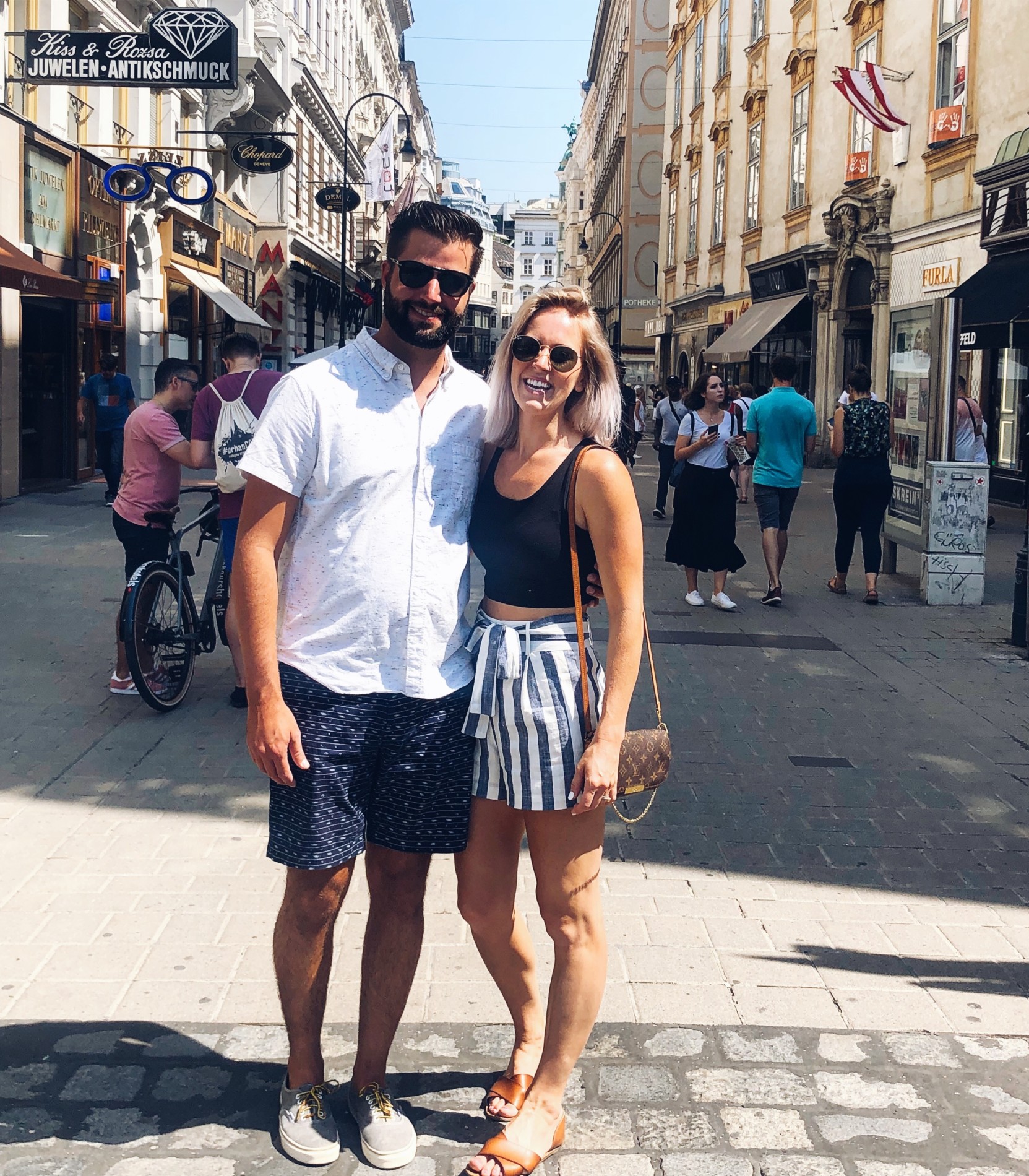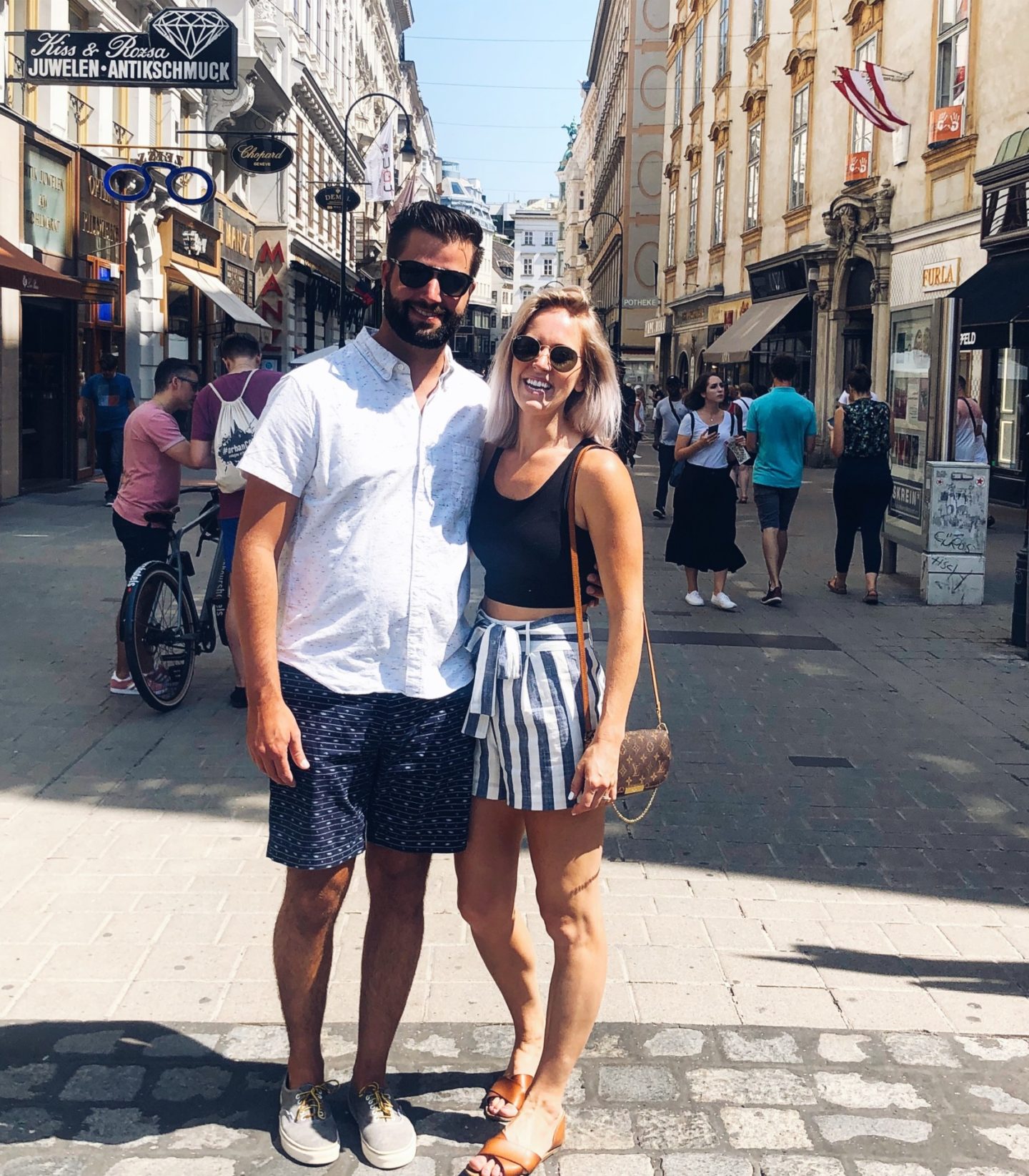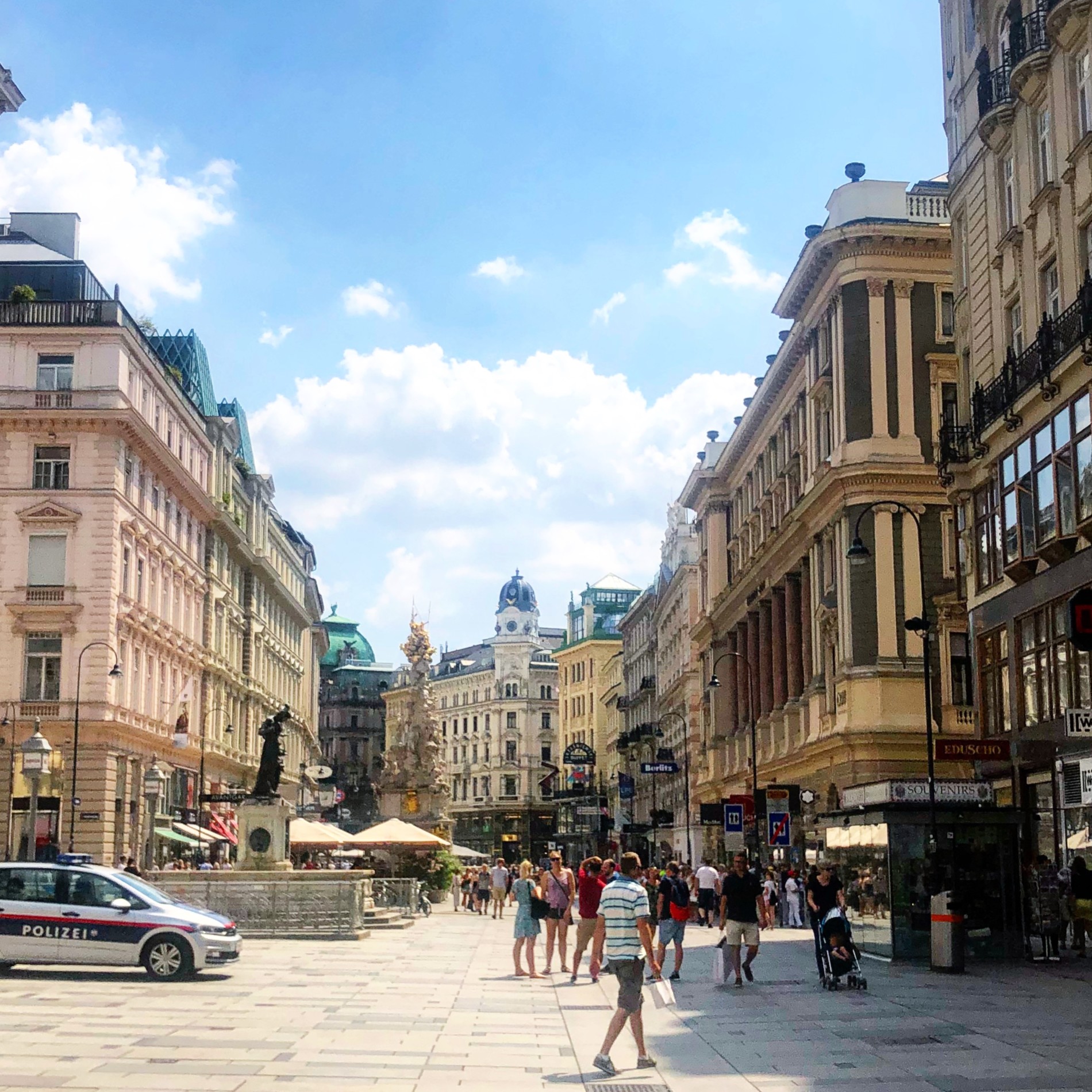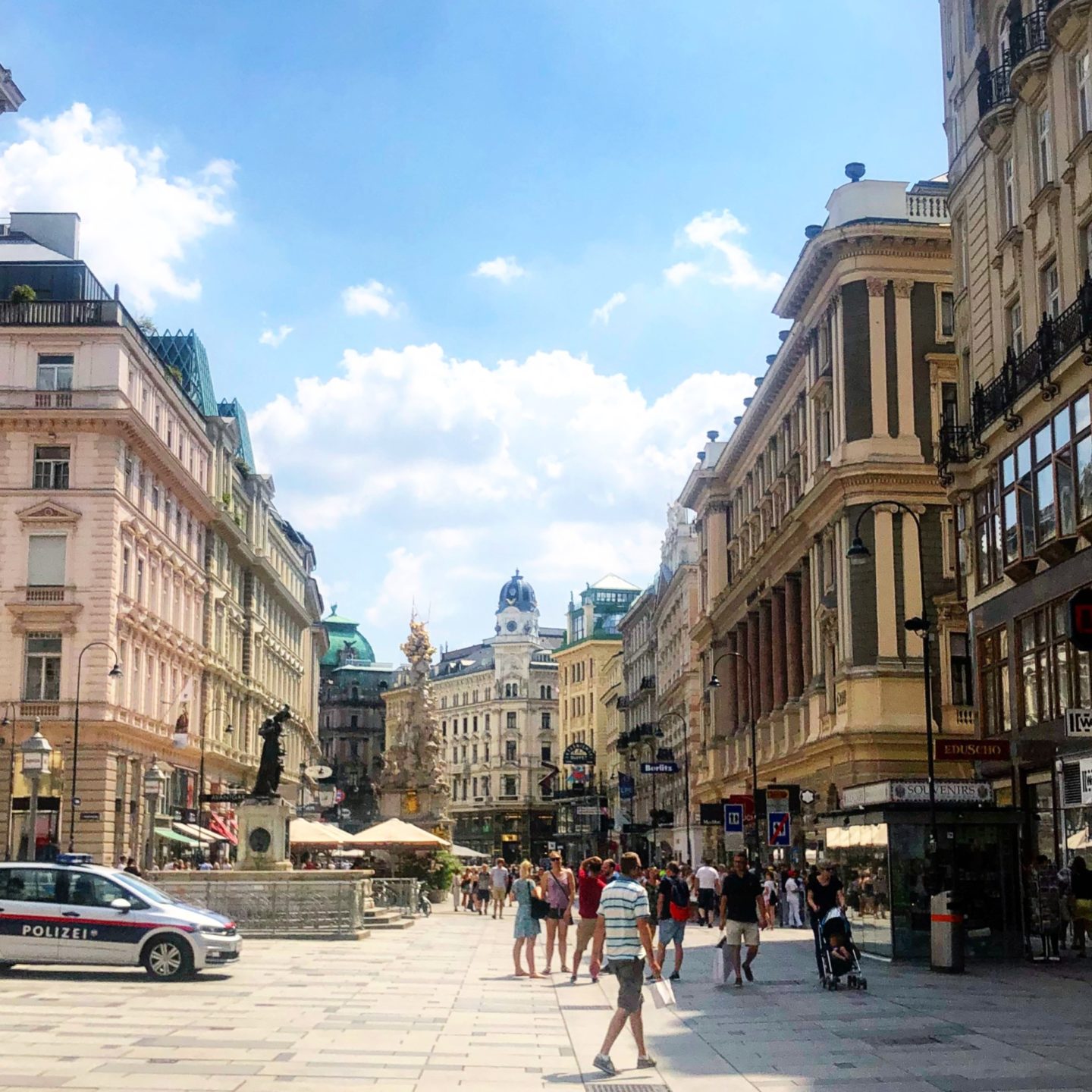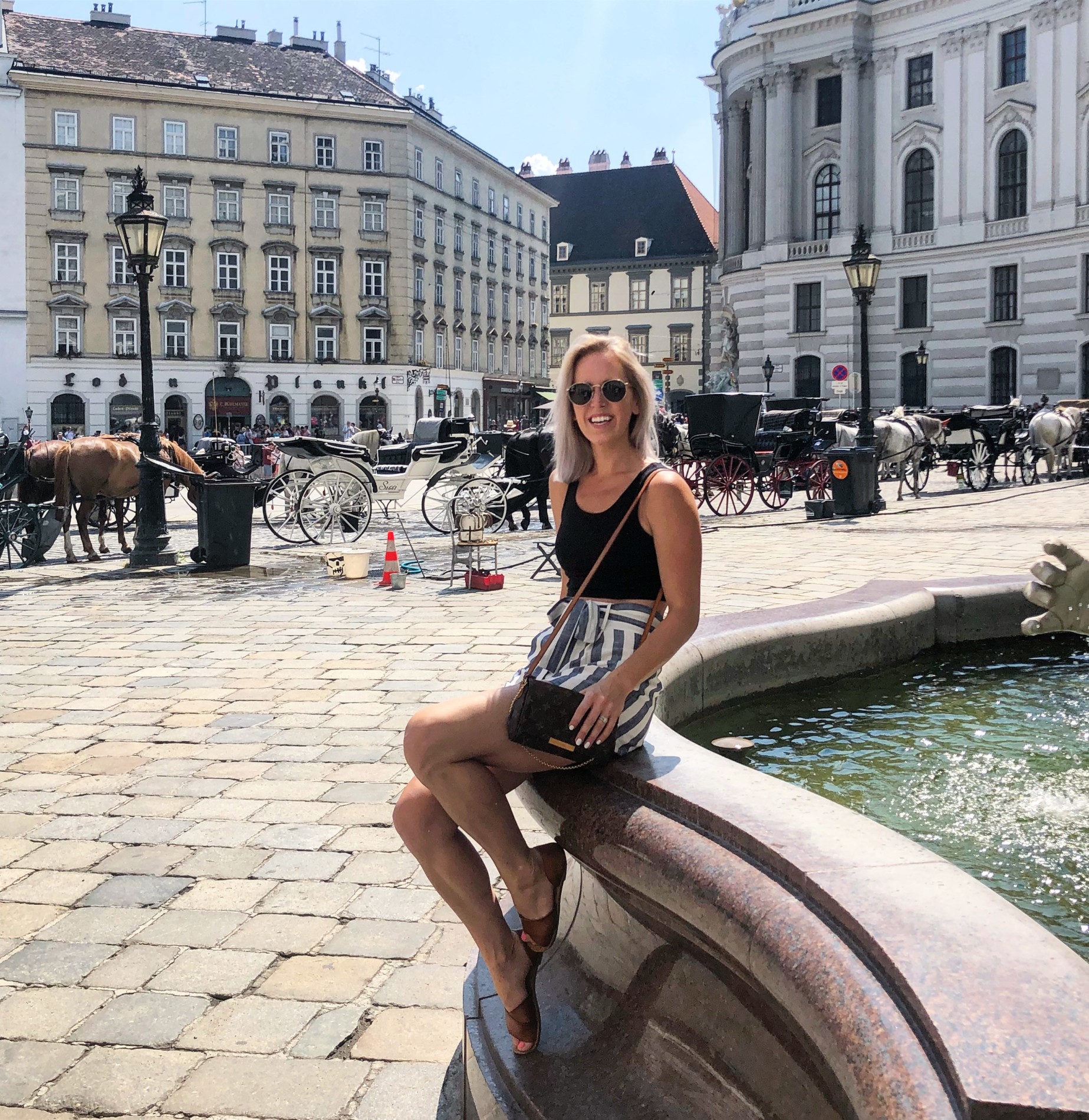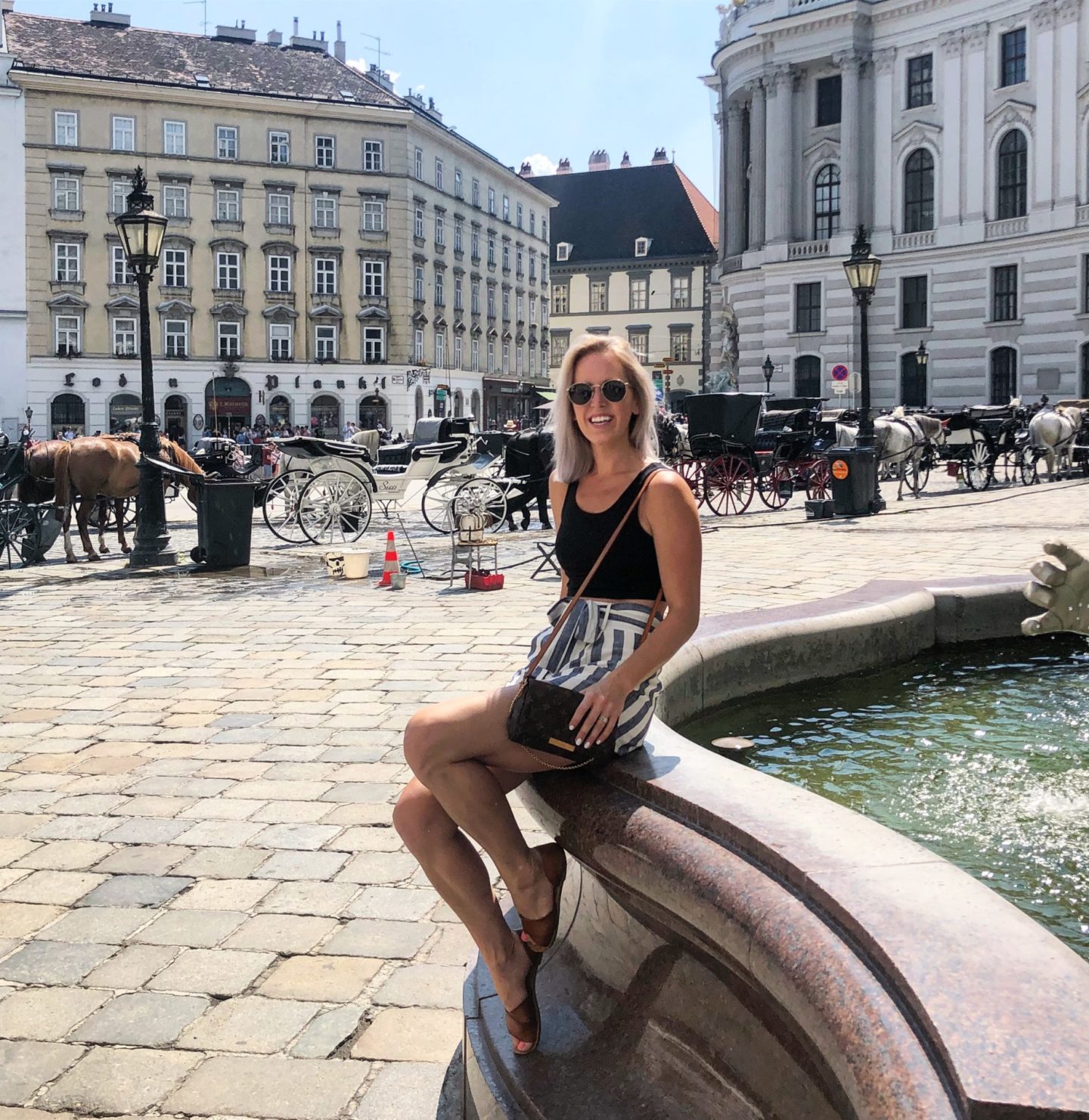 Palaces we saw: Schönbrunn Palace and Hofburg. Both former homes of Empress Elisabeth; a woman I became fascinated with right before our trip. Speaking of Sisi, if you want a quick history lesson before going to Austria, I suggest the book, The Accidental Empress. It's historical fiction (and a very easy read) but also really interesting and full of some actual facts.
Okay ONE MORE THING and then I'm done talking about Vienna. For our last dinner we wanted an authentic Austrian meal, so our hotel pointed us in the direction of Zum weißen Rauchfangkehrer. Really rolls off the tongue, right?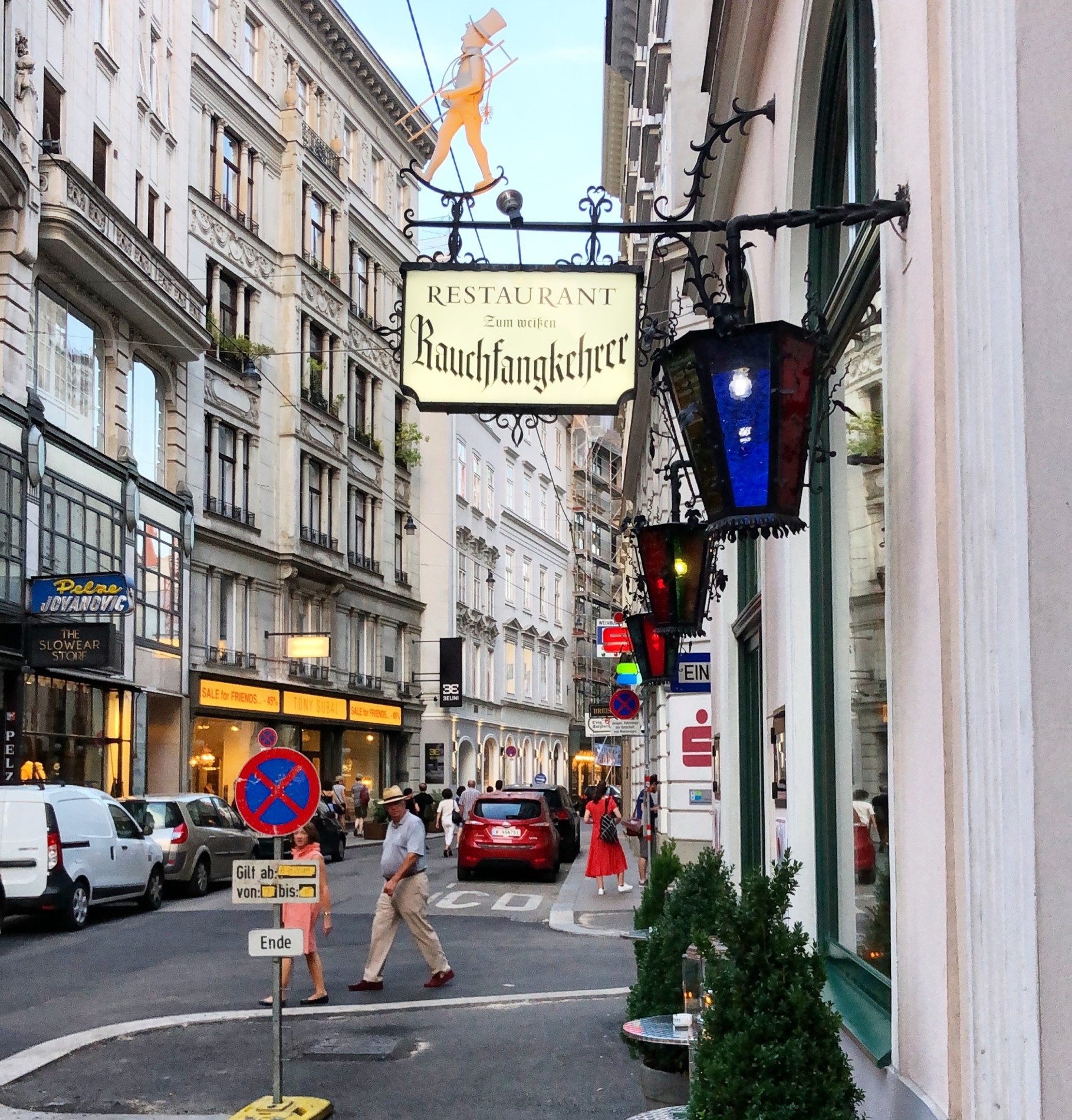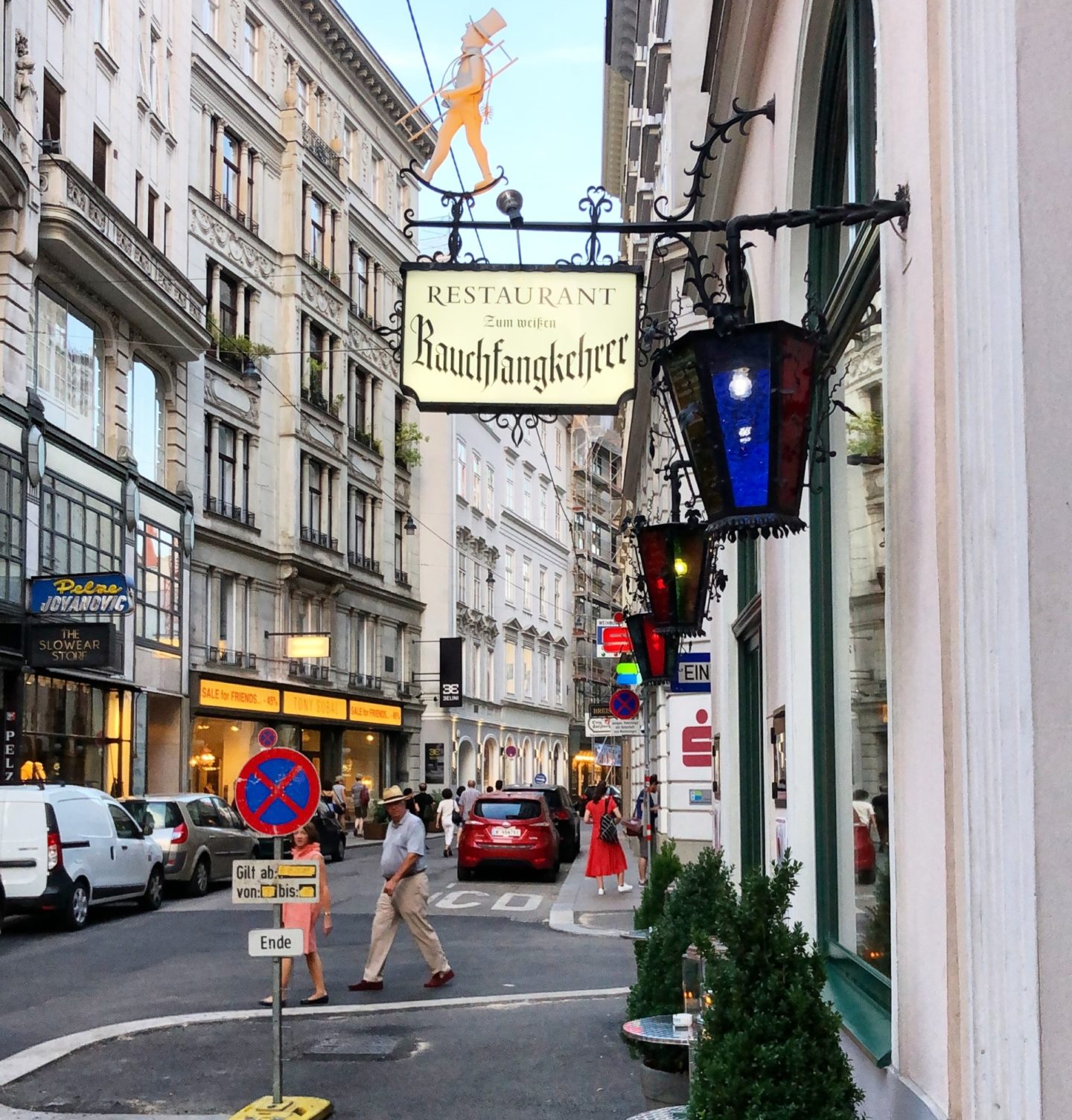 This place was so perfect and exactly what we wanted. I wished that we could have eaten here five more times. The service was wonderful, the food was delicious, and the man pretending to play the piano in the piano room was a real treat. (He was actually using his iphone to play music on speakers, but he still continued to move his hands across the keys as if he was truly playing.) It was hysterical and very entertaining to watch.
If you're reading this fake-playing-piano-man, you are a legend and we love you.
I know I'm forgetting a lot in this post… this trip was just a week ago and yet it already feels so far away. Damn time, screwing with my head again. If you're planning a trip to Vienna and have any specific questions, feel free to email me!
Long story short, by the end of these travel posts I'm going to convince everyone to take an excursion to Vienna, Budapest and Prague because it was the best travel trifecta ever and also because their tourism committees are paying me! Just kidding. No one is paying me.
But I will throw in a quick affiliate link for outfits… almost all of the dresses I wore I purchased right before the trip for less than $30. The button down dress is found here in several colors. All striped shorts are sold out 🙁