And so it goes like this.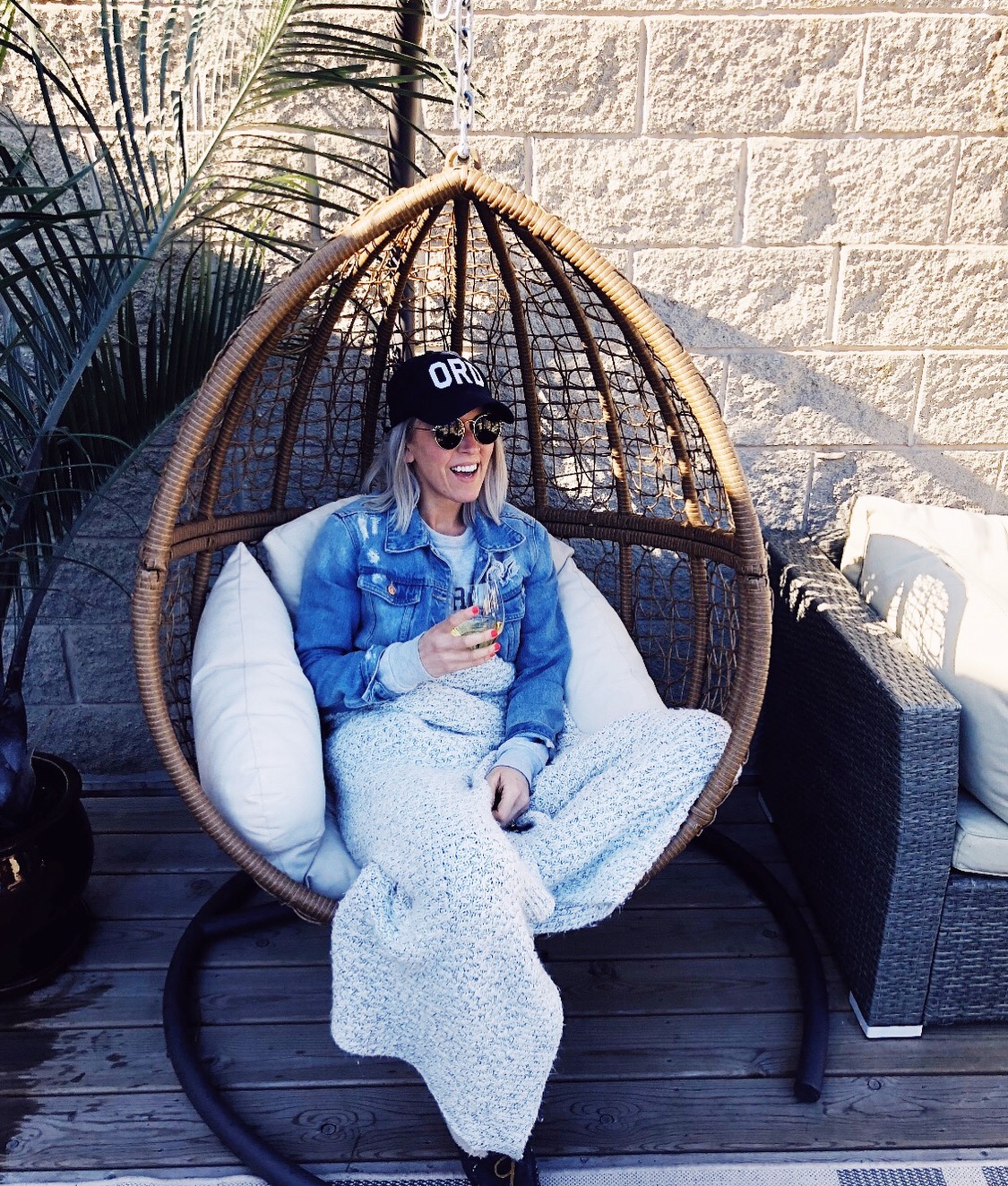 It's Sunday night, the house is clean, candles are burning, a glass of wine is poured, and I'm torn between reading my book (Where The Crawdads Sing) or writing a blog post. Oh, and it's raining! It's very important I mention the spring rain outside because it really adds to the ambiance.
I want to relax and read, but I also want to write this post because I'm down to one post a week lately and that makes me feel weird. I don't like it one bit. But, I also haven't figured out how to routinely blog while also writing draft two of my book. My creative happy time (6 a.m. – noon) is all focused on that lately and by the time I'm ready to blog, the only thing I can think of is a, "Ten Things Blah Blah Blah" kinda post. And we all know those are bullshit fluff posts.
Which brings me to today's post. A bullshit fluff post about TEN THINGS! What ten things? I have no idea. But I'm hoping after one or two, I'll figure it out.
1.We went to New York last weekend to visit friends, and it just so happens said friend is a writer for SNL and the fact they allow us to crash their SNL life is an absolute thrill to me. Claire and Alan even take us to the after party where I just sit and stare at everyone around me like a total creep!
Last time, I sat in the writers room and fan-girled about every comedian walking in the door and was totally inspired to be surrounded by so much comedic talent.
This time, Chris and I sat in the studio and my mind was blown watching it all come together. The set changes and costume changes and the fact they're doing it all live is incredible. This is when I get protective of the show and get annoyed when people say it's terrible, or they could do so much better, because it's actually a damn miracle the show happens at all. And it's all written in ONE WEEK. It's taken me hours just to think about writing this one mediocre blog post.
Also, coming back to Chicago after a weekend in New York feels like coming home to the countryside. I don't know how that city makes Chicago feel like a small town, but it always does.
2. Damn. I'm already out of bullet point ideas. So I guess I'll talk about…HAWAII. We leave in exactly three weeks. We're staying 4 days in Hana in a hotel, and 4 days in Kihei in a HomeAway apartment. Chris is very into hiking and stuff and I'm very into poke bowls and stuff. Should be fun! Still taking recs if you've got them!
3. A teeth update! Remember how I got Invisalign? Six weeks in, this is what's going on: I'm back to snacking like normal. I just take aligners out and go on with life. The no-snacking thing lasted about three days. Pro: I can already see changes and am happy with the progress! Con: I grind when I don't have them in, like for example if we go out to dinner or out with friends and I "leave my teeth behind," as I grossly say. I think it's because my bite is changing and my mouth is going nuts trying to figure out how to adjust.
4. As mentioned, I'm FINALLY reading Where The Crawdads Sing and I get the hype. Sometimes I read books and I'm anxious to get to the end just to figure it out (and the writing is usually a little meh.) And then there's books like this one, where the writing is so beautiful and unlike anything I've read before that I'm in no hurry to finish and I'm reading it purely for enjoyment and not to solve a mystery. Have you read it?
5. Spring hit Chicago this weekend and the city came alive. The patios were packed, tulips are popping, buds are on trees, and we're slowly forgetting all of the mean stuff we said in the winter. Remind me again why I threatened to move to Idaho? (Or maybe I'll remember on Thursday when more snow is expected…)
6. Speaking of warm weather, we're starting to get our patios ready and need to spruce up the rooftop with a new fire-pit and a outdoor rug. Any suggestions? Here's a photo of Harlow cat hunting on our kitchen patio. I found this rug on Amazon last year and love it for the small space, we got the 5 x 8.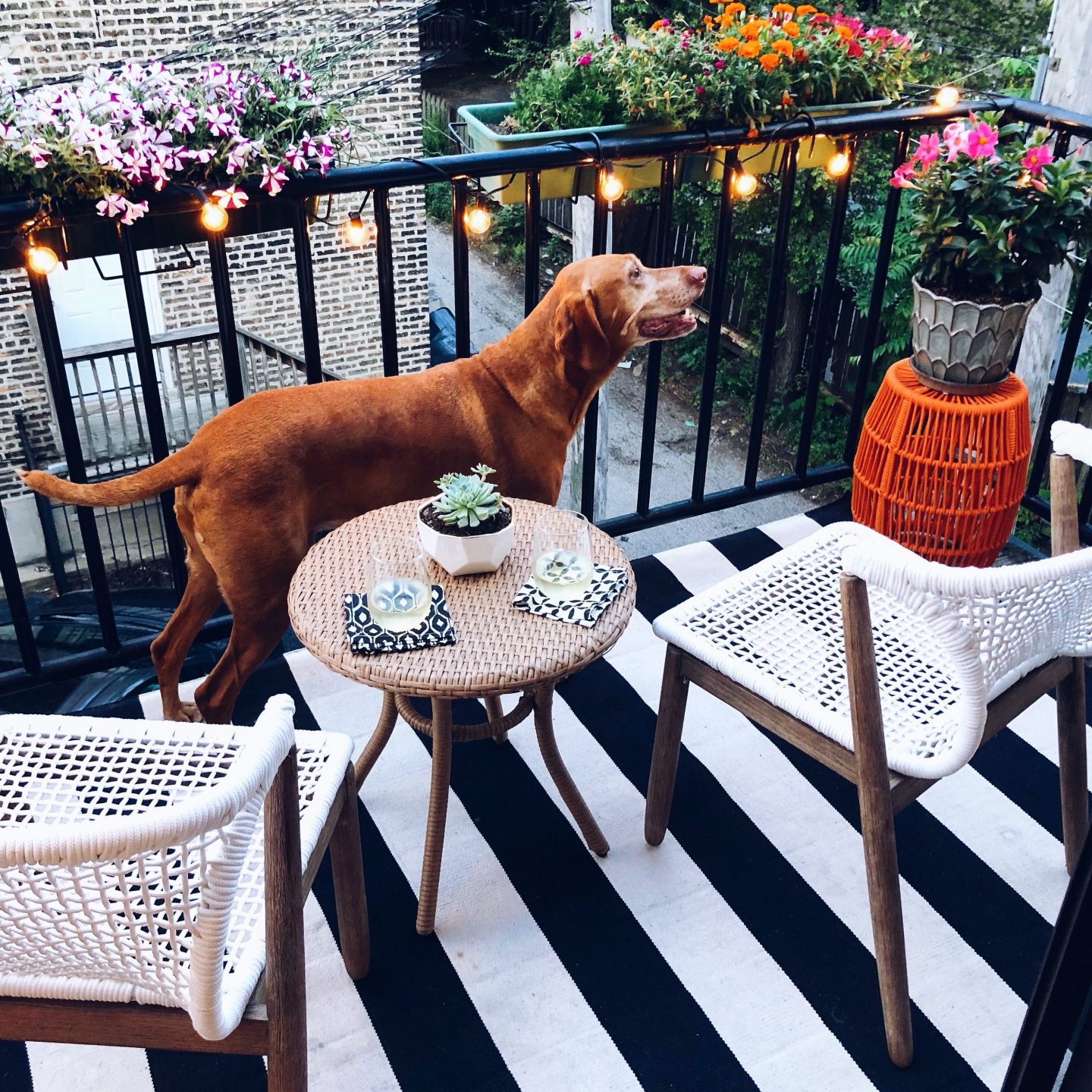 7. (It's now Monday morning because I got distracted last night when Chris and I ran to get poke bowls, I told you I was into them right now.) It's 7 a.m. and already 59 degrees and I took Har to the park in only a light jacket and it felt wild! I'm shedding layers for the season and already feeling like a new person. GOOD RIDDANCE, WINTER!
8. I dropped a new tee this weekend for all of my crazy dog people. 🙂 You can see it by clicking here.
9. Like myself, Har turns into a new person when the warmer weather hits. His energy doubles and he's extra annoying about constantly asking to go outside. Does anyone else notice a change with their dog? On the one hand, I love it because I don't like to see him slowing down. But on the other, oh my gosh it's annoying to live on a fourth floor with a pup who wants to go outside twenty times a day.
*but mostly I love it. 🙂
10. HAPPY MONDAY. Manifest a good one!
affiliate links used.