If you received this magazine in the mail this week, flip to page 38 and see who it is…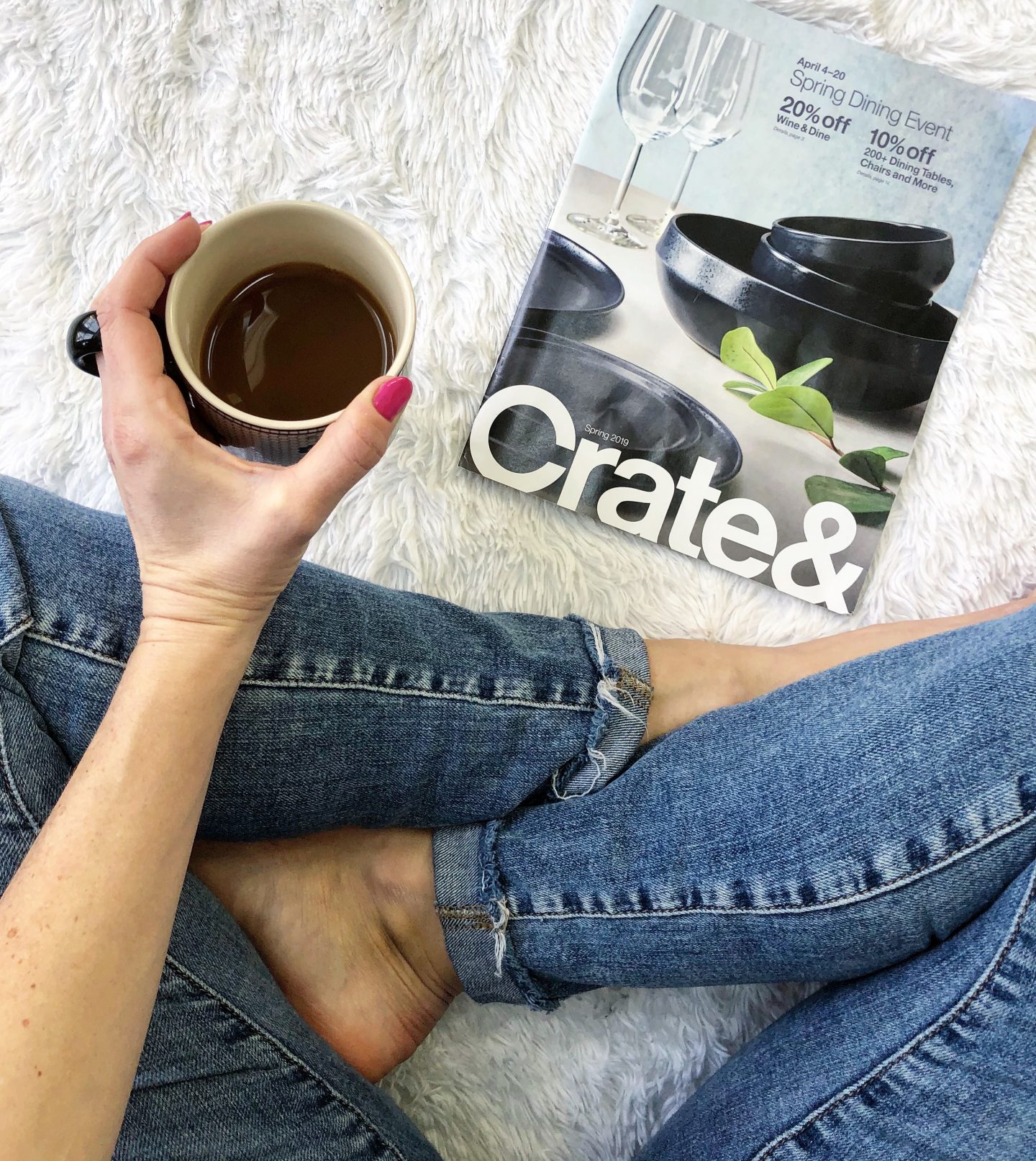 It's part of Harlow! And also me. But for the sake of Harlow's ego, it's mostly Harlow.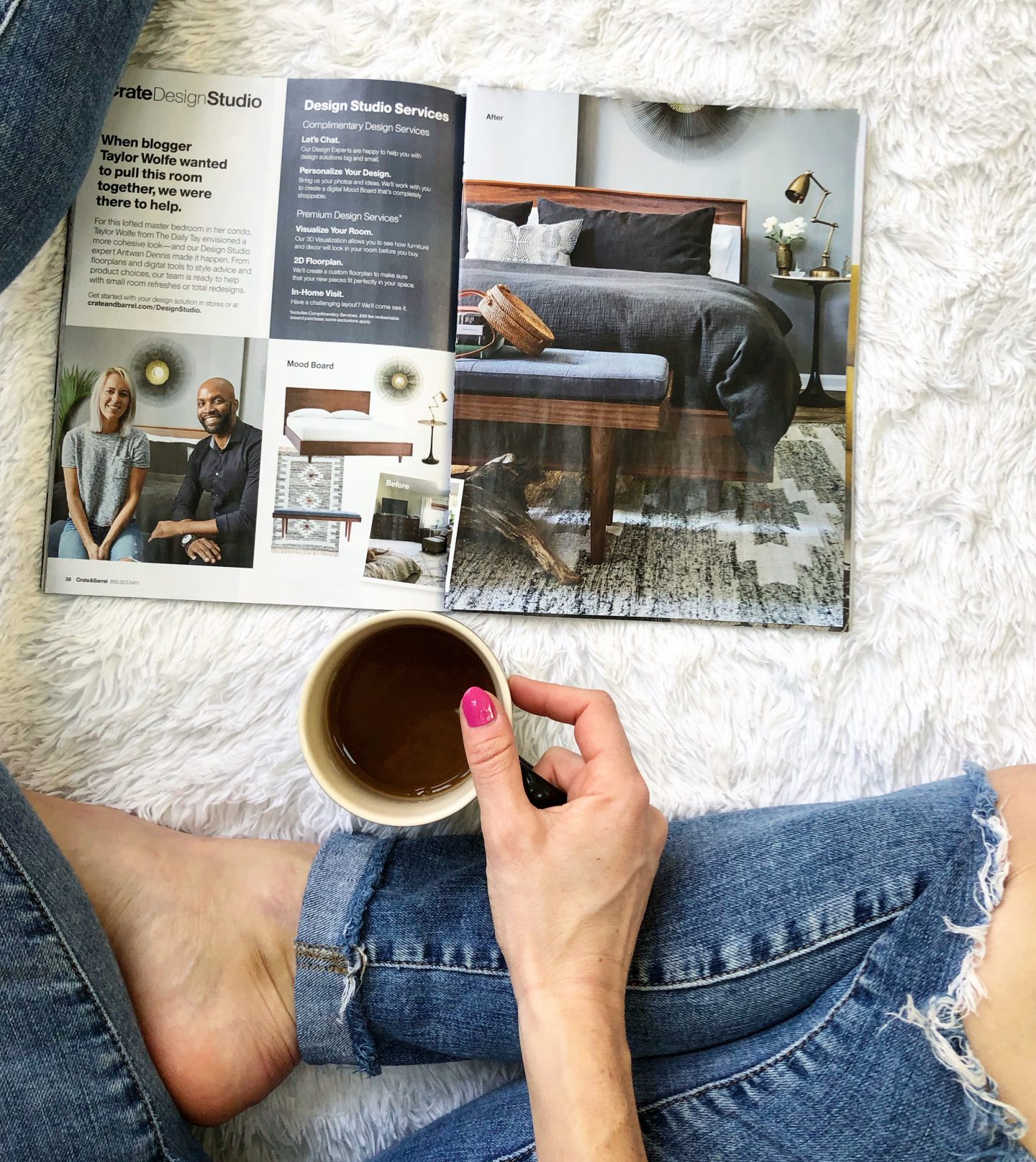 So the time has finally come to share more photos and details about the best blog collab I've ever done/will probably ever do and that is totally fine with me. Our bedroom makeover with Crate & Barrel. Once you peak, there's nowhere to go but down. But at least I'm going down in a very cool bedroom now so WHO CARES?!
Let's start at the beginning…
In May of 2018 I received an email from Crate & Barrel asking if I'd be interested in learning more about their Design Services. As a fan of C&B I responded within seconds, YES! I wasn't sure what they had intended just yet, but I knew I wanted to learn more.
In the next email they explained more about their Design Services, where they provide expert advice FOR FREE and assist in designing a room. Then they asked if there was a room in our home that we'd like to redo. Turns out, there was. Our bedroom.
We're super lucky to have a large lofted bedroom in our condo with access to our private rooftop, but after living in pretty small bedrooms for the past six years, I had no idea what to do with it. The space overwhelmed me, so I opted to just throw a bunch of random pieces in the room and hope for the best.
The best looked like this.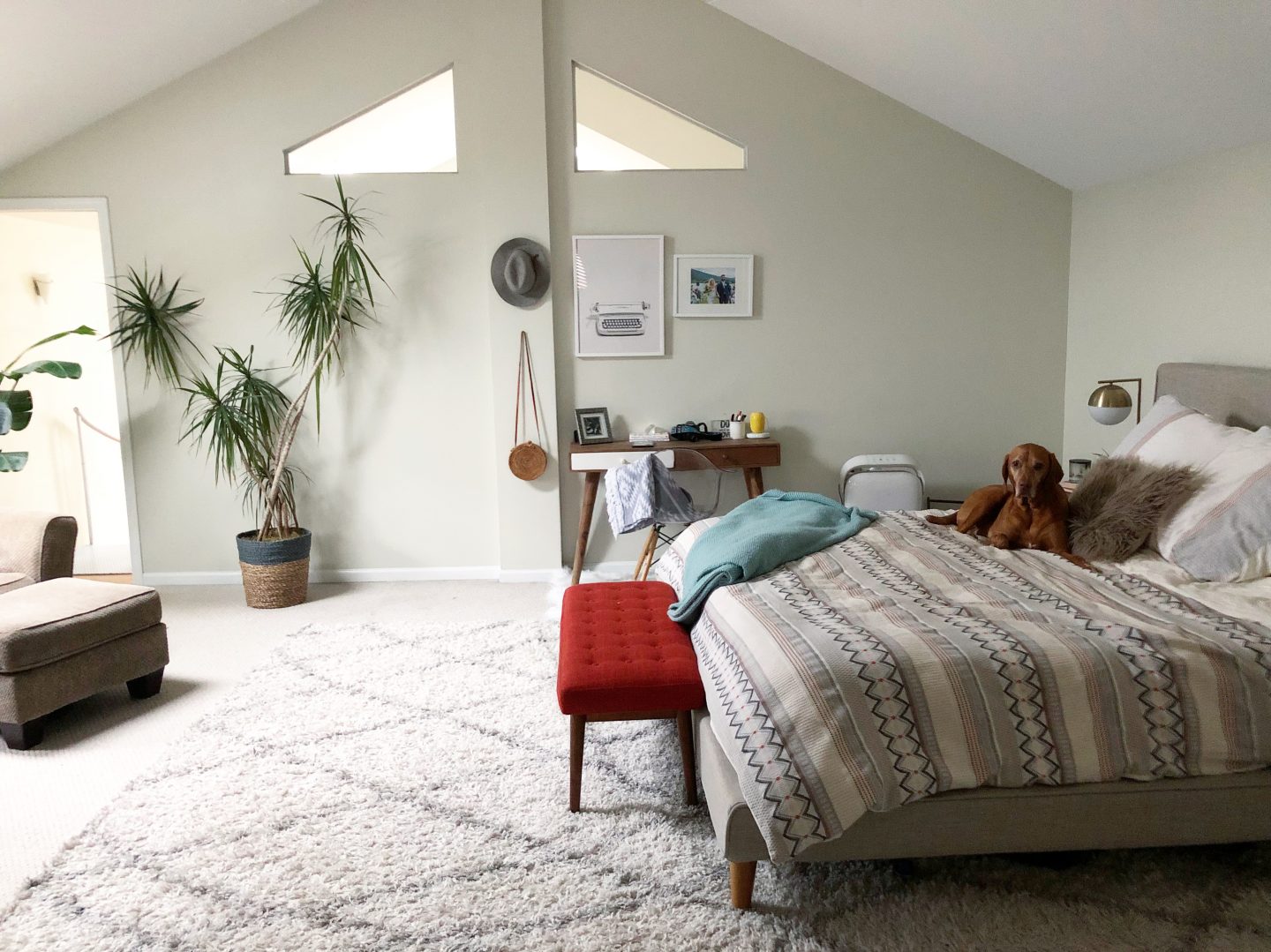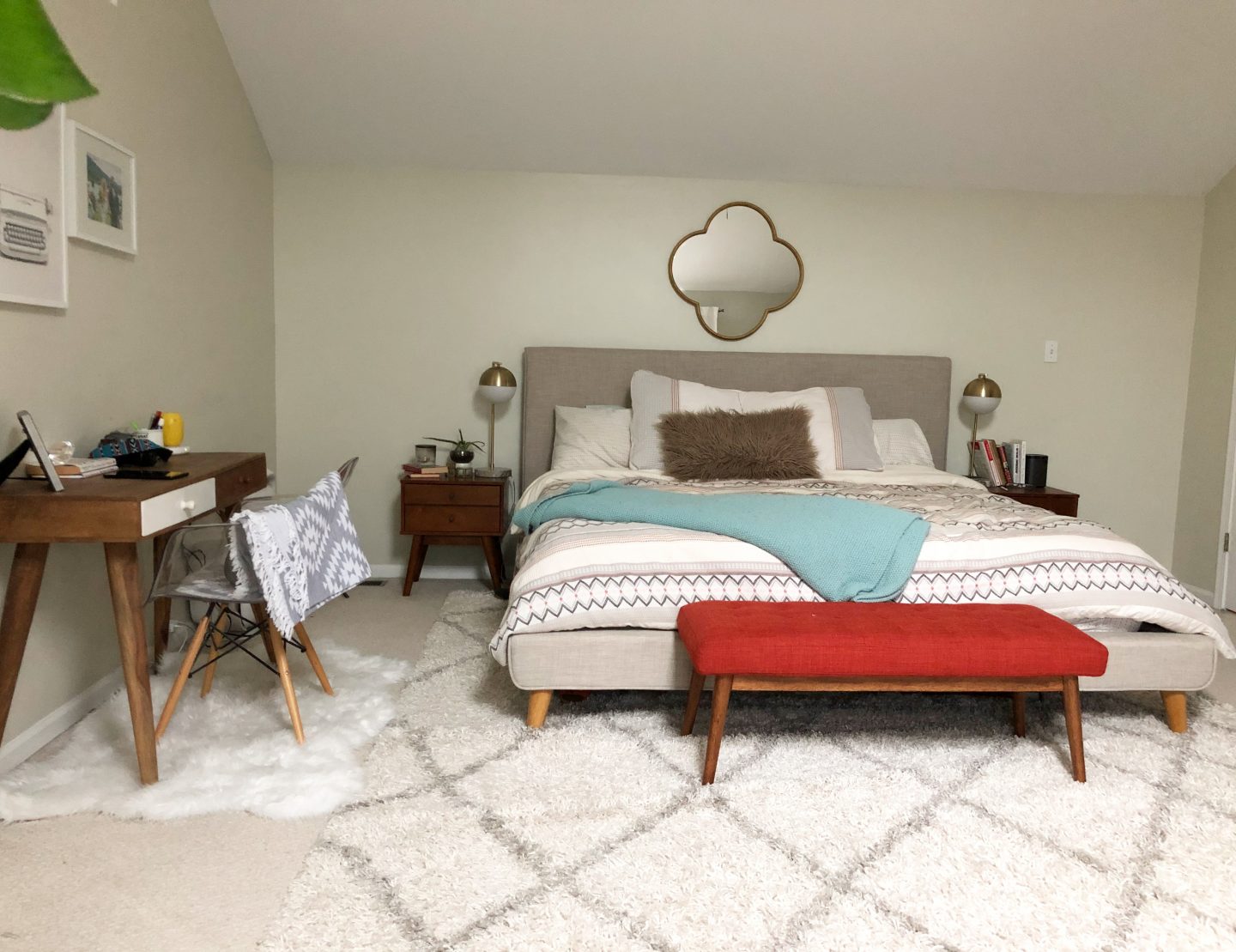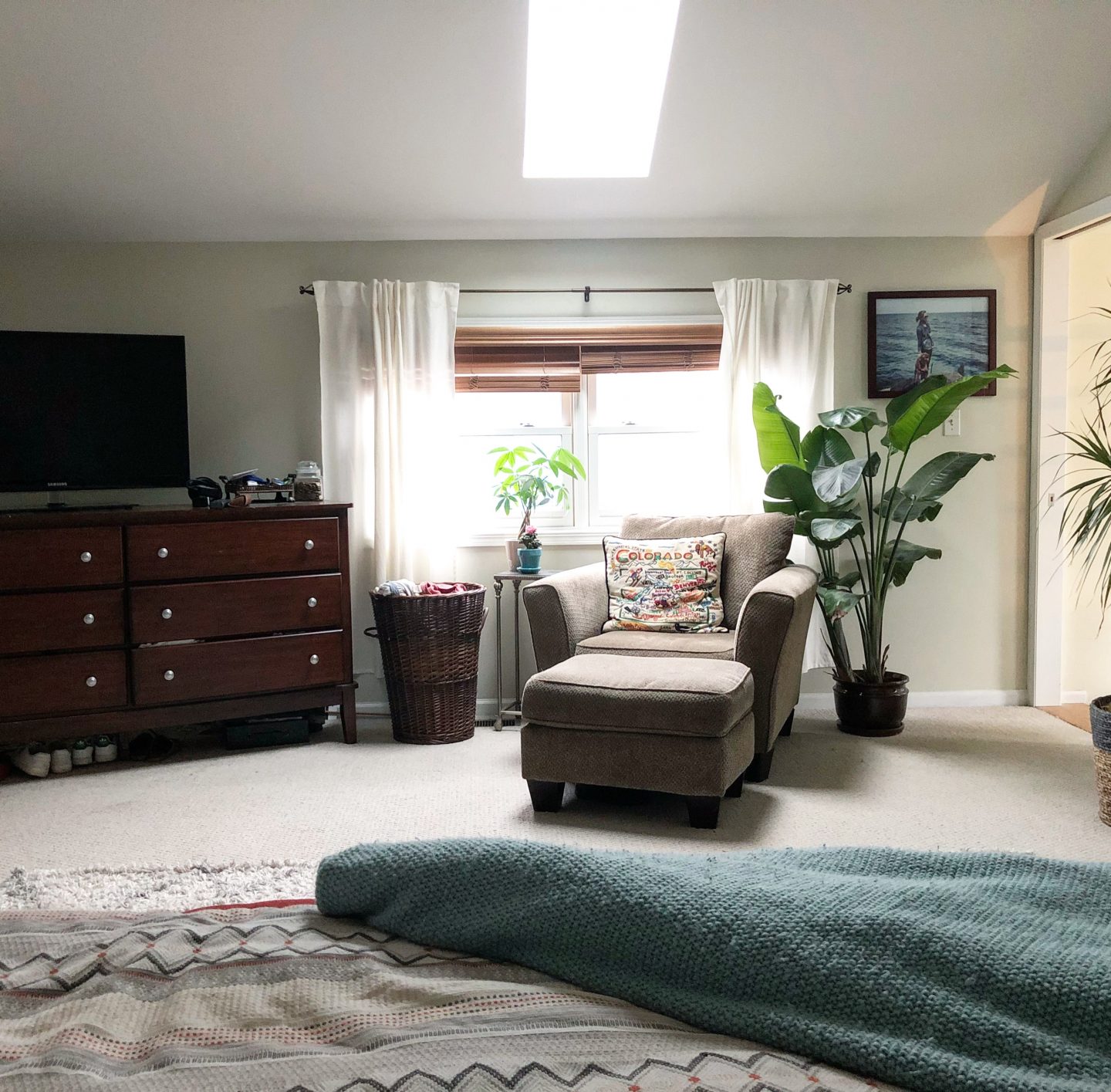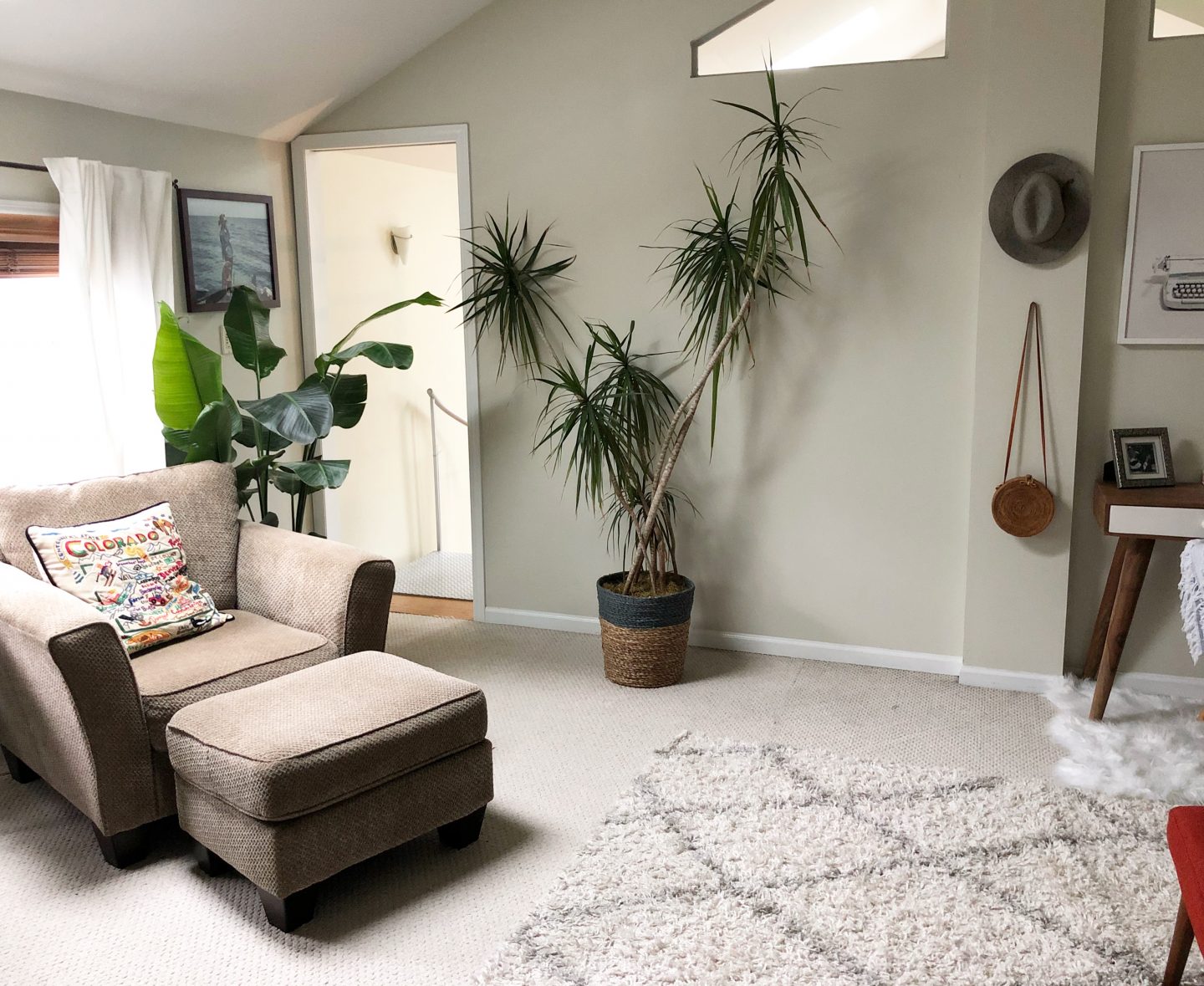 It was fine, but we never loved it. There was too much going on. We hated the carpet, the wall color was blah, and we had furniture that did not flow. But like I said, I didn't know where to start, so I just didn't.
Enter Antwan (as seen in the magazine beside me) from Crate's Design Services. Working with Antwan was a DREAM. A dream, I tell you. Chris and I met him at the store, he got a vibe for who we are and what our style is (i.e. Chris is far more picky than I am) he had us pick out a few favorite pieces, and then he went to work creating a mood board.
When he sent us the visuals for what he'd created I couldn't believe it was our same room. He completely changed the color scheme and layout in a way that made me wonder why I had never thought of it? Then I remembered it's because he's a professional and I'm not. (And he is very good at his job!)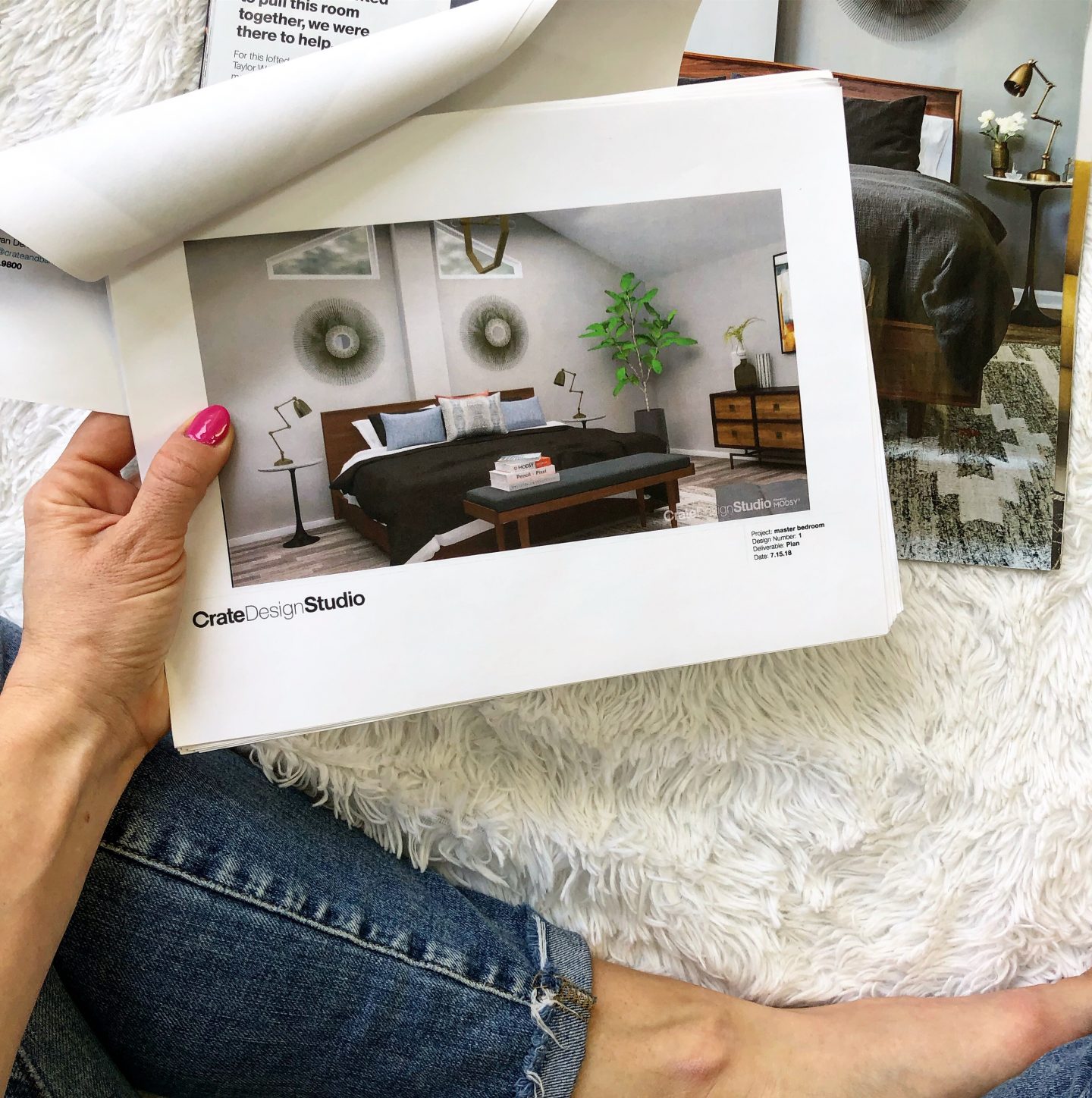 Chicago friends, go see him at the Crate & Barrel on North if you ever get the chance! Remember, his design tips are FREE!
Okay, I'll stop blabbing and show you some of the after shots. Some of these images are from July right after the room flip and some are from last weekend- so you can see how it's evolved a bit after we've lived in it. 🙂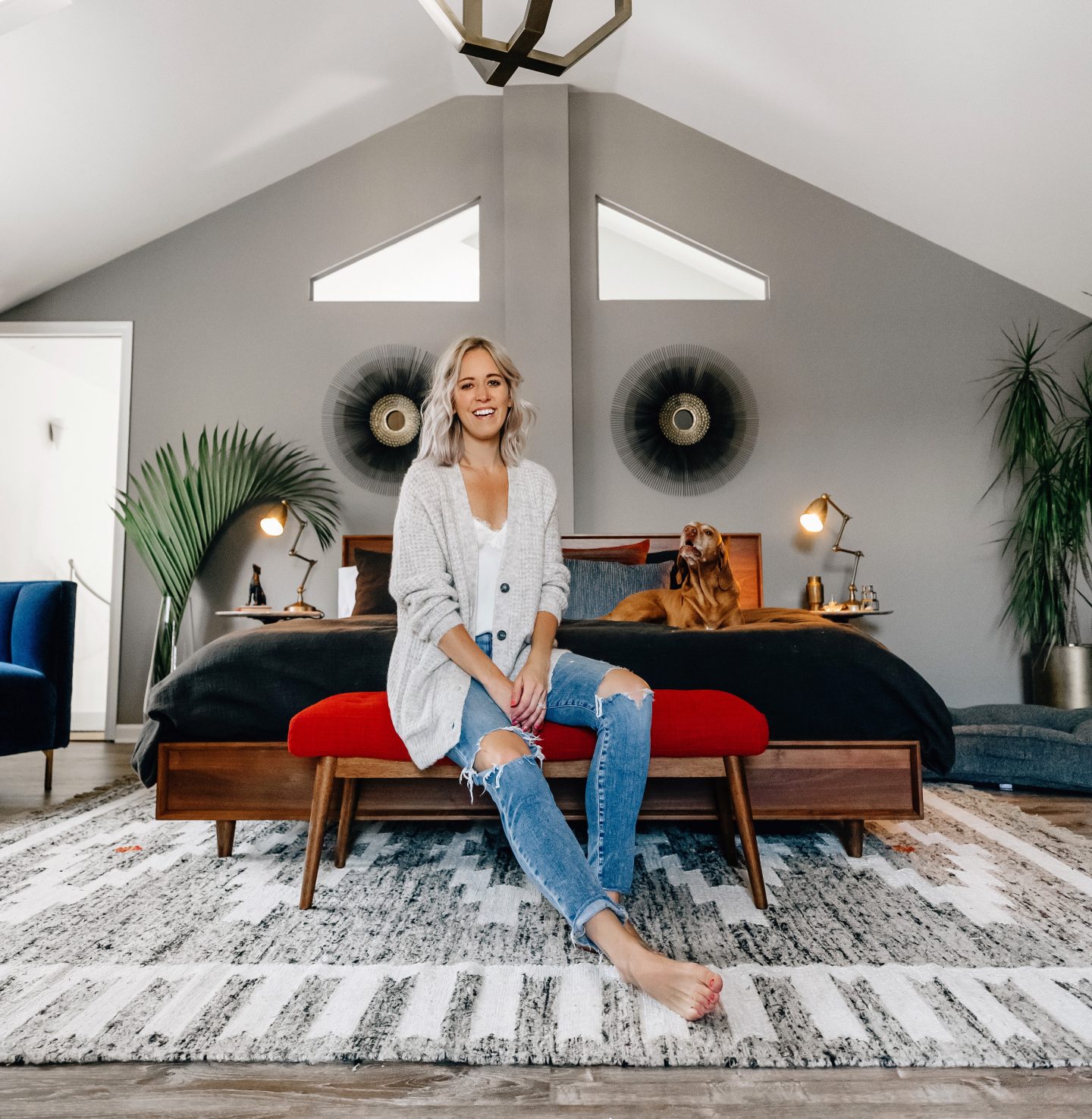 New paint, new floors, and new lighting go a long way. Who knew? Antwan, apparently.
And now for the storage cabinet of my dreams. It's a perfect place to store all of my cardigans. 😉 The design team also made sure to add a nice "blogger mirror" in the corner, you'll see.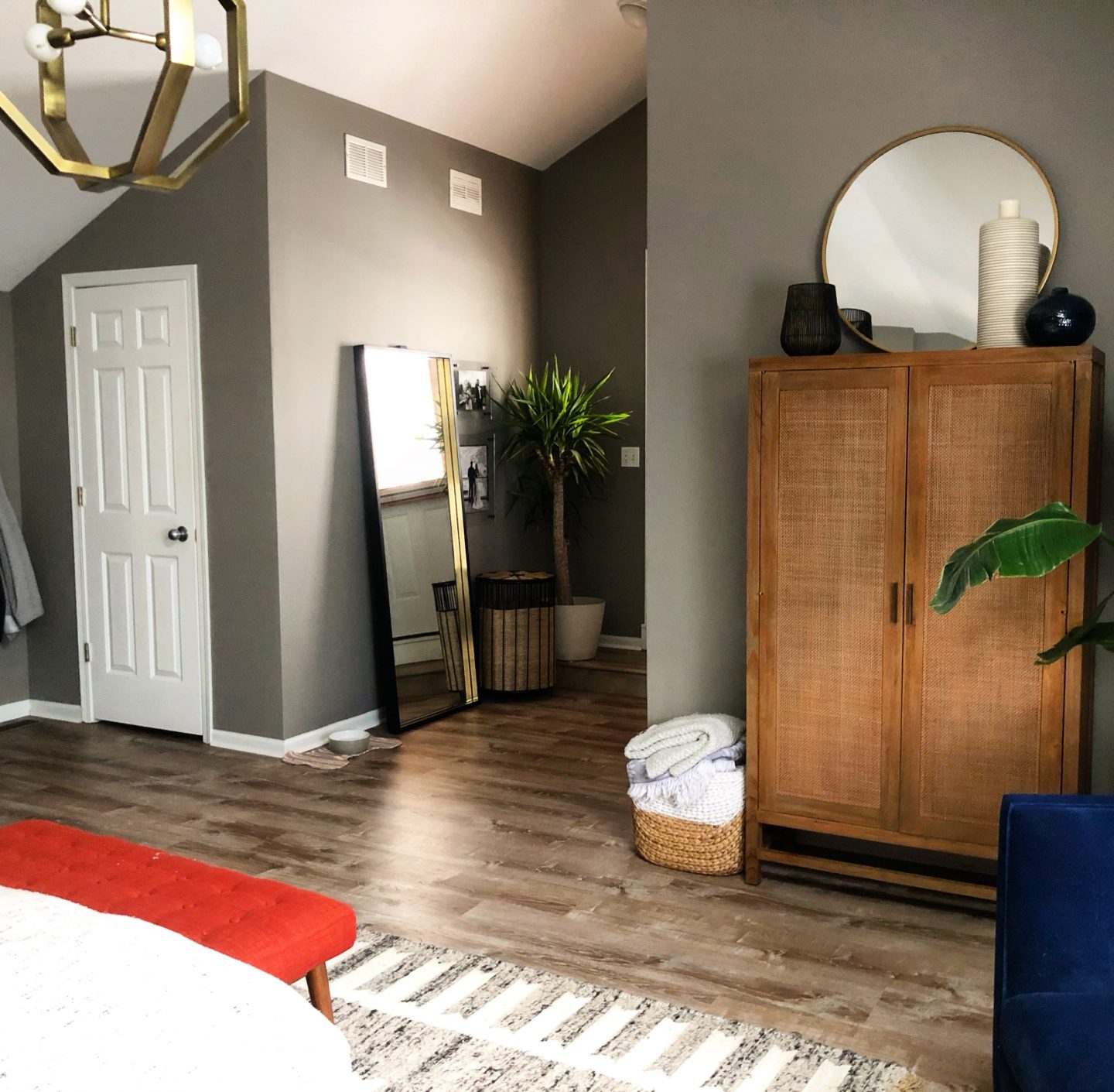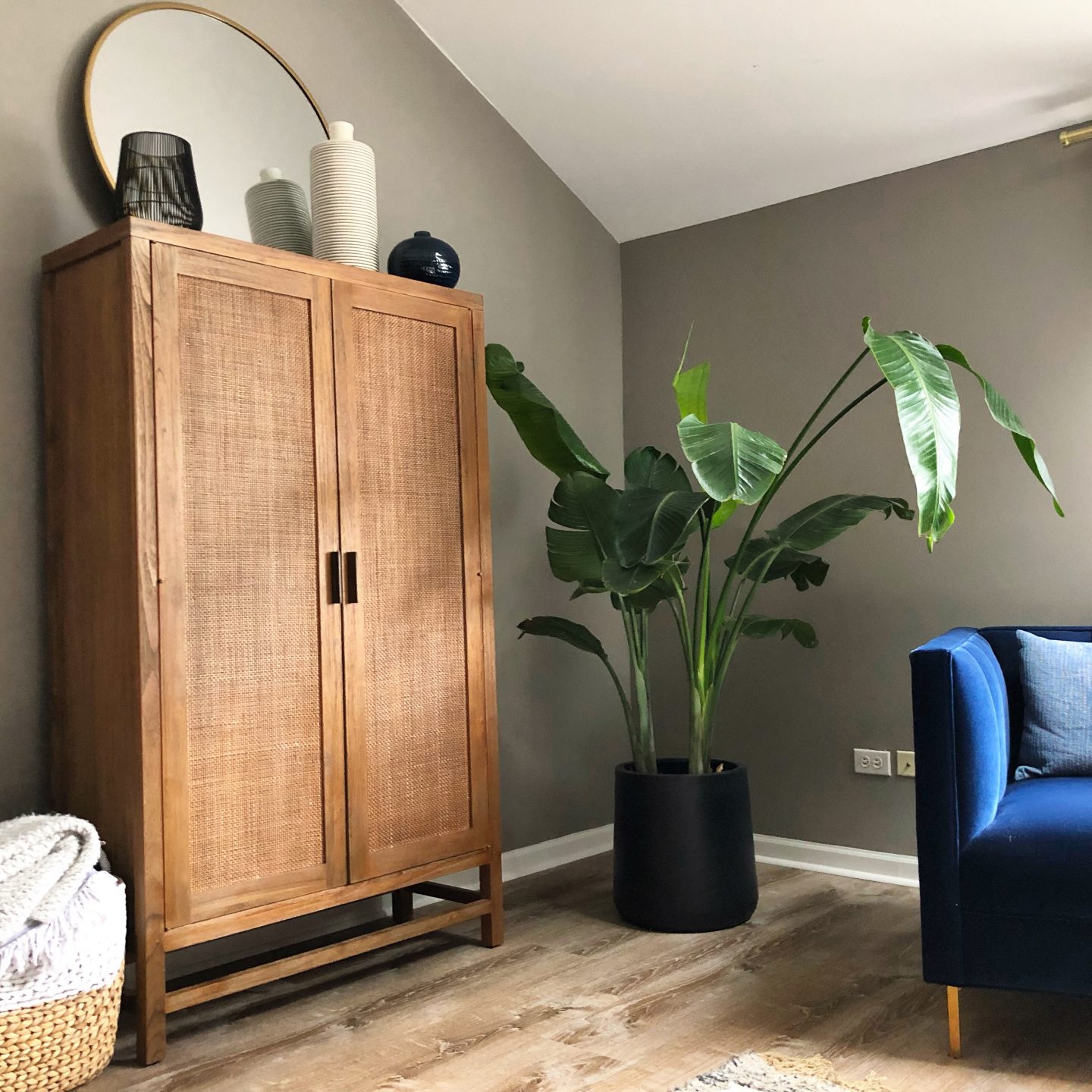 But I think this wardrobe may be the real star. What I love about this piece is that it's something I would have never known to choose, but I absolutely love how it fits in our room.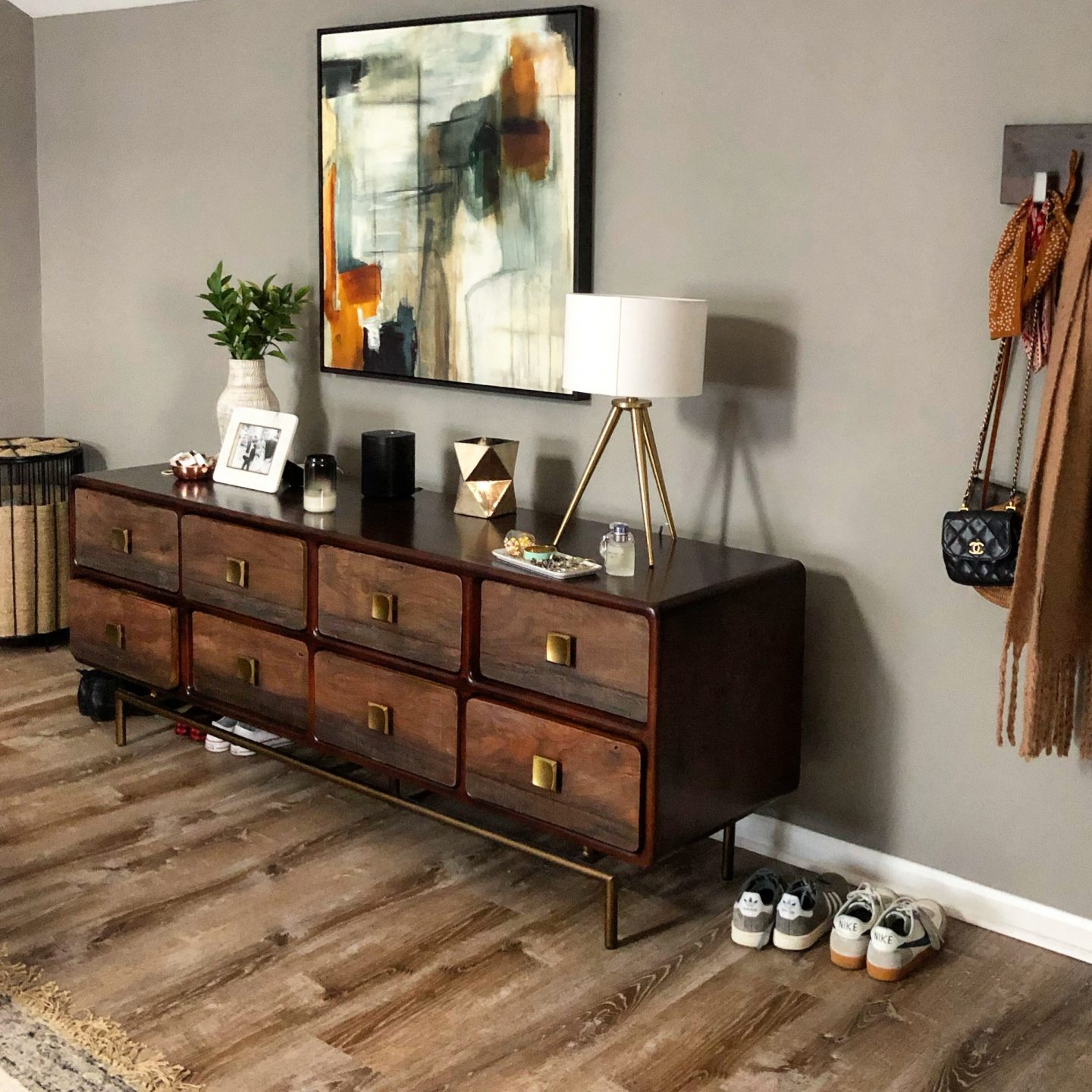 The blue velvet chairs are a close second. 🙂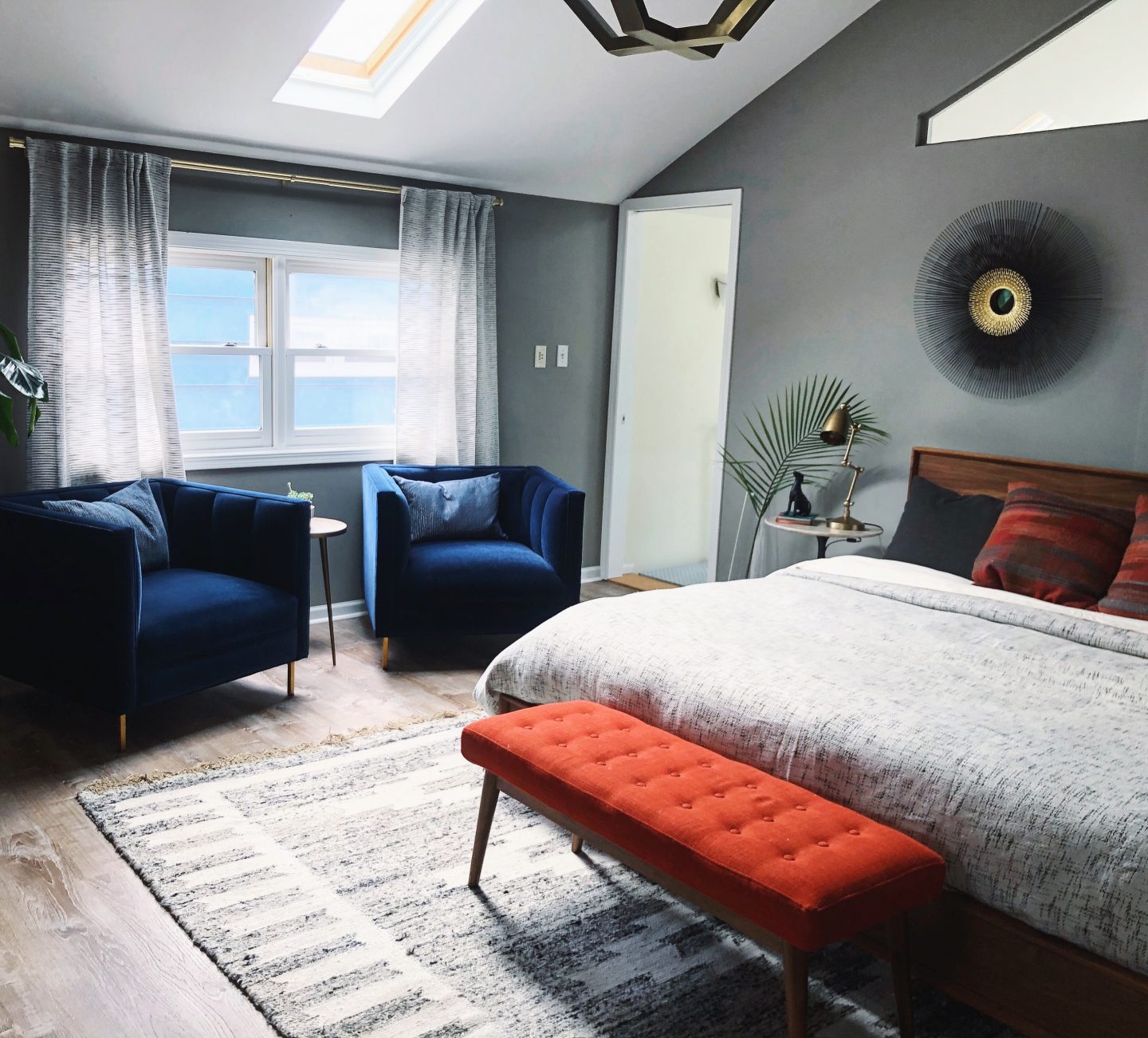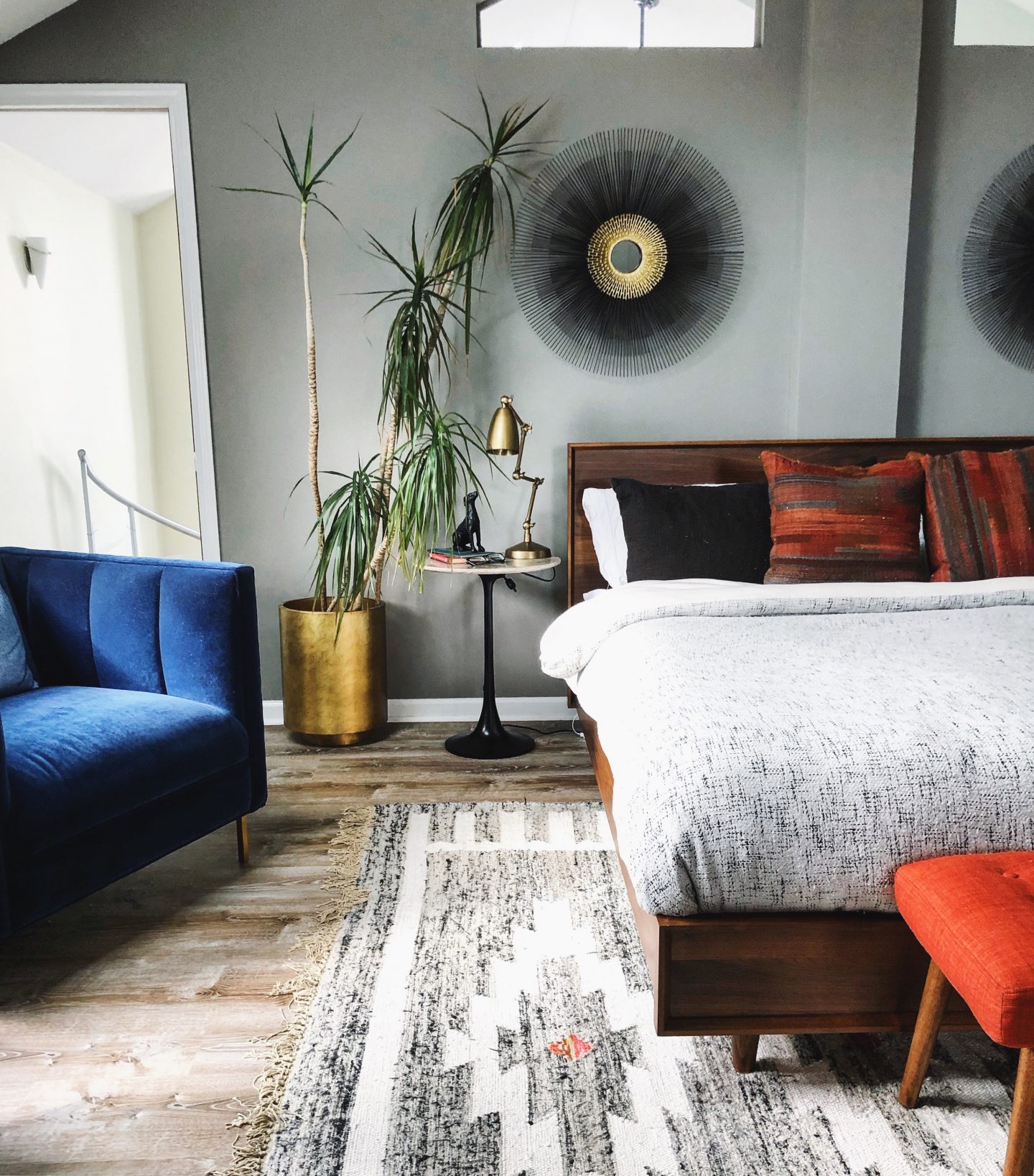 We swapped out the black duvet for this hatchmark duvet thanks to a hairy little fella named Harlow. I loved how the black tied into the moody colors we've got going on, but unfortunately so did Har…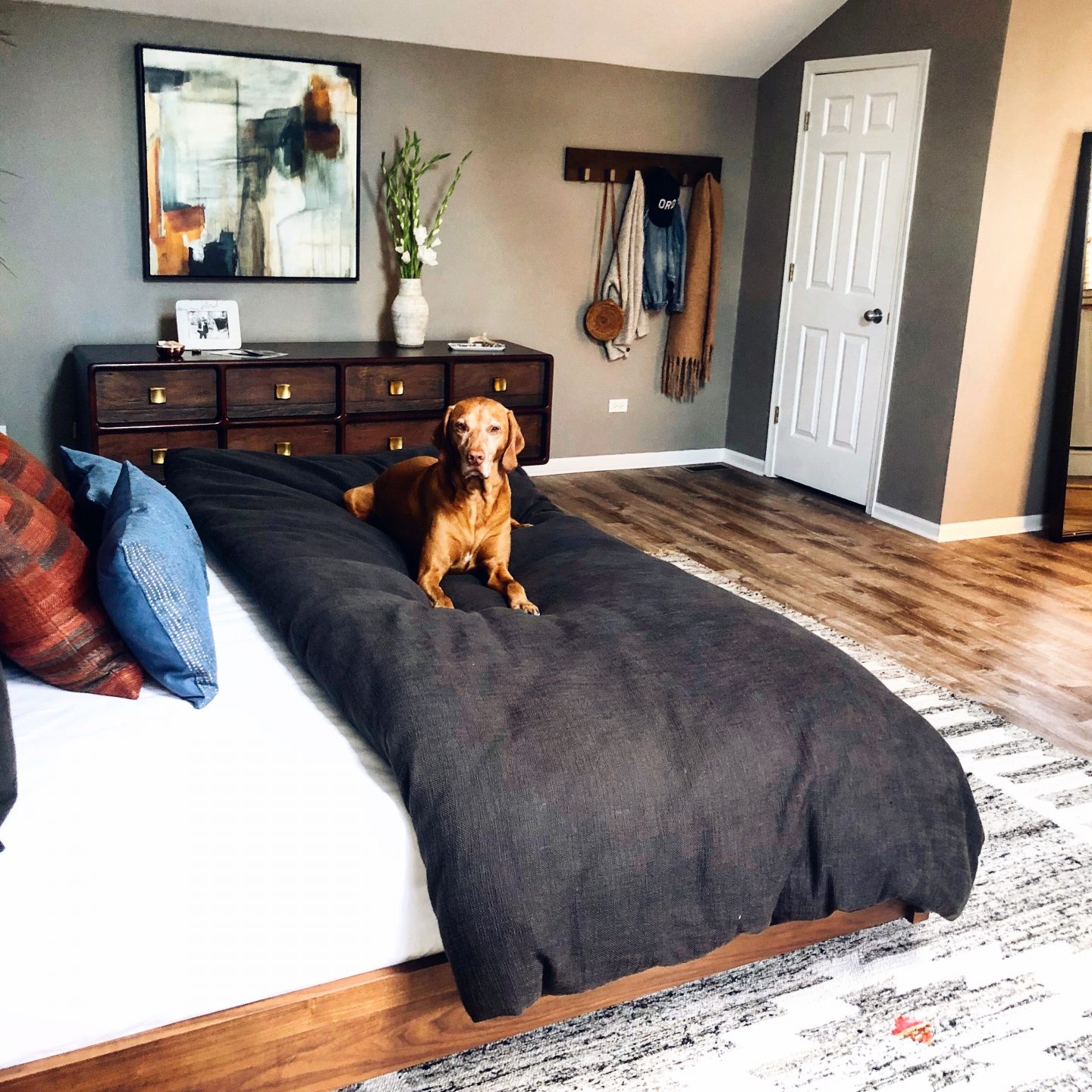 And that's a little peek inside our bedroom. Nine months later I still wake up and wonder how I got so lucky. I feel so so grateful I got to work with C&B because from start to finish, this project was so smooth and so fun to be a part of. Their staff and customer service is simply the best. I actually miss the week when our home was full of amazing stylists and designers running around putting everything together. I took them in every room and asked for advice and made the most of their expertise. 🙂
I was not paid to write this, but Crate & Barrel did compensate us by flipping our bedroom and giving us a space we truly love and spend so much time in. It turned out far better than I ever could have imagined! So if you're looking for help designing a new room, or remodeling an old one, use their services! You won't be dissappointed. 🙂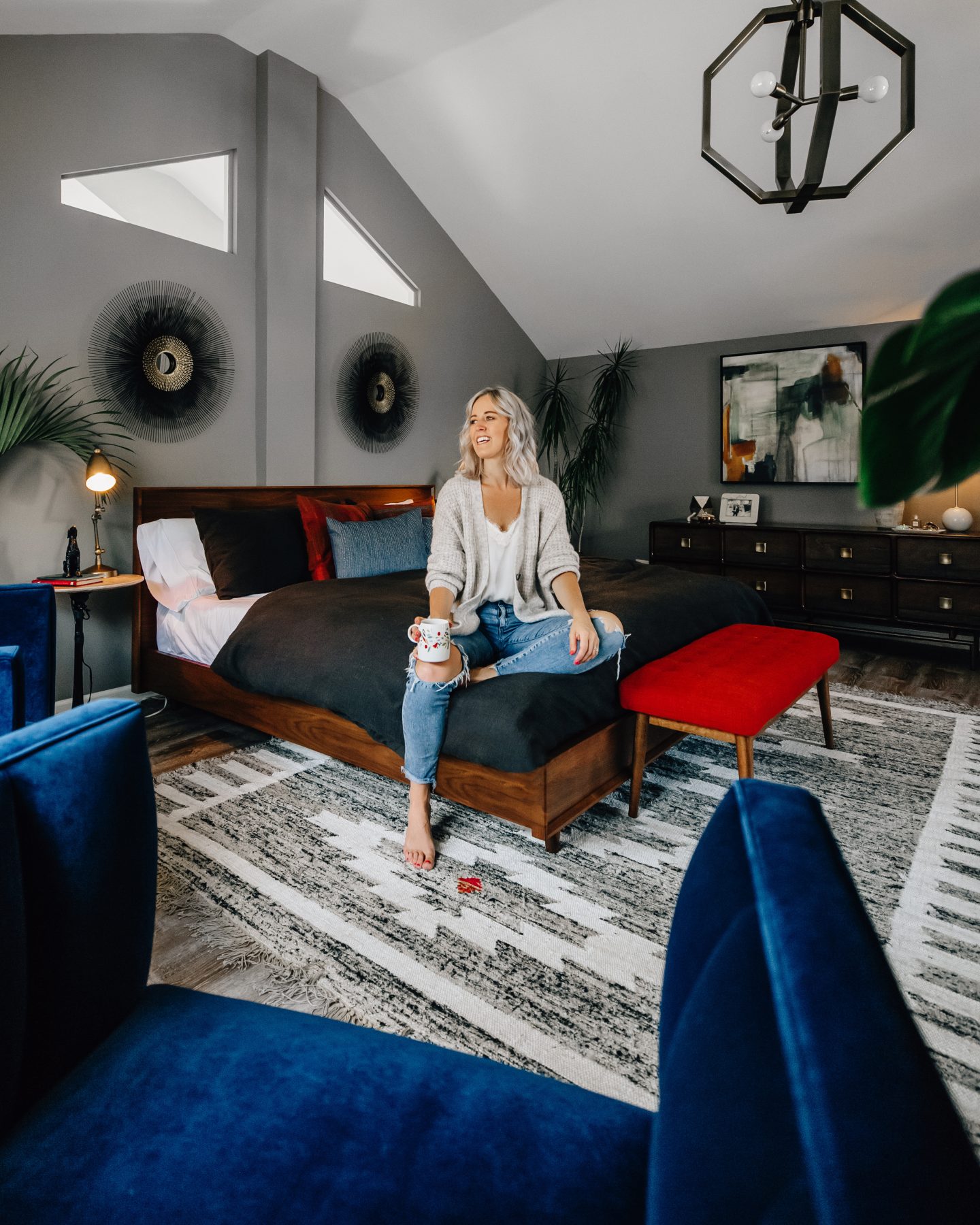 *****
some affiliate links have been used.