Do your research, they said.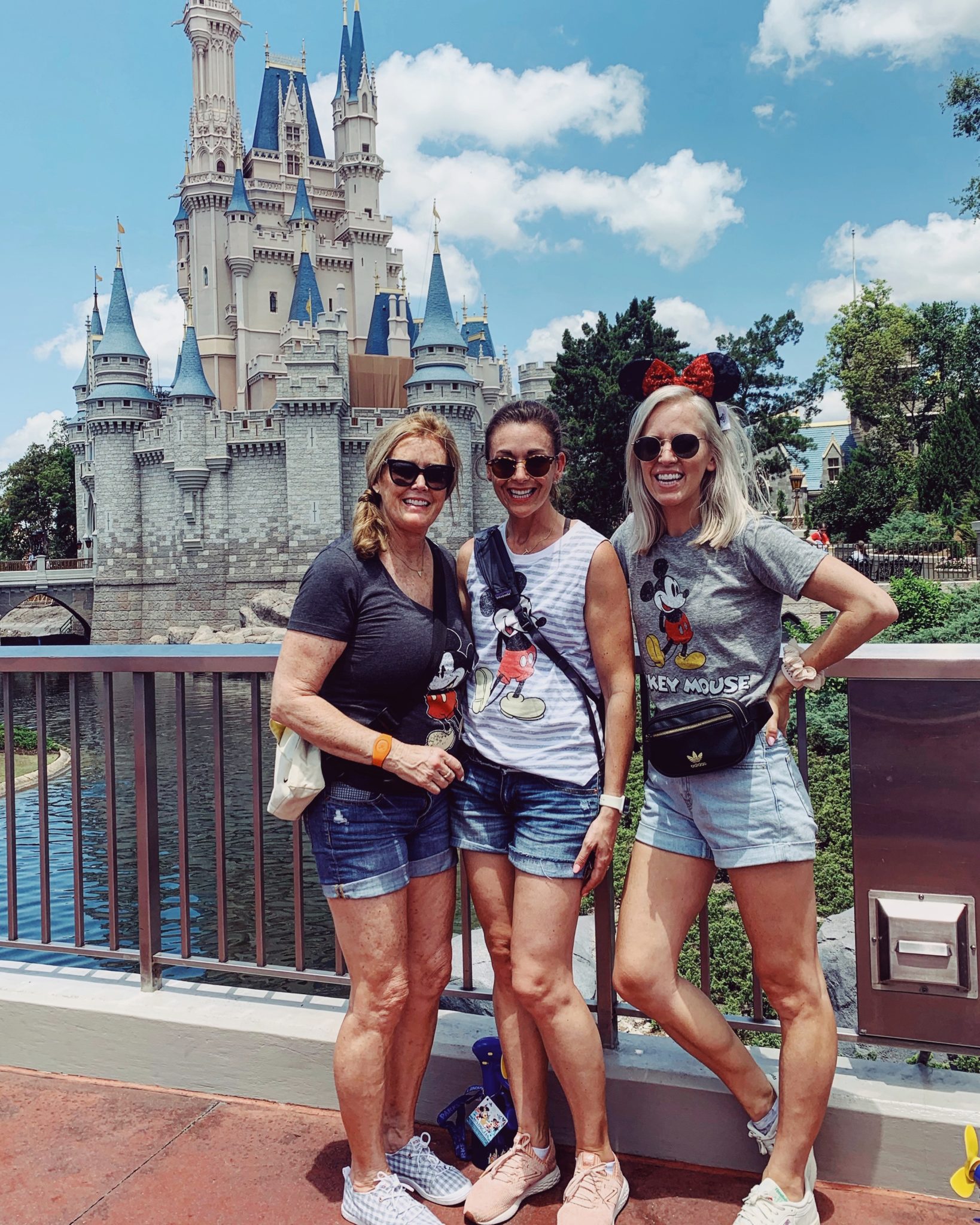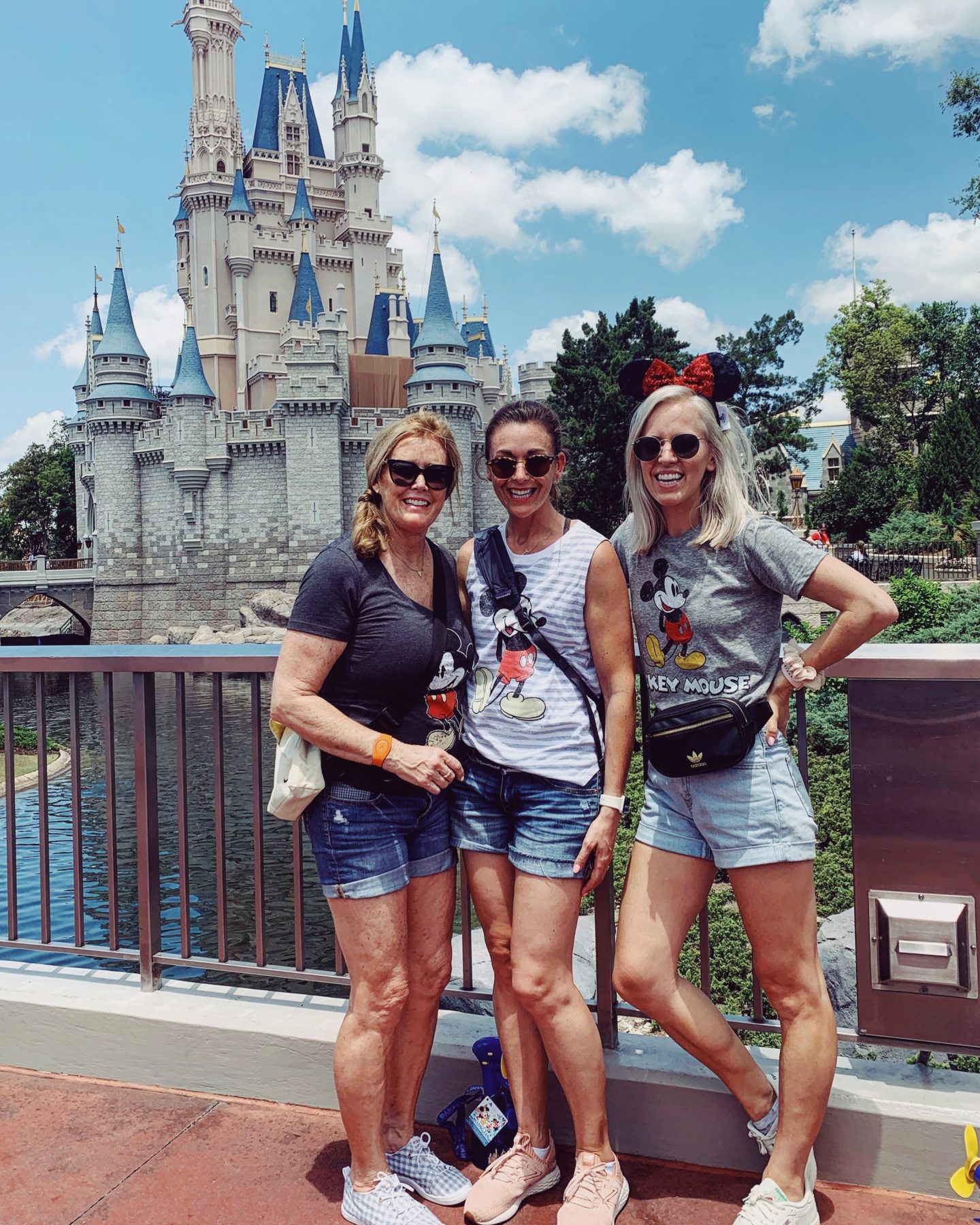 affiliate links will be used.
Okay, we responded. Knowing that between my mom, sister, and myself we wouldn't in fact do any research because none of us are planners… we'd get fastpasses, but that was about it. And boy oh boy was that a costly mistake.
I'm writing this post today so you can learn from our mistakes. Don't do as we did! When it comes to Disney, YOU NEED TO PLAN. If you're a regular Disney-goer you're probably loling and rolling your eyes at what fools we were. That's fine, we are too.
First things first… about those FastPasses. Previous to this trip, the last time I went to a park it was Disney Land (back in 2016) and these were actual passes you printed at each ride. Not anymore! It's all online now and you have to choose which rides you want to use for your fast passes for (you get up to three) and you have to do it ahead time.
Here we are on Space Mountain. We waited roughly 75 minutes for this ride because no fastpasses. Lola appears happy, right? I'll spare you the details of what we encountered with her for 75 minutes.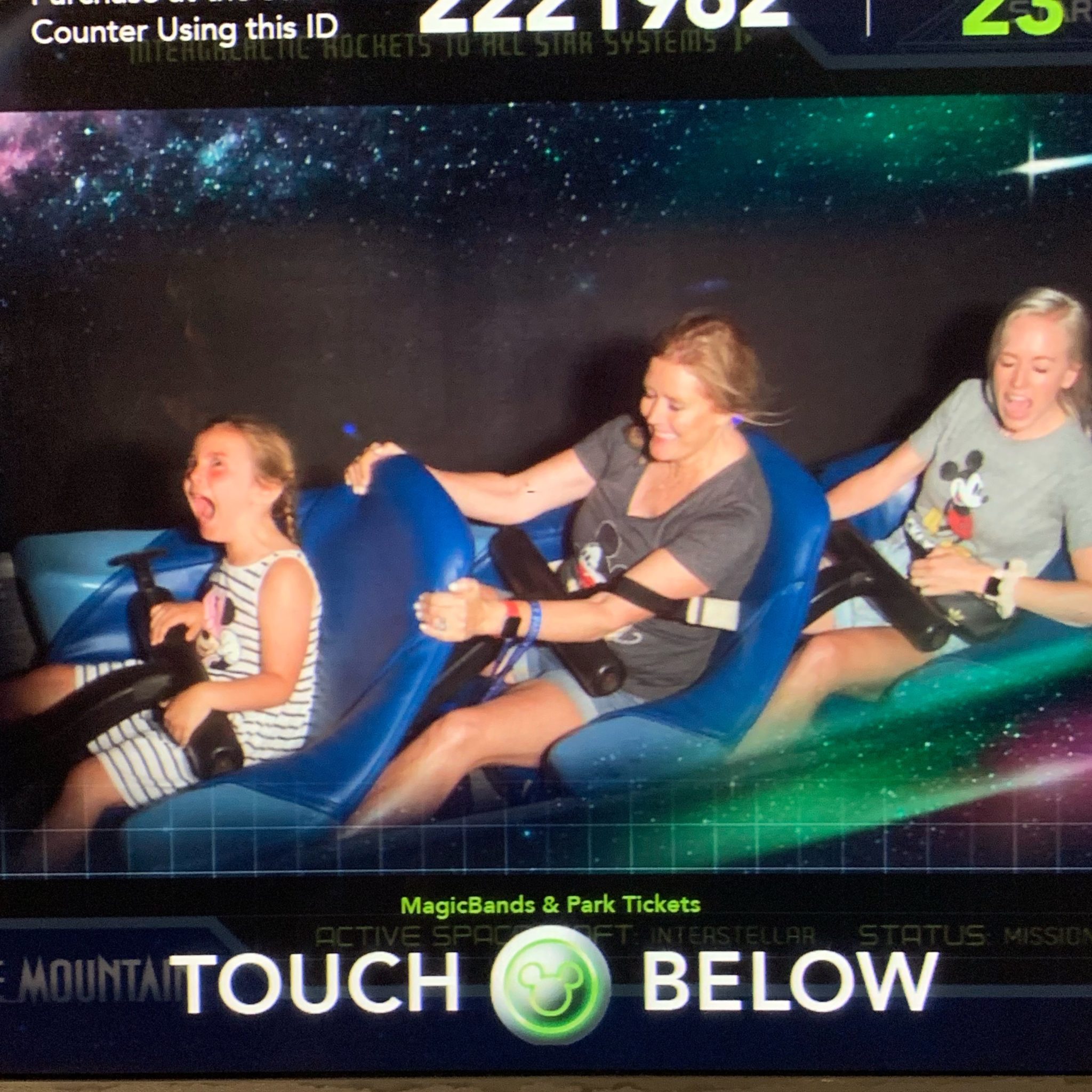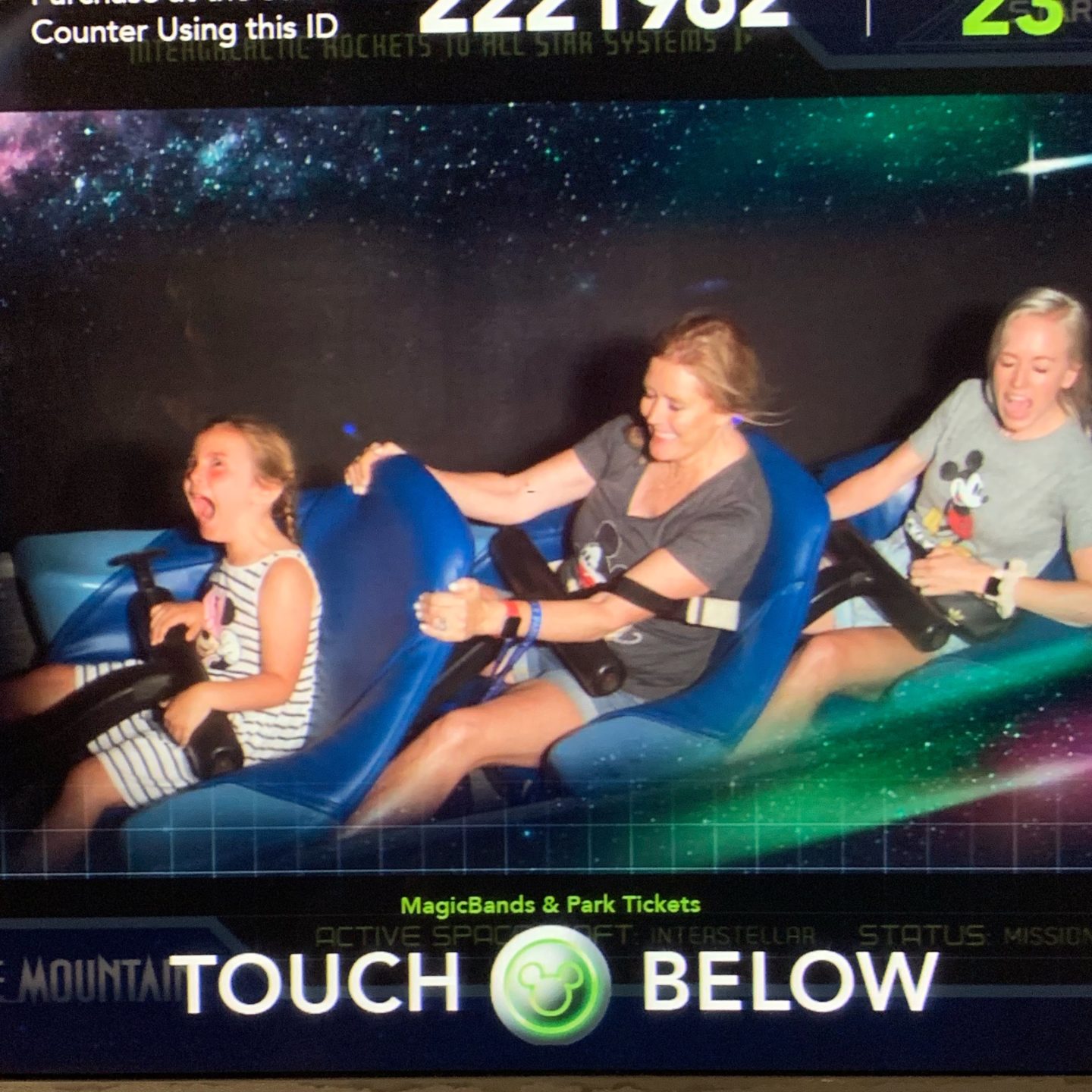 What we did: we chose our rides the day we got to our resort (for the following day.) So we got one less-than-great ride at 9 a.m. and weren't able to reserve our second pass for Splash Mountain until 4 p.m. And we couldn't even use our third because everything was booked. NOT SMART, Wolfe women. Not. Smart.
(But never the less we still enjoyed Splash Mountain.) We literally went back to the park for this one ride and then left immediately after.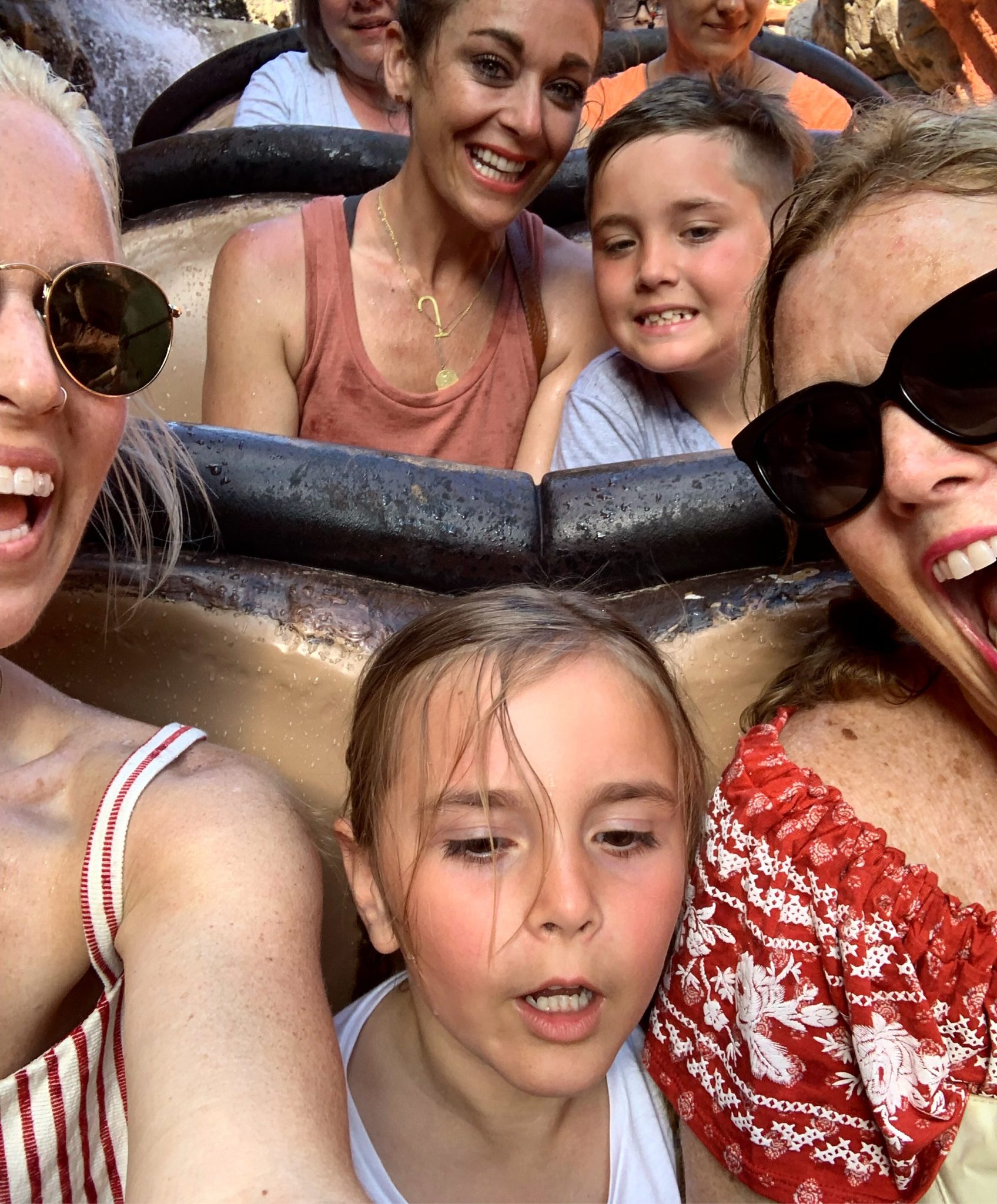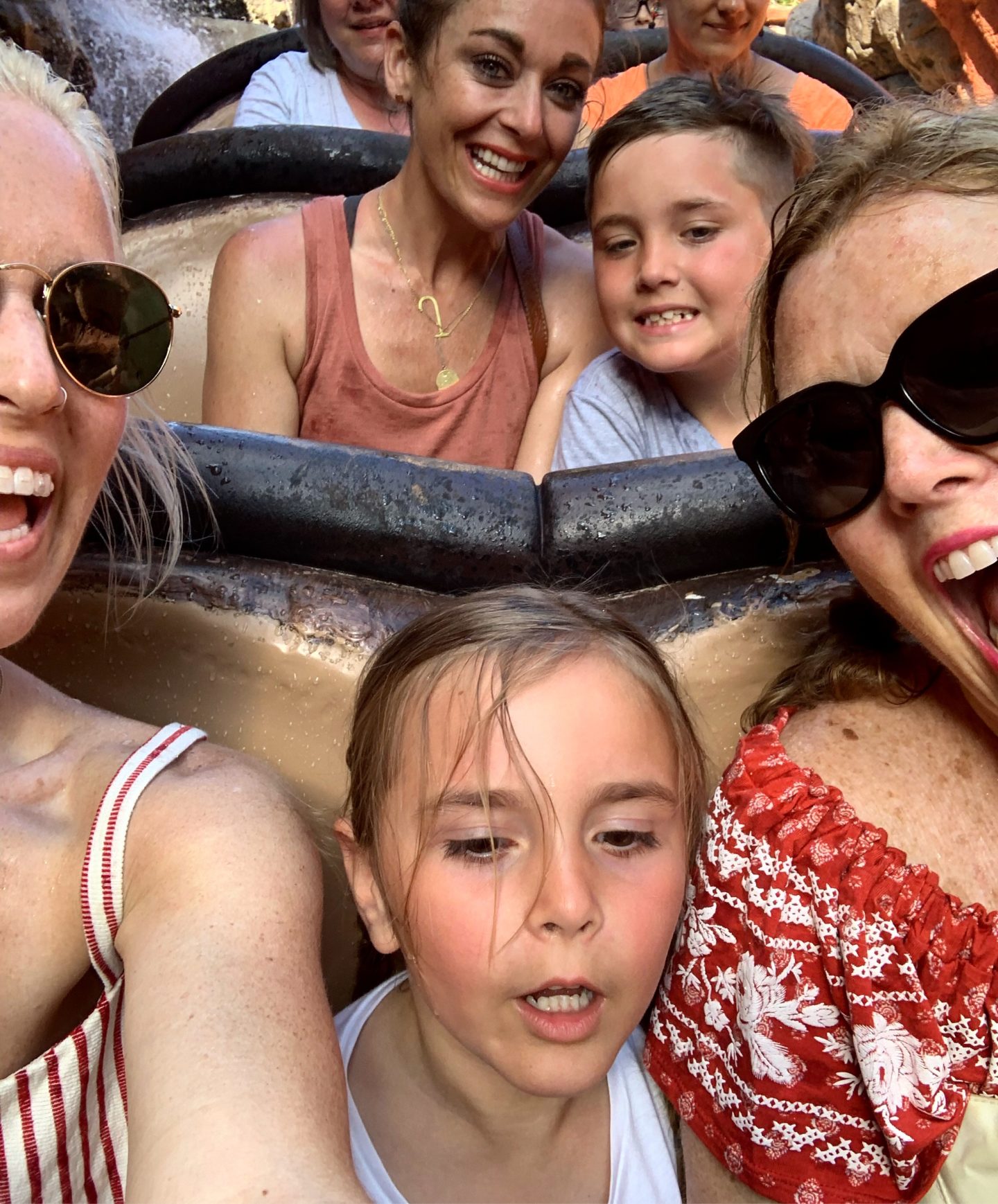 Since we were staying at a Disney Resort, Four Seasons Orlando, we could have booked our FastPasses up to 60 days prior to our check-in. But we failed to do our research so we didn't know this. Oh the tears and tantrums and meltdowns this could have saved us. I can't think about it too much or I get nightmares.
Another tip: avoid going anytime close to Memorial Day weekend. Common sense, yes? Not for us. 😛 Several employees told us we were at the park the busiest time of the year. So that was FUN. We stood behind every single elementary school from Florida and surrounding states celebrating the end of the school year.
Want to do a character breakfast? Book it at your resort if they have one. It's so much more relaxed and enjoyable to do it at your resort than trying to meet the characters at the park.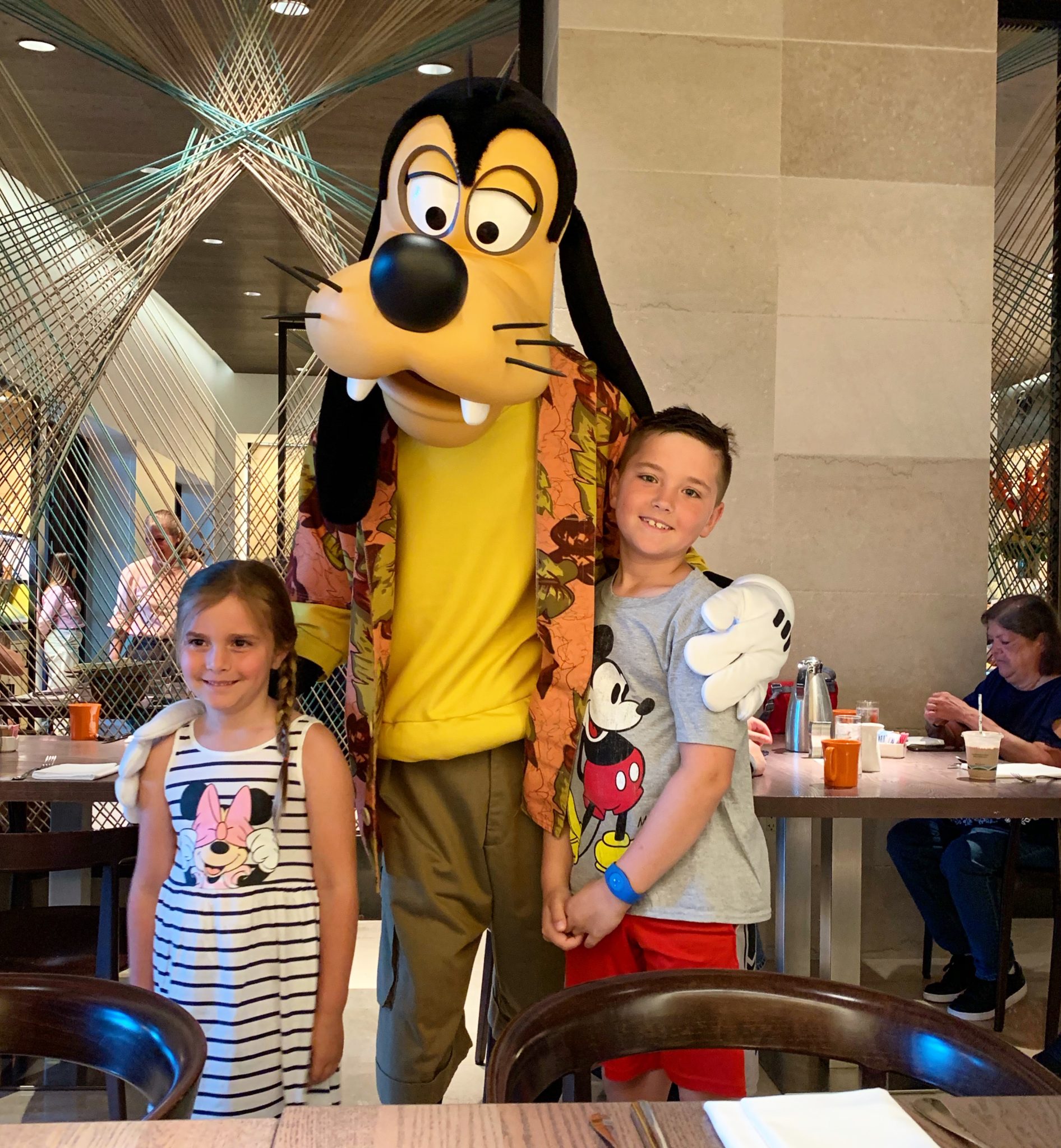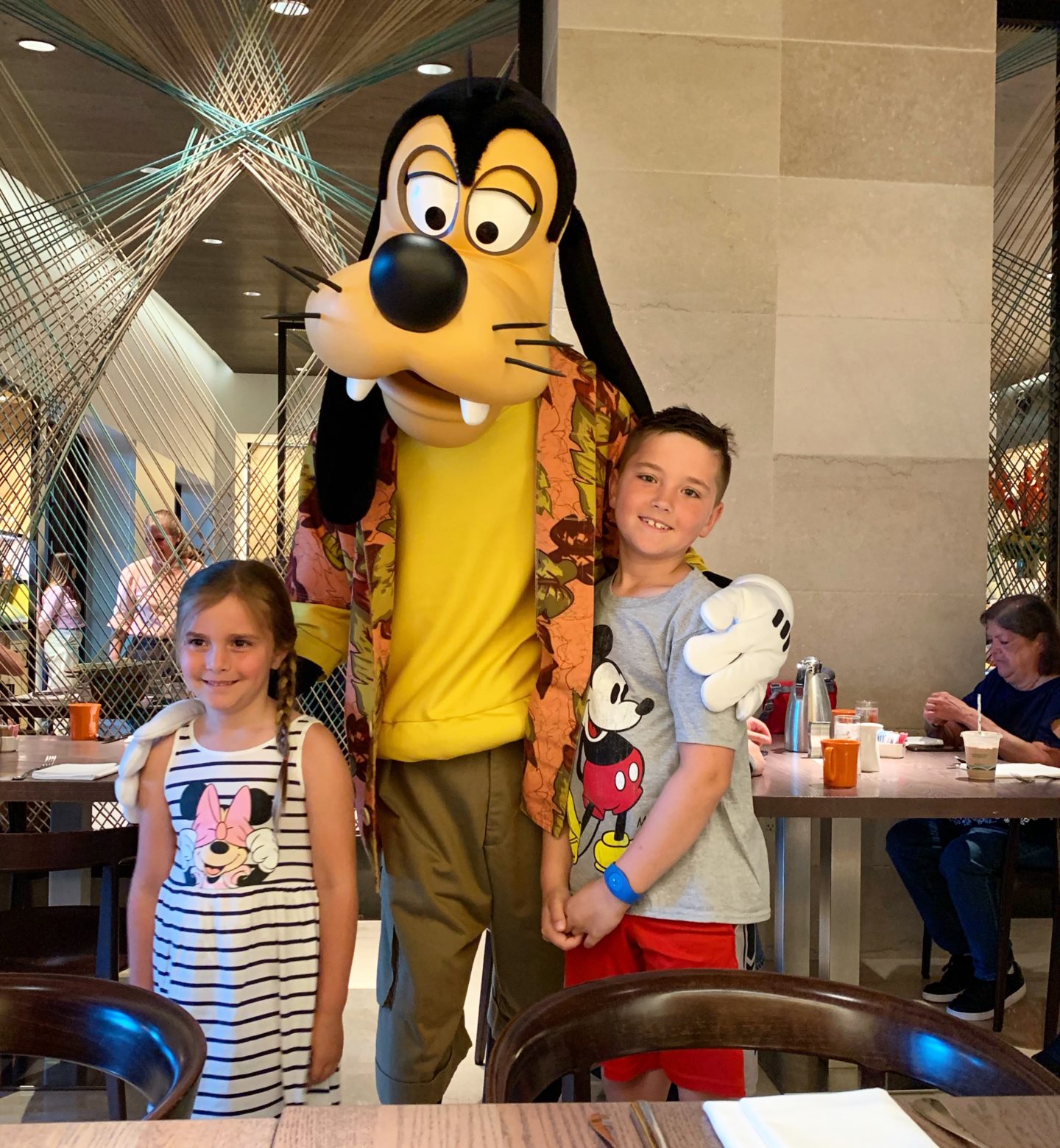 Buy Disney gift cards from Target! I heard this tip from another blogger, but of course forgot to use it. If you buy these gift cards using your Red Card you'll get 5% back- which adds up fast at Disney! Spend $500 on food, toys, and whatever else little Timmy begs you to buy and you'll save $25.
And WINE (for after the park.) You're going to need lots of this. If you find yourself sitting in your resort being like, wow we need 100 bottles of wine to relax after the lines of screaming children, but don't know how/where to go get it… ORDER IT! We used Drizly and they were fast and affordable. Click here and you'll get $5 off your first order.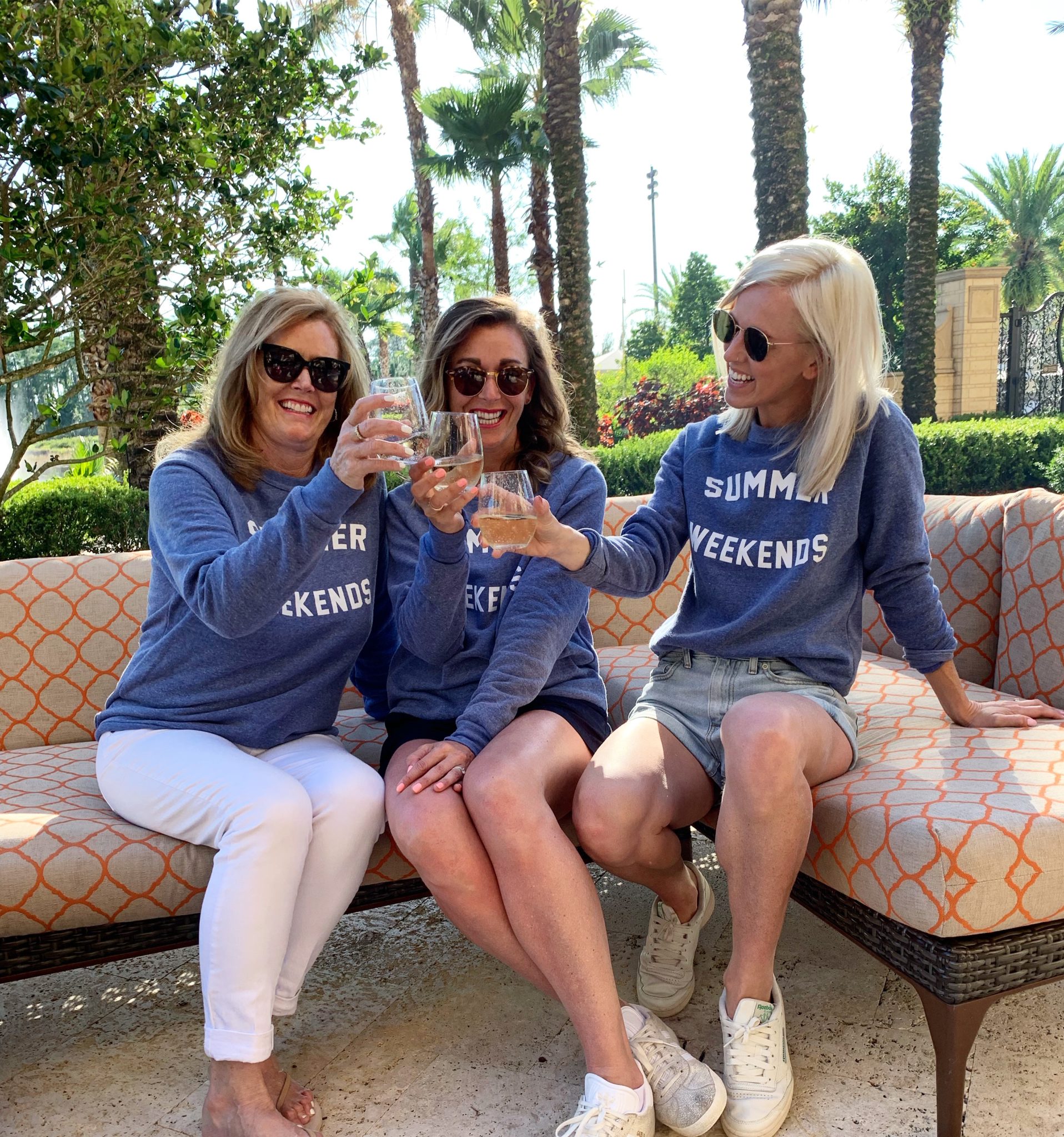 Sweatshirts found here.
Bring your own fans, water, and whatever else little Tonya says she needs to feel cool. My sister had to buy all of this stuff because it was painfully hot and Knox and Lola NEEDED them to survive.
Bring a portable phone charger. How to keep kids entertained in hour long lines because you forgot to get your FassPasses = give them your phone.
Feeling lazy and want to skip the trams and buses that get you to the parks? Take a Disney Lyft! The polka dot car will drop you off right at the front. The $25 is worth the complaints and arguments you'll get to bypass. We took the tram once and it stalled for 10+ minutes and Knox actually said, "at what point do you think we'll run out of air in here?" And that moment still haunts my dreams. Use code TAYLORISLAZY and you'll get a discount off your first ride.
And if all else fails, stay at a resort you love. I cant rave enough about Four Seasons Orlando and the experience we had there. The staff makes the kids feel like the stars of the trip, while not forgetting the parents are the reason they're there. The moment we got to our rooms there were welcome bags full of scavenger hunt toys waiting for Knox and Lola and a fridge full of chilled wine waiting for my mom, sister, and myself.
This was the view from our room. And the photo doesn't even do it justice. The entire resort was stunning.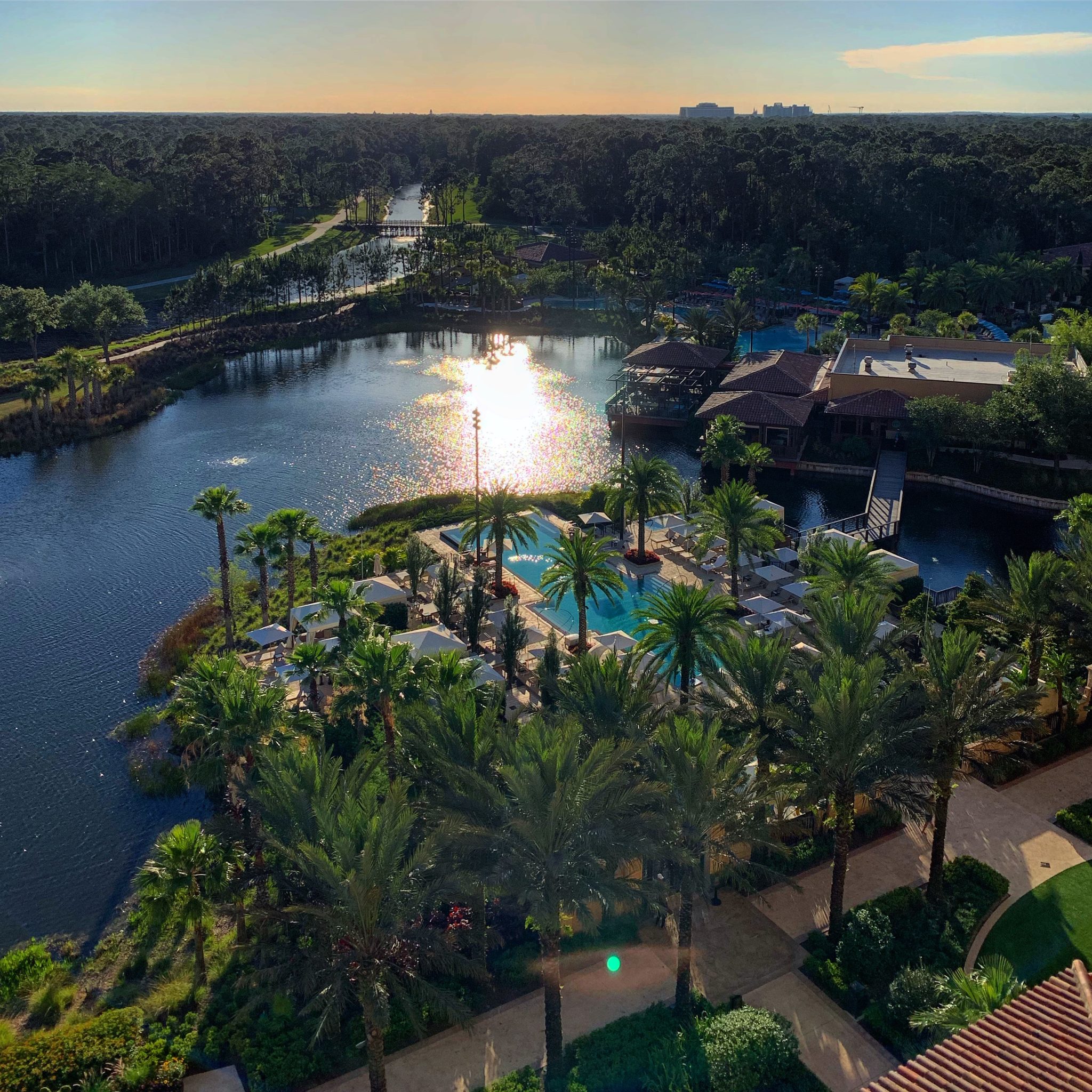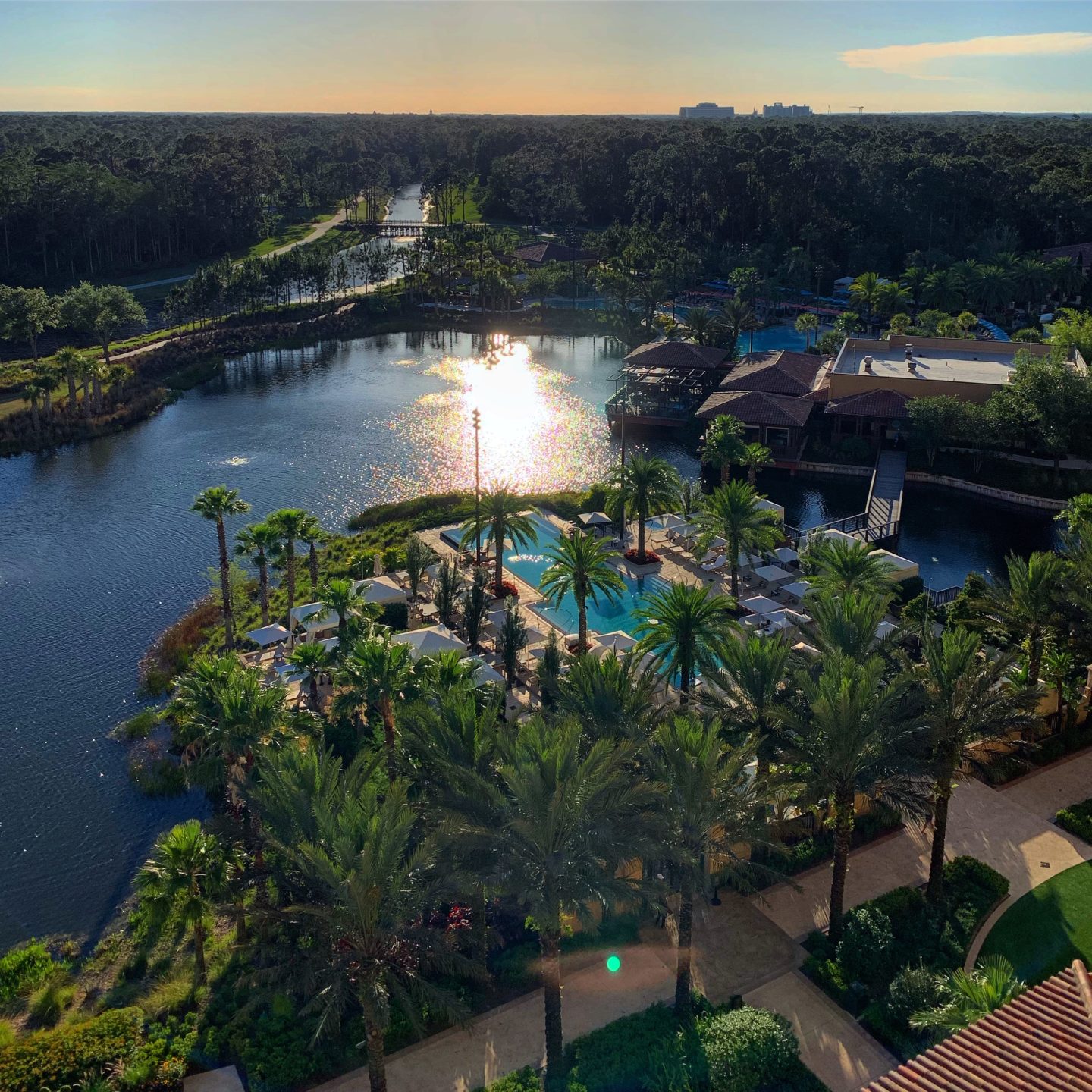 Knox and I on the scavenger hunt.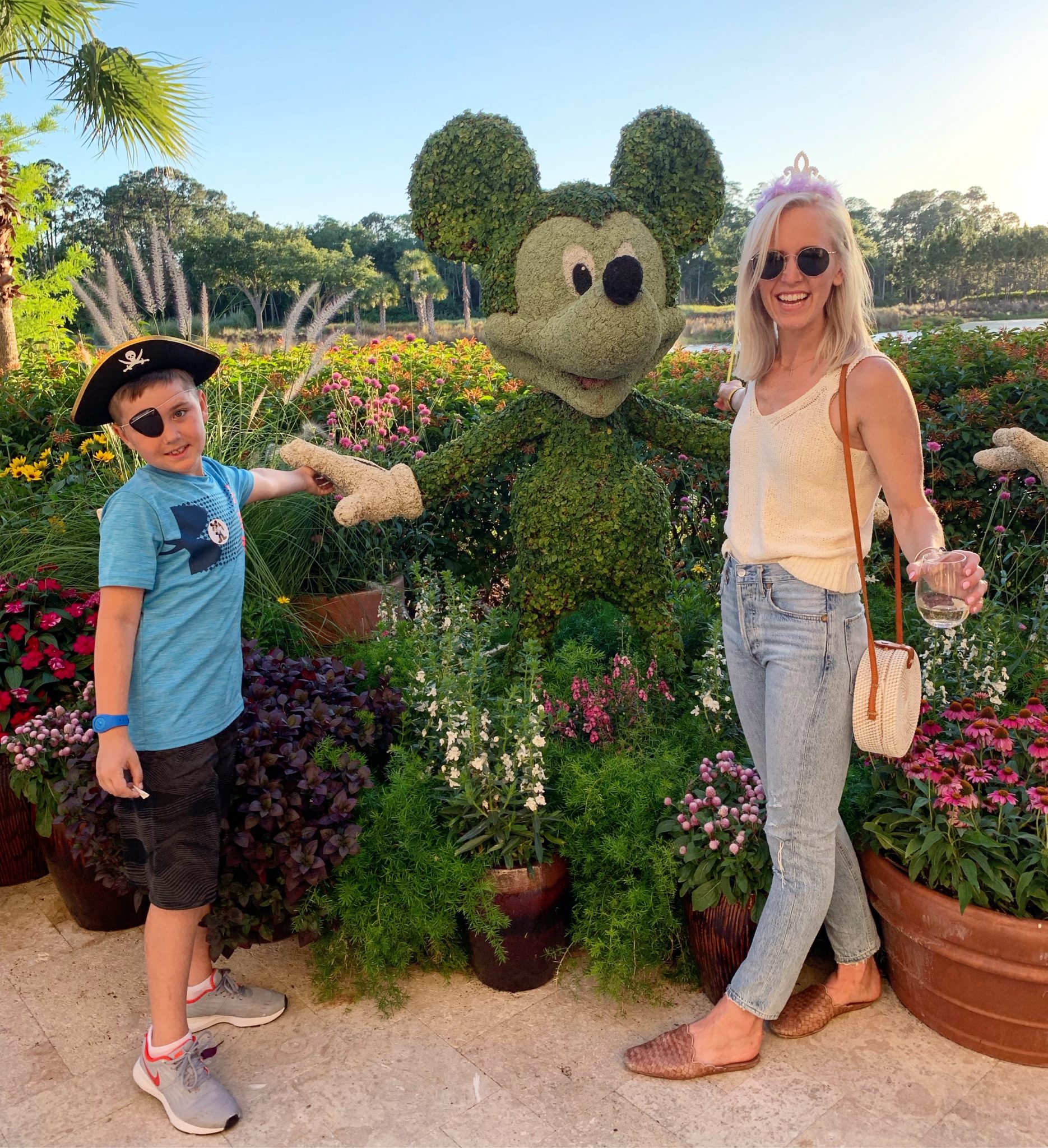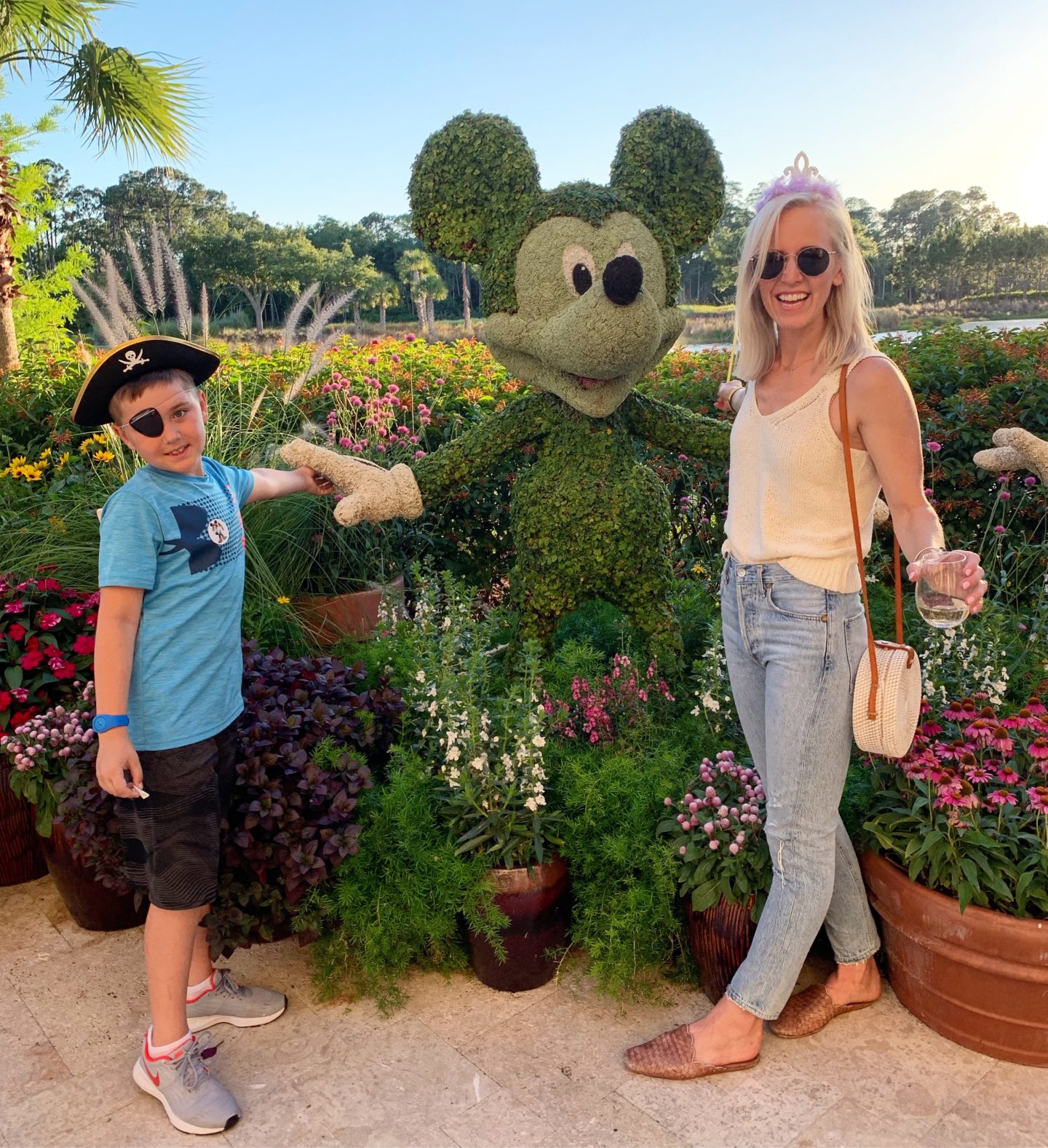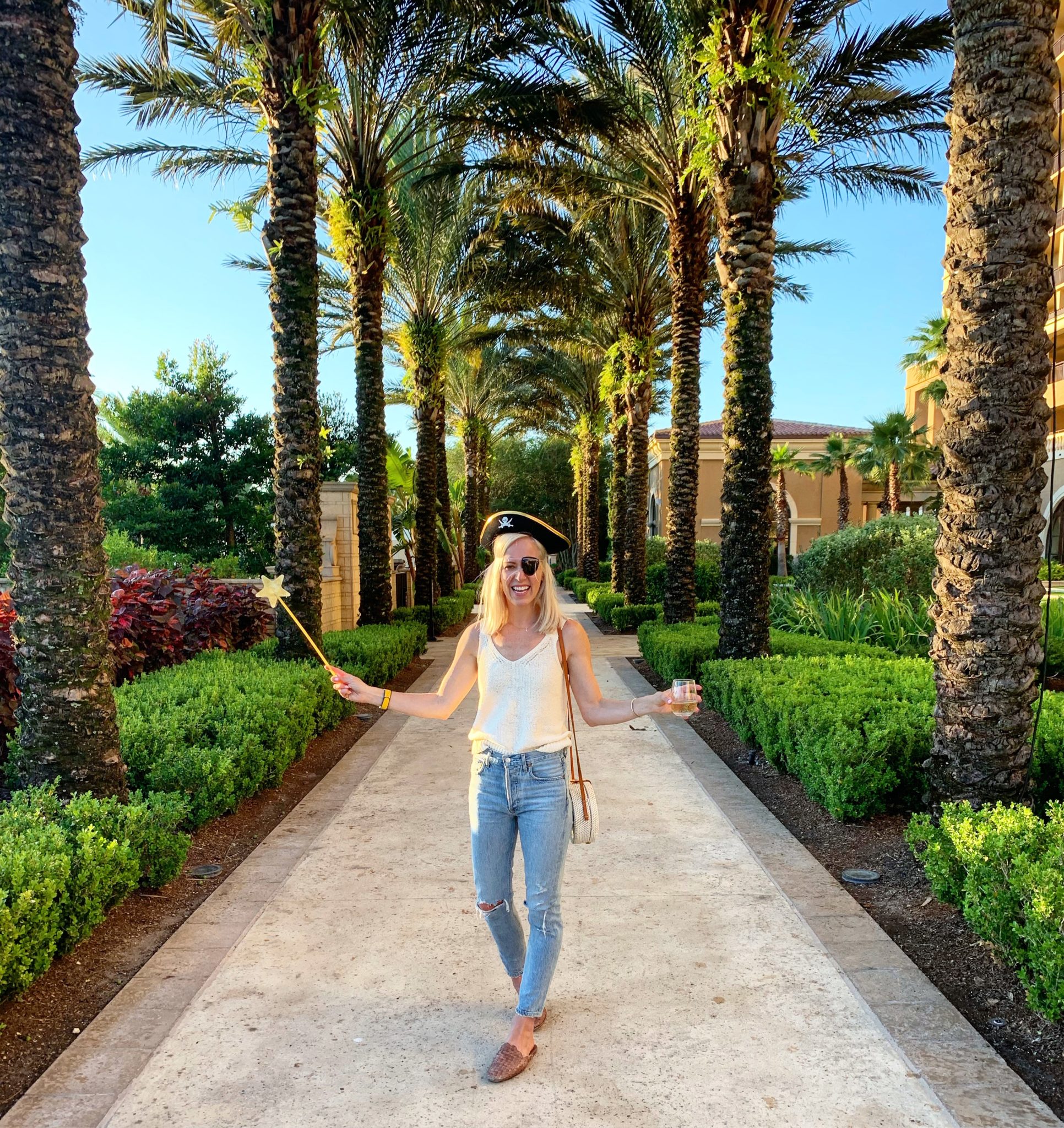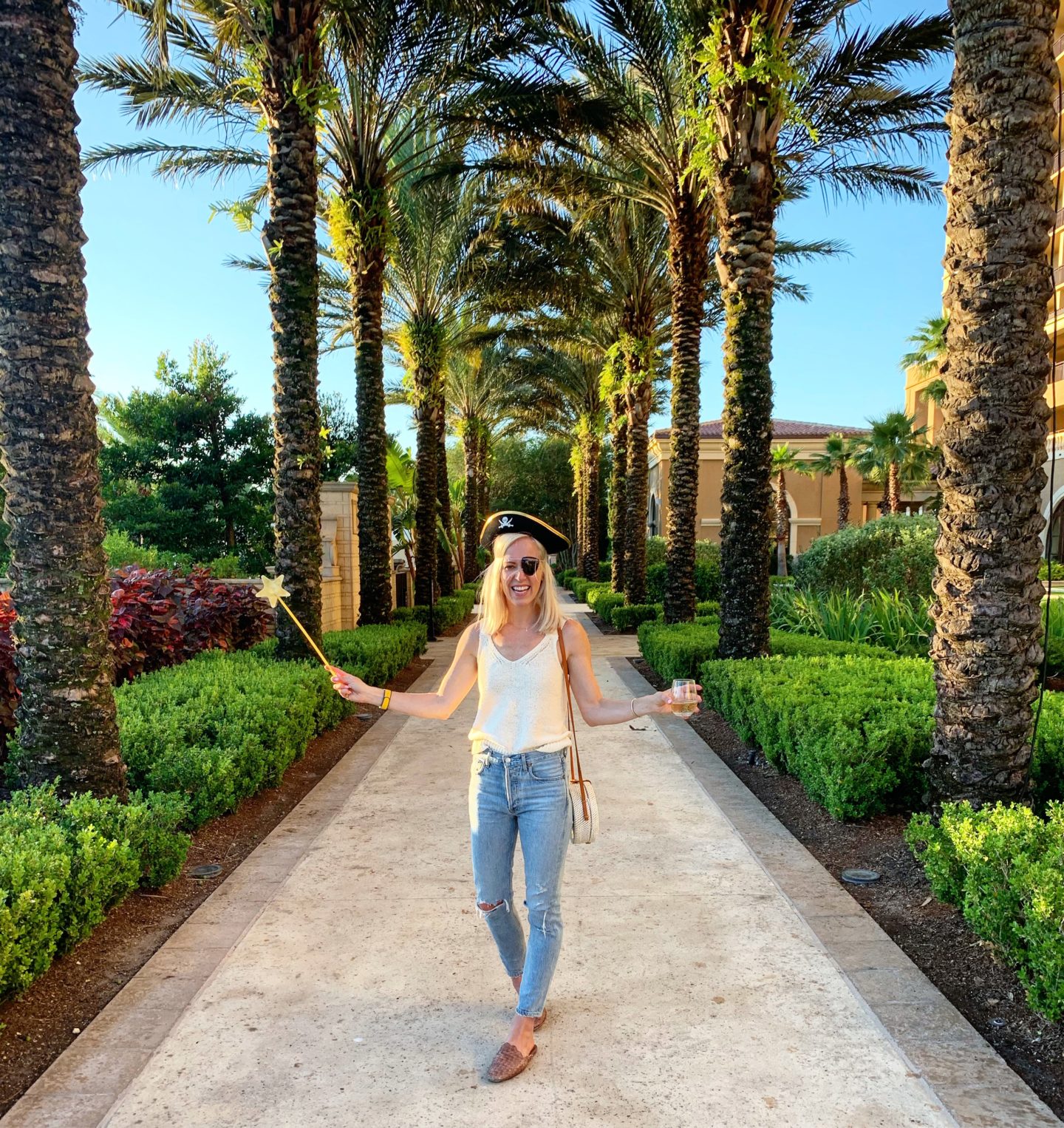 Okay, so maybe I had more fun on the scavenger hunt than the kids, but that's beside the point.
The pools were absolutely pristine (they had several, including two waterslides and a lazy river!) And the moment you stepped near one of them, someone from FS Orlando was there waiting to get you fresh towels, a pitcher of cold water, and whatever else you might want or need. To be quite honest, I think Knox and Lola preferred the resort to the parks.  😛
"Can we just stay at the hotel today?" – Knox.
"Can we please just go back and play in the pool?" -Lola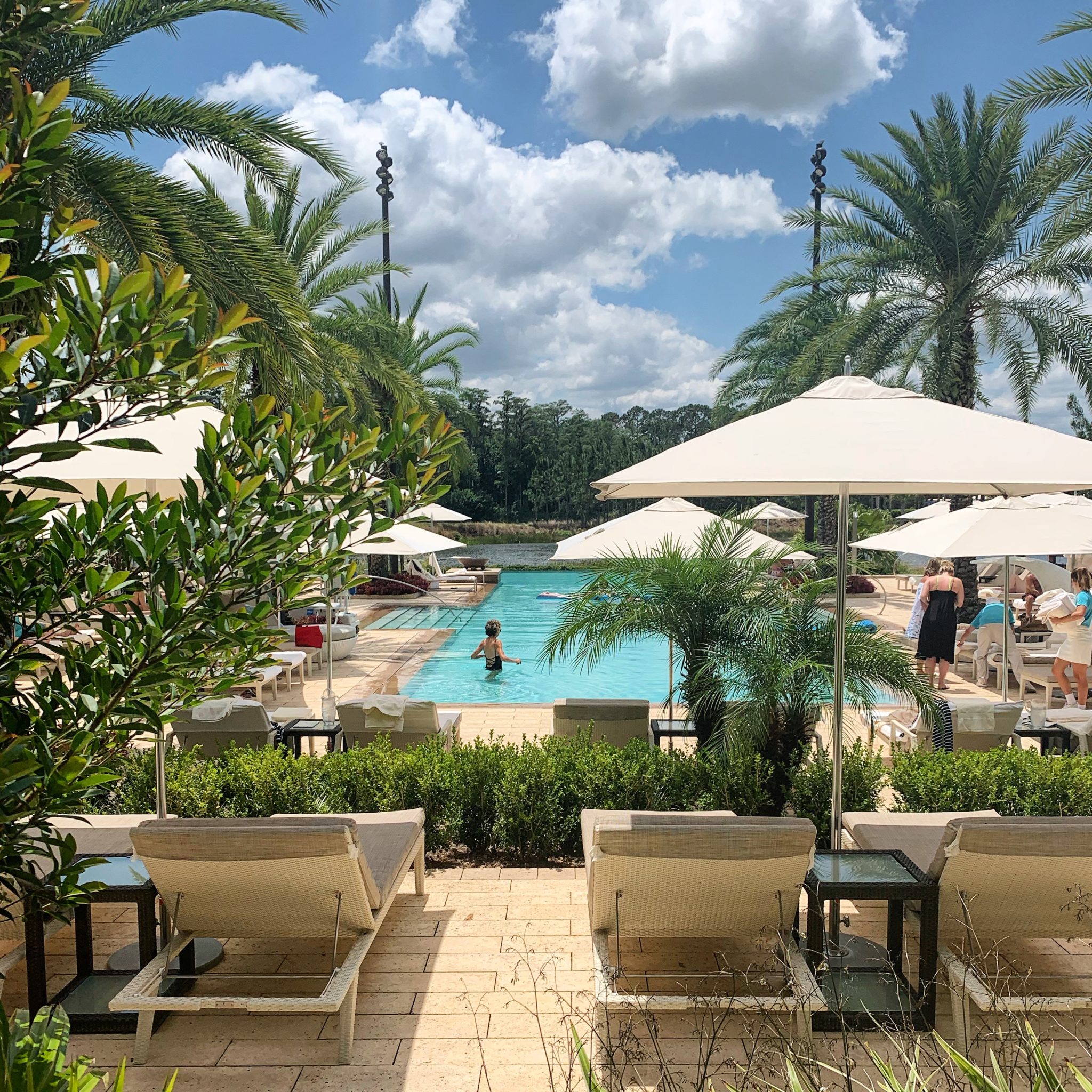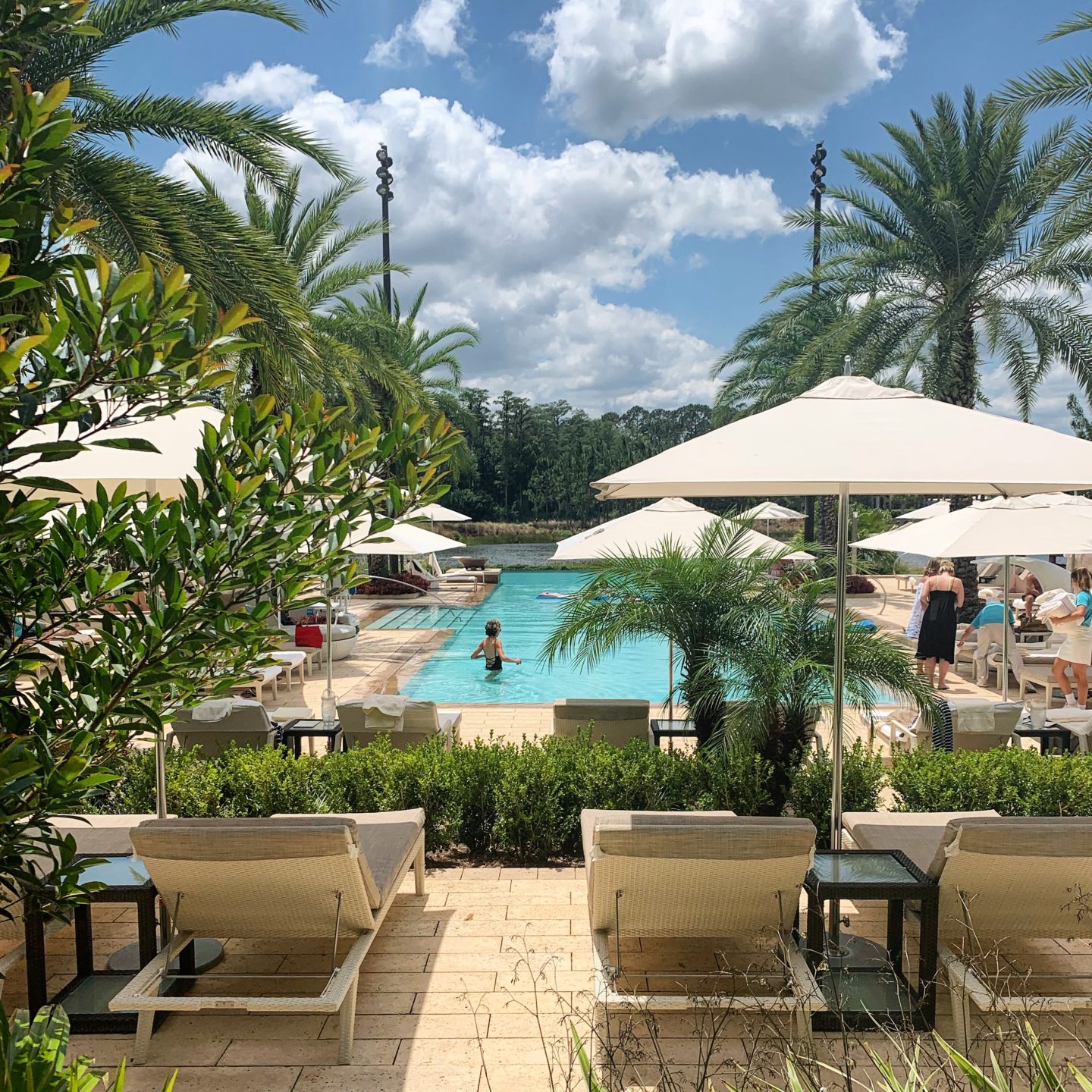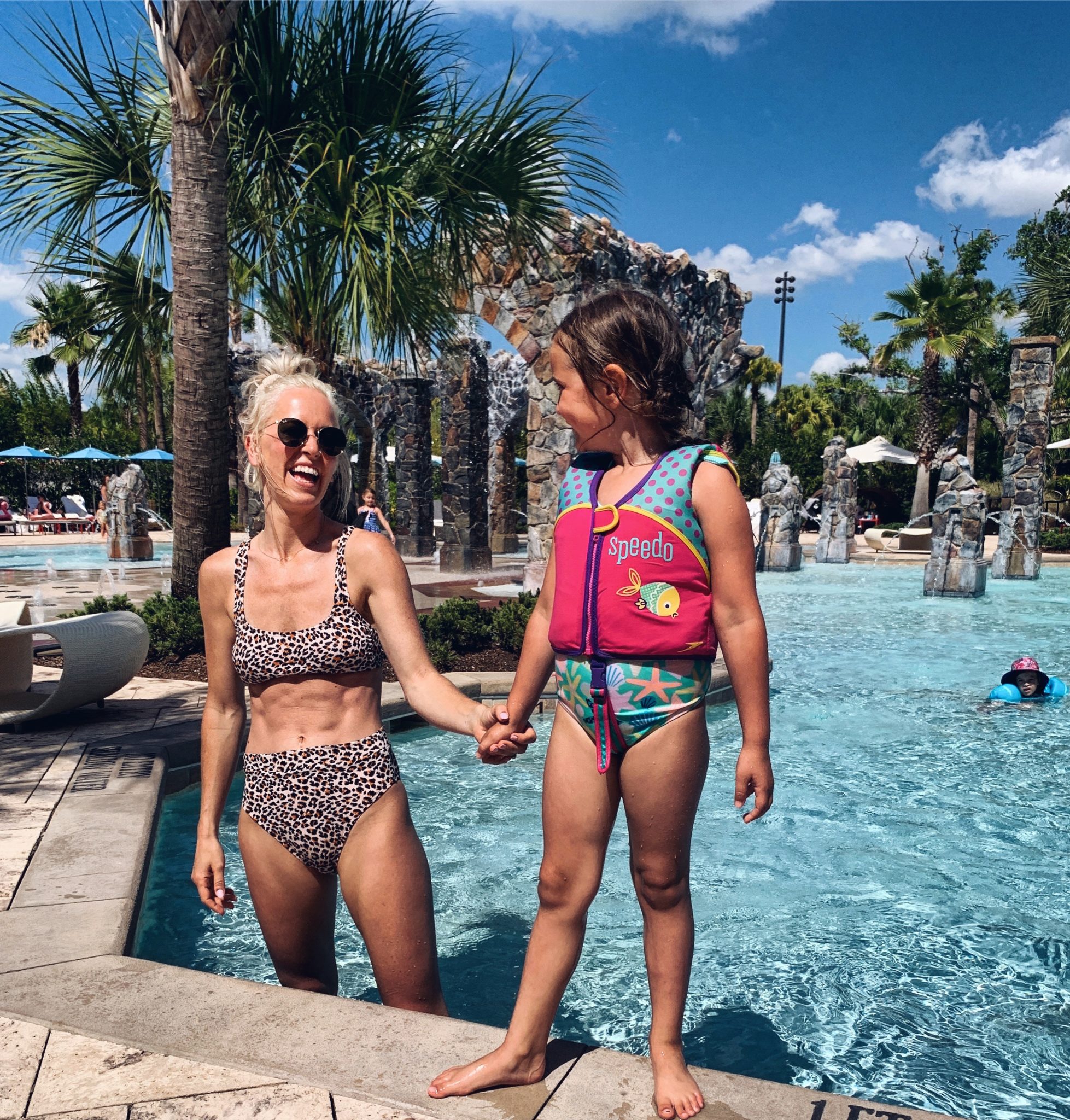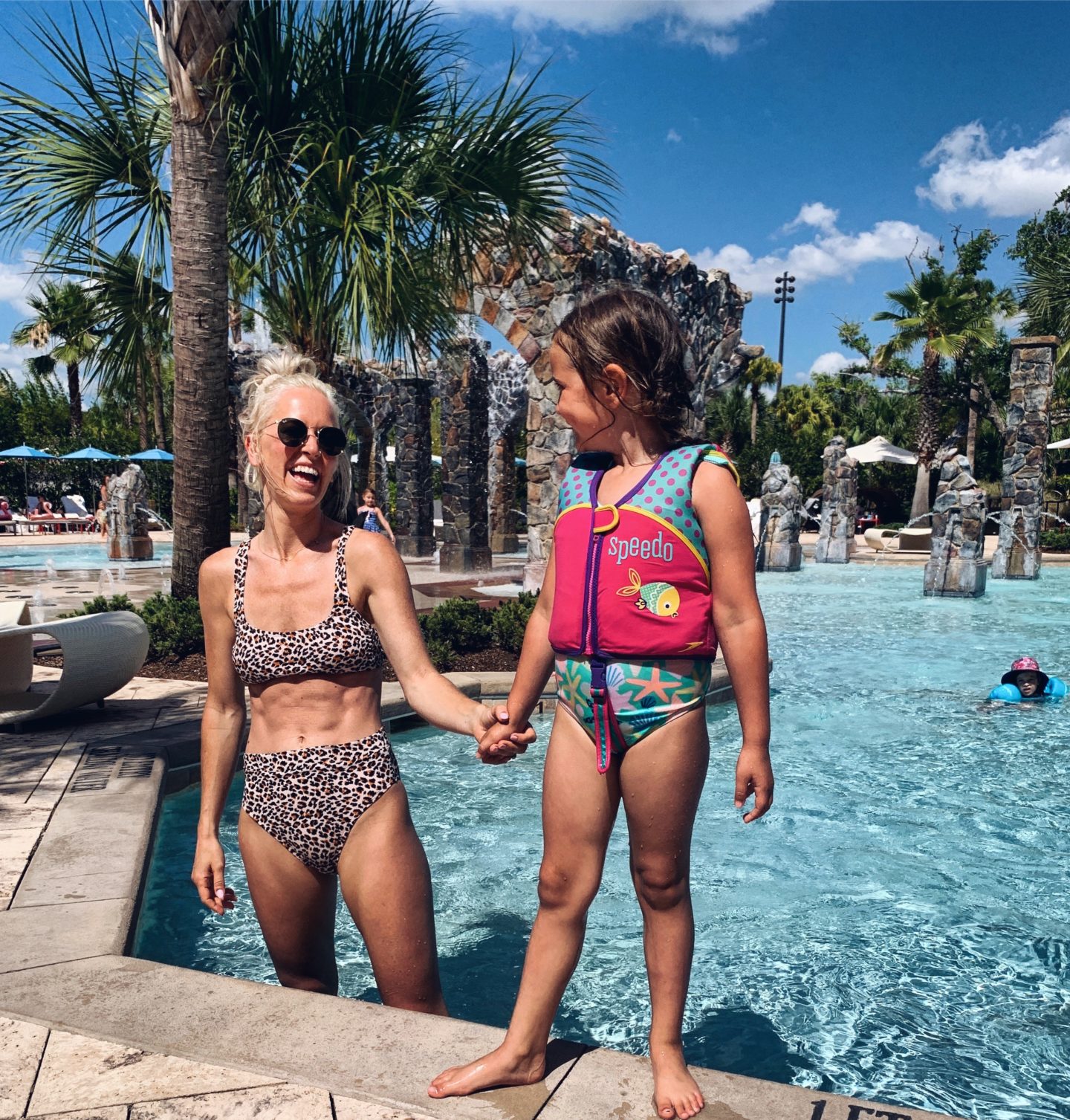 "You guys go ahead to a park, I'm going to hang out here today..." – me.
I relaxed by the lazy river (which by the way was the most incredible lazy river I've ever seen in my life) and sipped on mimosas and nibbled on fresh fruit, and enjoyed every minute of it.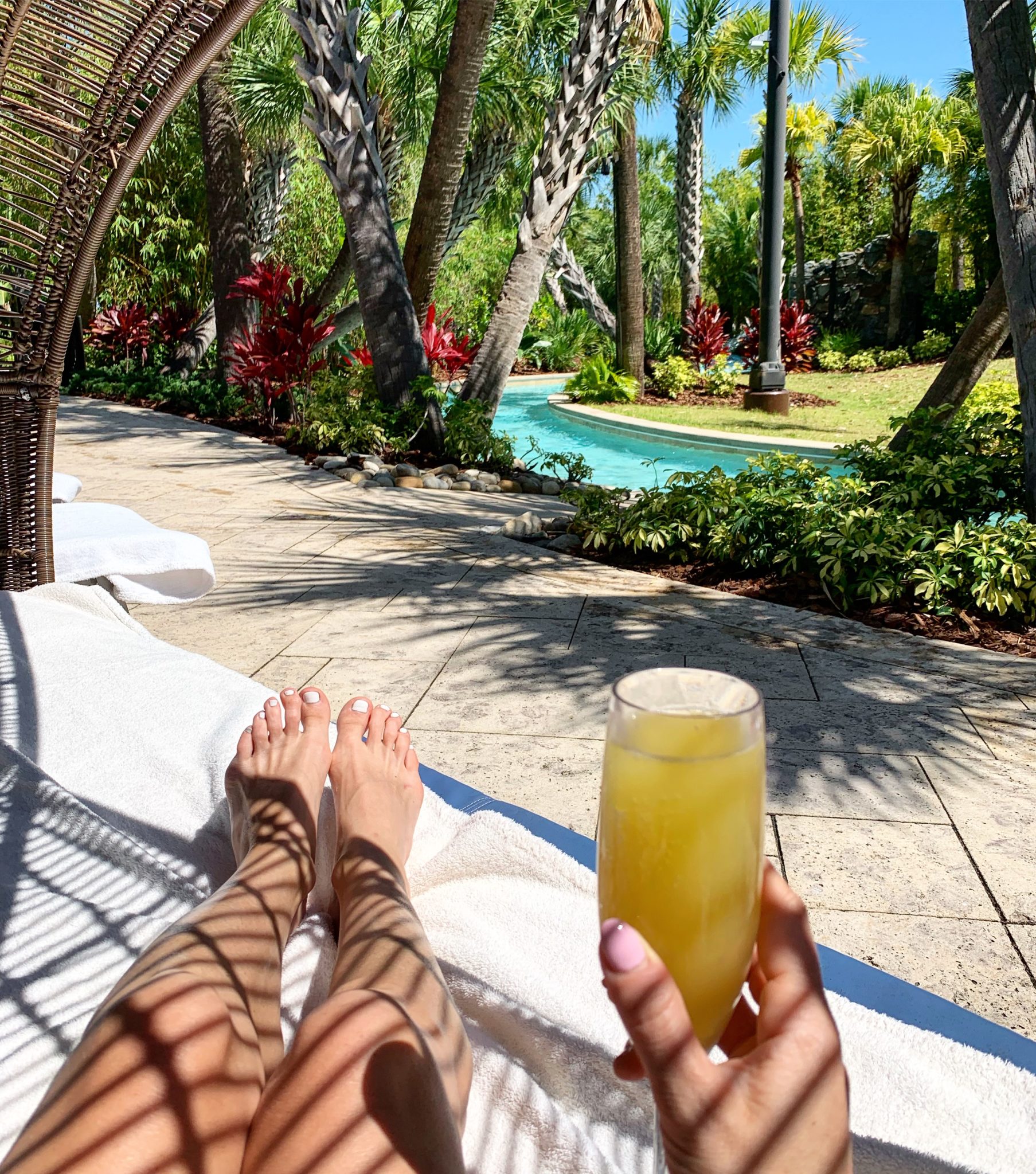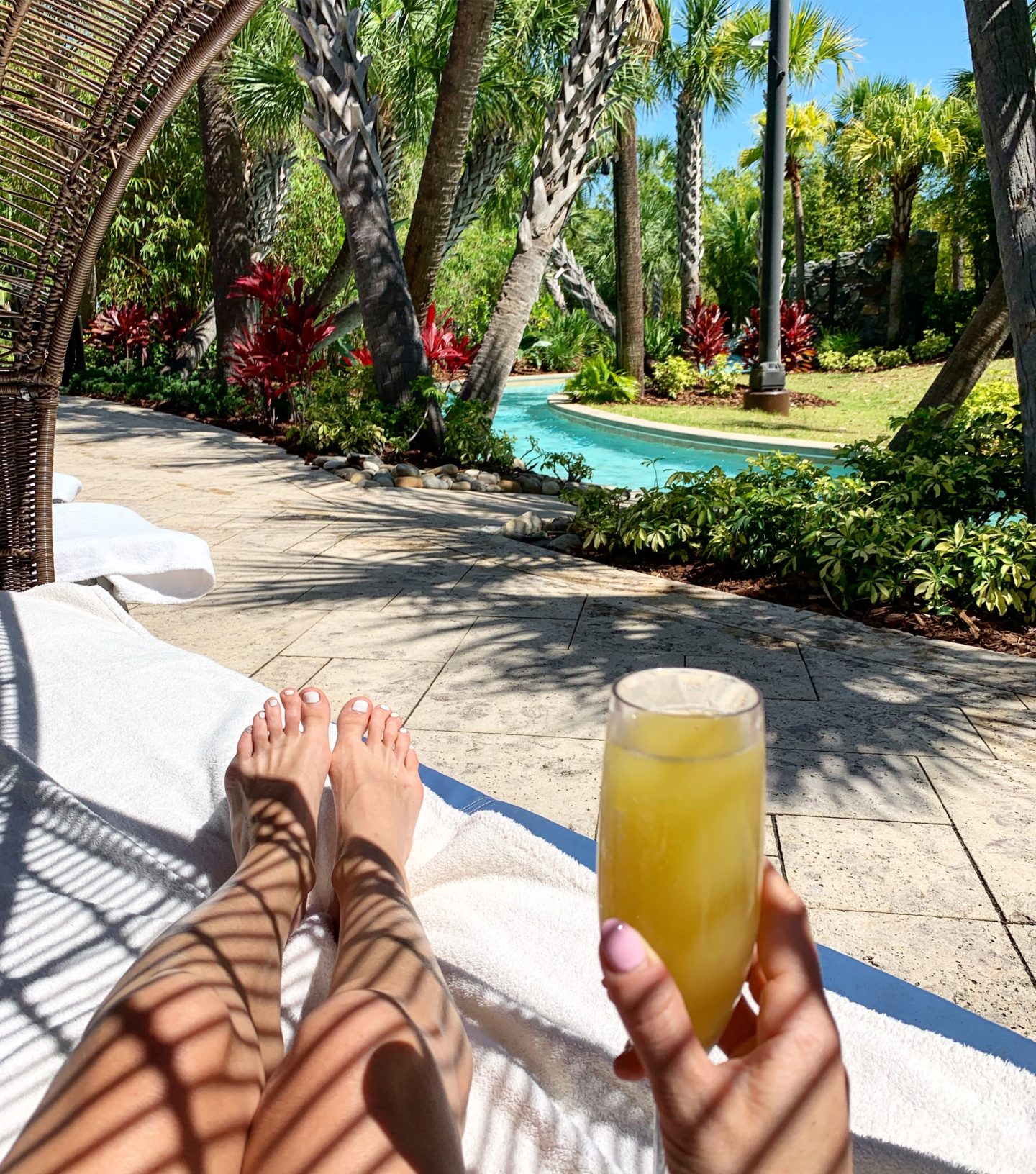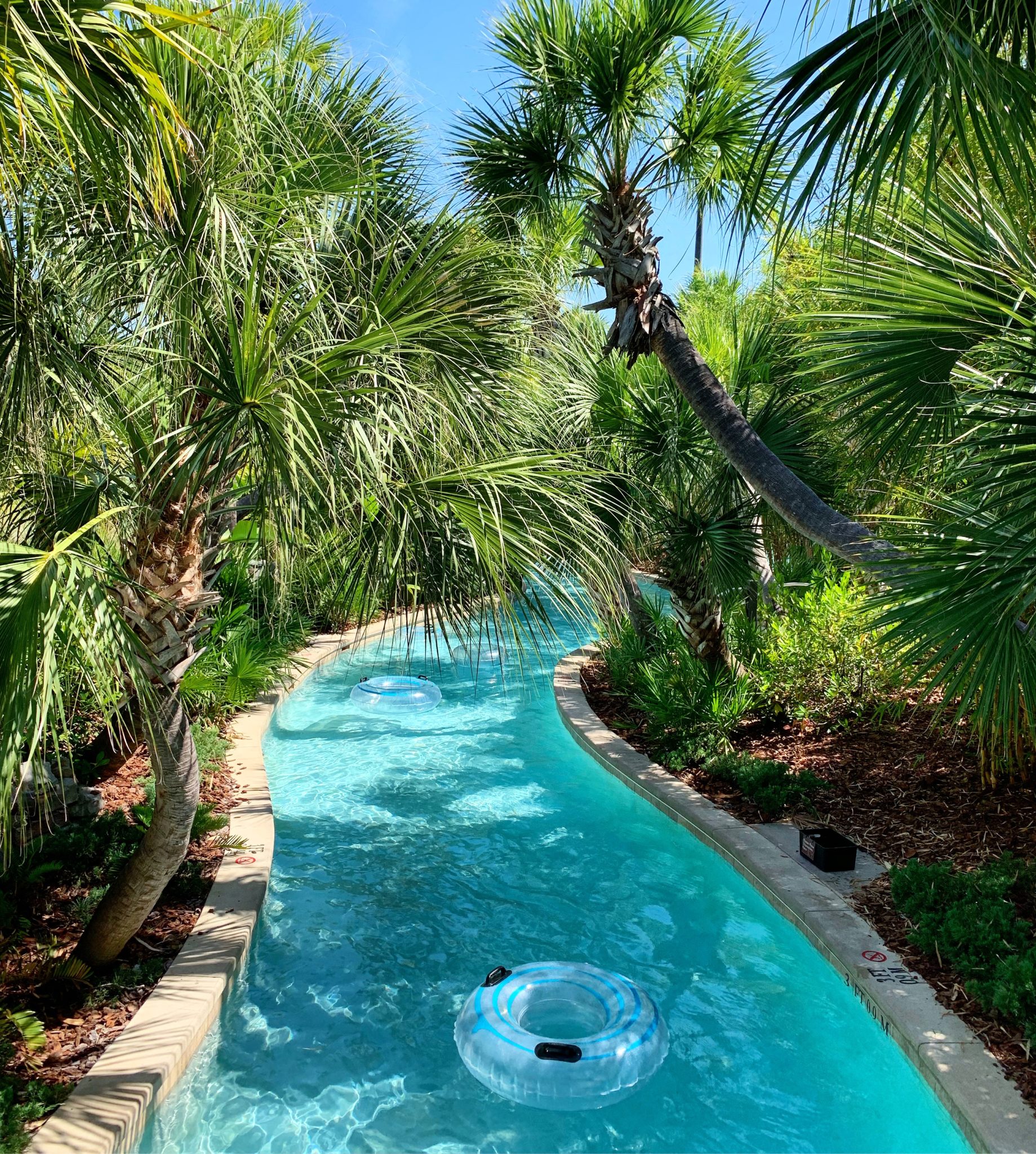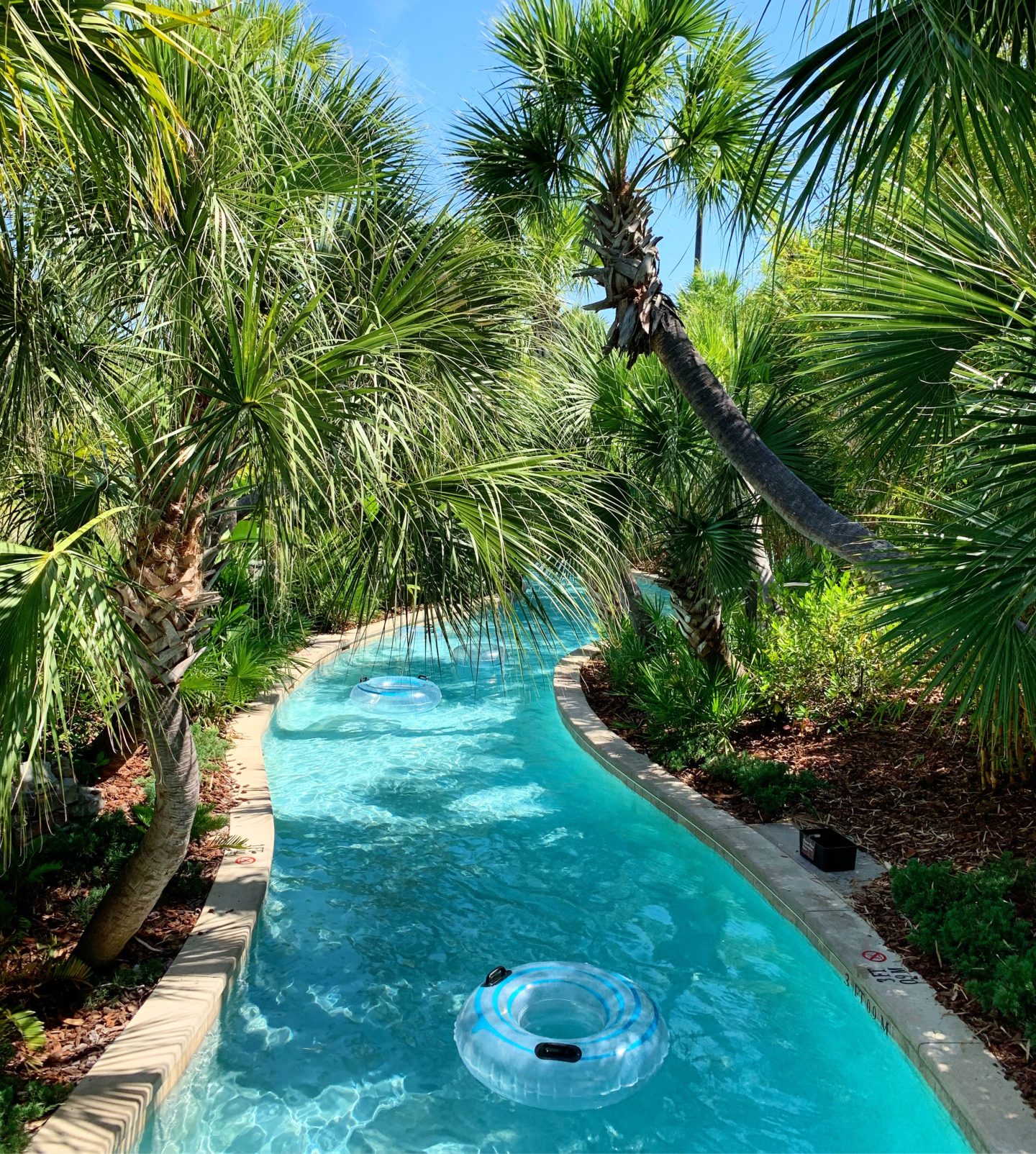 And now for some photos of Lola living her best life. Or #LivinLaVidaLola.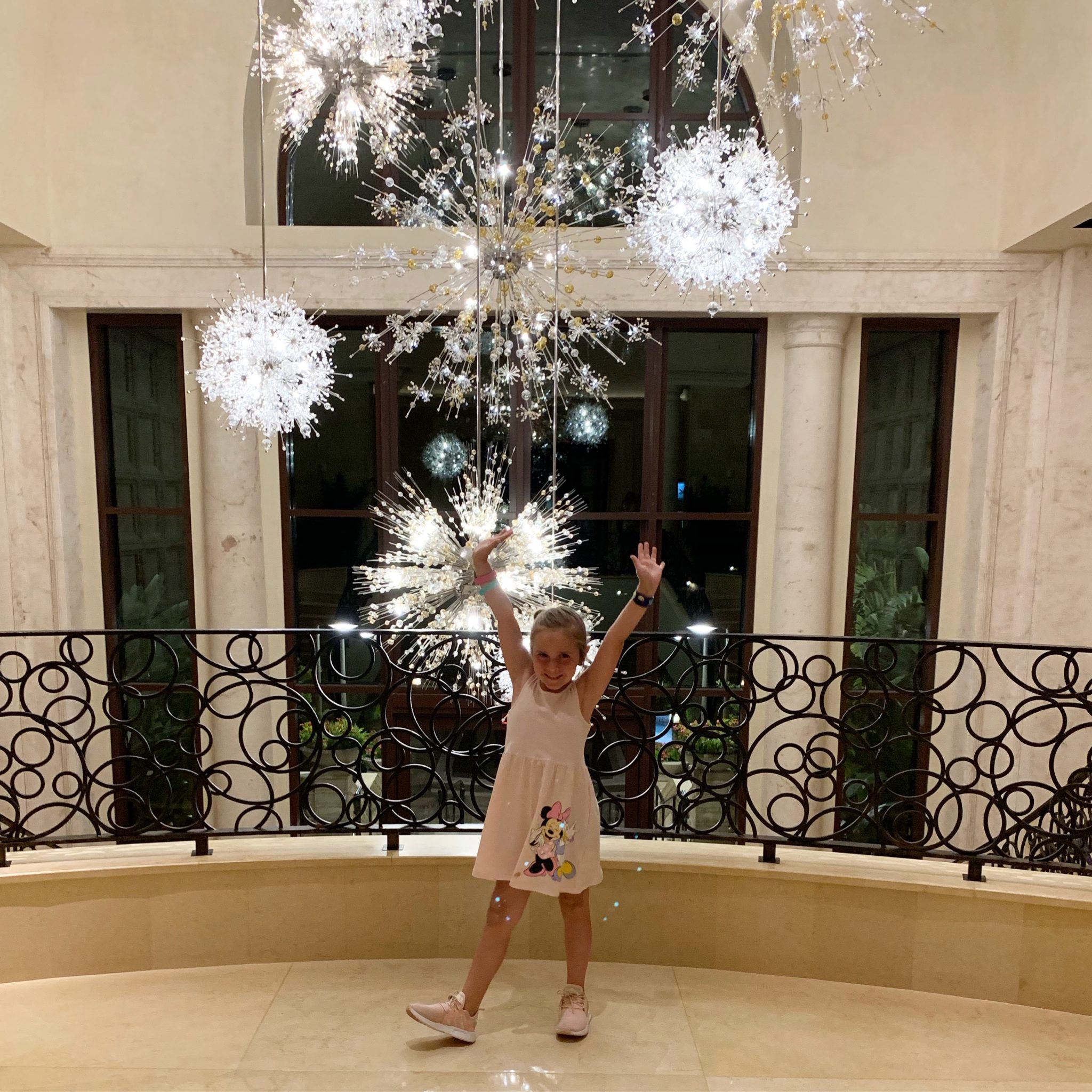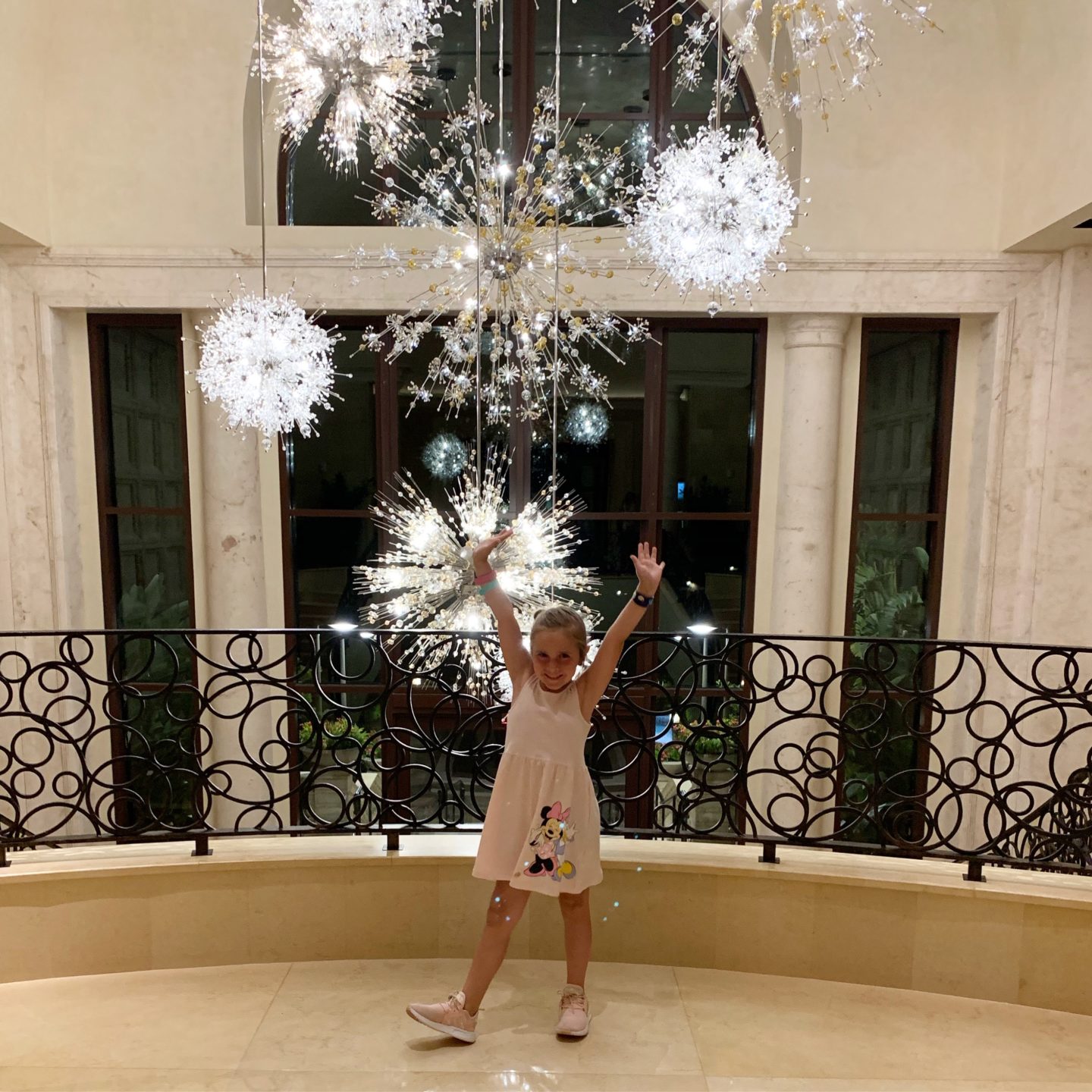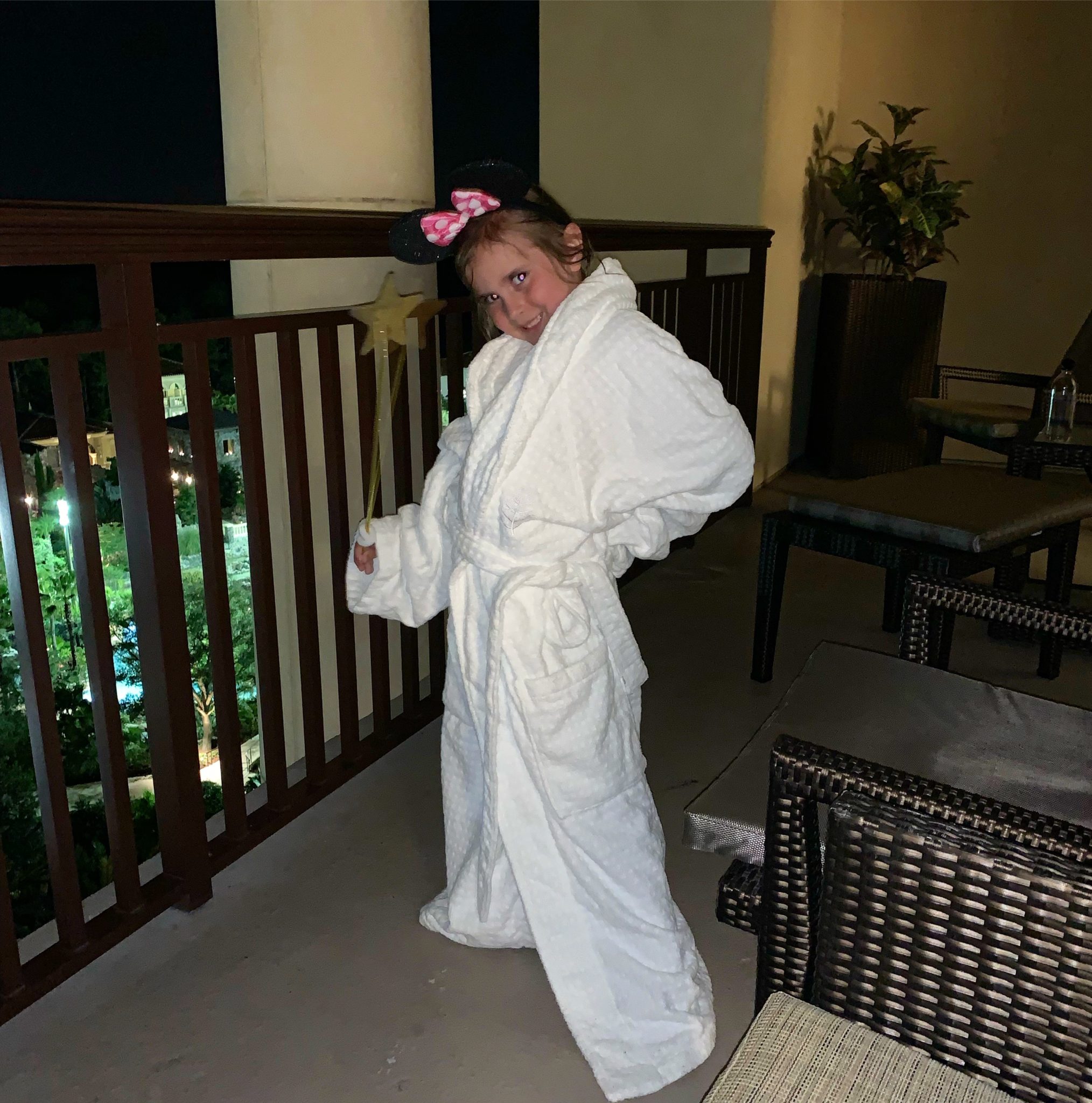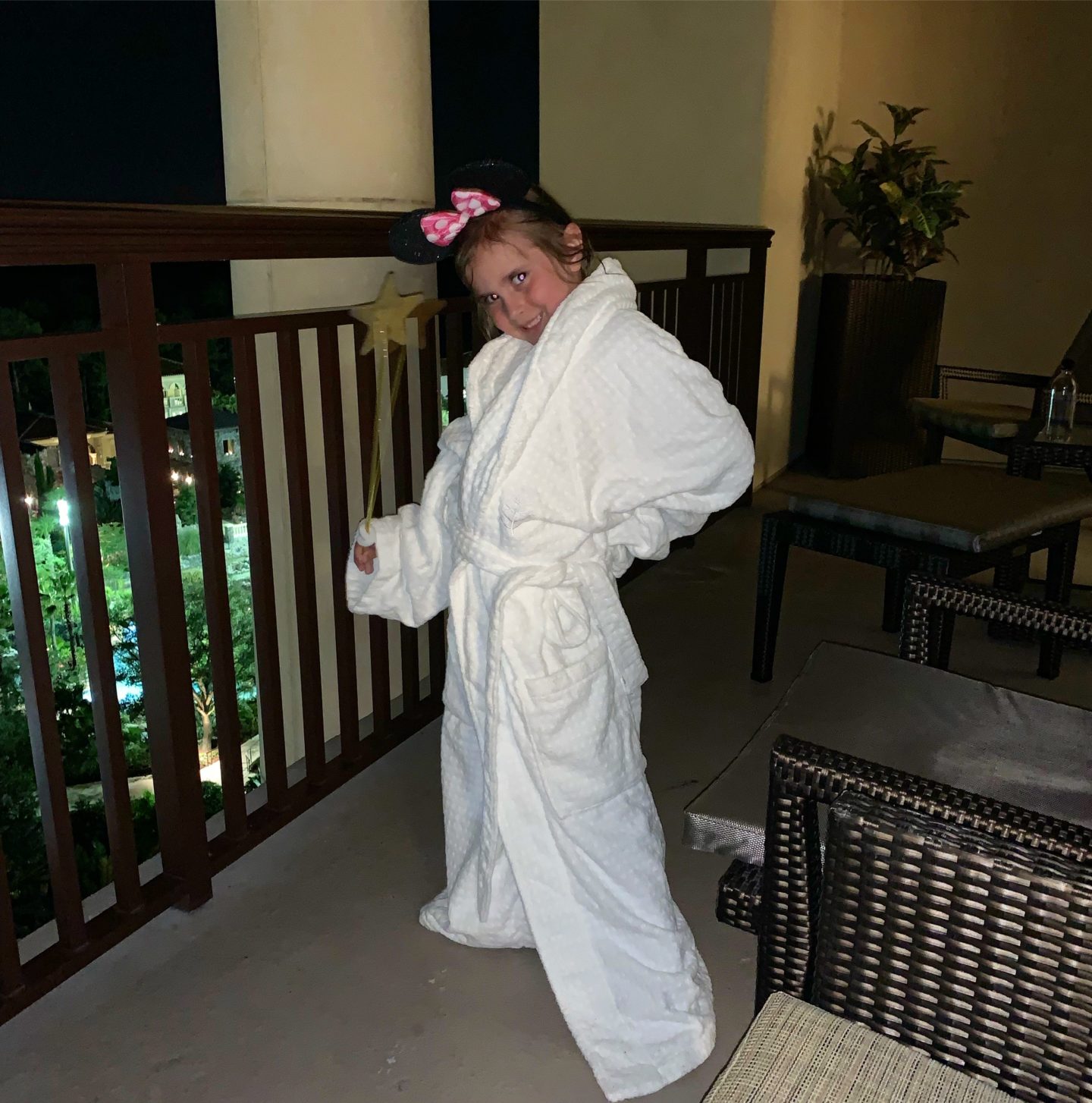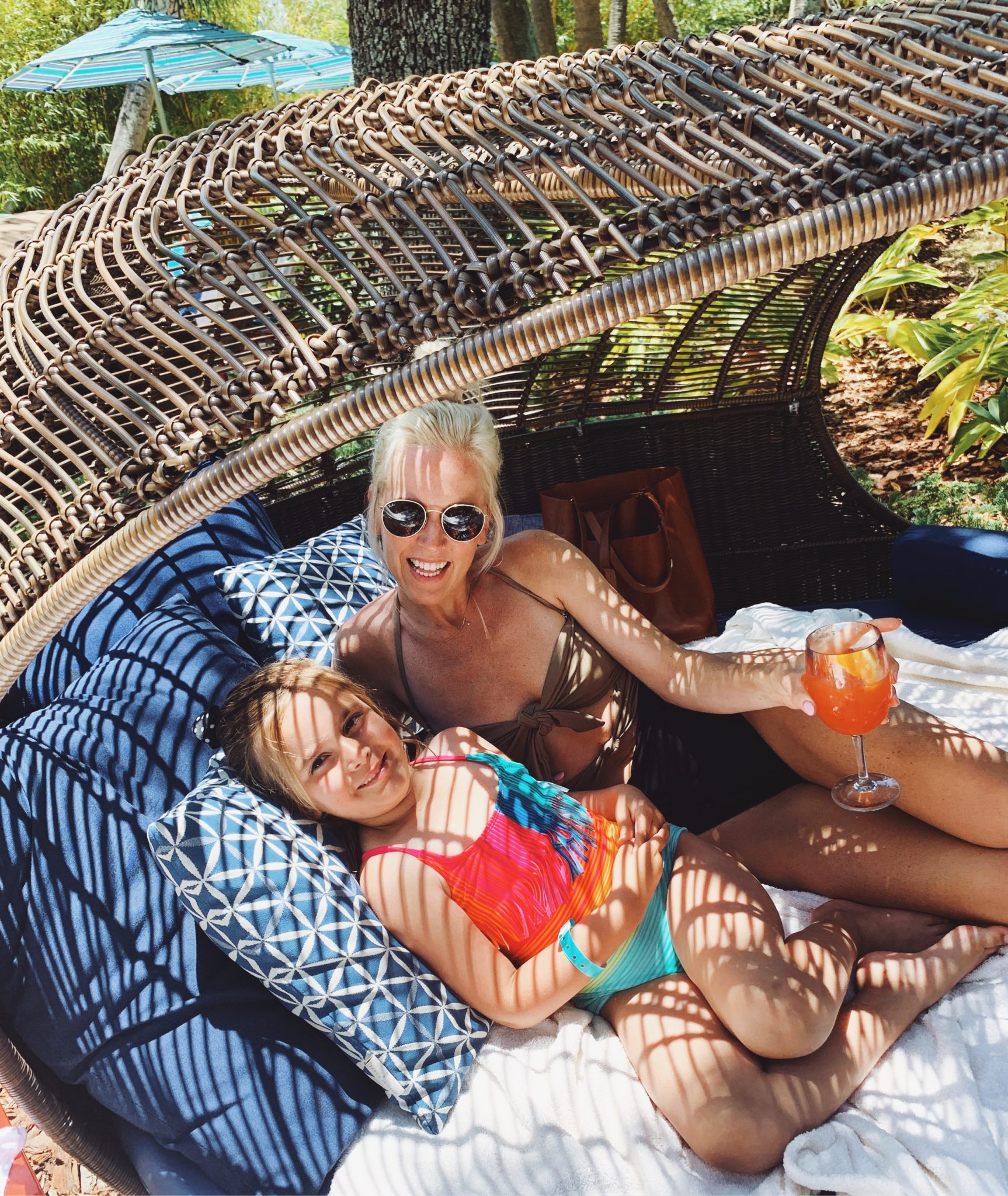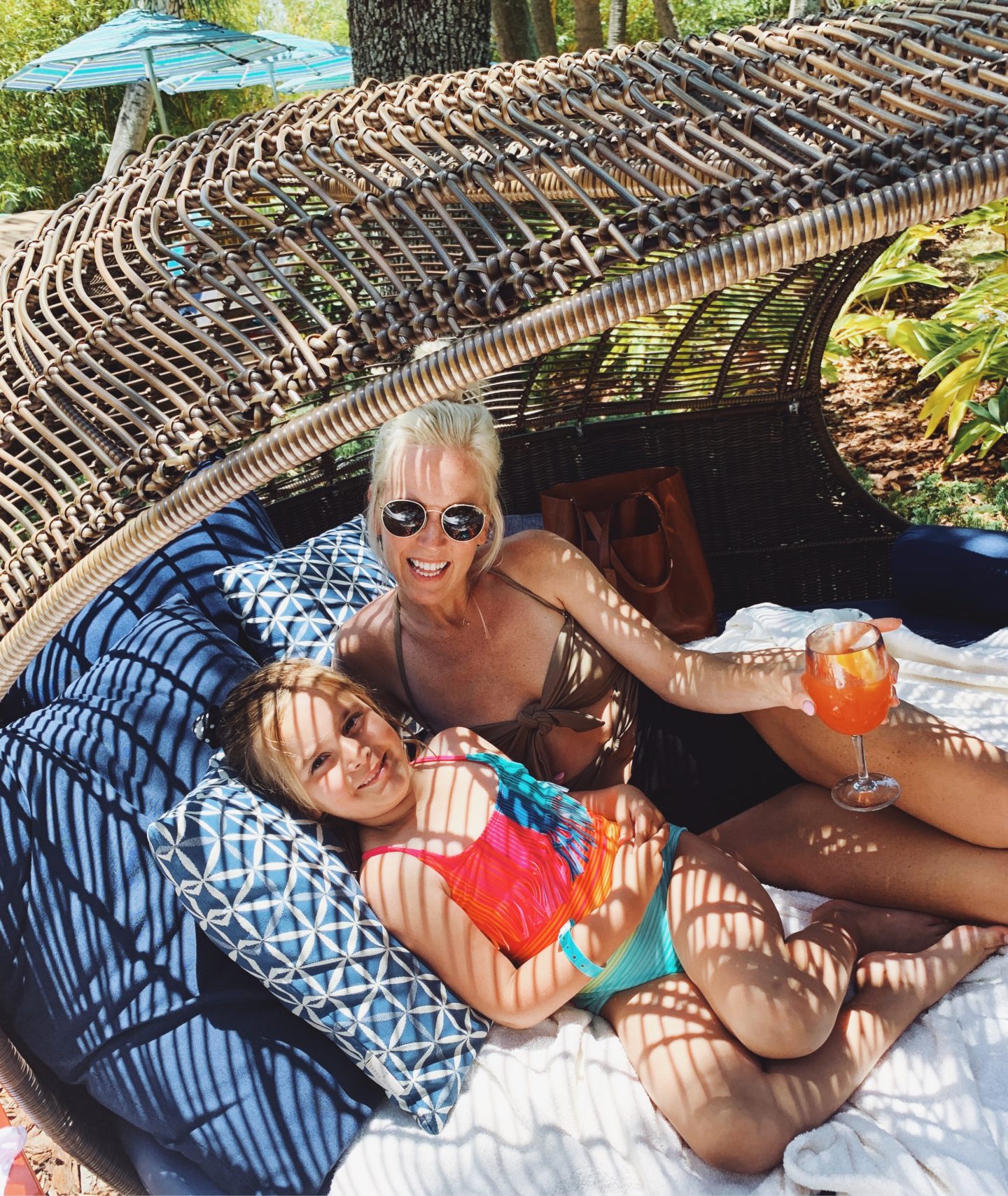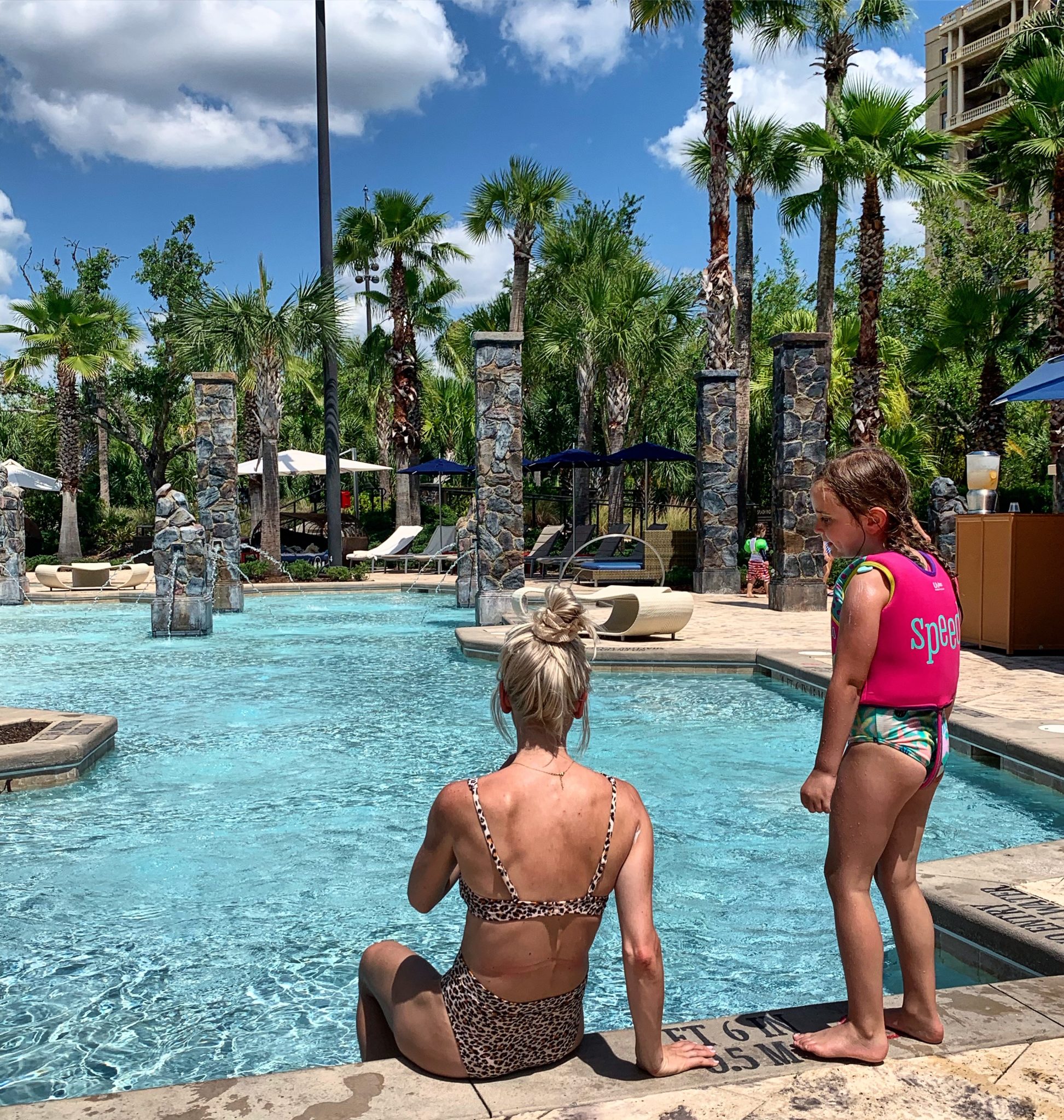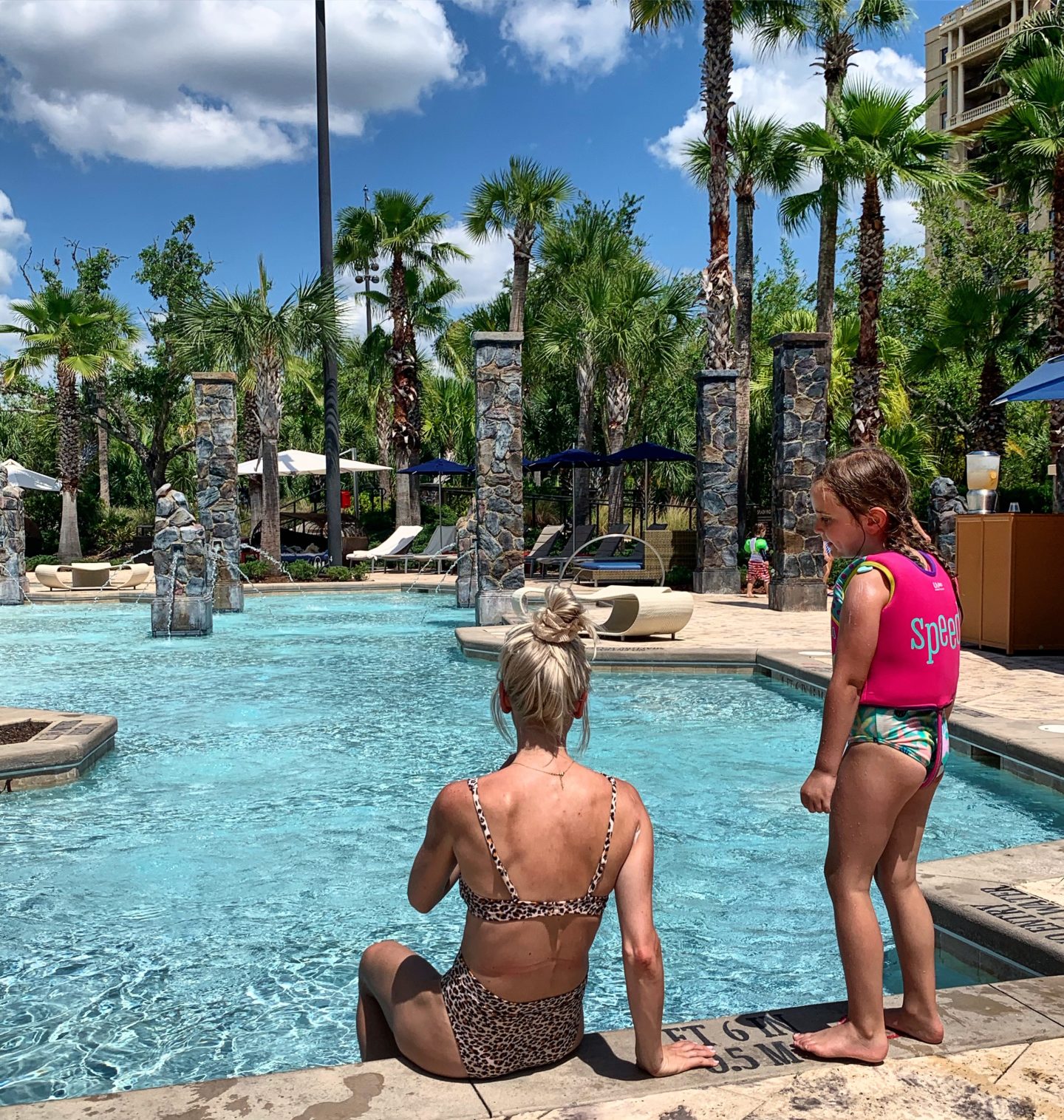 She was thriving. So was I! And no lines necessary 😉
In conclusion, it was a great trip even with a few hiccups. We should have planned better for the Disney stuff, but at least we knocked it out of the park with the resort we chose. If you want to make your first trip to Disney memorable, stay at a resort the kids won't ever forget (or the adults.)
And if you're headed to the parks soon and would rather leave the planning to the professionals, check out Traveling Ears. Next time, there is no doubt in my mind we'll contact them. I won't be fooled twice… Have any additional questions? Email me! Or if you have your own Disney tips and tricks tell me below!
The Happiest Place On Earth: as long as you plan well.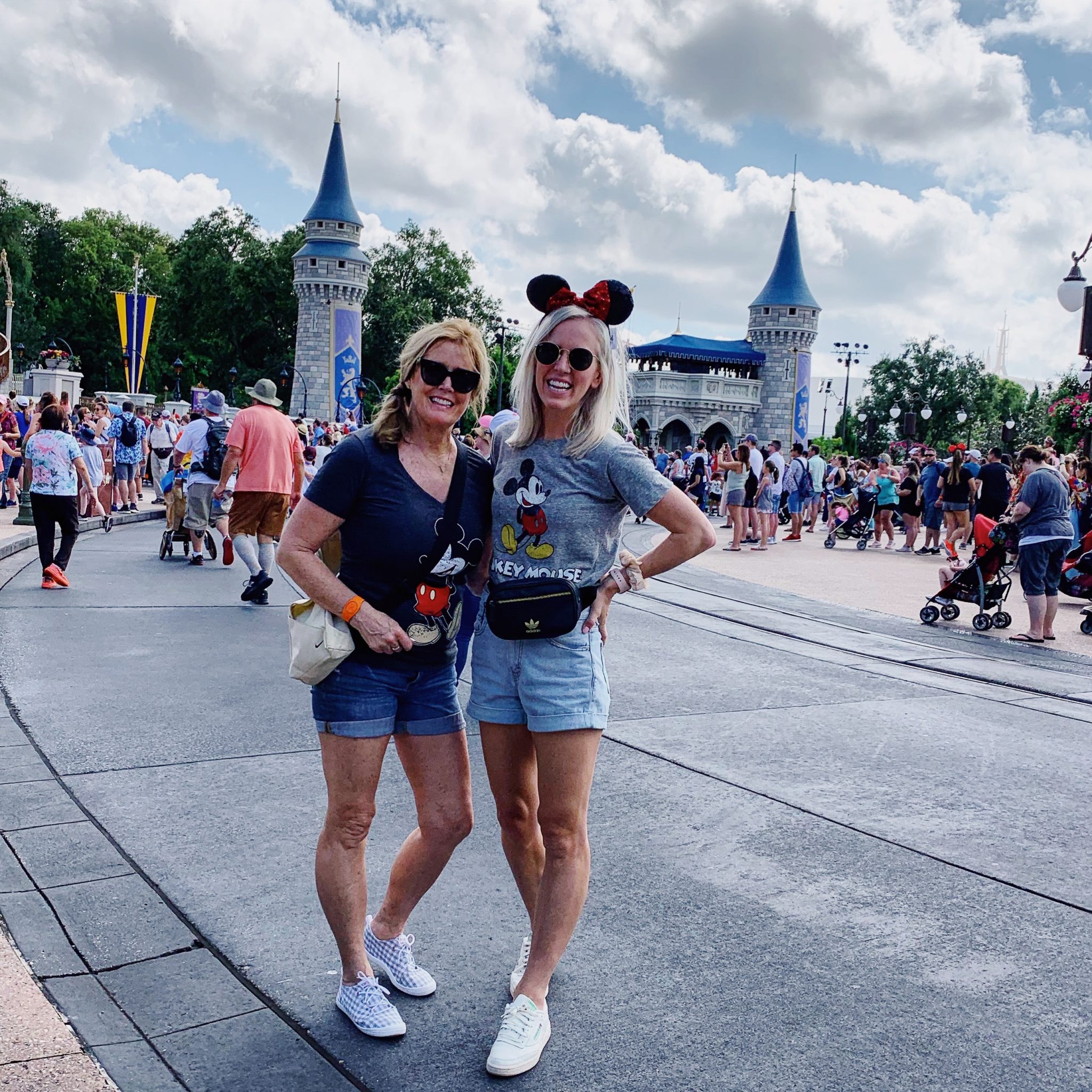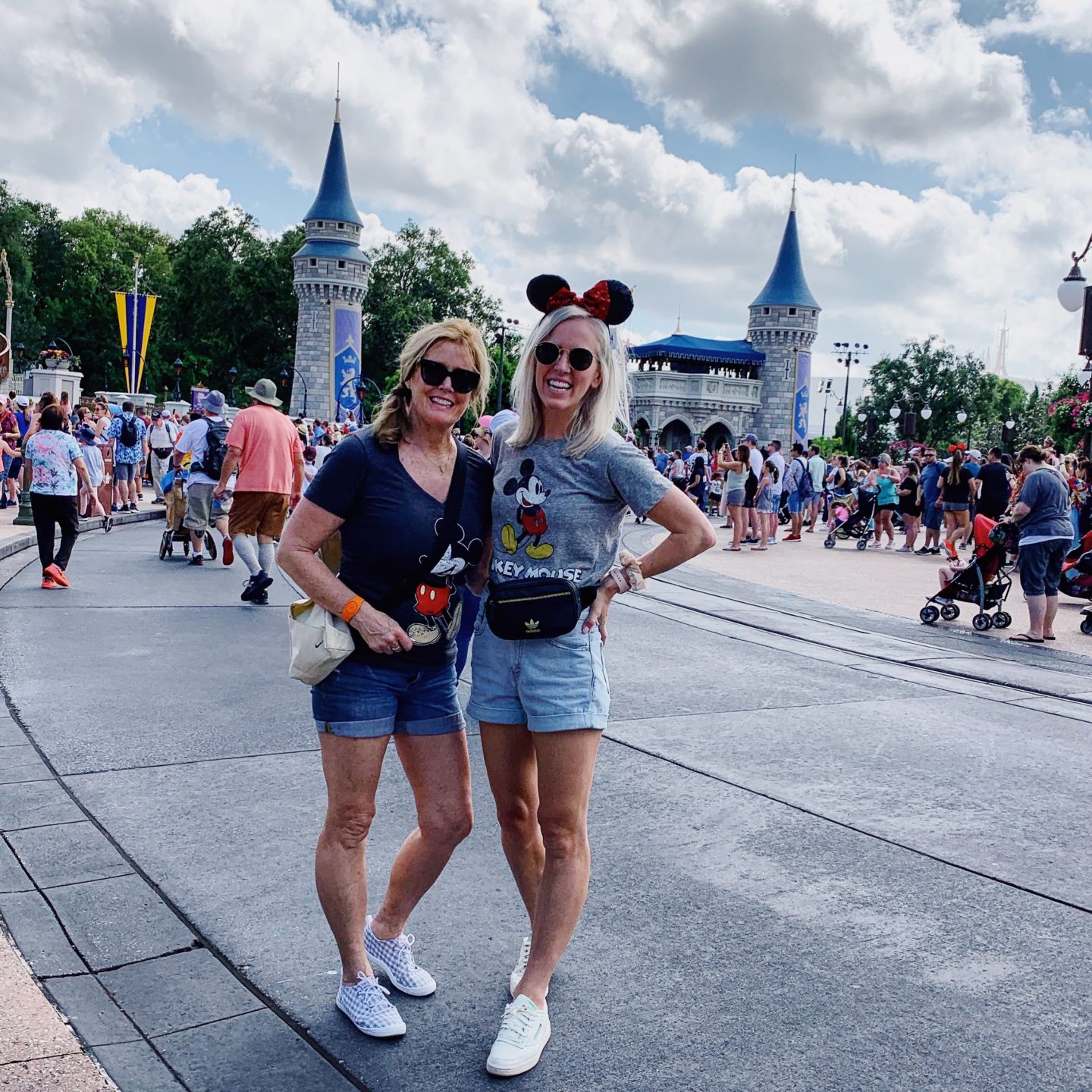 adidas fanny pack // mickey shirt // denim shorts