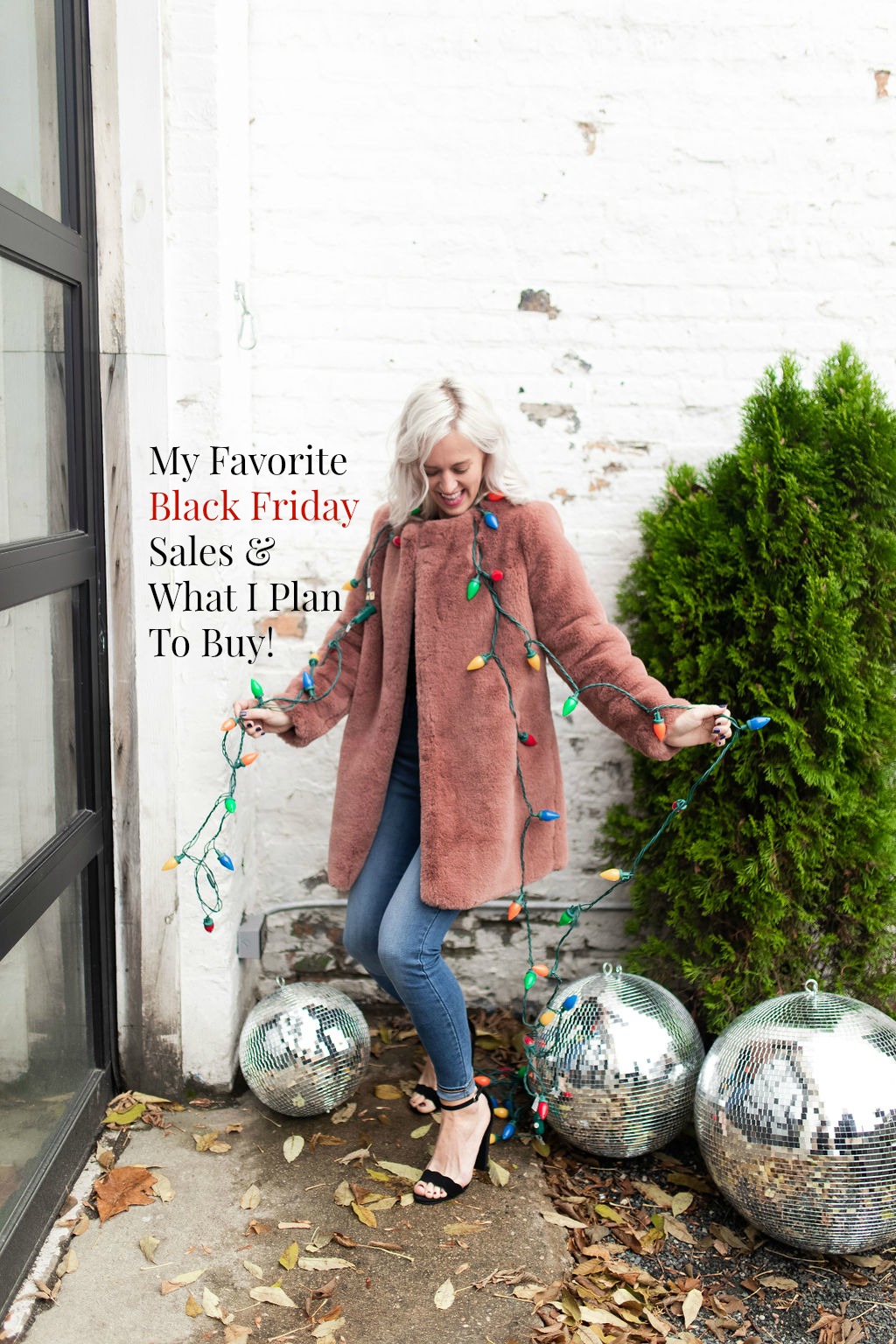 Abercrombie– 50% off EVERYTHING! Start with the coats, these fleece joggers, or these scarves.
*affiliate links used.

Alice & Wonder– Gifts under $15, $35, & $75. (Wearing head to toe Alice & Wonder in the image above! 🙂
Amazon– put on sweats, grab wine, and settle in. There is A LOT. I've got my eye on a Roomba, Ring Doorbell, and Kindle.
Ann Taylor– 50% off everything with code BLACKFRIDAY.
Anthropologie– I'll take all the sale candles, please.
Best Buy– deals on tablets, sound bars, earbuds and MORE!
Crate & Barrel– up to 30% off site wide. Hello, kitchen and bar gifts!
DSW- Up to $10, $20, or $60 off. Click here for my favorite booties!
J. Crew– 50-60% off with code SHOPFIRST. I LOVE this holiday clutch. I also suggest you snag some boots on sale. 🙂

Lululemon– SO MANY GREAT PIECES ON SALE! Start with this hoodie and these yoga pants. For menswear- Chris loves the shorts and joggers.
Madewell– 30% off with code SHOPWELL. I suggest loafers and if you want to splurge, this coat!

Nordstrom– updating their deals all week! When in doubt, go for the Herschel!
Pottery Barn– up to 40% off everything! Get this sherpa robe for everyone, I'm wearing it now. 🙂
Target– Up to 40% off seasonal and 25% off home.
TAYLOR WOLFE SHOP– heck yes I'm going to plug my own store. Use code BLACKFRIDAY2019 to take 20% off everything! *except stocking stuffers.
Ulta- So. Many. Deals. Click here, then scroll down to see them all.
Wayfair- Black Friday Blowout, up to 80% off! Time for a bathroom UPGRADE!
West Elm– up to 30% off with code SAVEMORE.
That's it FOR NOW! I'll be updating this post all week as more stores continue to announce their sales, so check back! 🙂