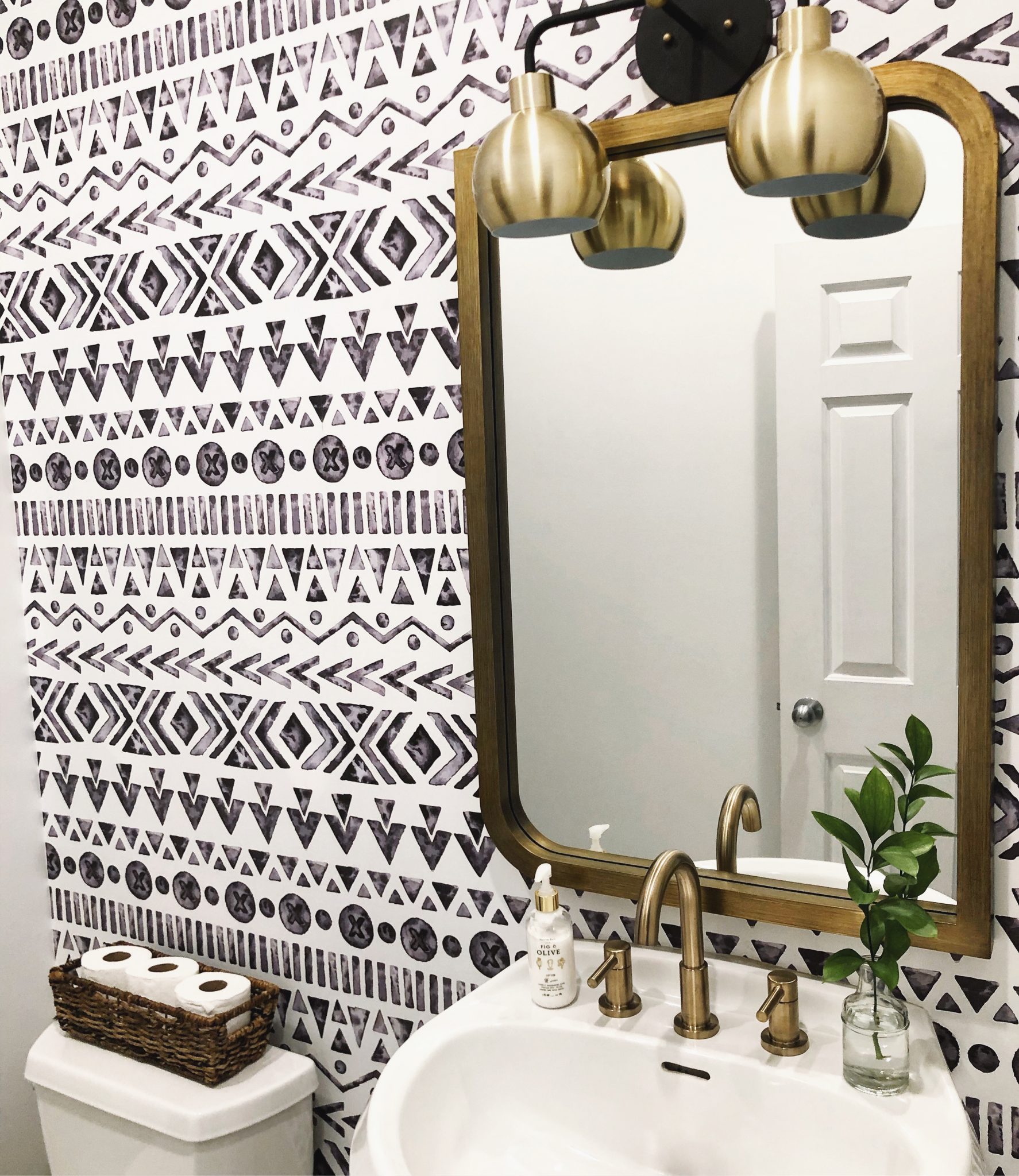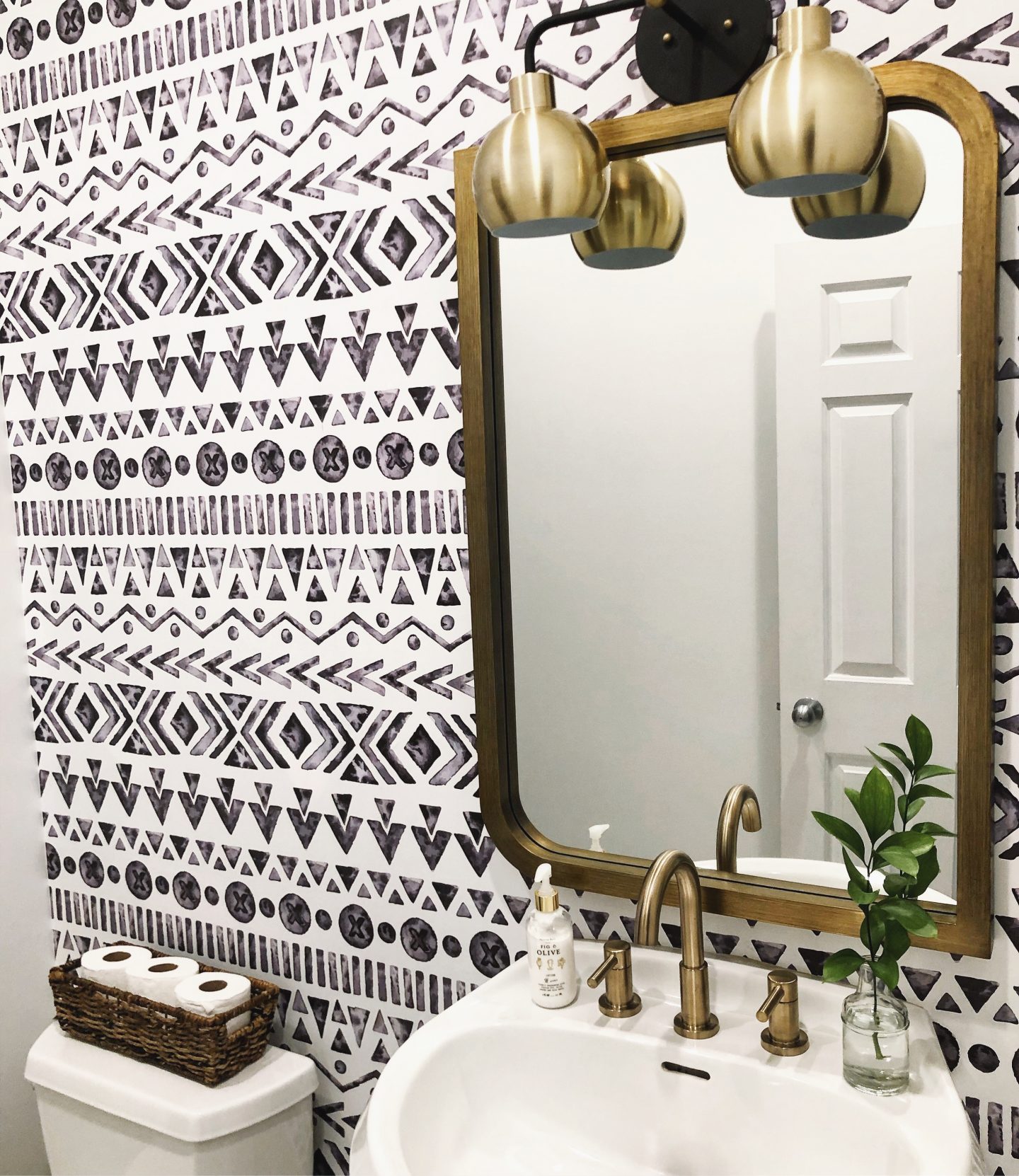 Ladies and gentlemen, we have an updated powder room! What a day to be alive, I know.
We started with a very bland room where we hung some crap on the walls and hoped for the best. The paint color was awful, the "decor" was worse, and I hated it from the second we moved in, but I eventually got complacent and I just lived with it. Anyone else know what I'm talking about?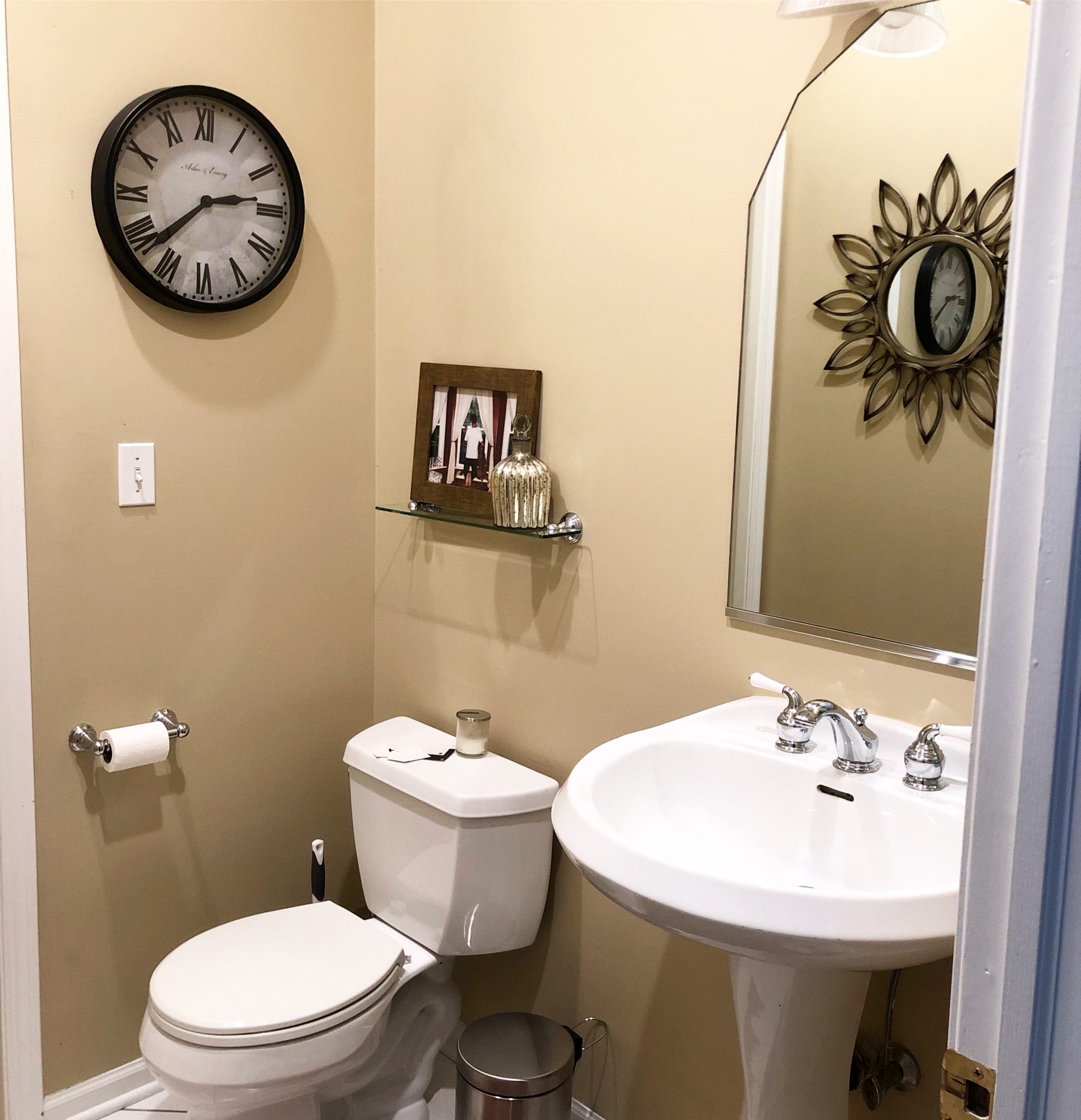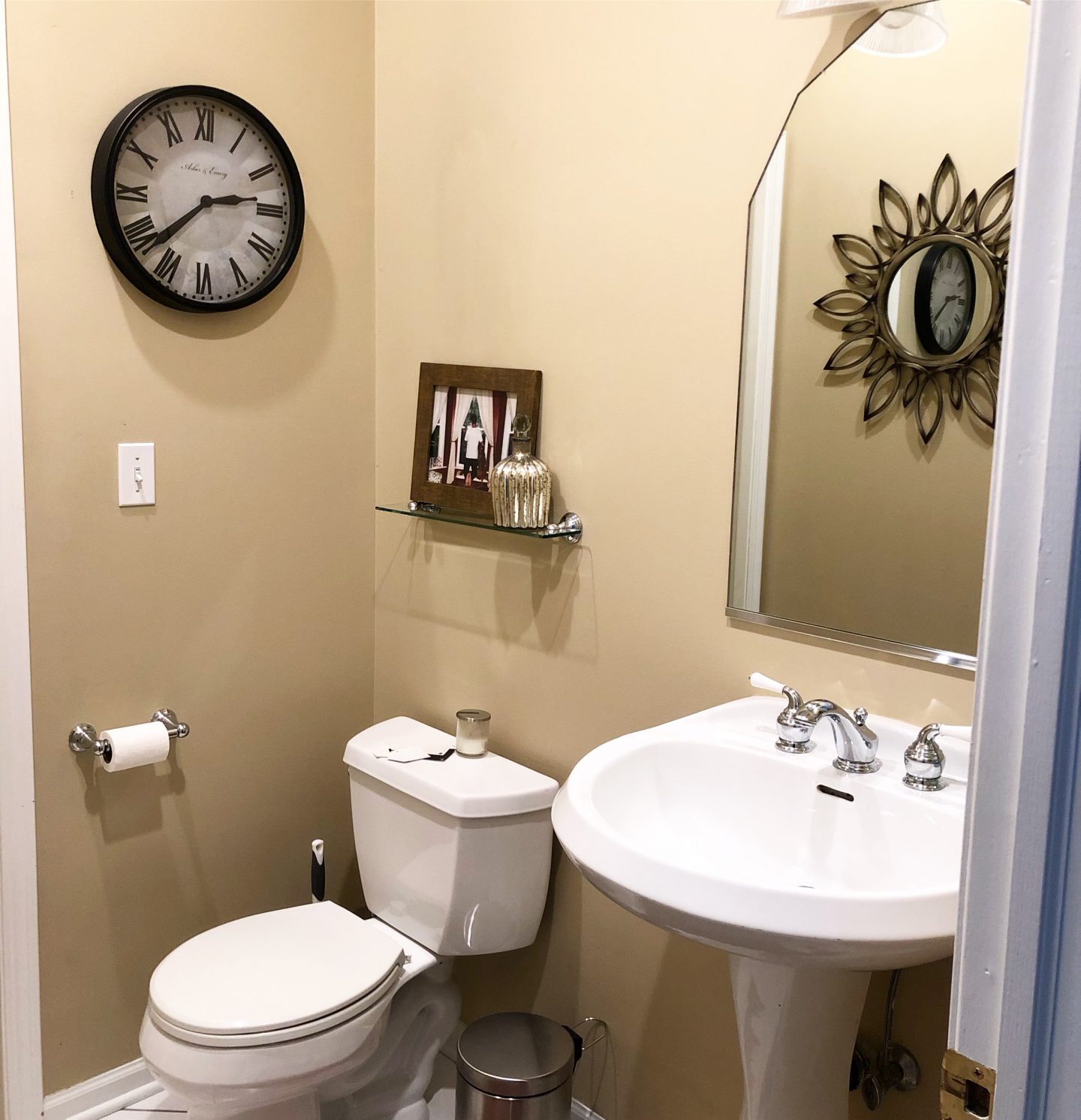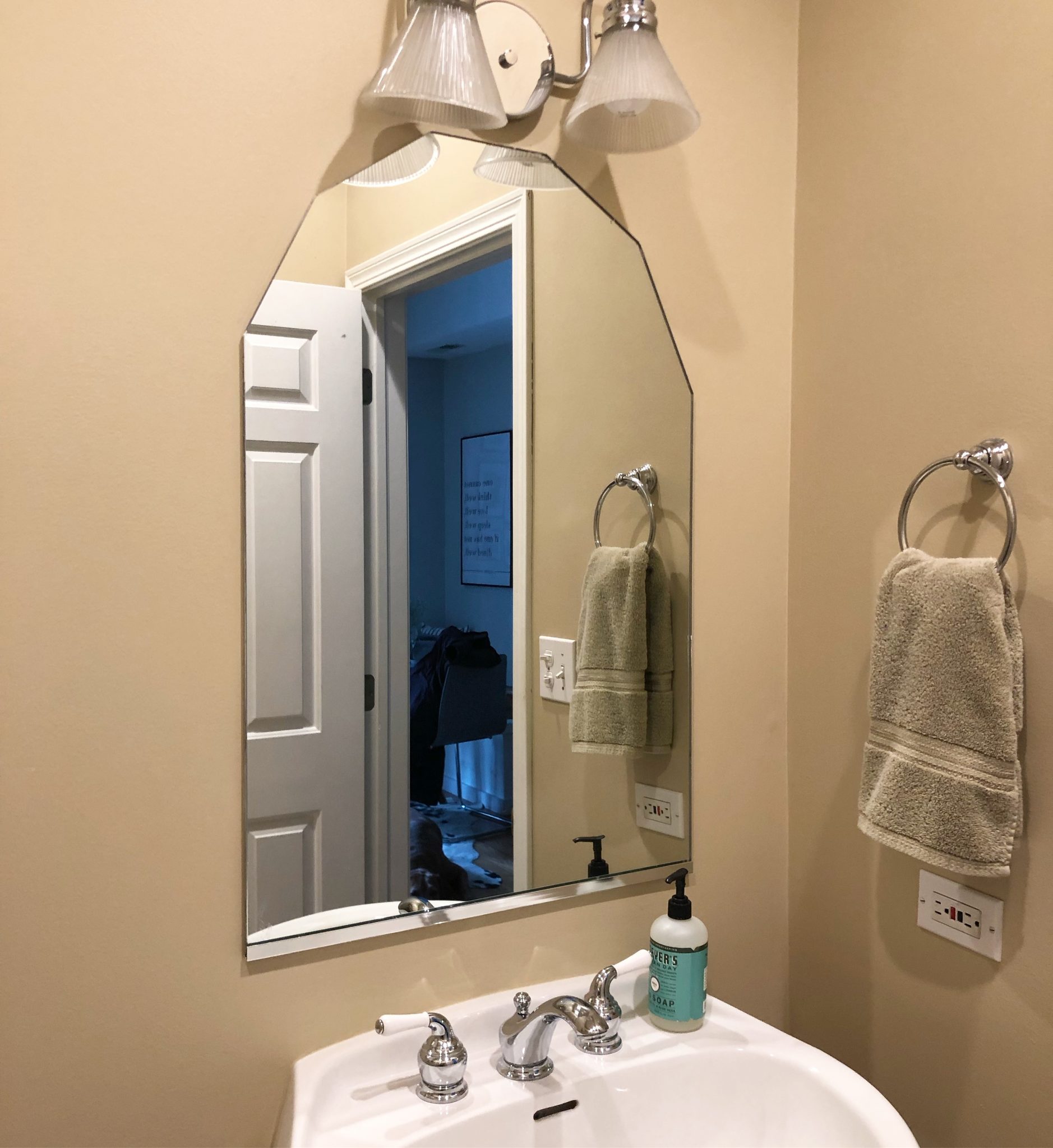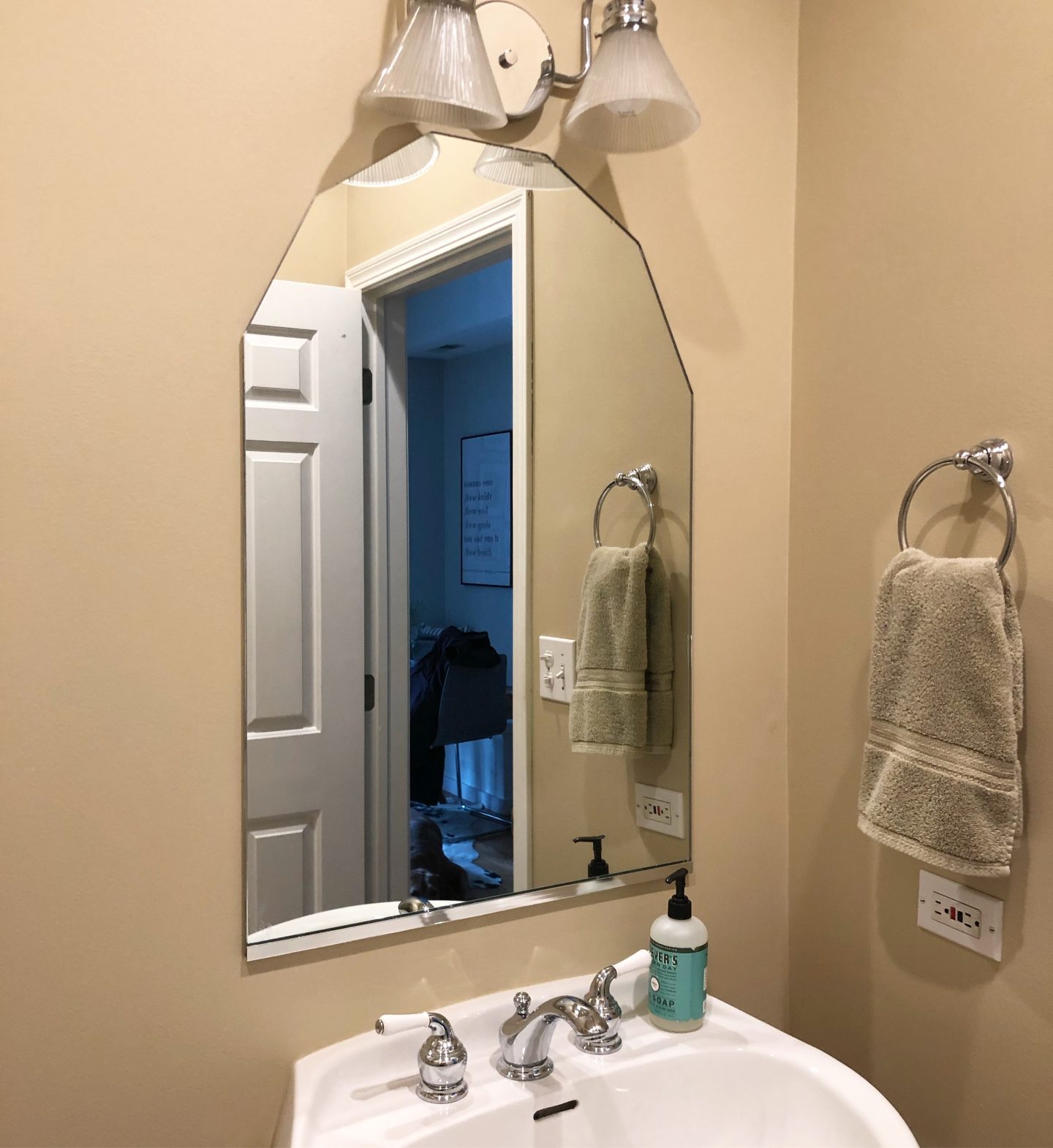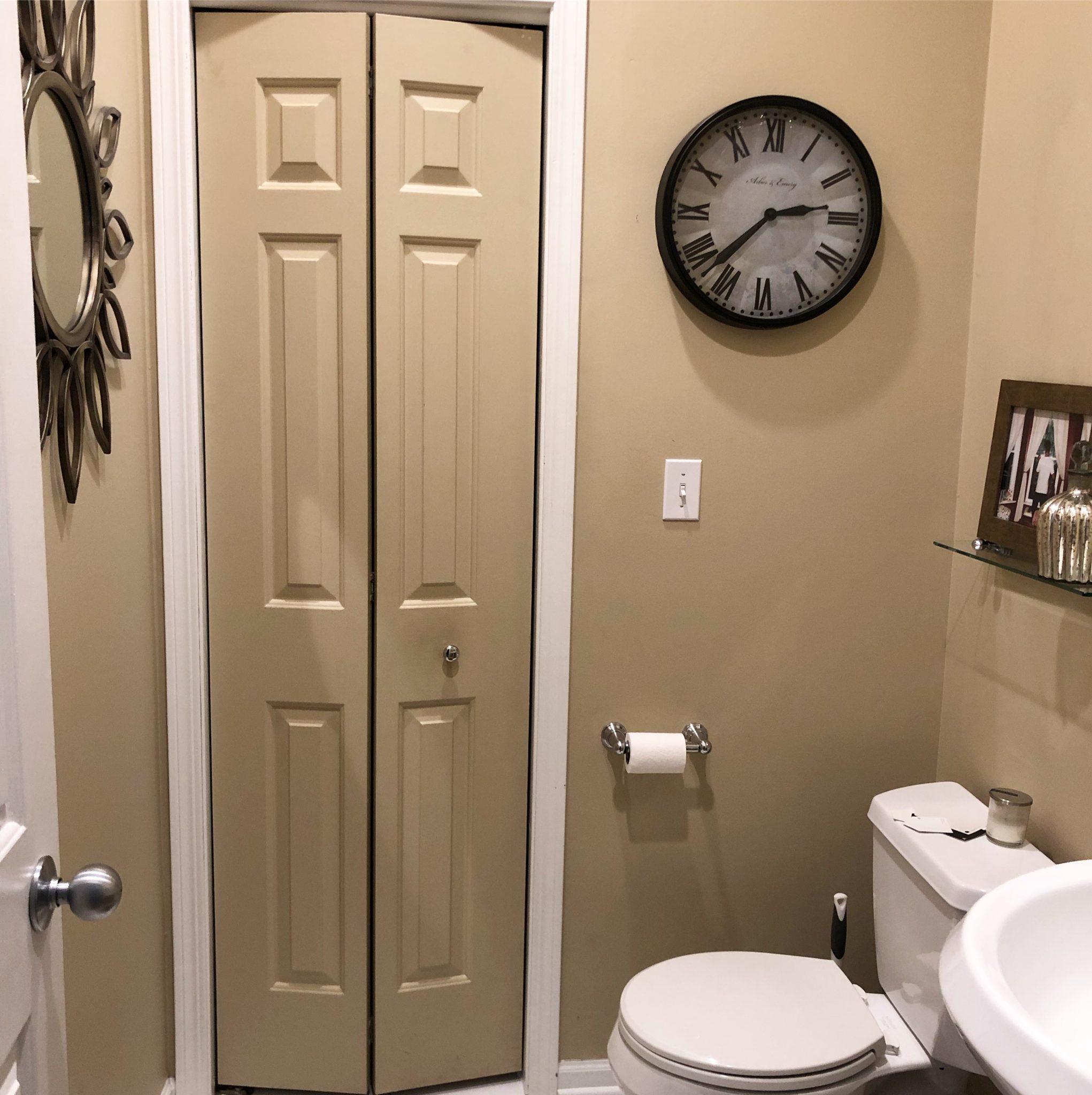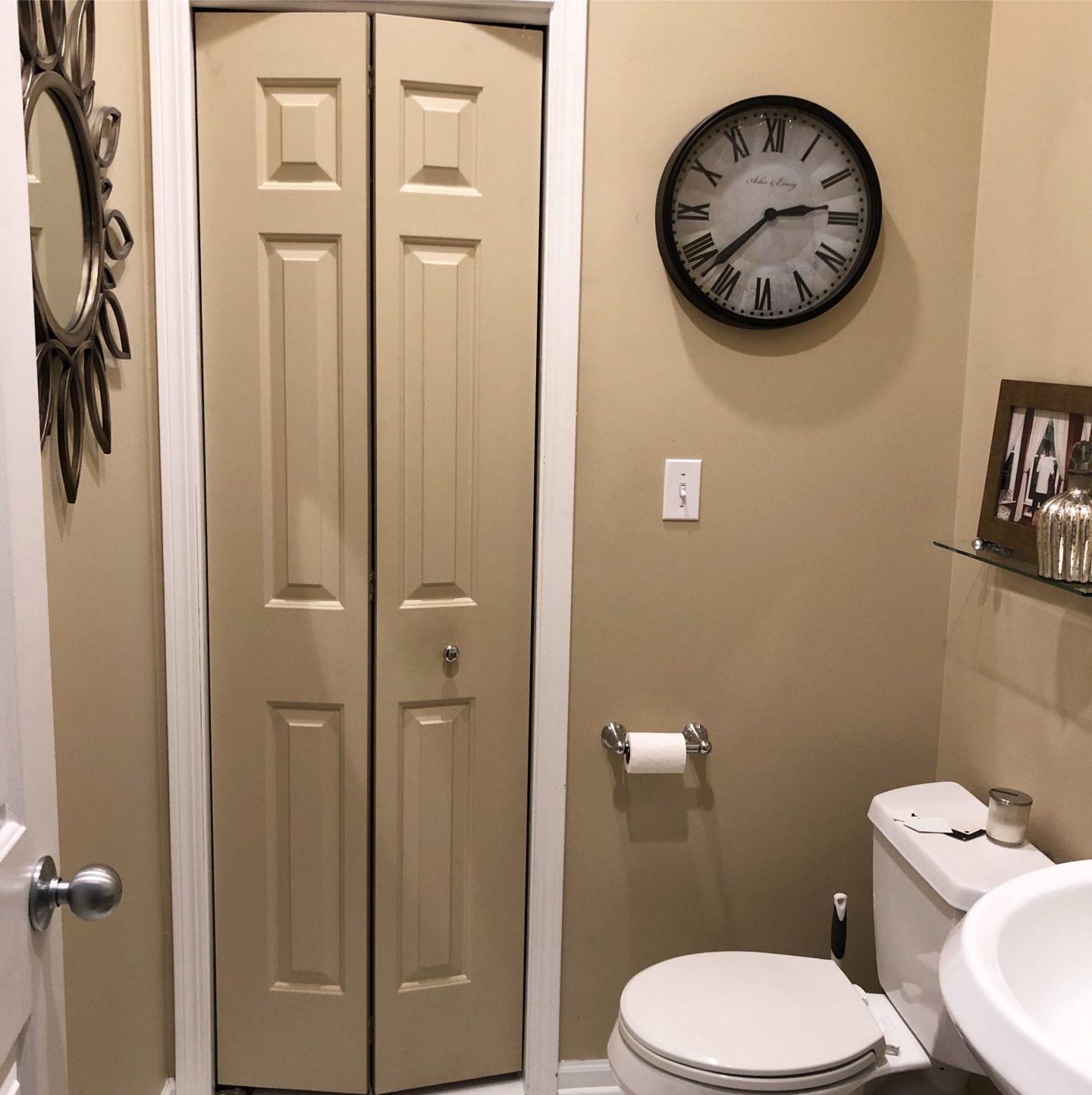 Until 2019 rolled around and I decided NO MORE.
I spend 99.9% of my day (and life) in this home so why not make every room a space I really enjoy? I've really started to like home decor more and more in the past 2-3 years so it's time to step it up, even with small changes like a little powder room update.
My first plan was this: keep it simple with new paint and new wallpaper. We're doing this on a budget, people!
Then I decided to add a new mirror and lighting.
But if I was adding a new mirror, why not a new sink too? And flooring. And a toilet. WHY NOT?
Why not? Because money, that's why. Did you not hear me say budget up above? My first plan of "keeping it simple" escalated a few thousand dollars in no time and I was spiraling.
And so I scaled it back down once again.
Wallpaper, paint, mirror, and lights.  Easy peasy. (And maybe a few accessories.) 
Rather than a new sink (ours was perfectly fine, anyway) I just added a new brass faucet. Then I ditched our old silver toilet paper holder and towel ring and found some cool brass options here. Target also has a nice selection!
We found our wallpaper on Etsy. The designer/seller was so helpful and answered all of my annoying questions- being the wallpaper novice that I am. She even suggested we paint our closet door black and I'm so glad we did!
*affiliate links used.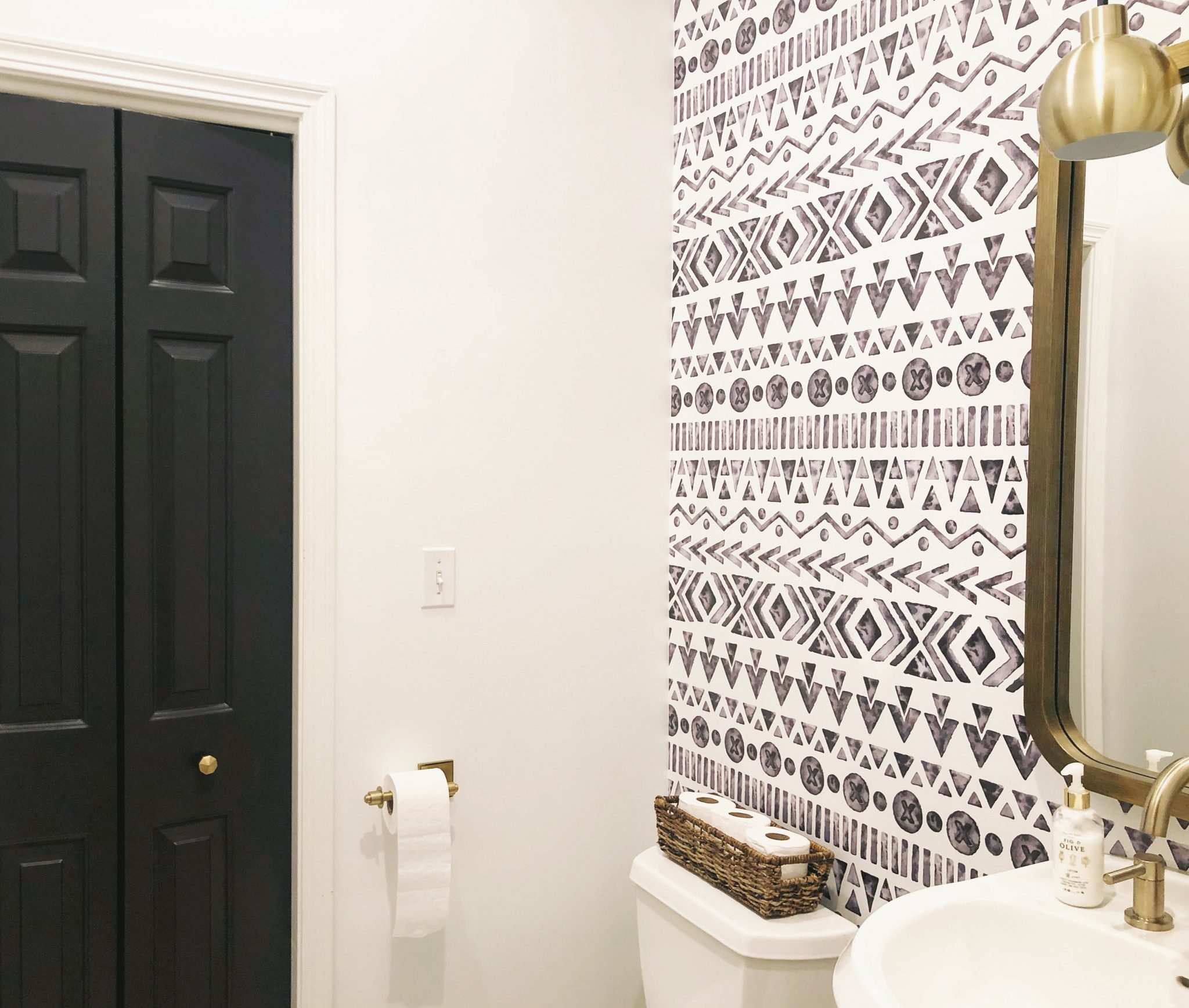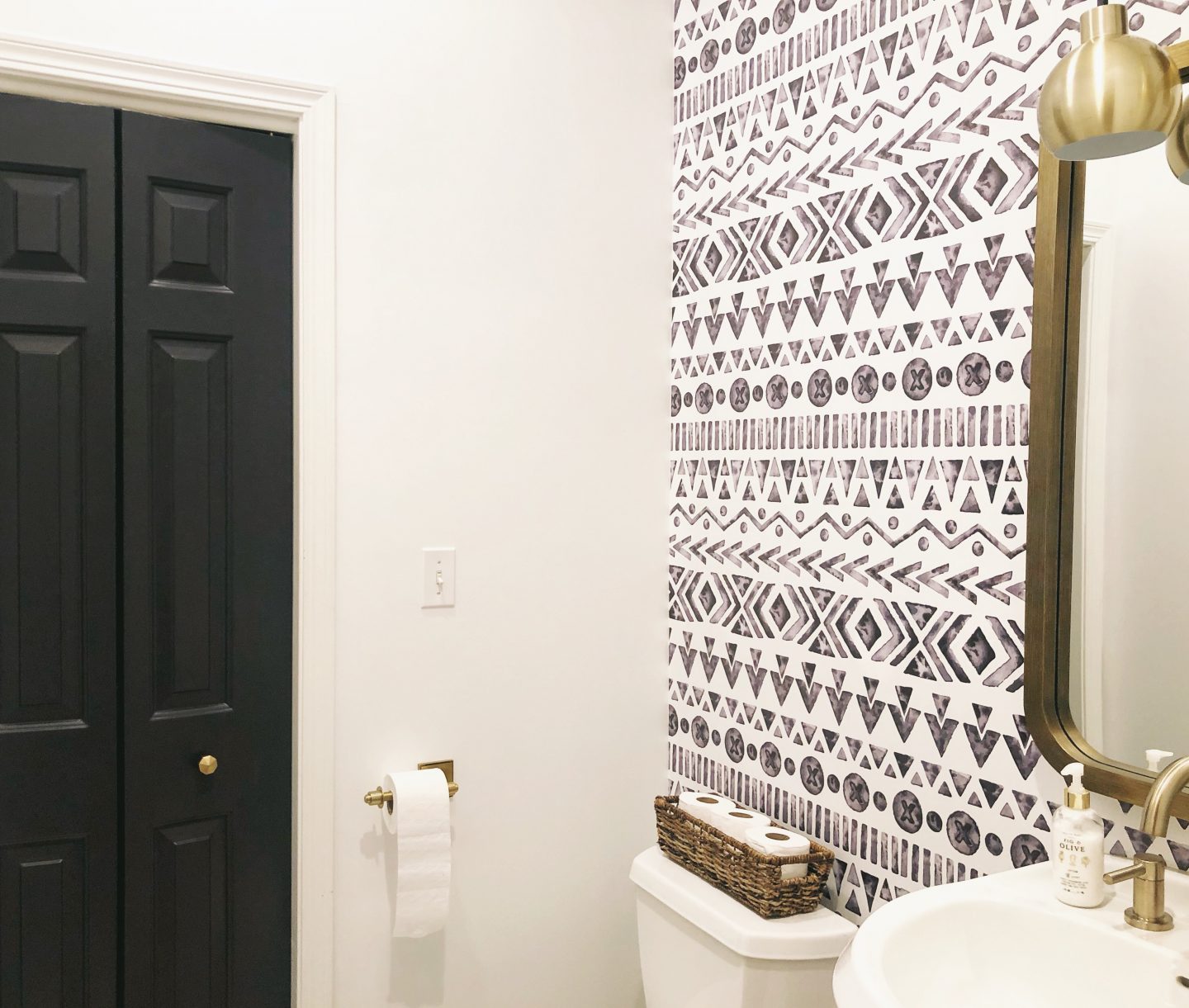 *On second thought- I'm not a complete wallpaper novice given that a large majority of my childhood was spent scraping wallpaper off walls because I grew up in an older home in the 90s.* 
For more wall paper options check out Wayfair and Crate & Barrel.
The paint color on the door is Bohemian Black by Valspar. The wall color is Eggshell by Sherwin Williams. (Both purchased at Lowe's.)
We found our lighting and mirror at Shades of Light. This is a new company to me but I was very pleased with the product and how quickly it shipped!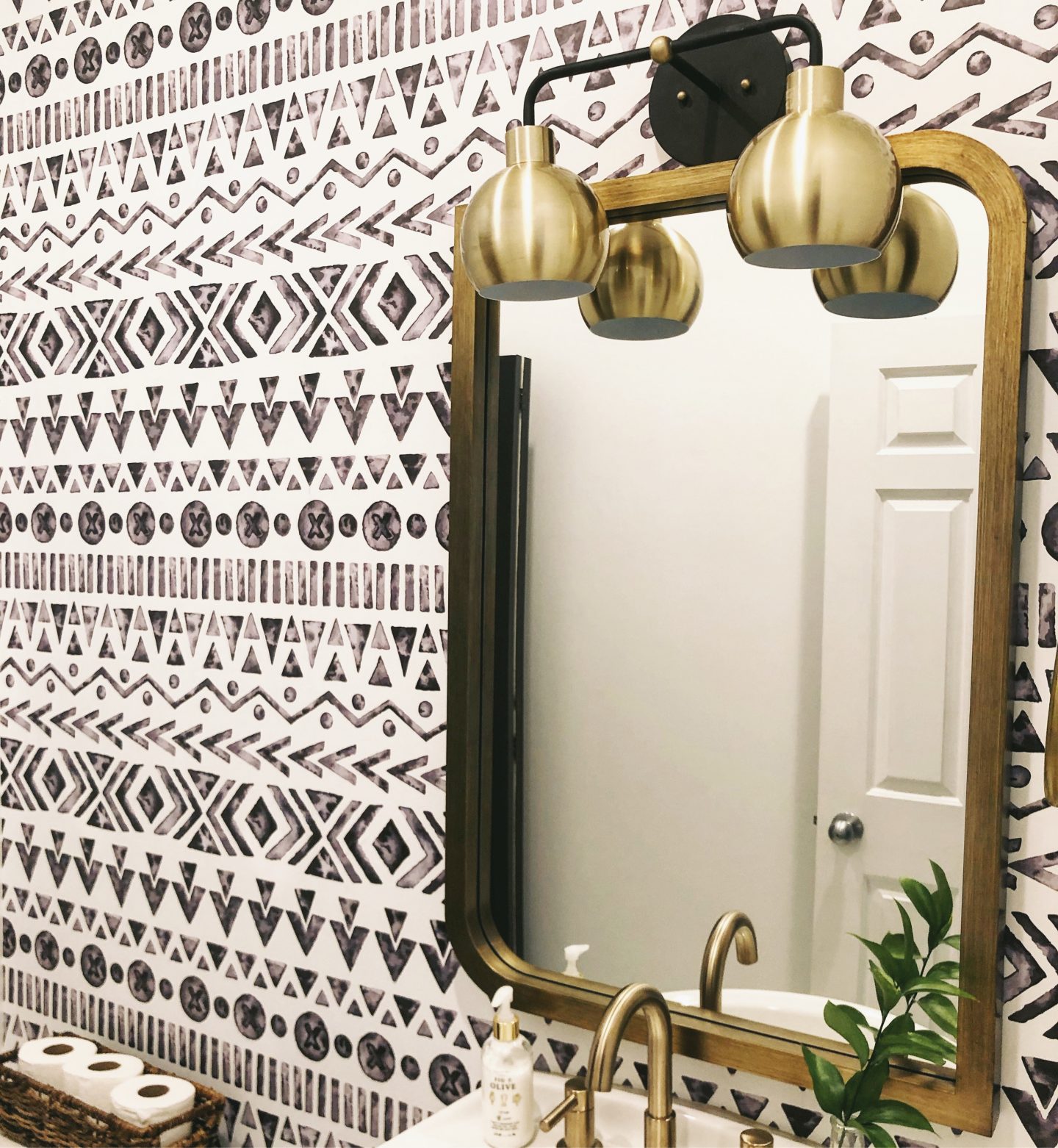 I also love this mirror, but I already have it in two other rooms in our house so it seemed a little excessive. Hayneedle is also a great place to look for fun accent pieces. And I picked up the hardware on the closet door, wicker basket, and a small vase (holding the greenery) from World Market.
I'm still looking for a bathroom rug… if you have suggestions, send them my way 🙂 And maybe a cute hand towel because I am LIVING.
I'd show you more photos but that's really all I've got (it's a small room)… it was a challenge just to keep myself out of the mirror pic. And I think you get the idea. It's a bathroom, what more can I show?
As for actually applying the wallpaper and painting the door, I ended up hiring someone. I panicked. Some people are really good at attention to detail and making sure things look nice, but I am not that person. I paint like a sloppy toddler and I can't match a seam to save my life. To each their own. If you're in Chicago and want the name of my guy, email me 🙂 He was great.
On that note, I've got some t-shirt emails to send. Stay warm, fellow Midwesterners. We're in for a blistery week.