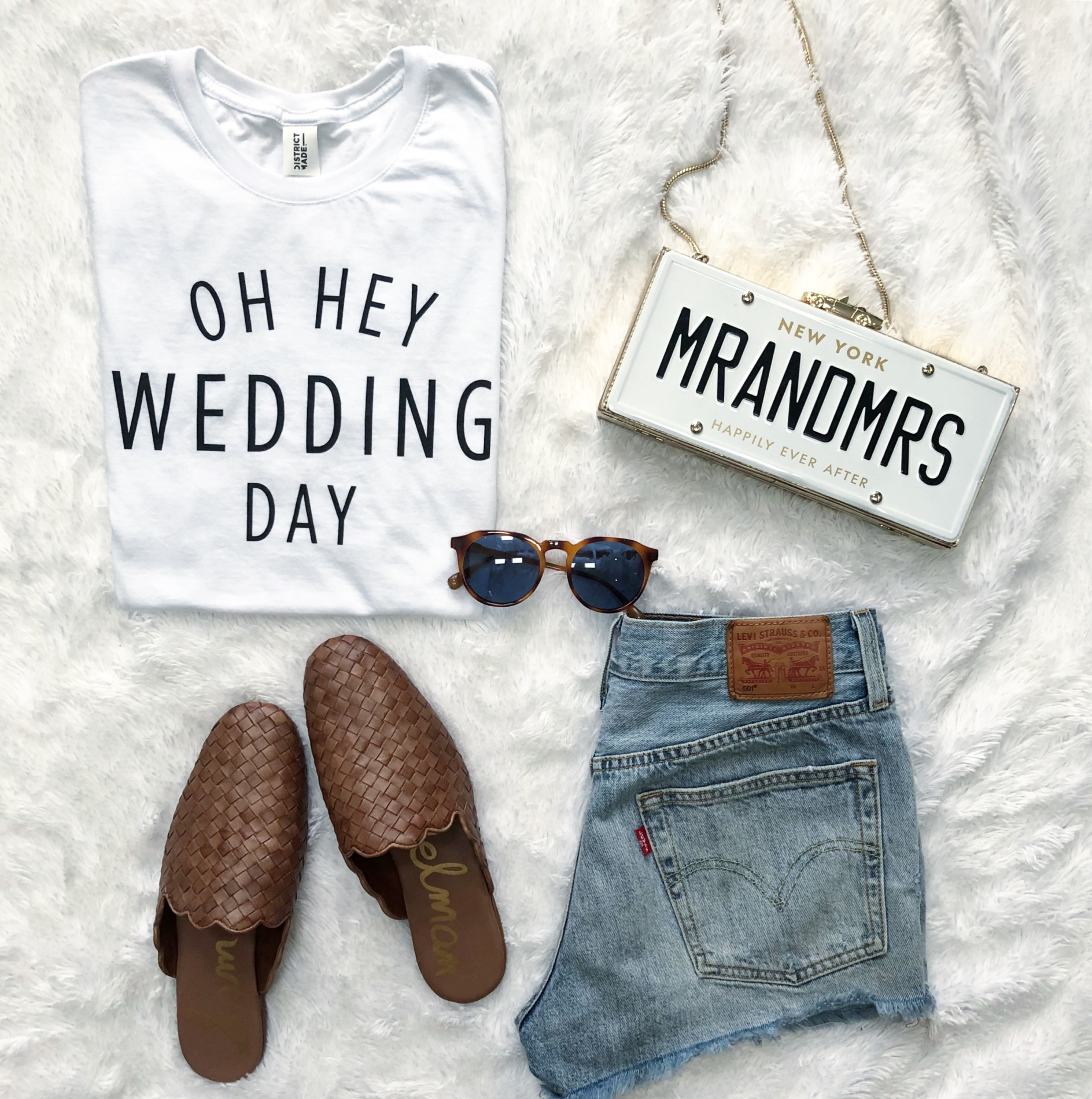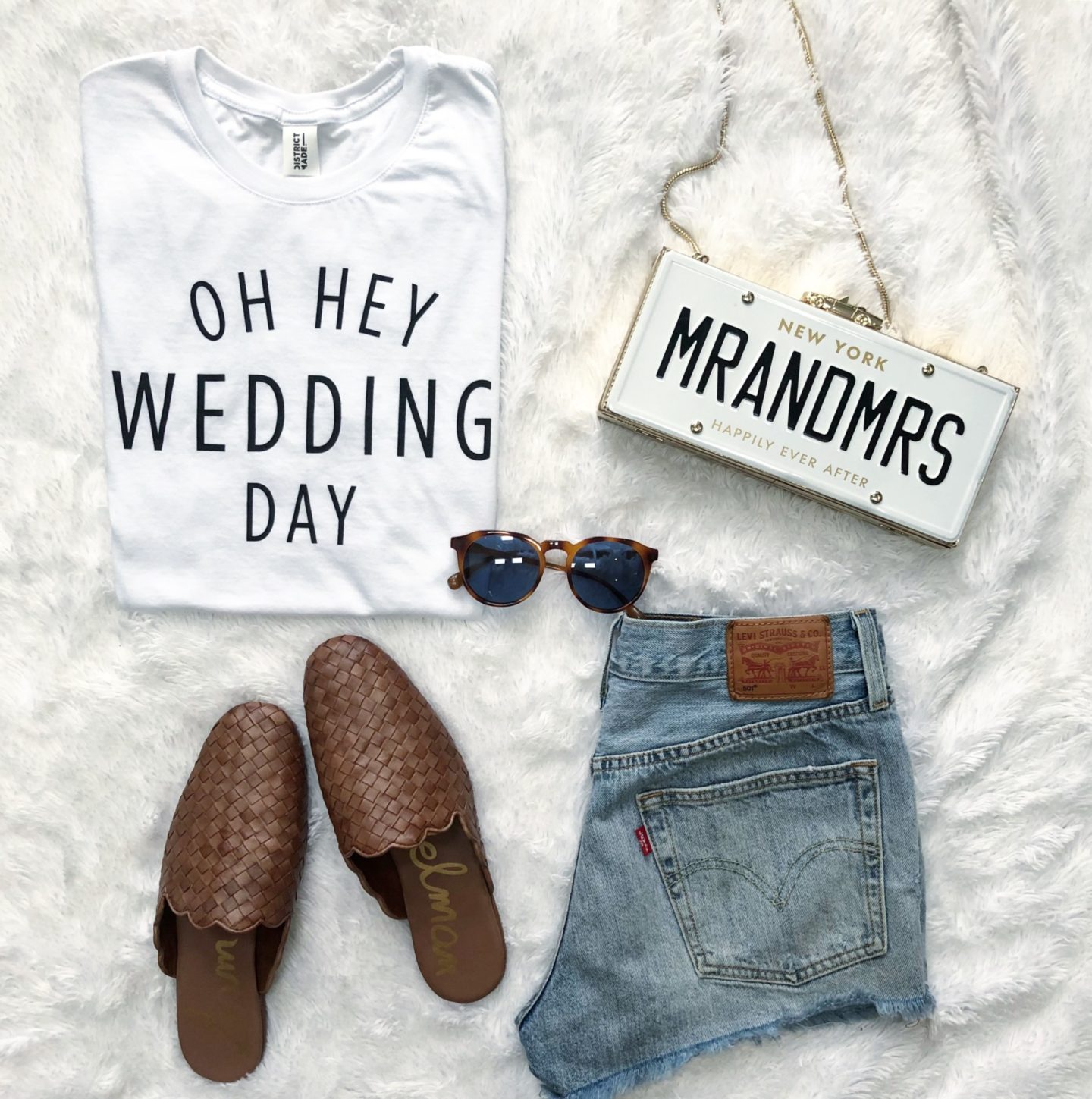 Wedding. Season. Is. Here.
We leave today for one in Houston, next week it's Scottsdale, and the following weekend it's Palm Springs. As a big fan of wedding fun and all that it entails, I'm so excited. Would I have preferred that all of this warm fun started roughly two weeks ago when it was snowing and miserable here in Chicago? Yes, perhaps. But then again, I suppose these weddings aren't entirely about me, so I'll take what I can get.
I created my first wedding tops, the Married AF shirts, back in January of 2016 because I was in search of shirts for our own wedding and couldn't find any that I liked. Here we are more than two years later and I decided it was way past time to give my wedding line a little update- thus we have a few new shirts popping up that I am really REALLY excited about! 🙂 🙂 🙂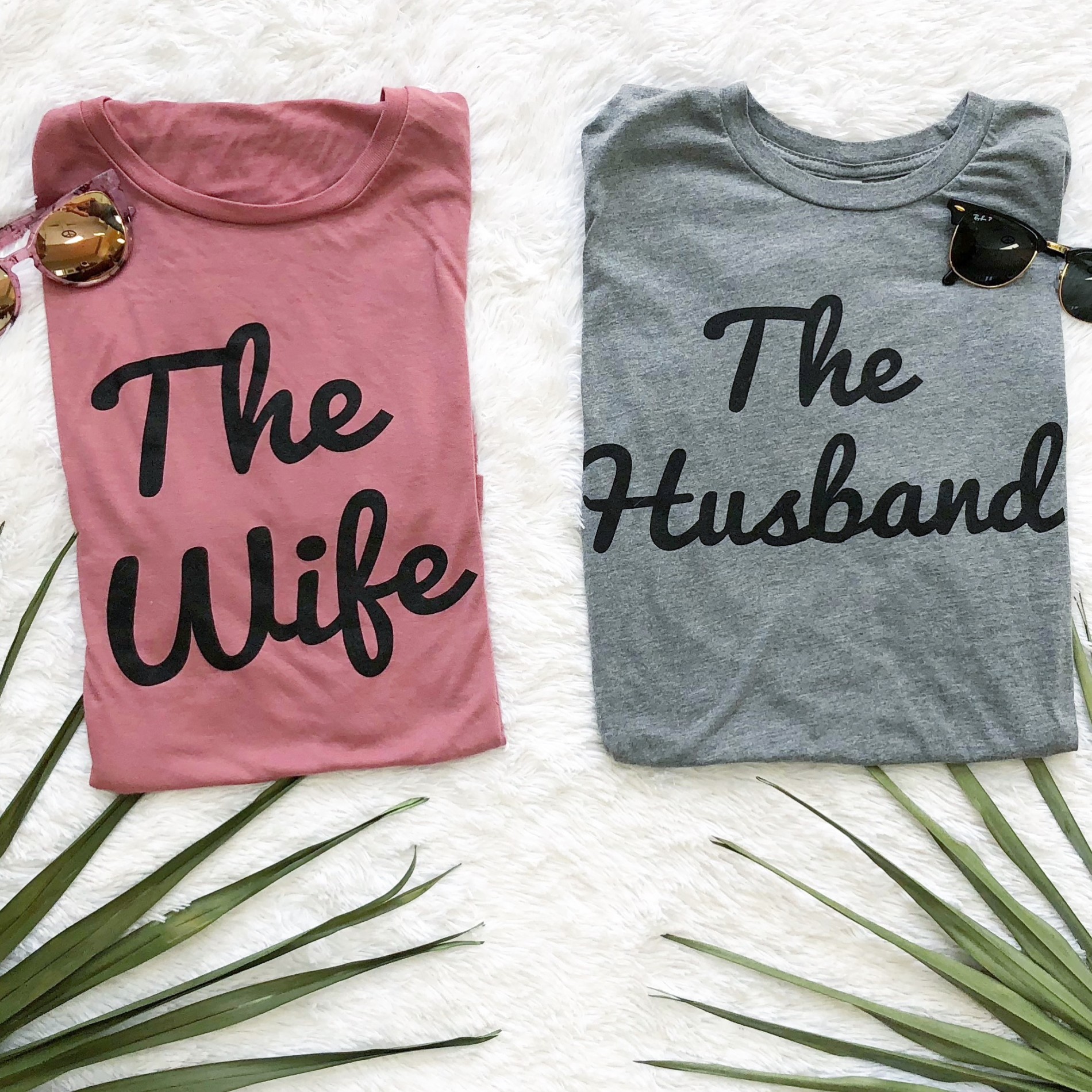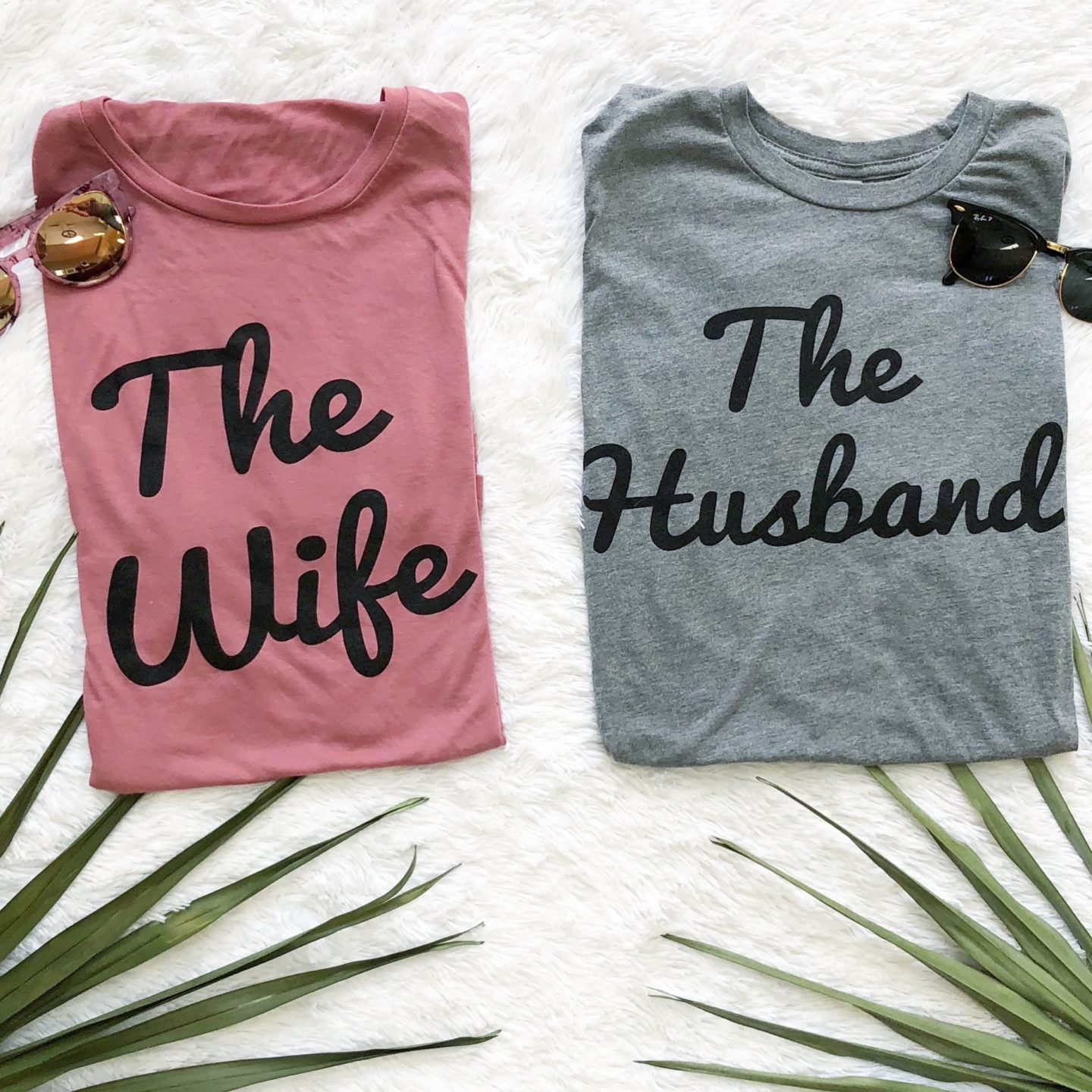 I'm going for more of a simple, dare I say "classic graphic tee" look this time around…  These were very much inspired by our Palm Springs wedding coming up, as they seem to have that retro Palm-Springy vibe going on. Or maybe that's just the fake palms I added to the image? I don't know, guys. Go with me here.
(And if you're still a lover of the OG Married AF/Chill AF Bride tops, you're in luck! They've all been marked down to $22 or less. Click here.) Also, the first tee shown up above, the Oh Hey Wedding Day comes in a tank top, as well!
In creating these tees and packing for the next few weekends, I've gotten a bit nostalgic for 2016 and that time in my life when I was totally warped by our own wedding planning. You guys remember that right, when every single post was wedding related? Since I'm two years removed at this point, (and consider myself an expert, obviously) I want to drop a little (unsolicited) wedding advice for anyone who is about to get married.
Things I'm Glad I'm Did/ Things I Wish I Did:
*I'm glad I went with the cheaper wedding shoes.
Because mine were trashed by the end of the night and I actually kind of hate any photos our photographer snapped of my shoes (you know the ones every wedding photog seems to take) and it's not because I didn't like the shoes, but because I didn't give a shit about a photo of shoes. It's just not my deal. That said..
*Be specific with the exact photos you want. 
I actually created a board on Pinterest and saved photos that I wanted to replicate a bit (like this group shot.) It was a pain to execute, but well worth it because it's one of my favorites and now hangs in our hallway.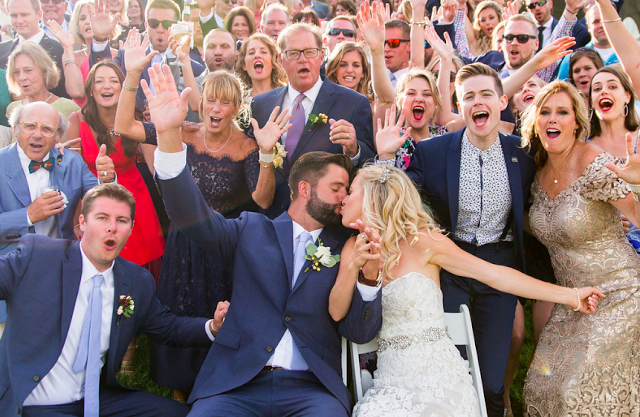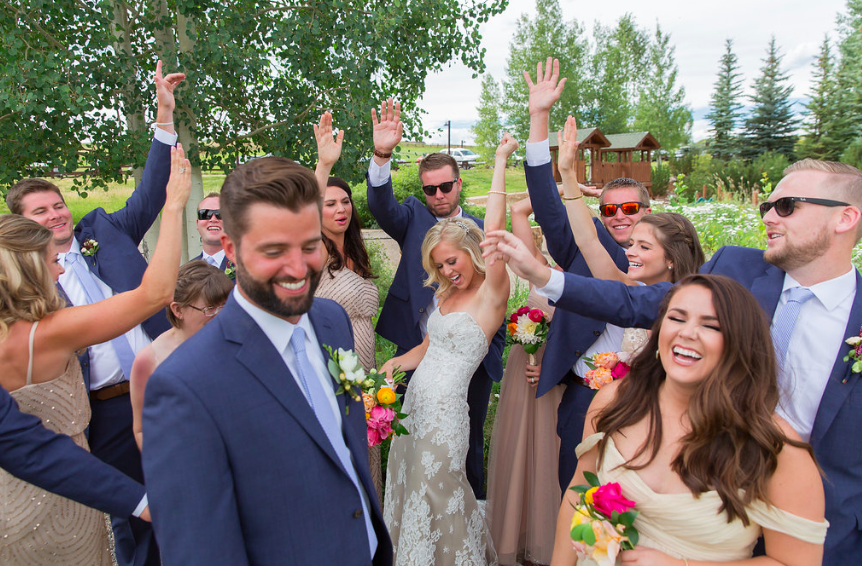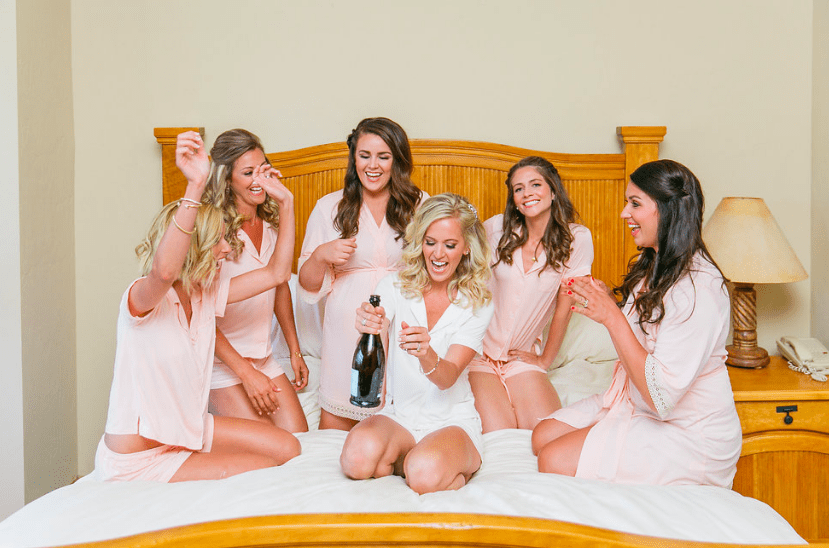 *Leave a LOT of time for photos. More time than you think you need.
I did not. I had the attitude of, "everyone hates photos anyway, so let's just get the specific ones we want and move on." It did not work out like that, not at all. Instead, we found ourselves scrambling for time and shooting more photos after our ceremony (even though we planned to do all before) and had to miss a little bit of our cocktail hour which still BUGS me. Clearly.
*Don't leave your flowers behind at the hotel. 
Two years later and I'm still not ready to talk about this one. It was no one's fault, except for the fault of poor planning. If you're debating between getting a wedding planner or not, get one. I am not a planner/scheduler/or organized person in general, and that was evident many times throughout the weekend.
*Write the wedding notes/wrap the gifts/finish all of the sentimental stuff way ahead of time.
I wanted to wait until just a few days before our "big day" because I thought it would be more meaningful that way. You know, because I'd be more "in the mood" or spirit, whatever. I was wrong.
Instead, I waited until the day before and once again found myself scrambling to write a bunch of heartfelt stuff to the people I cared about while they were all by the pool having drinks. And do you know where I would have rather been instead of being alone in a hotel suite wrapping gifts and writing notes? By the pool having drinks with the people I cared about.
And I just realized I started a post I could spend 100 hours writing when I actually have to leave for the airport in about two hours and still haven't started packing yet. Did I mention I'm not a planner?
This is to be continued. I have SO MUCH MORE TO SAY, brides! So much info you need to read on top of the 10000s of other wedding posts you're probably already reading.
So here's the last thing I'll say, even with the annoying little things I mentioned above, it was still the best weekend ever. The lack of photo time, or having flowers arrive late did not ruin our wedding, not even close. Because our wedding wasn't about photos or flowers, it was about the 175 people that traveled from all over the country to help us celebrate.
It was about the people.
They showed up for us. And they celebrated wish us. Hard. (For several nights, in fact.) And that's what I will never forget.
I've said this before and I'll say it again, but one of my favorite part's of our wedding was staying in a large suite with all of my best friends. We got ready together, had Bloody Marys together, sat in the bath tub and drank champagne together... And it was truly the best four days ever.
I have to go now, but if you have any good wedding advice (either do's or don'ts) tell me below! I think it might be kind of fun to write a longer post compiling advice and suggestions from people all over. (As in you! Advice from people like you.)